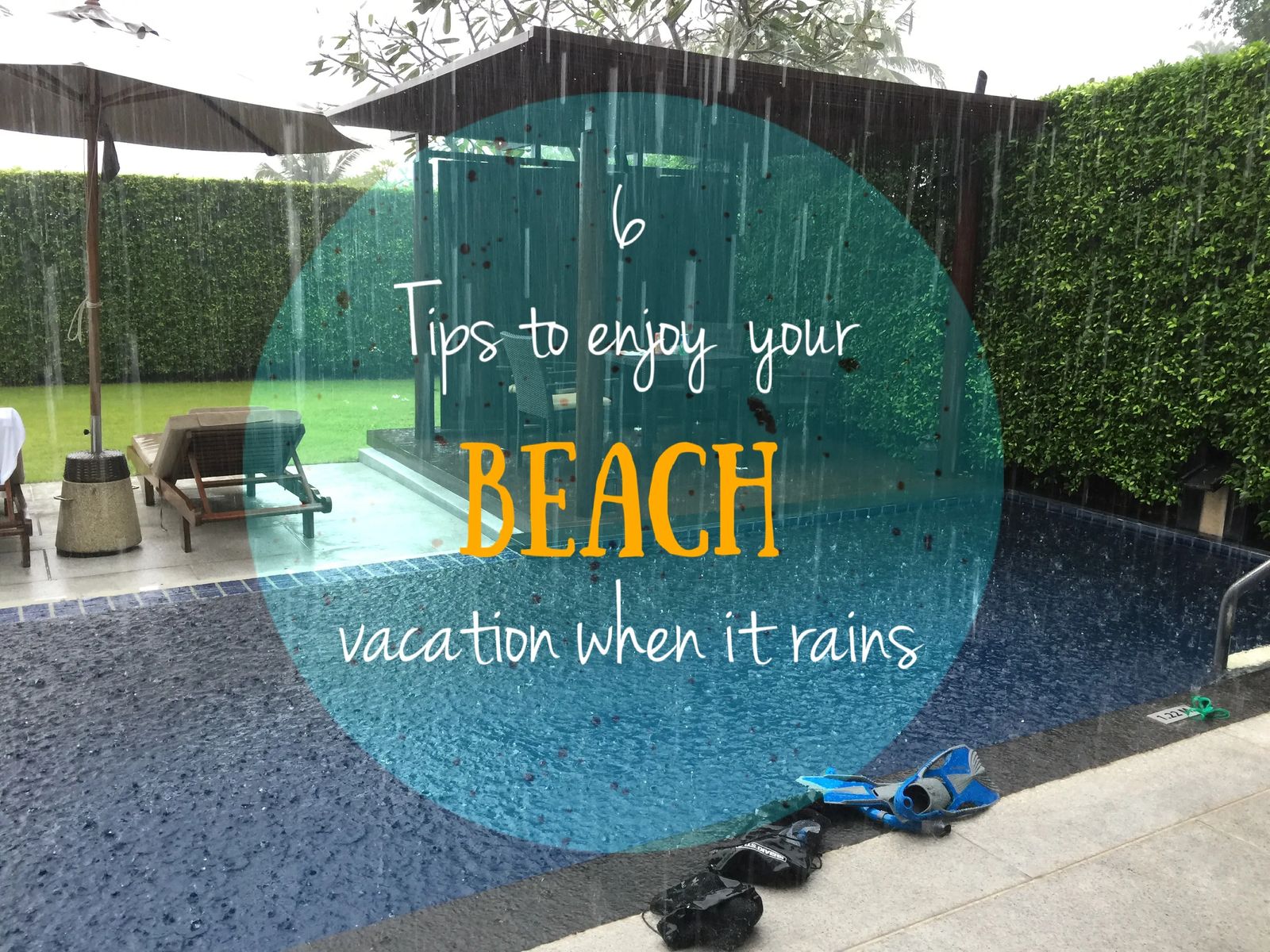 6 Tips to Enjoy a Rainy Beach Vacation
Nothing can dampen your eagerly anticipated beach vacation than buckets of rain. Maybe you even pre-booked snorkeling trips, diving adventures and looked forward to getting some vitamin D. Unfortunately, it usually isn't possible to call your travel insurance company and get a refund in this situation. My advice is don't let a continuous downpour ruin your trip. After all, you can still get in quality family time and enjoy many other activities.
We are in the middle of a long-planned vacation in Thailand to go snorkeling, enjoy the crystalline beaches and get water logged in hotel pools. Unfortunately, for our entire 10 days on Koh Samui it rained. I am not talking about afternoon sprinkles that are common in Hawaii. I am referring to 5 lb drops of rain that could end the Southern California drought in one afternoon. Although definitely not ideal, we embraced alternate ways to spend our time.
Get a Family Massage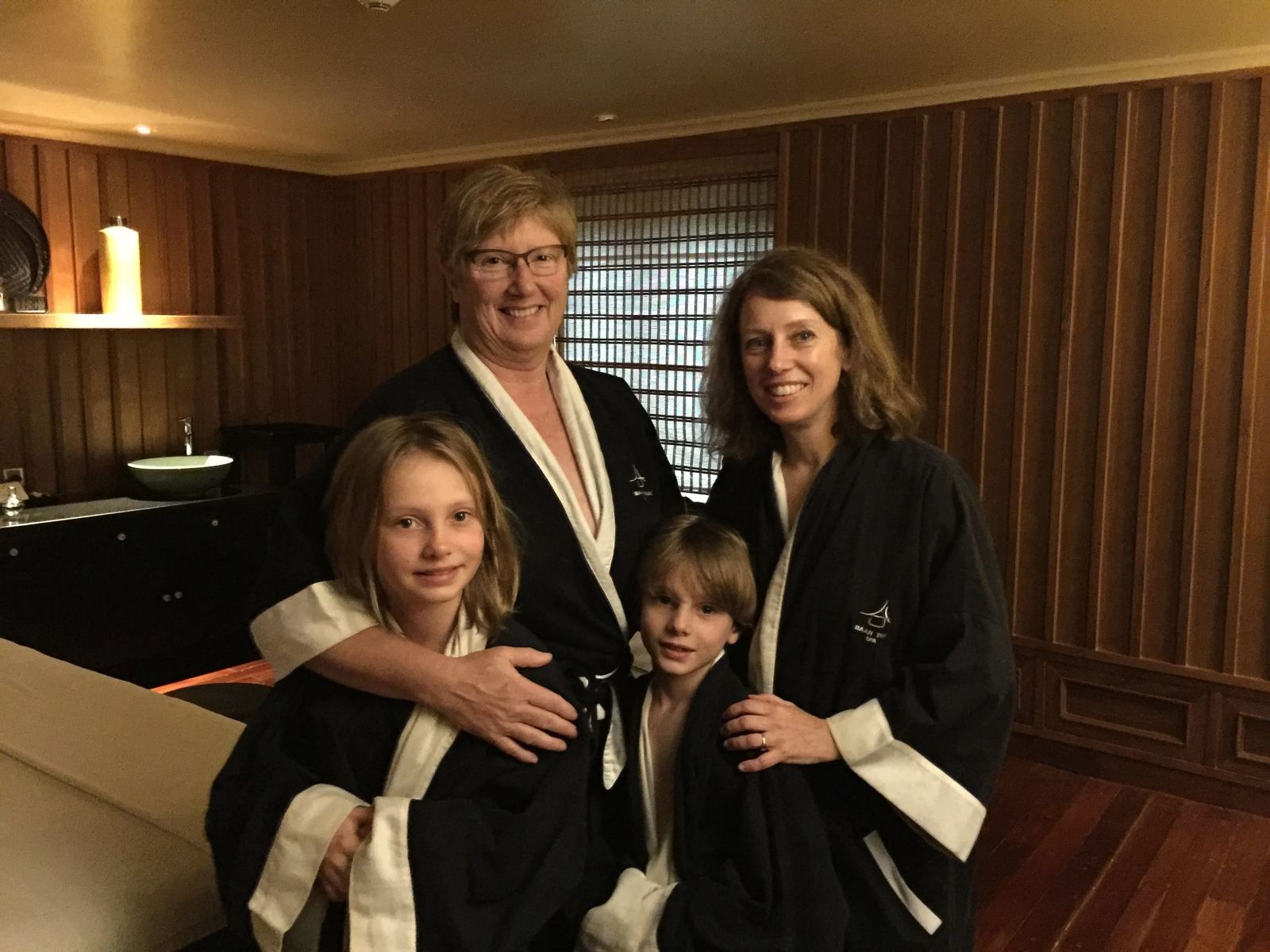 Spa family day on a rainy beach vacation!
Ask your hotel about discounted family massages! Because of the rain, our hotel, InterContinental Samui Baan Taling Ngam Resort, offered a steep discount on a family massage. The kids never had one before but have heard how much their moms' enjoy them so they were eager to give it a try. It was pure pampering and a fun way to spend a rainy afternoon.
Take a Cooking Class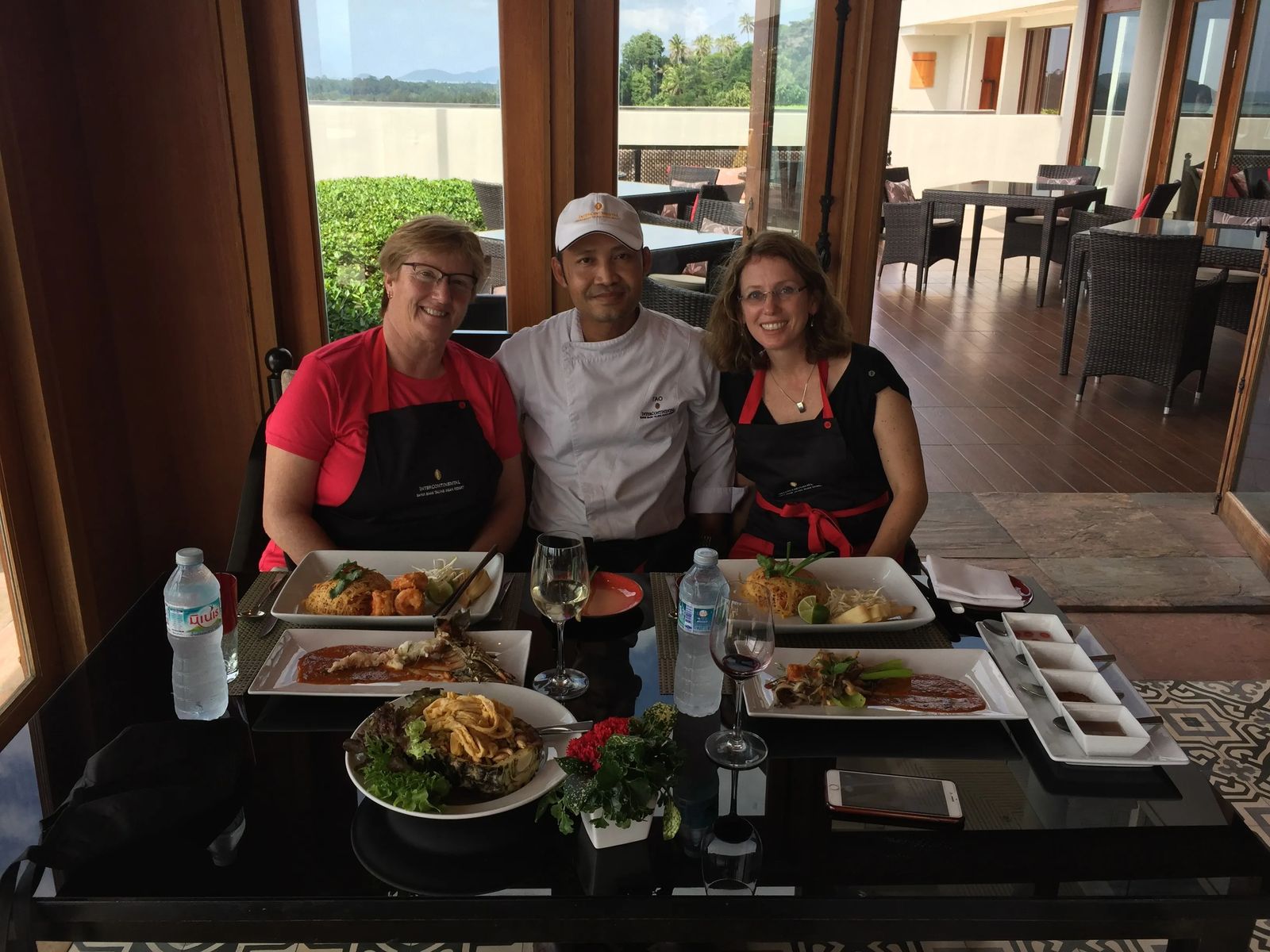 My family loves to cook, especially my wife! So she was thrilled when I signed us up for a Thai cooking class one rainy afternoon. It was definitely an activity we would not have tried except it seemed like the perfect rainy day thing-to-do. It turned out to be a highlight of our trip and we can't wait to try our new skills once we return home! This class was hosted by Chef Tao, head chef at IC Samui. Boy does he know his stuff! We started with a trip to a local market where Chef Tao showed us how he carefully and meticulously picks quality food for the hotel's restaurants. Once we returned back to the hotel, we prepared Pineapple Fried Rice, Pad Thai and Banana with coconut soup for dessert. Scrumptious!
Go to a movie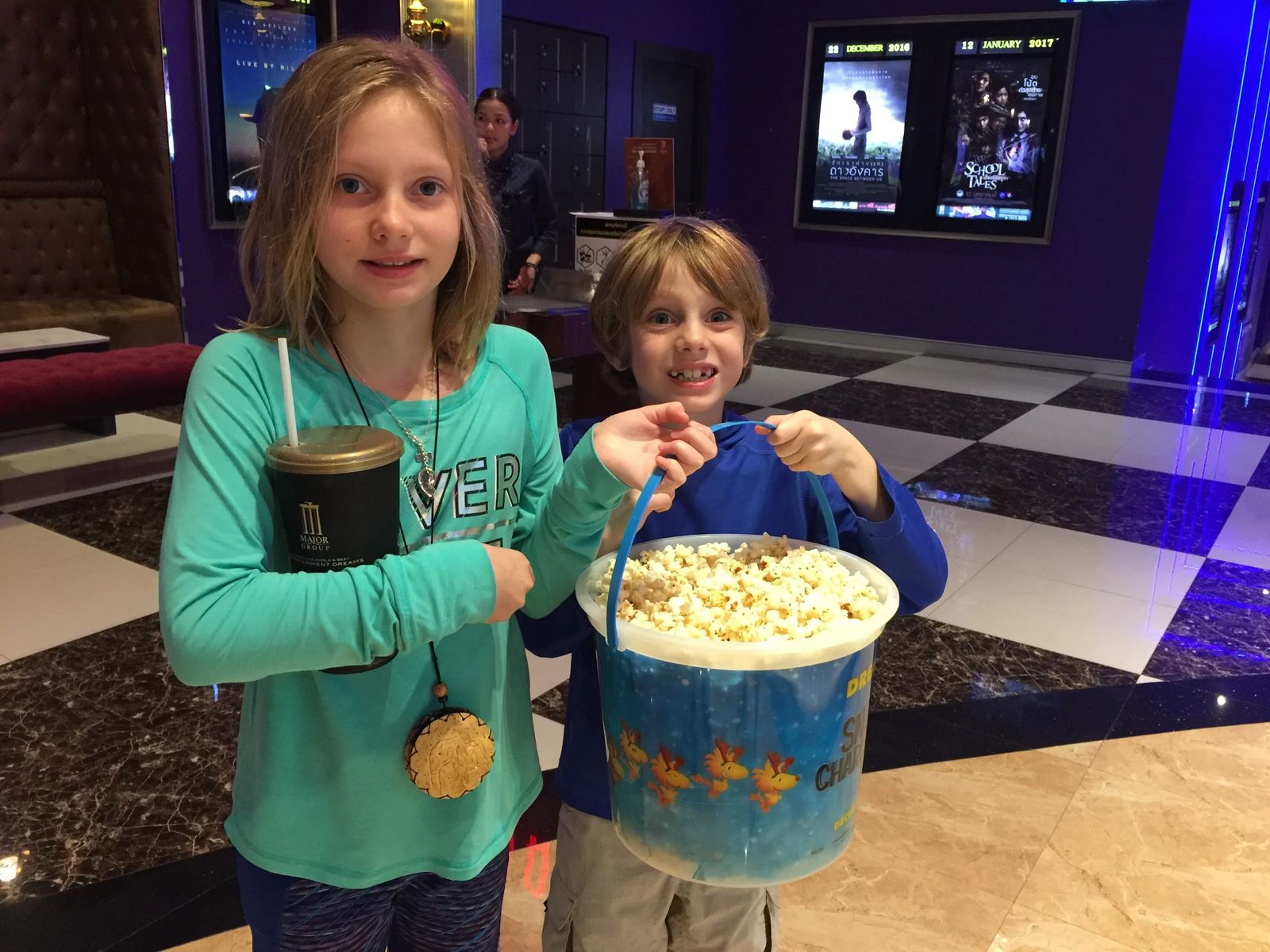 We saw Rogue One in Thailand on a rainy day!
Never in a million years did we plan on going to the movies while in Thailand but honestly, it was a fantastic way to spend an afternoon. We took our hotel's shuttle to a mall with a cinema where we found Rogue One showing. My kid's are Star Wars fanatics so they were beyond excited to see this movie. I had a moment of panick the movie would be in Thai, but turned out it was Thai sub-titles. We ordered a huge bucket of popcorn and settled in. It was also fun to see a movie with locals.
Go to a museum
Most cities have a museum of some sort. A rainy day is a perfect day to visit one. Ask the concierge of your hotel for a recommendation and head on out to explore!
Get active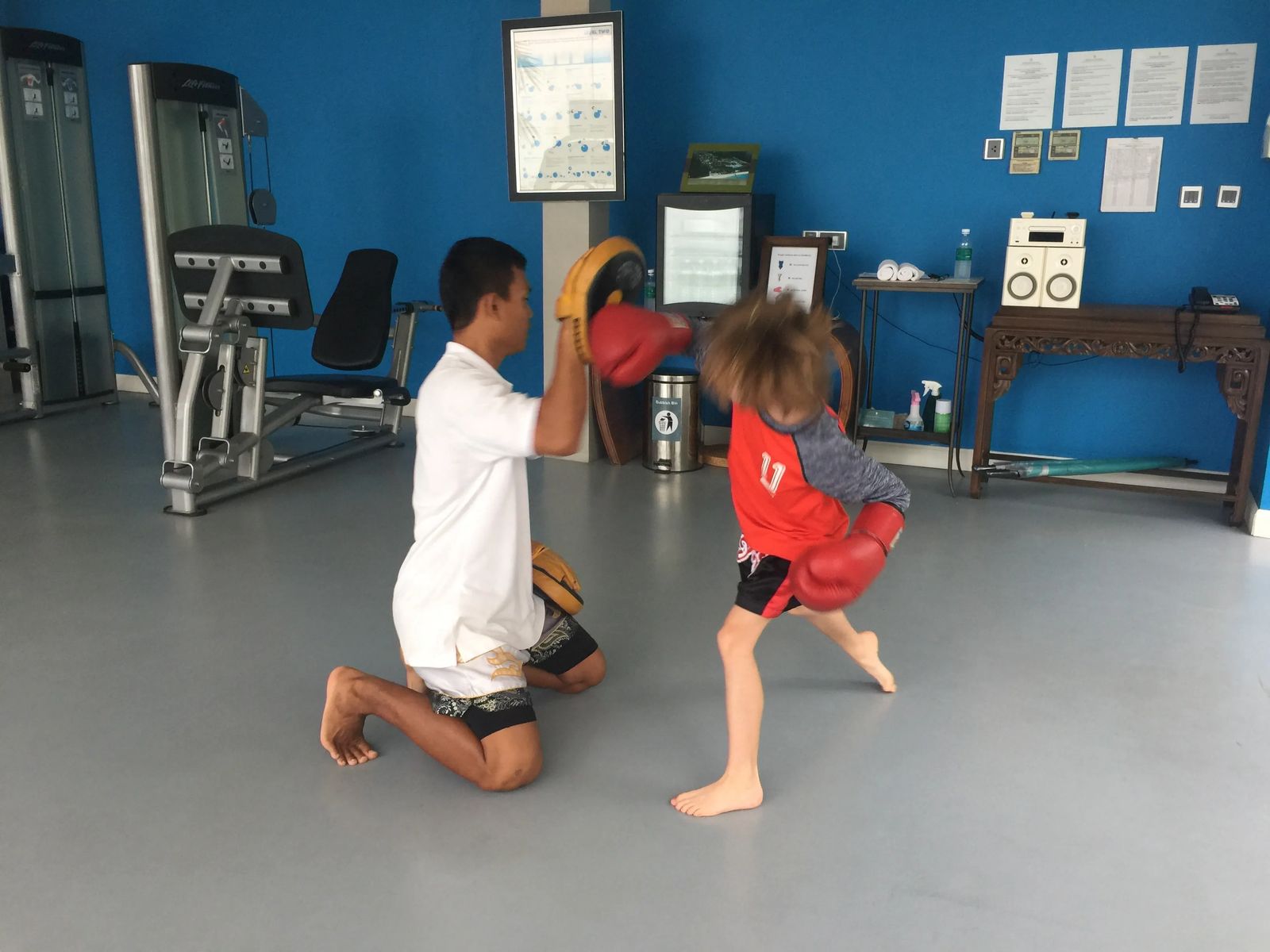 Isaac tried Thai boxing on a rainy day!
We all need excercise but especially the kids! If my son doesn't get enough physical activity he turns into a tornado! Try going out for a hike if you can. Everyone could use a little dance in the rain. Check out the activities at your hotel. My son recently gave Thai Boxing a try and loved it! Plus, he was exhausted afterwards.
Get to know fellow guests
Chances are everyone will be feeling cabin fever if it's raining but don't let it get you down! We spent a lot of time in our hotel's beautiful lobby and got to know other guests. It was really enjoyable branching out and meeting others, hearing about where they live and talk good 'ol politics. Everyone we met asked about our new president! Our kid's played with kid's from Australia, China and England. It was definitely a bonding experience for all of us. We left Koh Samui much richer in friendship!
Have you been on a rainy beach holiday? What activities did you do to pass the time?

2 Moms Travel
Thank you so much for coming to our site and interacting with us! We love sharing our travel experiences and hope we can inspire you to travel! When the blog first started, LGBT travel with kids wasn't as prevalent as today. We love that sharing our stories has encouraged others to travel not only within the United States, but all over the world! Because our itineraries have been popular with our readers, 2 Moms Travel now is also an official travel company!