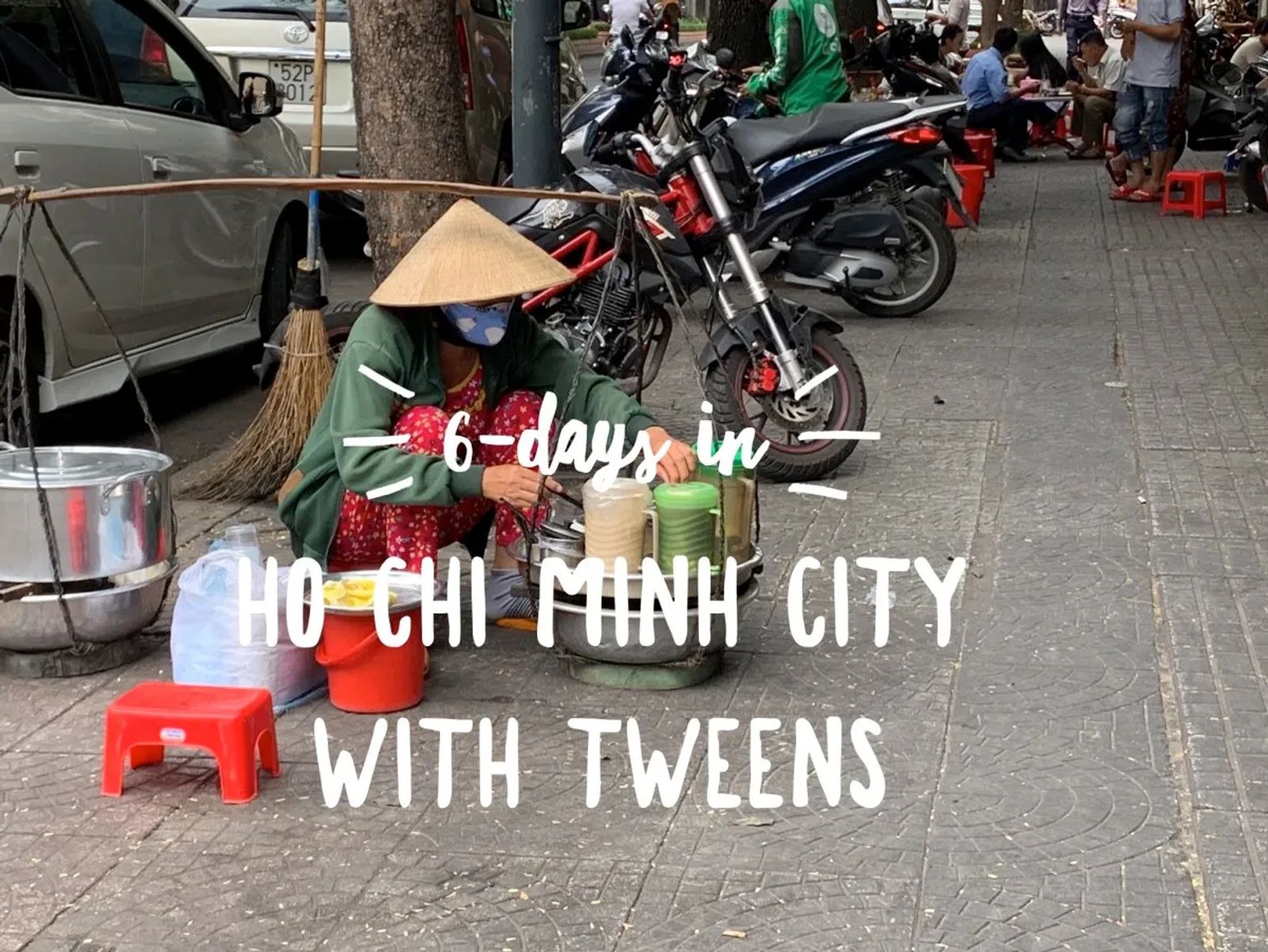 6-Days in Ho Chi Minh City with Tweens
My family recently visited Vietnam after scoring an incredible business class airfare on Hong Kong Airlines! The flight had to originate in and out of Ho Chi Minh City (Saigon) so I needed to plan accordingly. I love designing our itineraries and the kids are at the age where we can do more adventurous activities. There are so many fascinating places to visit in Vietnam but our family really prefers to base somewhere and do more day-trips.
Ho Chi Minh City is the name of the city after the fall of Saigon in 1975. The informal name of Saigon is still used both domestically and internationally, and most often refers to the urban districts of Ho Chi Minh City. We were told (off the record) that if a local states they are from Saigon, they are pro-south (pro-western) and if they say they are from Ho Chi Minh City they are pro-communist. We did notice people staunchly referred to themselves as one or the other but of course we never asked for clarification. The country is still communist after all.
Is Vietnam LGBT Friendly?
The burning question we encountered from friends back home before and after our visit to Vietnam was if the country is LGBT friendly. The short answer is YES. In fact, the legislature passed the Law on Marriage and Family that went into effect on January 1, 2015, which removed the ban on same-sex marriage. They do not however officially recognize the marriage. The country is largely Buddhist and they essentially feel live and let live. We felt safe as a family no matter where we travelled within Vietnam. With that being said, we don't flaunt our relationship and keep the PDA to a minimum.
Our 6-Day Stay in Ho Chi Minh City
Norfolk Mansion Apartments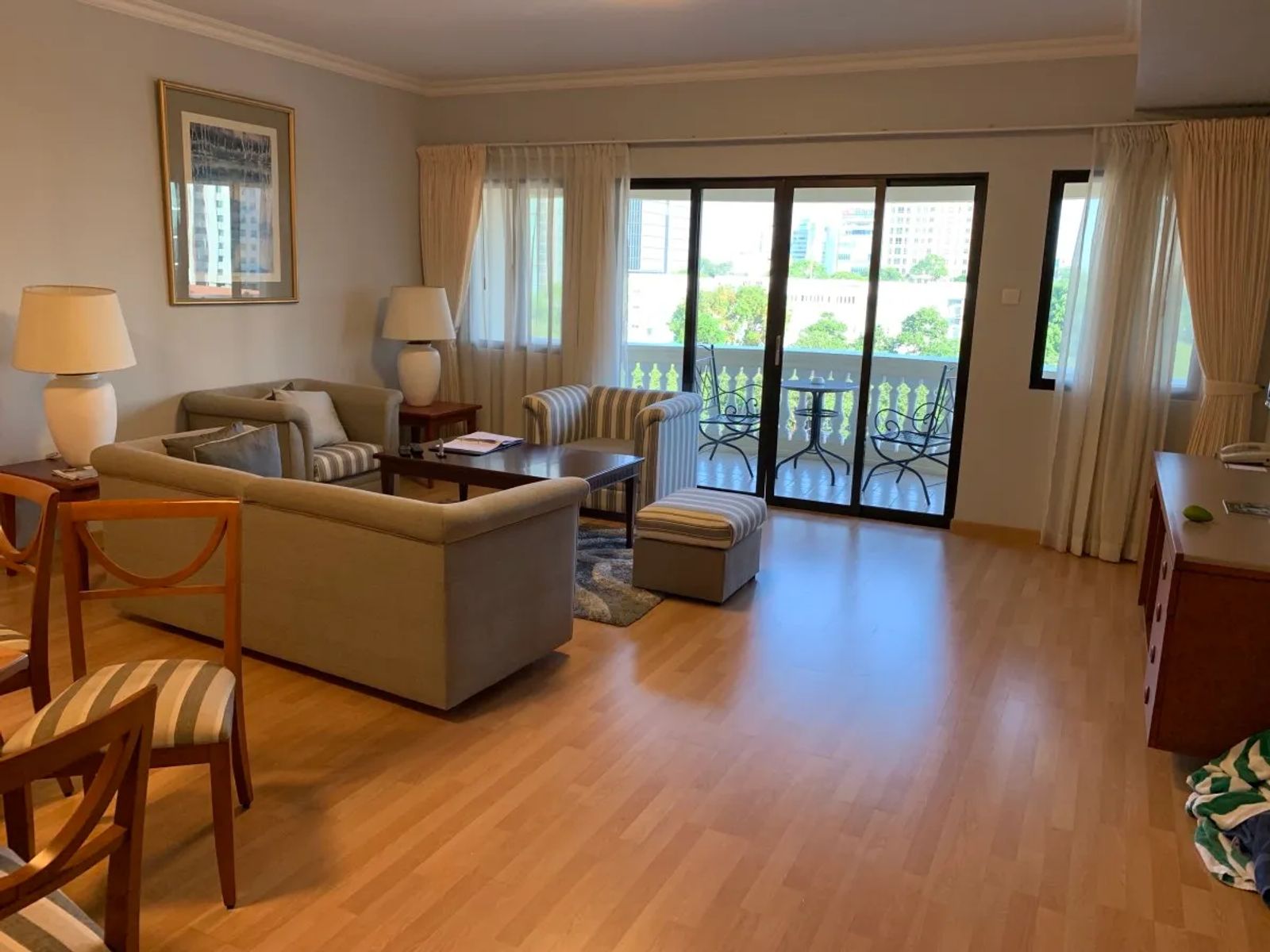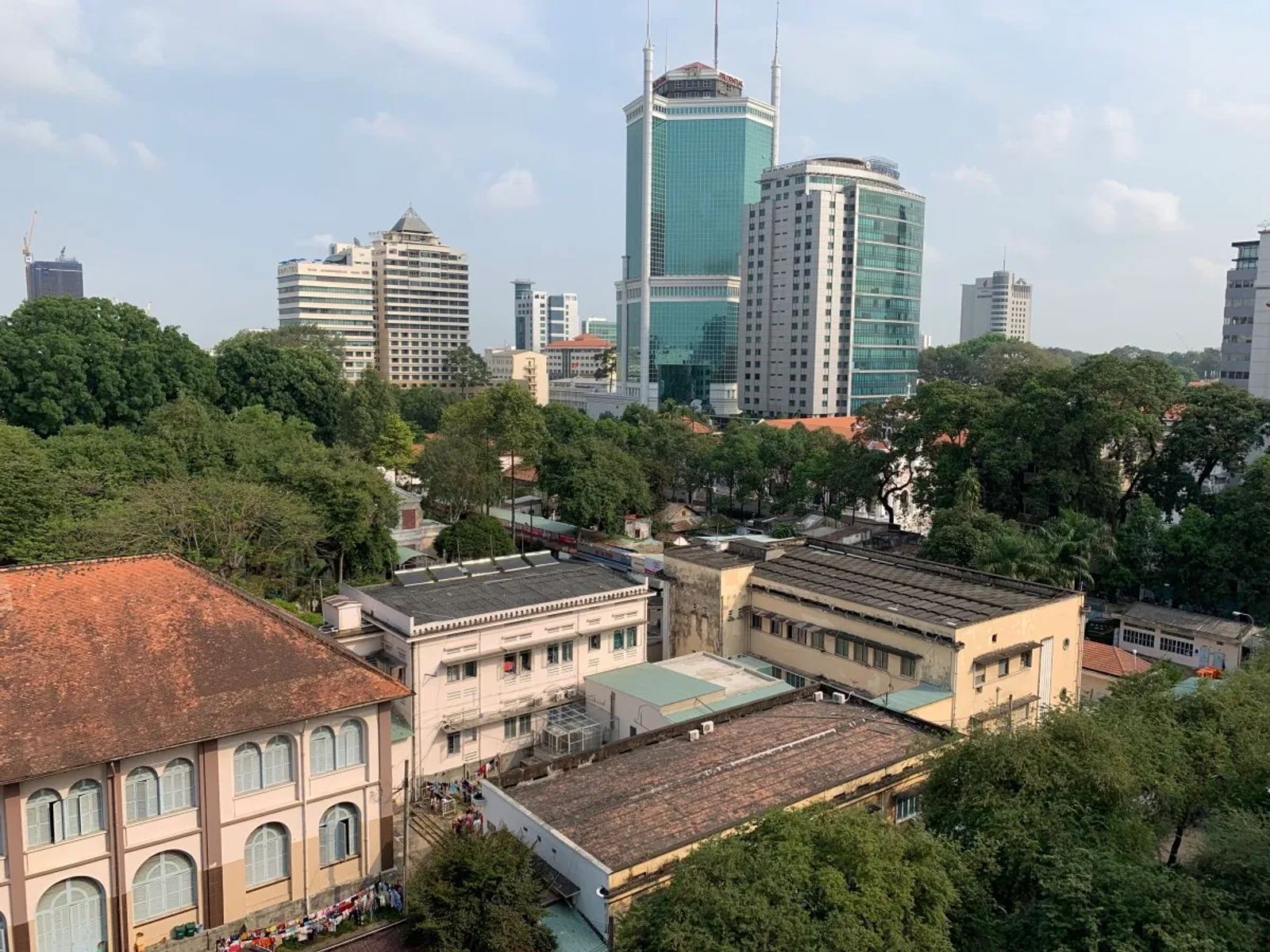 Spending 6-days in Ho Chi Minh City may seem like a long time to spend in a large city. But I am here to tell you, there is so much to see! We covered a lot of ground and could still see so much more! Because we spent so many days in the city, I found a centrally located 2-bedroom apartment to rent called Norfolk Mansion Apartments.
The building is conveniently located within walking distance to the city center and had everything we needed. There was a swimming pool, kids playgrounds, a sports and wellness club with sauna rooms and Jacuzzi, a beauty salon, convenience store and two restaurants. Our rate also included breakfast, access to the concierge (who helped us tremendously prior to our arrival!) and building security. The apartment size also gave us space to chill out when we needed to recharge. It was perfect!
On to our itinerary…..
Day 1 – Water Puppet Show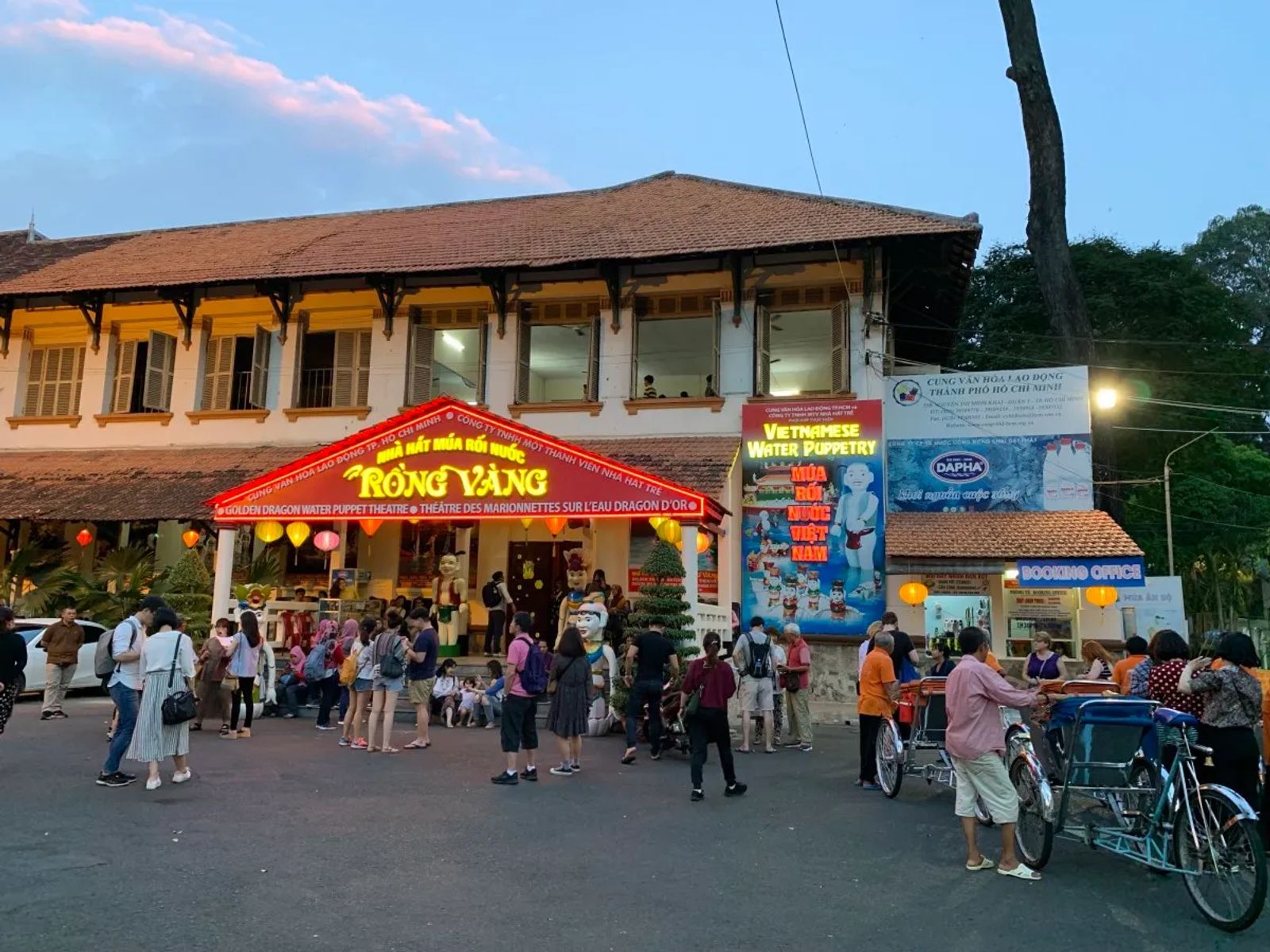 After flying from the US via Hong Kong to HCMC, we needed some rest. We arrived late at night and fell fast asleep when we got into our room. The following day was used to just get adjusted, unpacked and acclimated. The only thing I scheduled was a water puppet show in the evening at the Golden Dragon Water Puppet Theater. Is it touristy? Yes. BUT water puppetry is a Vietnamese tradition that dates back to the 11th century and originated in the villages of the Red River Delta in Northern Vietnam. When the rice fields would flood, the villagers would entertain each other with puppet shows telling stories of folklore. A traditional Vietnamese orchestra provides the music accompaniment.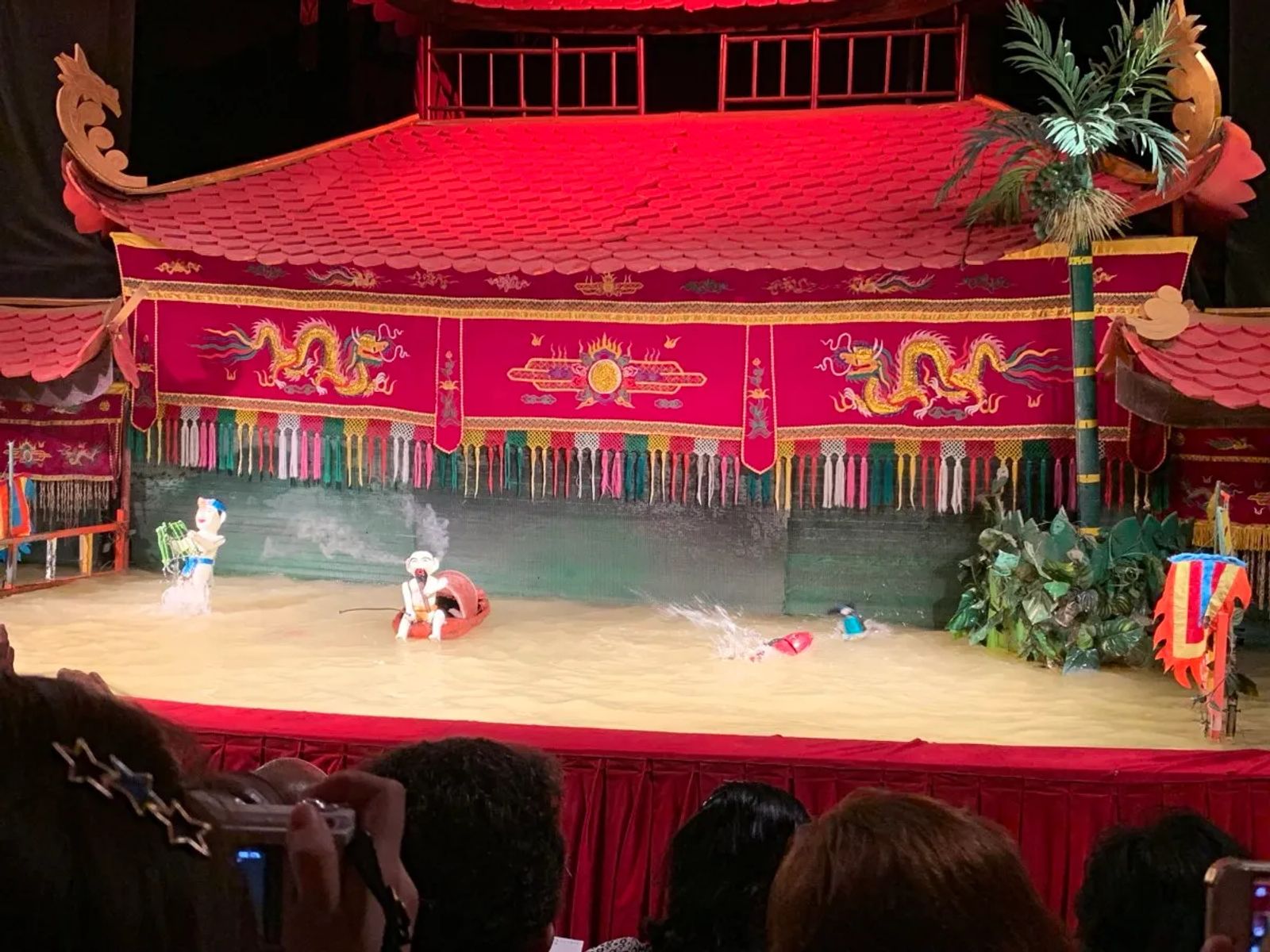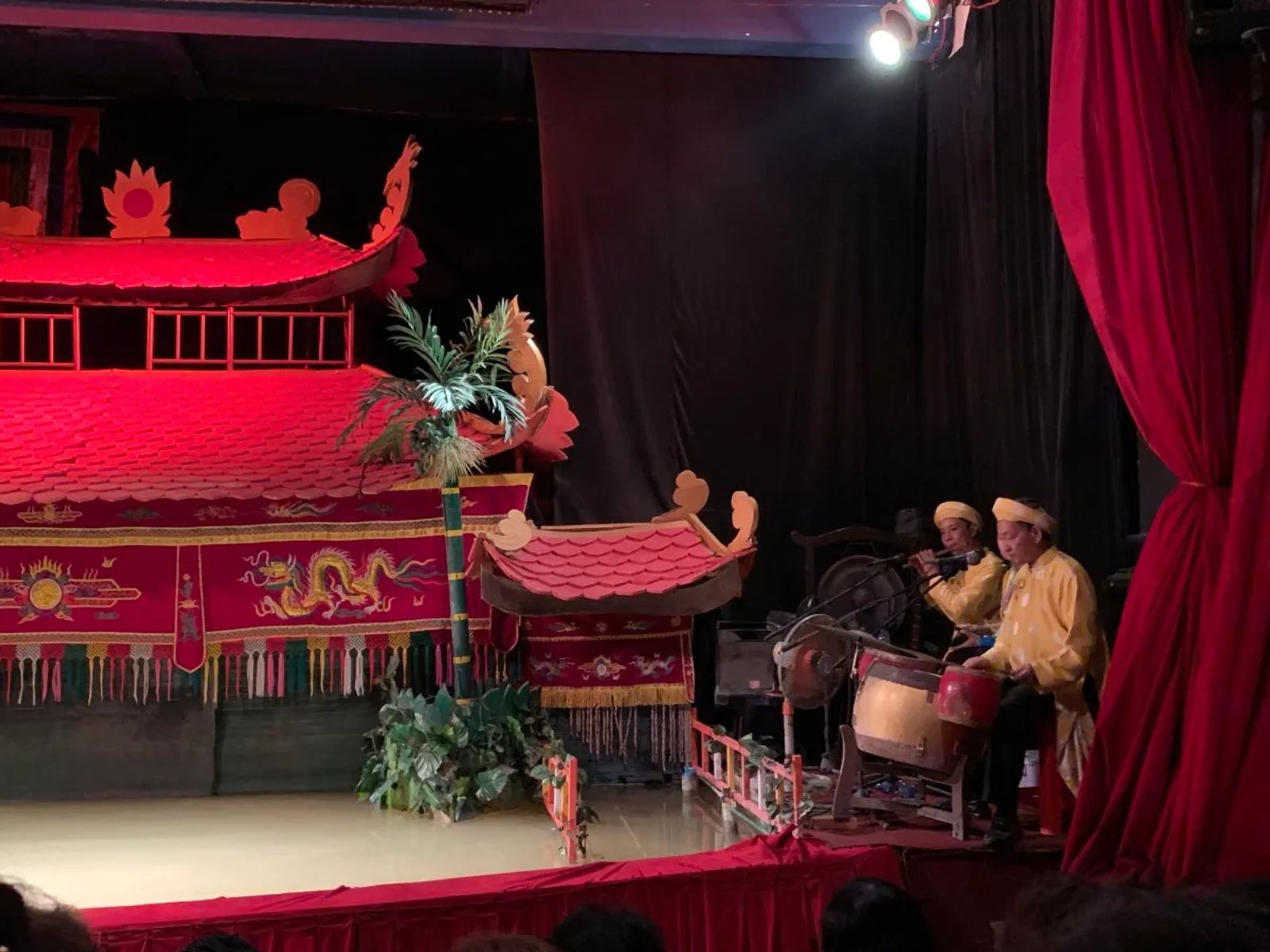 We booked our tickets through our concierge at the Norfolk Mansion Apartments as he scored us great seats. But tickets can also be found online on sites such as Viator.com or tripadvisor.com. The show was family-friendly and quite entertaining.
Day 2 – Cu Chi Tunnels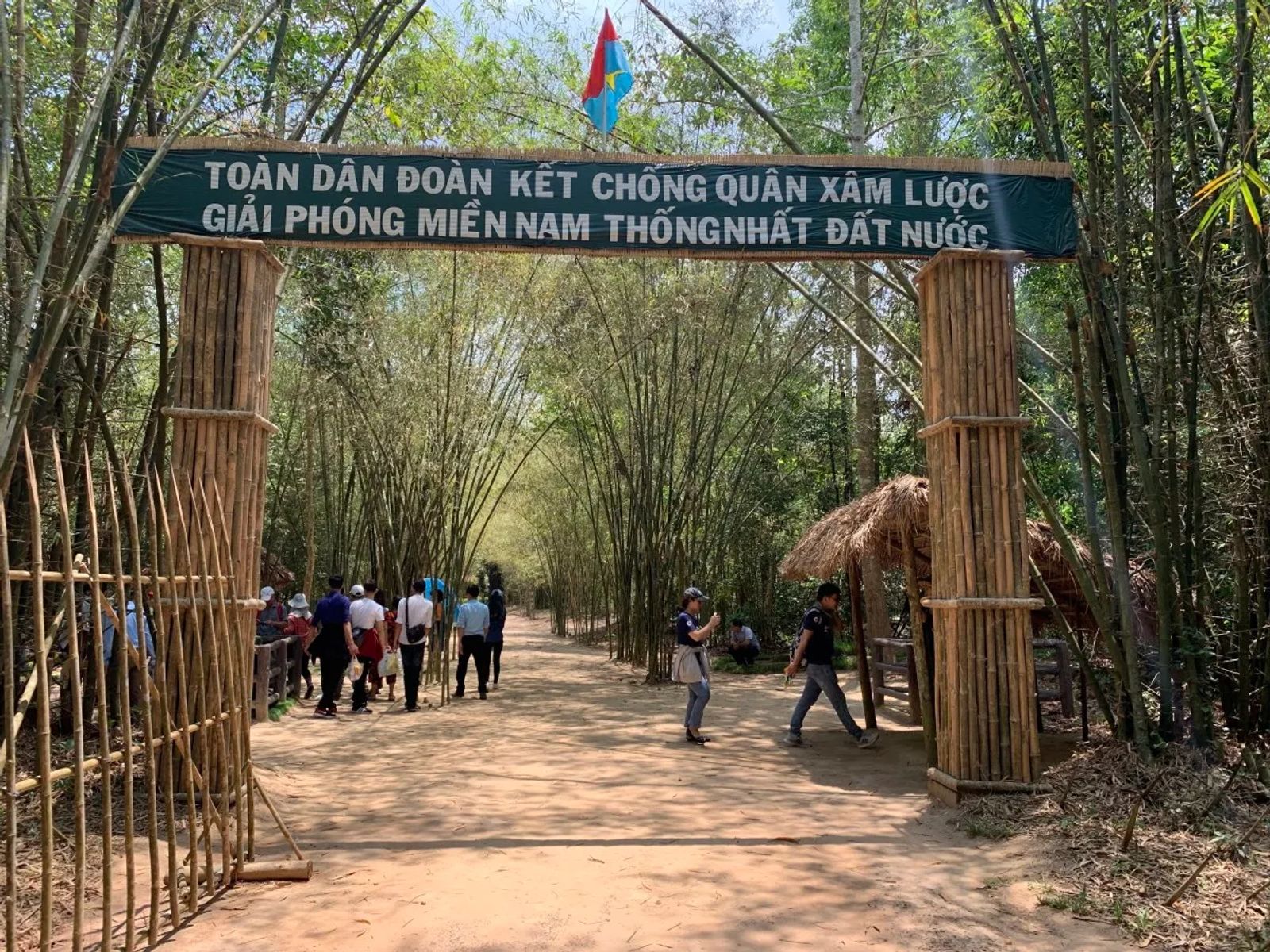 A visit to the Cu Chi Tunnels should definitely be included in your itinerary when visiting Ho Chi Minh City. The Cu Chi Tunnels are now part of Vietnams nationwide network of military war memorial sites located throughout the country. The Cu Chi Tunnels were originally part of an immense network of tunnels built by communist guerrillas beginning in the 1940's during their war of independence from French colonial authority. The tunnels were then used by the Viet Cong during the Vietnam war as hiding spots and served as their base of operations for several campaigns including the Tet Offensive in 1968. The 3-layers of the tunnels included hospitals, and communication and supply routes. Life in the tunnels was abysmal due to a lack of air, sanitation and ever lurking poisonous spiders and snakes.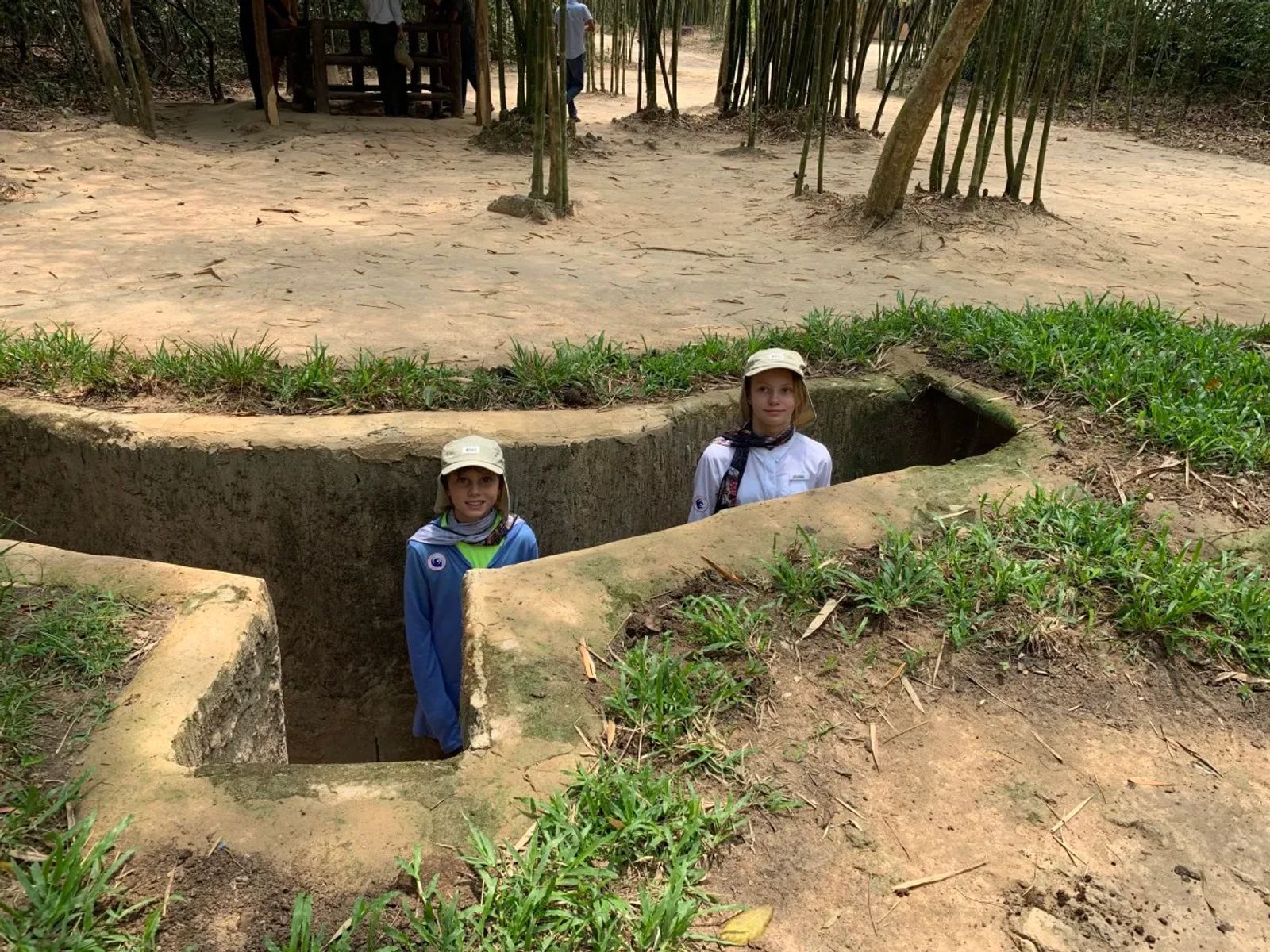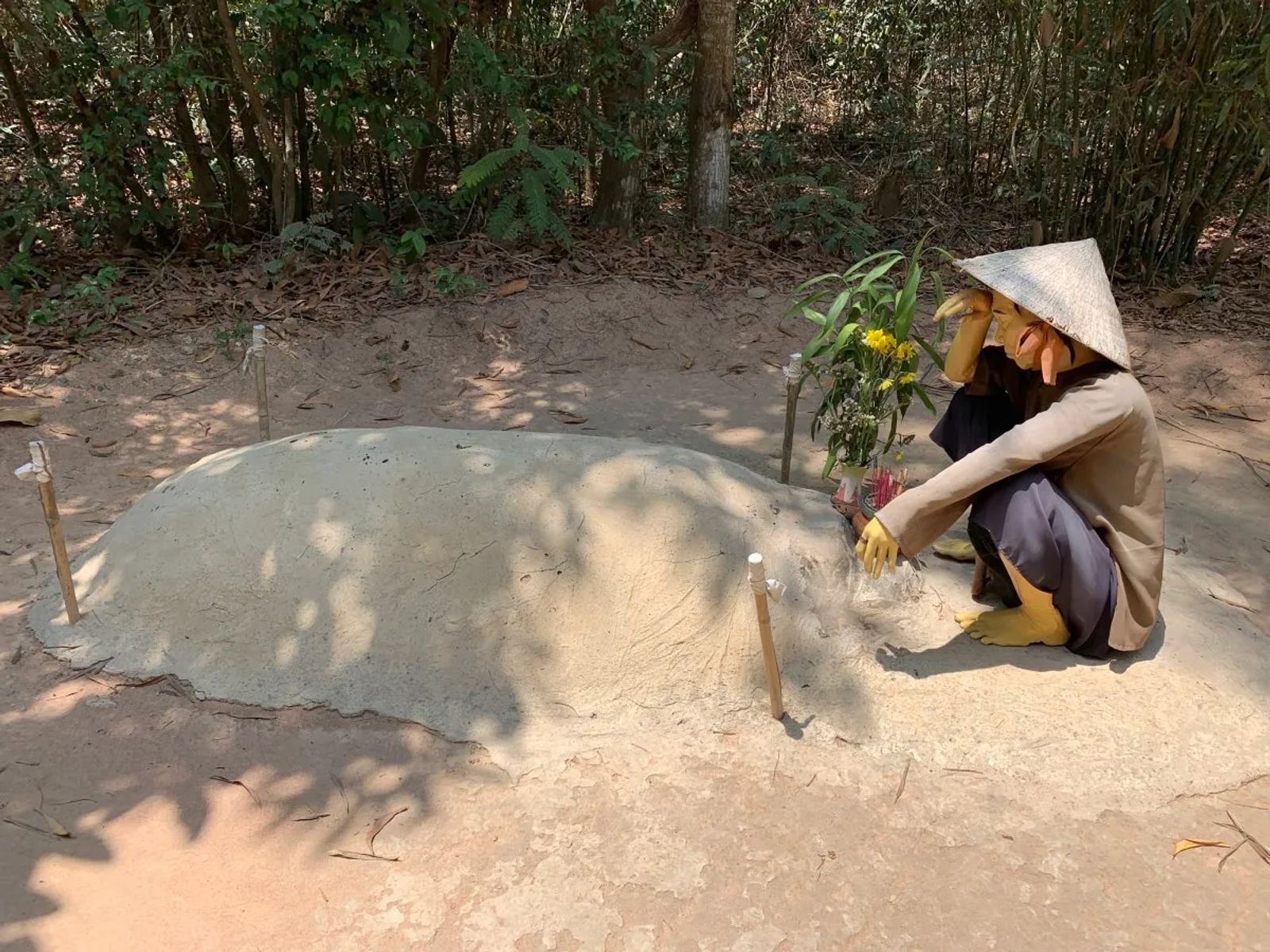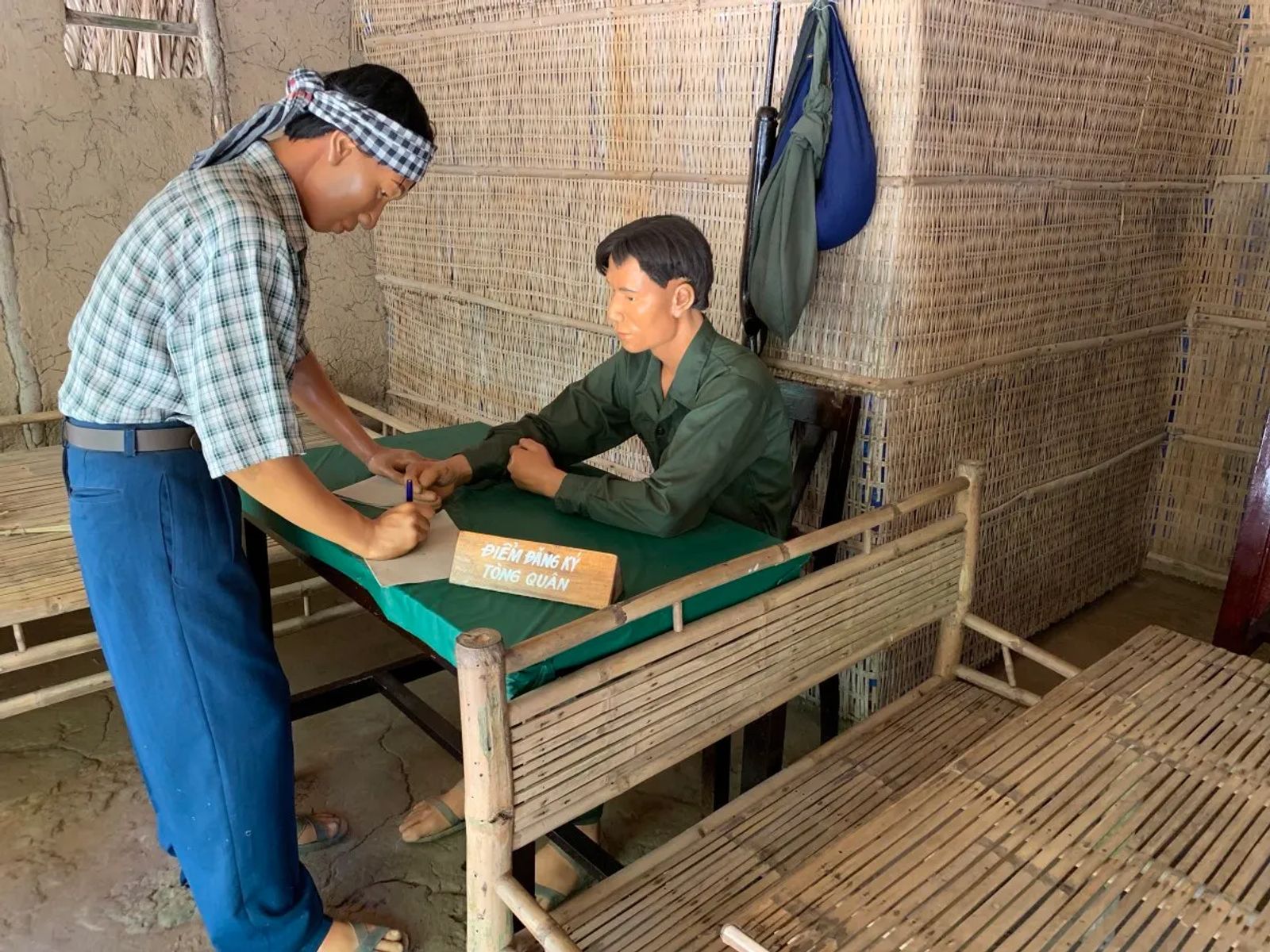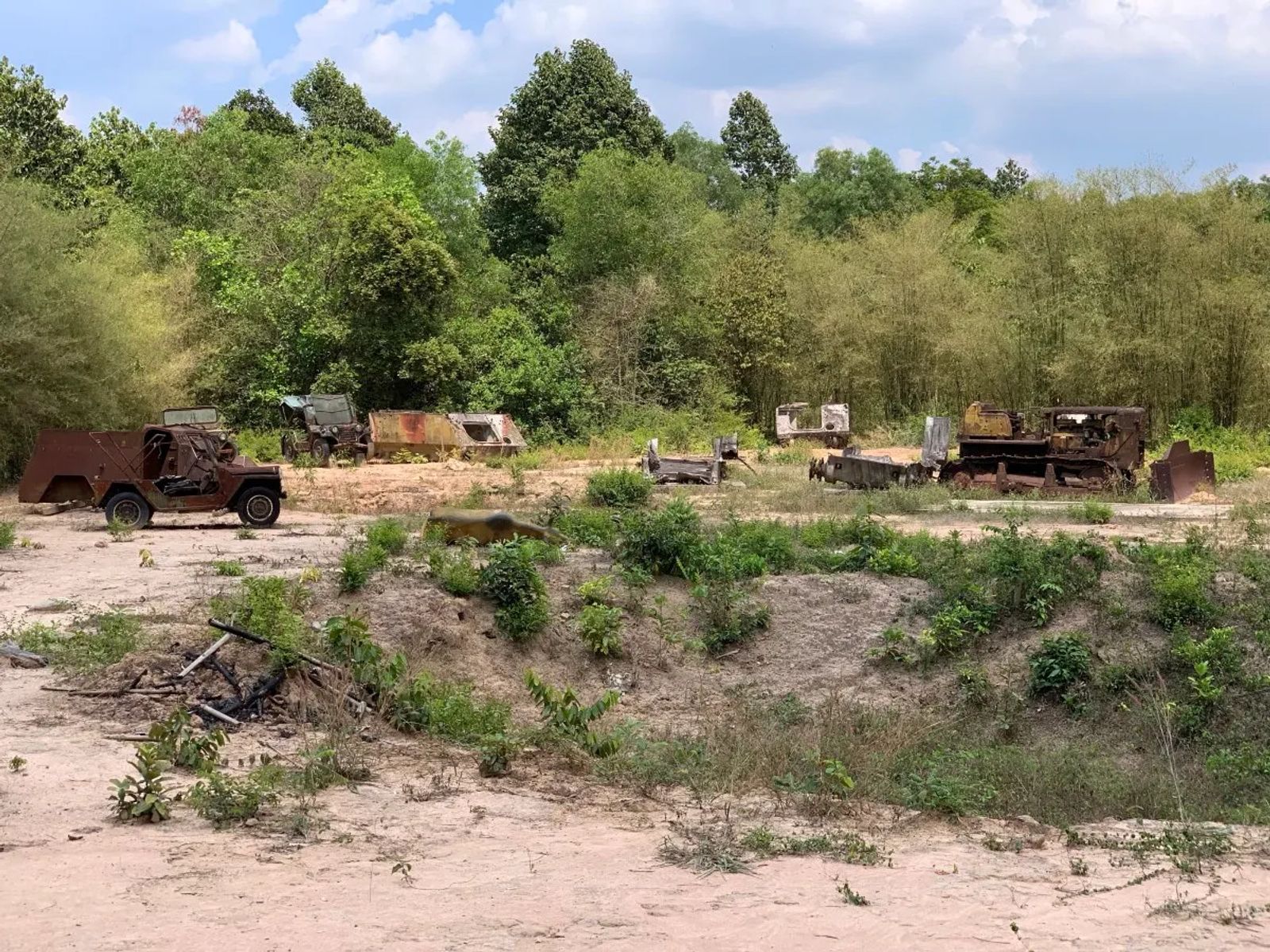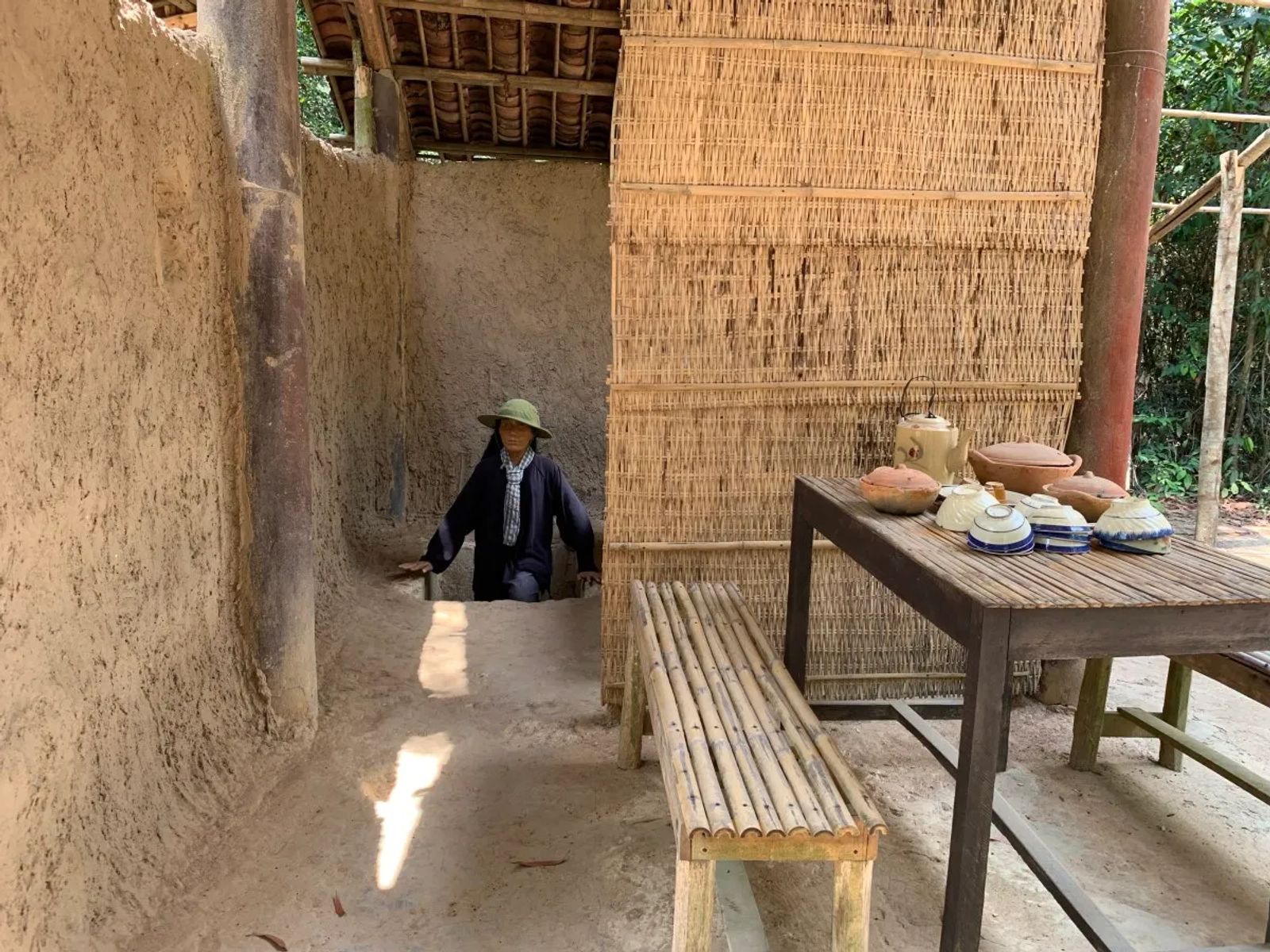 The grounds of Ben Duoc demonstrate what typical village life was like and visitors can even go into parts of the tunnel system. Also on display are the numerous types of booby traps which were used against Americans as they tried to close in on the tunnels. Because it was so dangerous for US ground soldiers with the booby traps, B-52 bombers dropped thousands of bombs to try and destroy the tunnels. Hundreds of craters are still visible throughout the entire area so it is imperative to stay on the designated paths as the ground can be weak. One thing to remember is we did not win this war. The Vietnamese are proud of 'liberating' the south so its a perspective to keep in mind while visiting.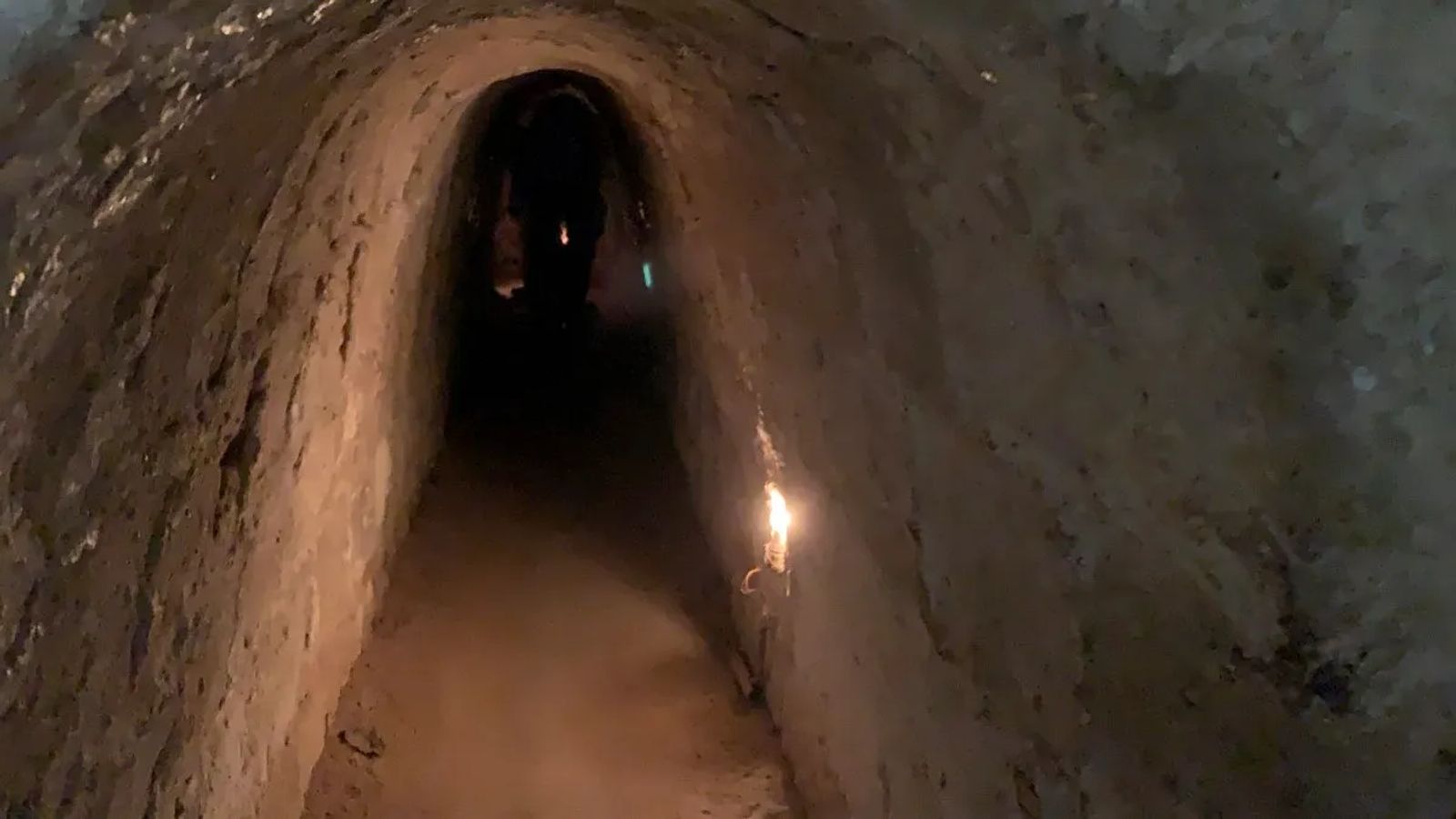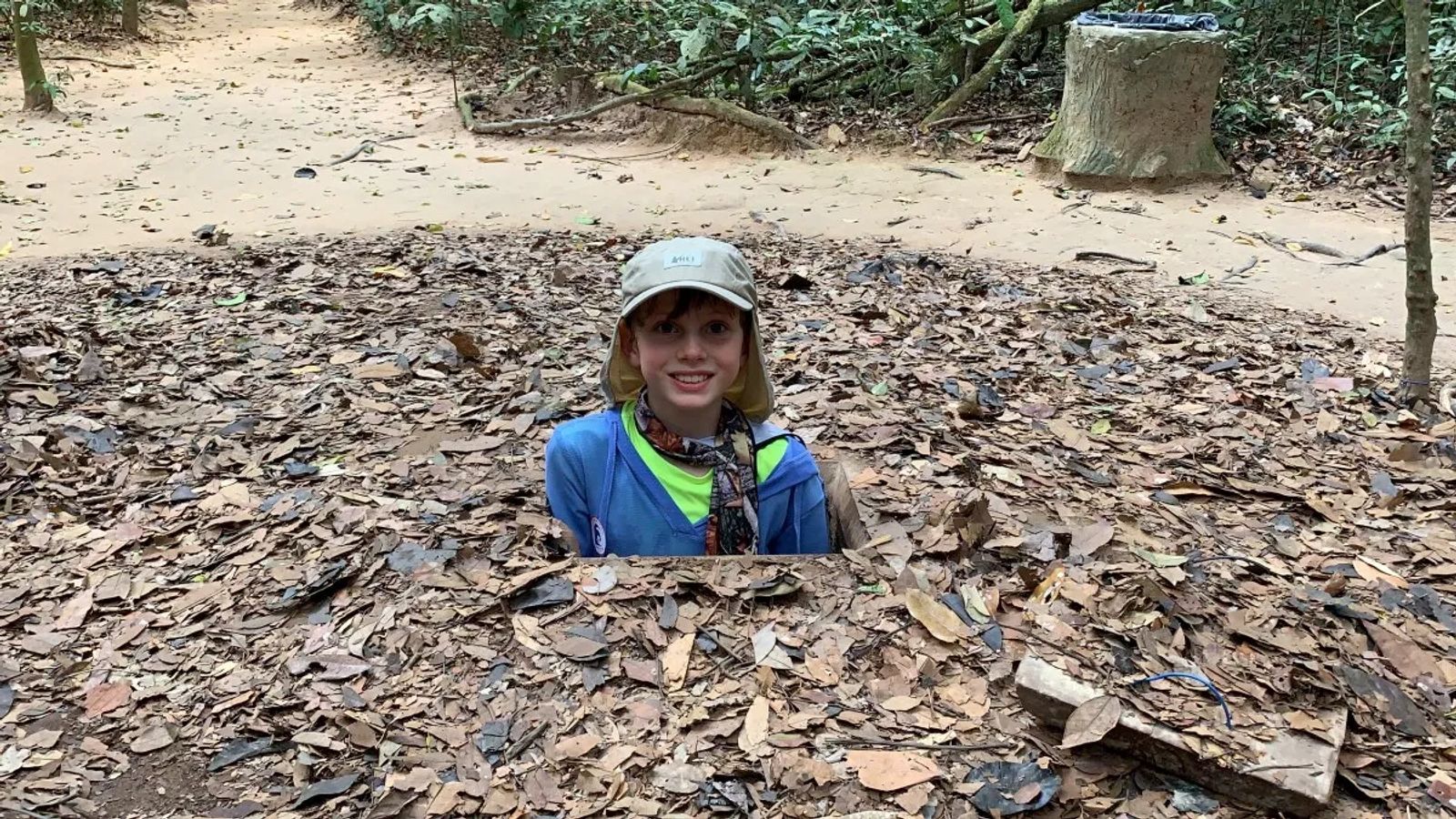 There are several ways to visit; group tours are inexpensive and widely available, DIY (cheaper but may not include a lot of insider information) or a private tour (which we did and can't recommend enough!). There are actually 2 tunnel sites – Ben Duoc & Ben Dinh. Although they technically are part of the same site, Ben Dinh is more touristy and reconstructed for the larger tourists who want to come visit. If you want more authenticity, visit Ben Duoc.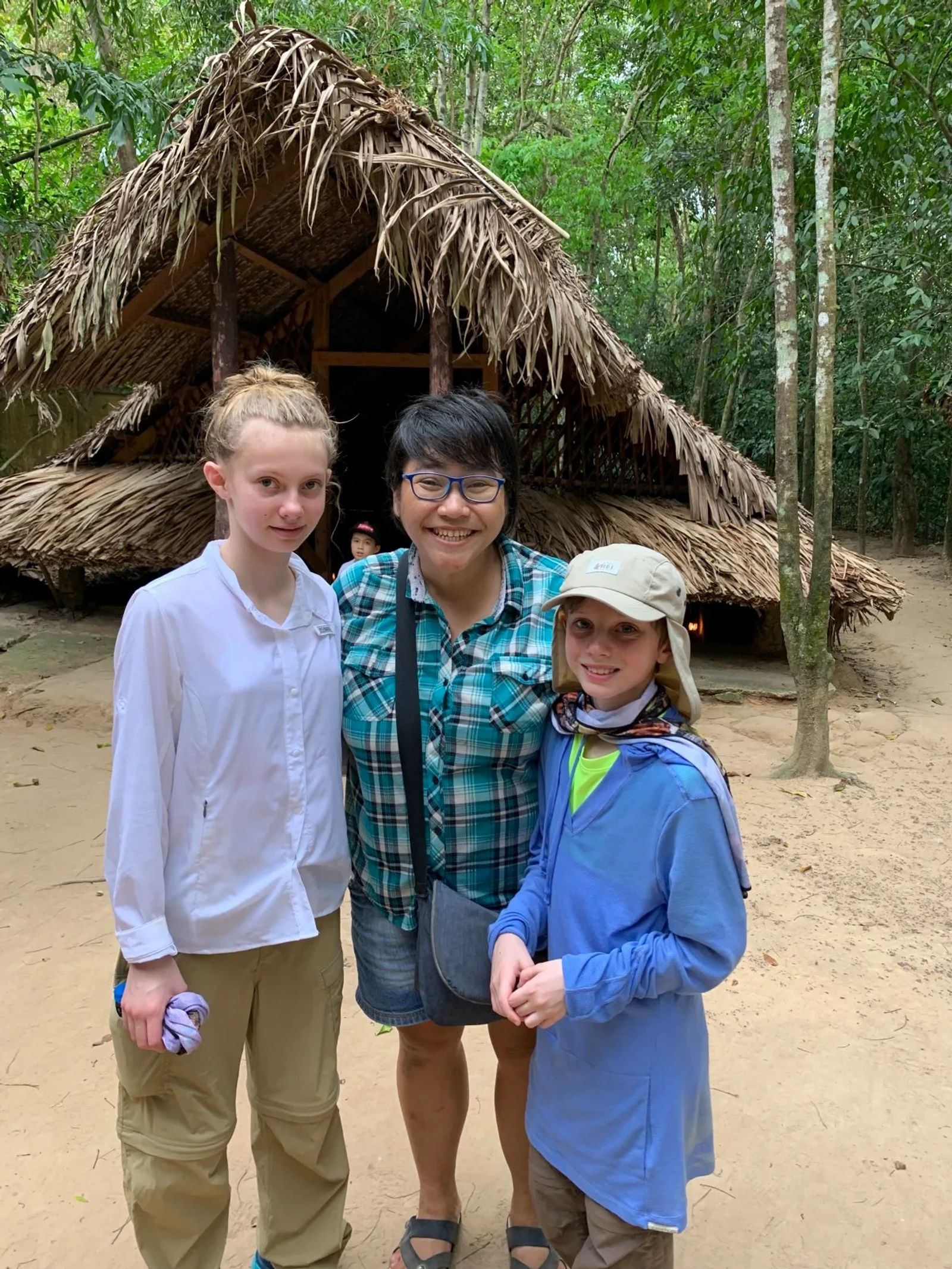 After a lot of research on guides and companies, I stumbled upon the company withlocals.com and chose Thien as our guide. With Locals allows you to choose your guide and we used them for several tours throughout Vietnam. I have to say, Thien was one of the best guides we have ever had in our travels! 5 stars all the way! The tour also included a driver so Thien could concentrate on the tour part. She was excellent with the kids and kept us all engaged the entire day!
Day 3 – Saigon 1/2 day private tour and an evening performance of Teh Dar
For our Saigon 1/2 day private tour, I enlisted the help of our concierge to book with a local company called Gingko Voyage. As always, I had specific requirements and wanted a guide that would be engaging with our kids. Our kids are keen on learning about history and always ask a lot of questions.
There are several must-see's in Saigon, and these were covered in our 1/2 day tour.
First we were brought to the Jade Emperor Pagoda located in the Binh Thanh District. Built in 1909 to honor the Supreme Taoist God, the Gatekeeper of Heaven, it is considered one of the most important shrines in Ho Chi Minh City. It is here that many say wishes come true. Locals and tourists alike come to pray and give offerings of food, flowers and incense in return for blessings of health, property and even fertilization.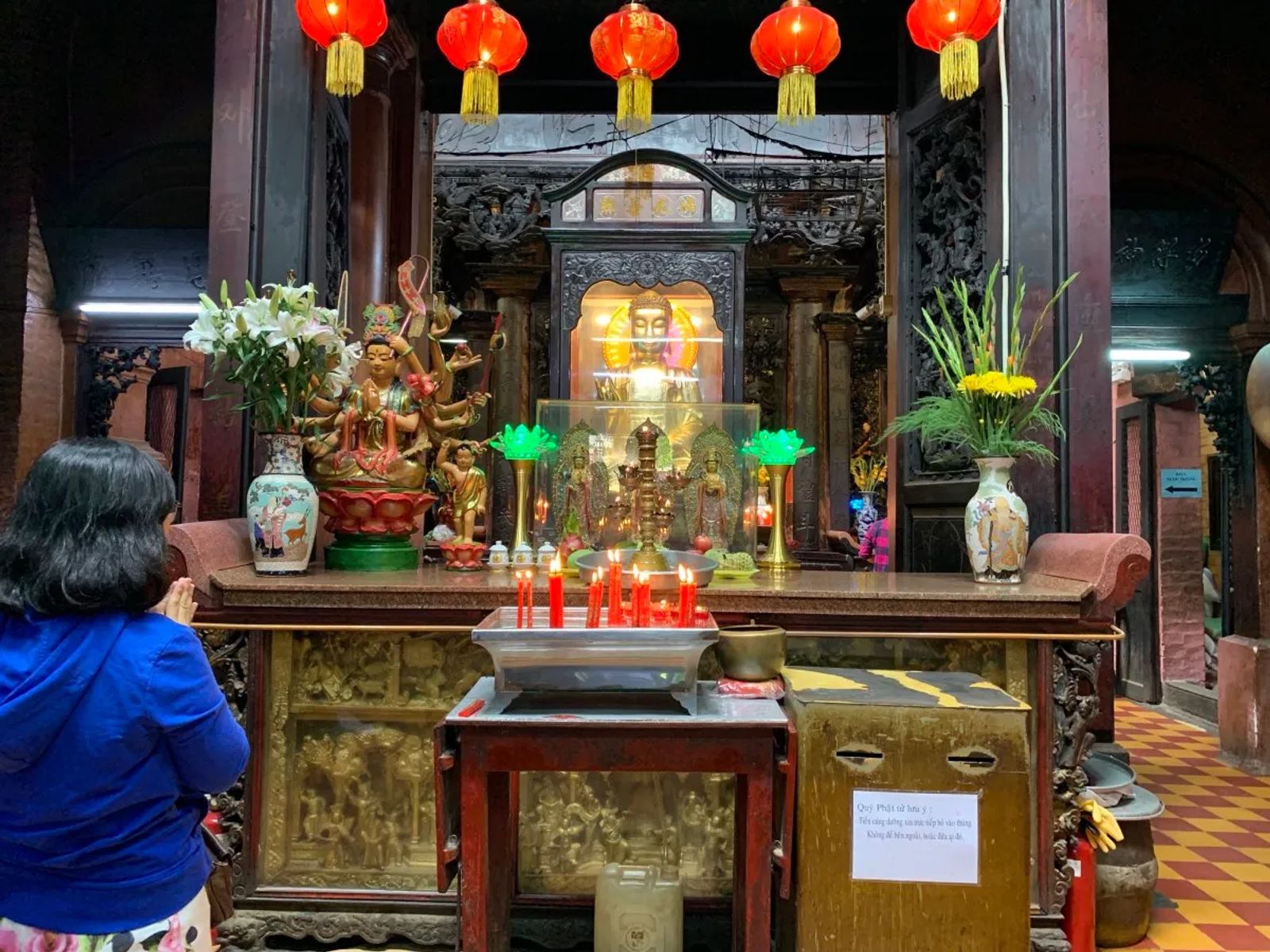 After our visit the the Jade Emperor Pagoda, we headed to the Notre-Dame Cathedral and Old Post Office. The Notre-Dame Cathedral was closed for renovations so we did not go inside. It is modeled after the Notre-Dame cathedral in Paris and materials from France were used in its construction. Near the cathedral is the Old Post Office, which was completed in 1891 with influences of Gothic, Renaissance and French colonial design. With a bright yellow exterior, inside you will find impressive vaulted ceilings and a large portrait of Ho Chi Minh hangs proudly in the large hall. It still serves as a functional post office but souvenirs can also be purchased here.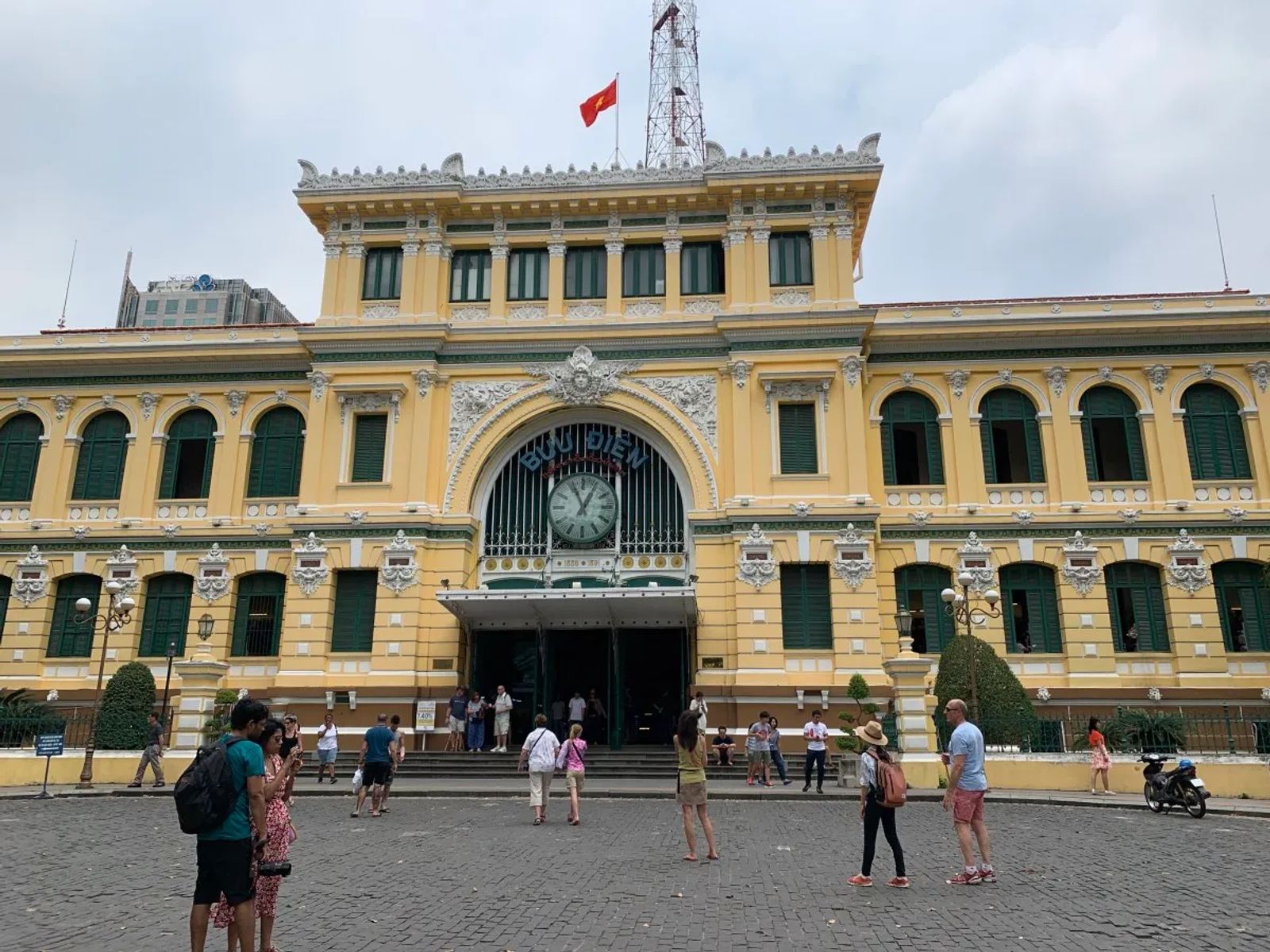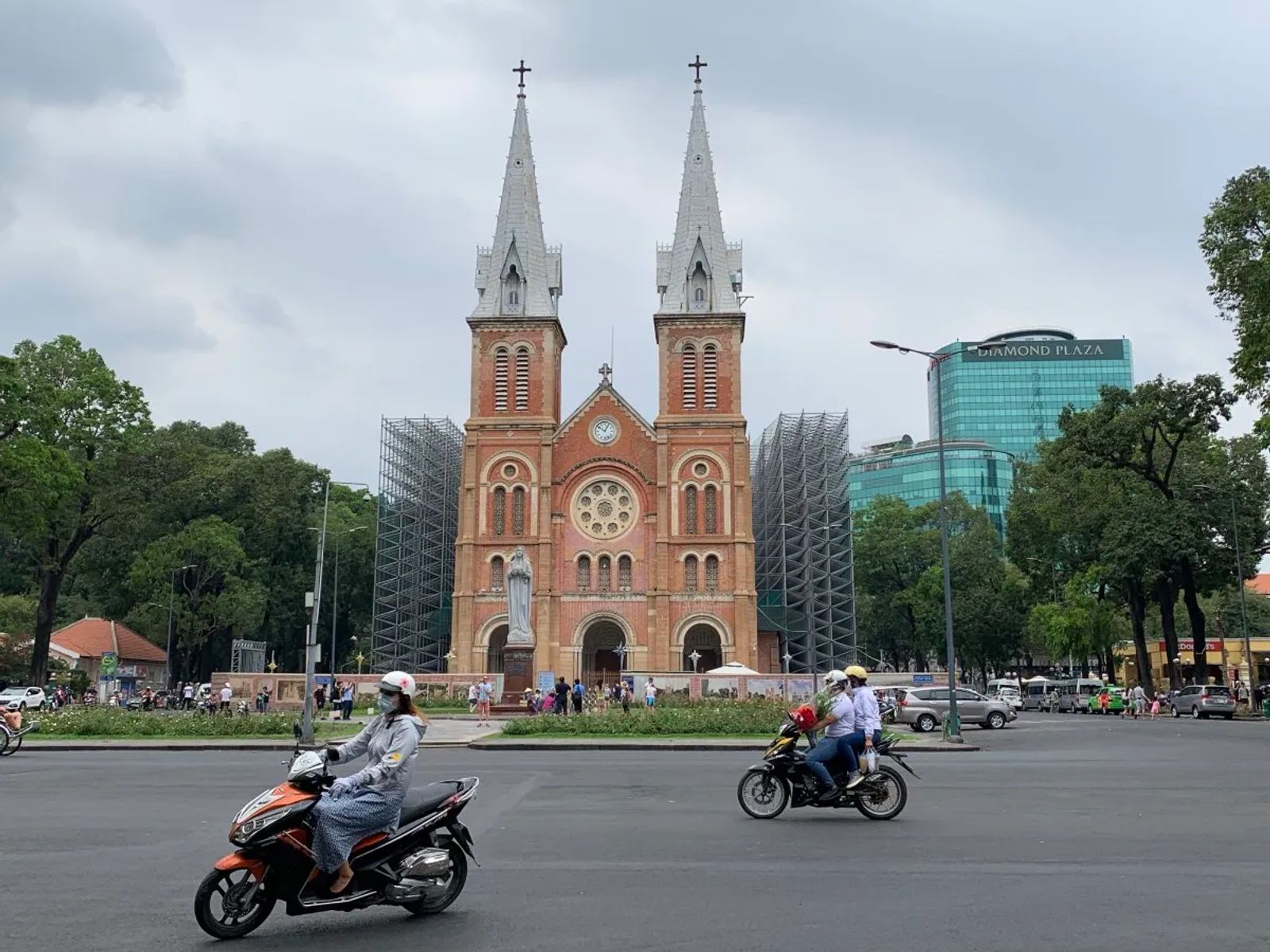 We really didn't spend much time at the Old Post Office, so we headed to Independence Palace otherwise known as Reunification Palace. The palace is no longer in use except for special events. The palace is basically a time capsule from 1975, when a North Vietnamese army tank crashed through the gates essentially ending the Vietnam War. Reunifcation Palace was the home of the French Governor of Cochin-China and later Vietnamese General Ngo Dinh Diem until his death in 1963. Visitors can explore the beautiful gardens, secret rooms, antique furniture and even the command bunker located in the basement.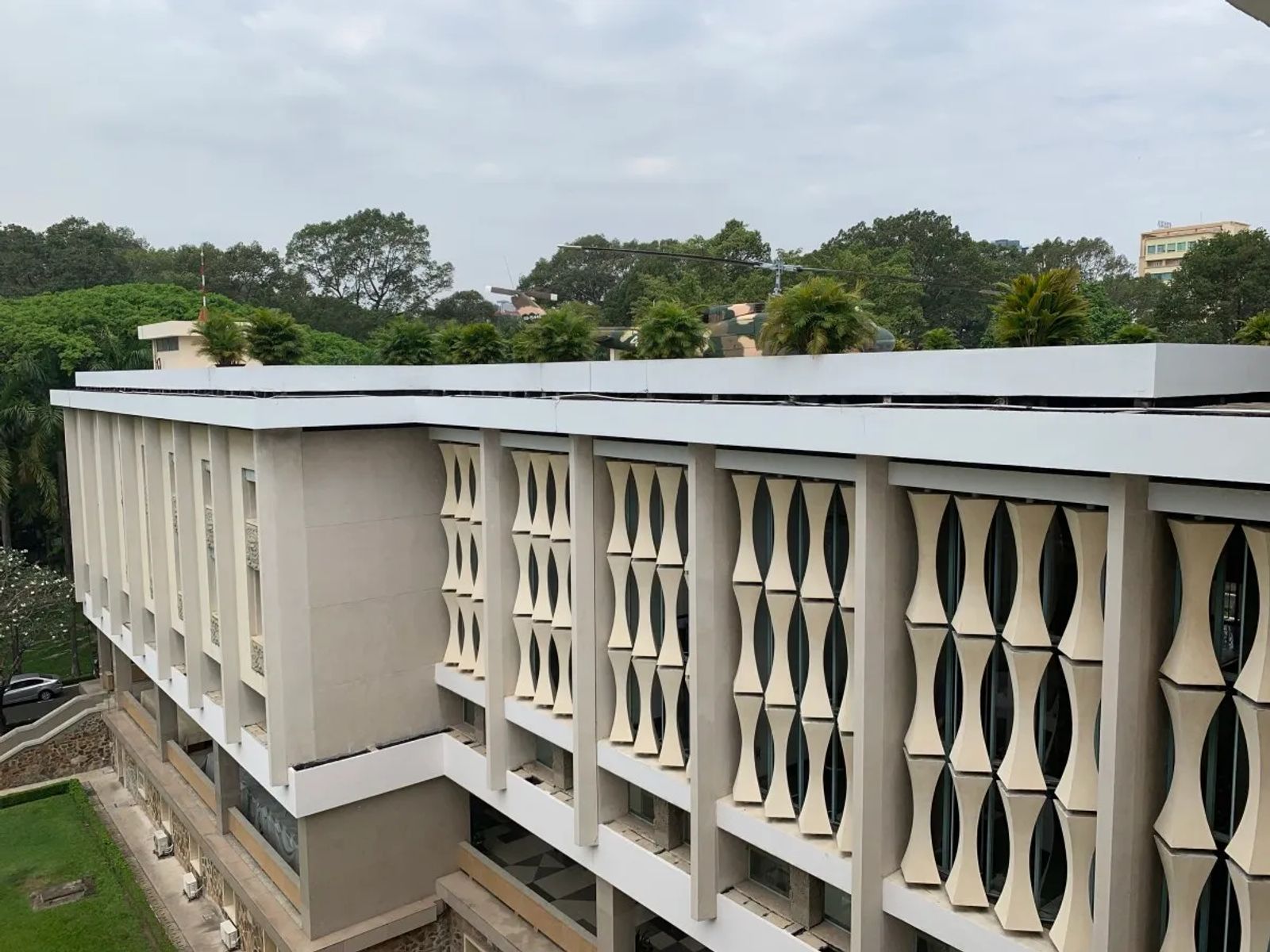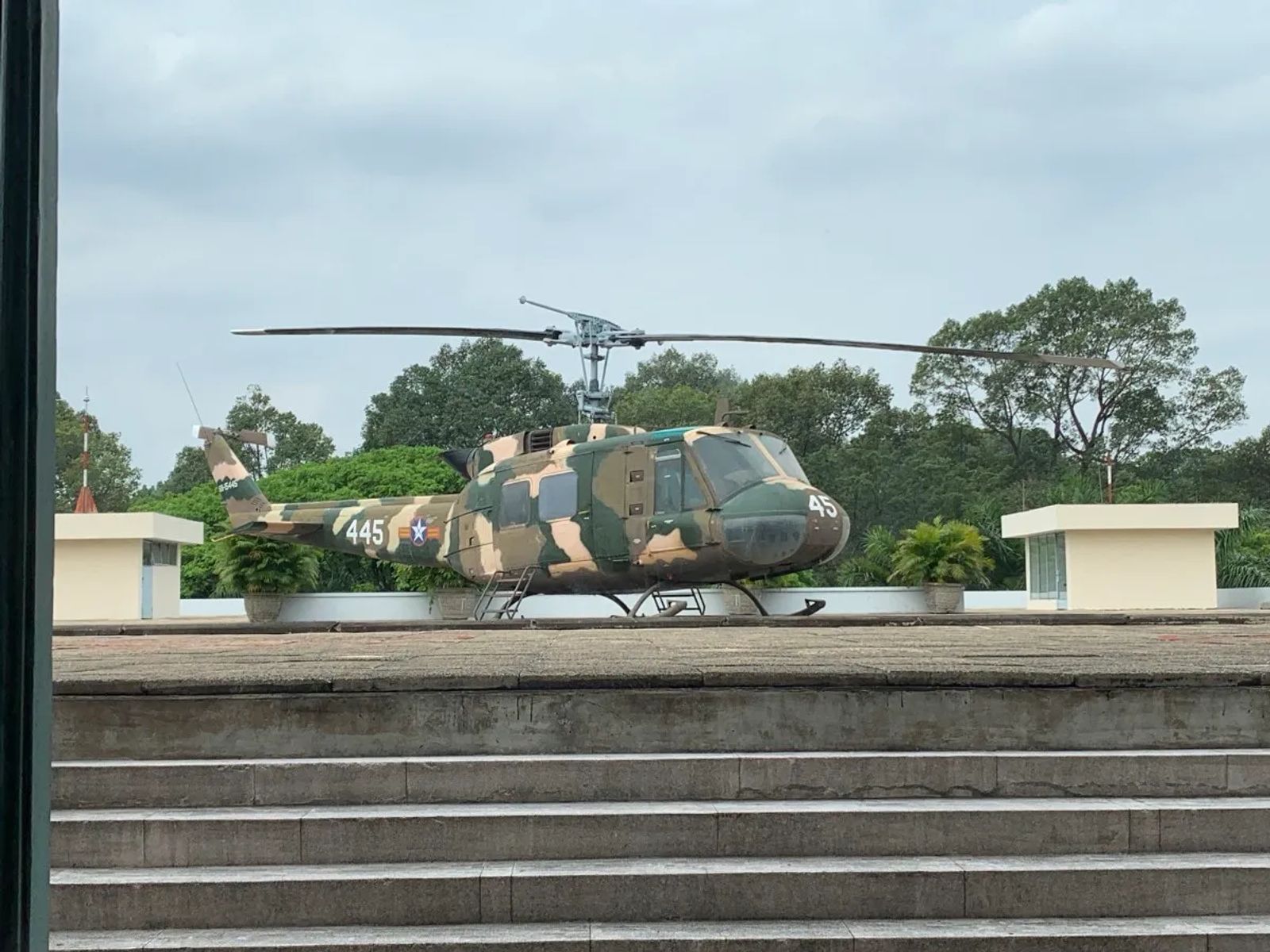 From Reunification Palace we headed over to the War Remnants Museum, formally known as the Museum of Chinese and American War Crimes. It is here that our guide gave us a time frame to just look at our own pace. Upon entering the grounds, visitors find authentic military equipment (mostly US) displayed. It was suggested we start at the top floor in a room called the Requiem and work our way down. This museum conveys the brutal effects of the Vietnam War powerfully. Although largely one-sided, it does tell stories from both sides. There is an area dedicated to the effects of Agent Orange which is quite graphic and eye opening. War is never easy – no matter who wins or looses. I would not recommend this museum for young children.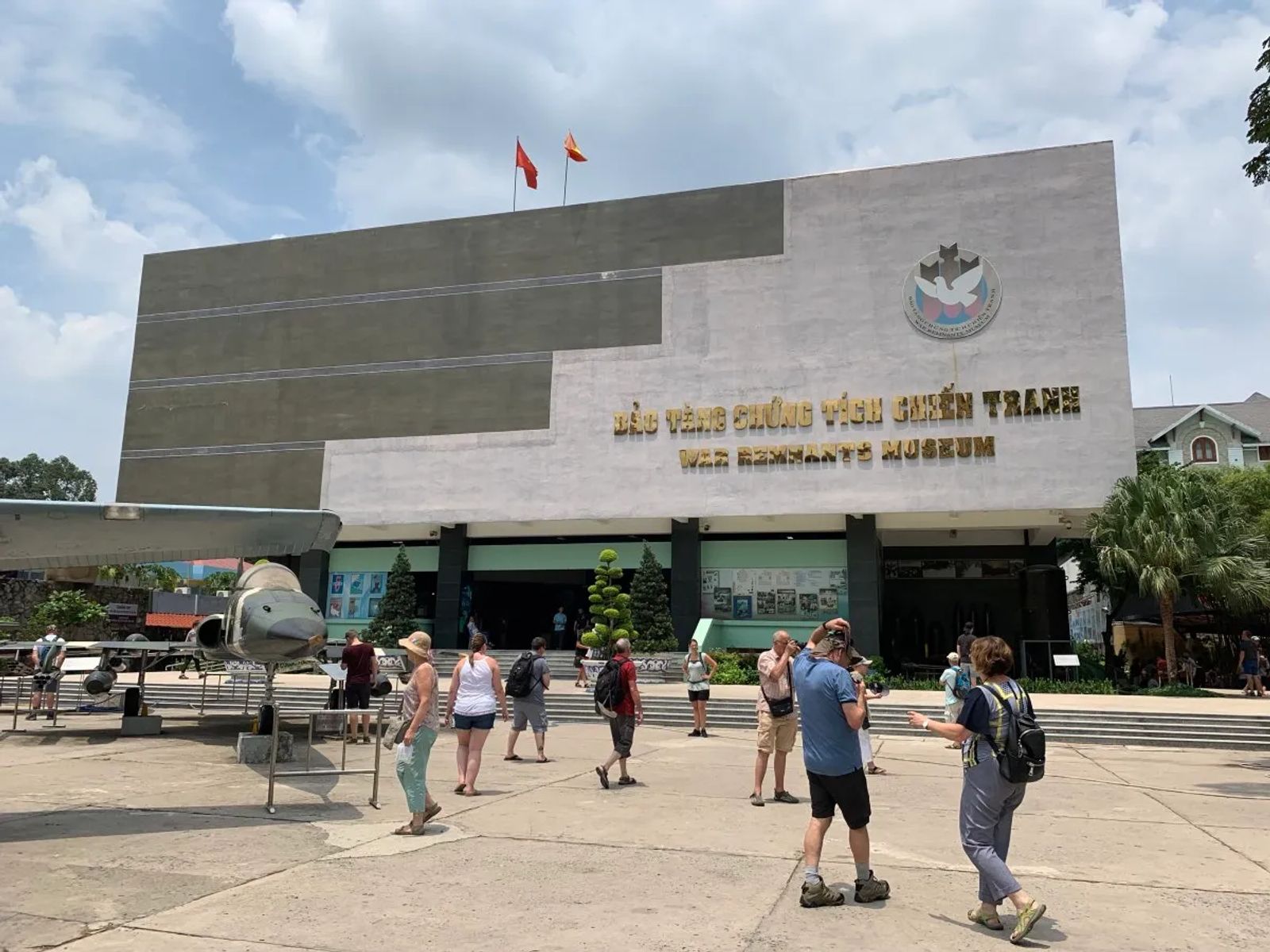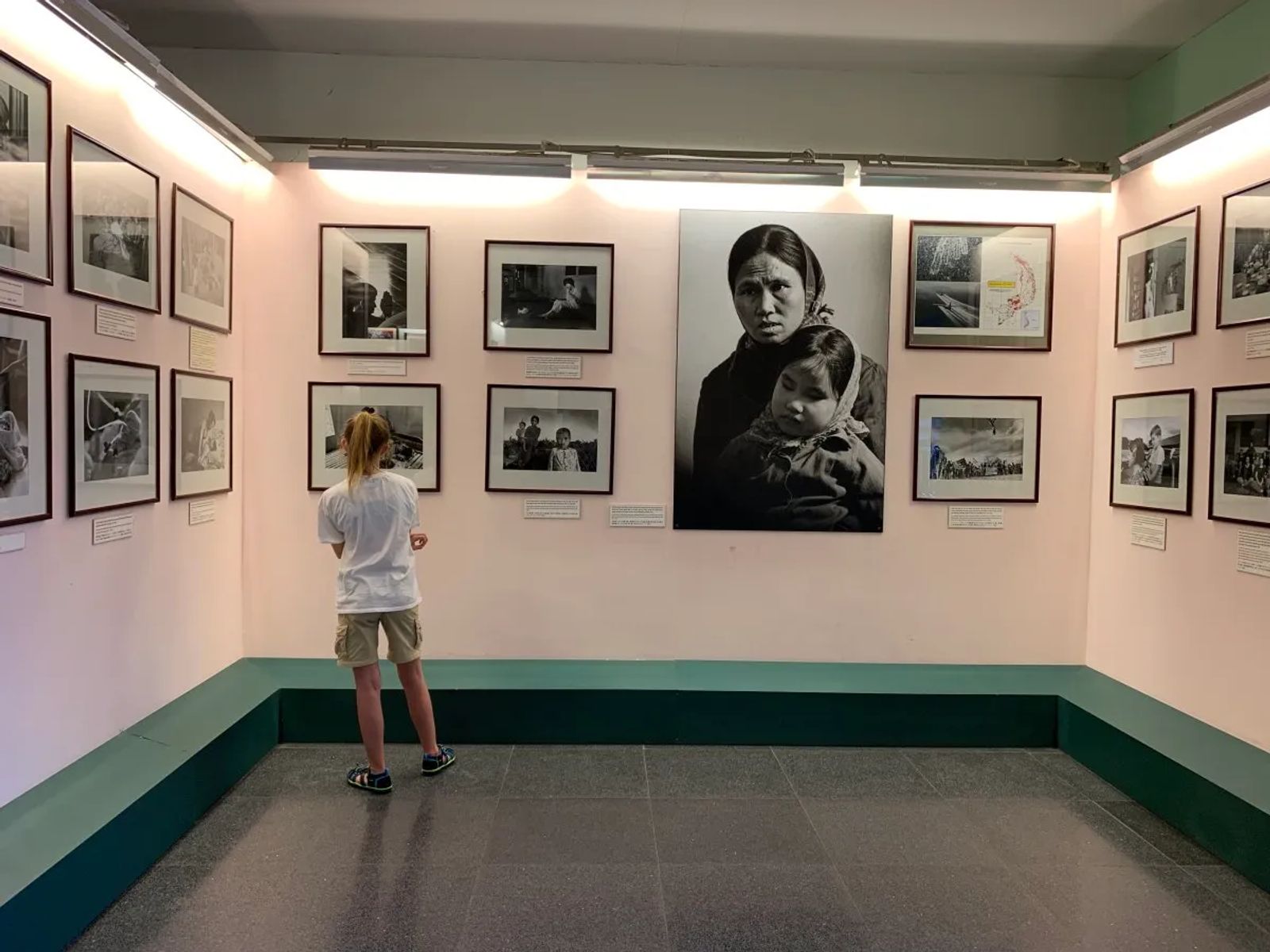 After returning to our apartment from a morning of sightseeing, we relaxed before heading out to the Saigon Opera House to see a performance of Teh Dar. The Saigon Opera House in itself is beautiful and designed after Opera Garnier in Paris. Built in 1897 by French architect Eugene Ferret, the 500 seat building was used as the home of the Lower House assembly of South Vietnam after 1956. It was not until 1975 that it was again used as a theatre, and restored in 1995.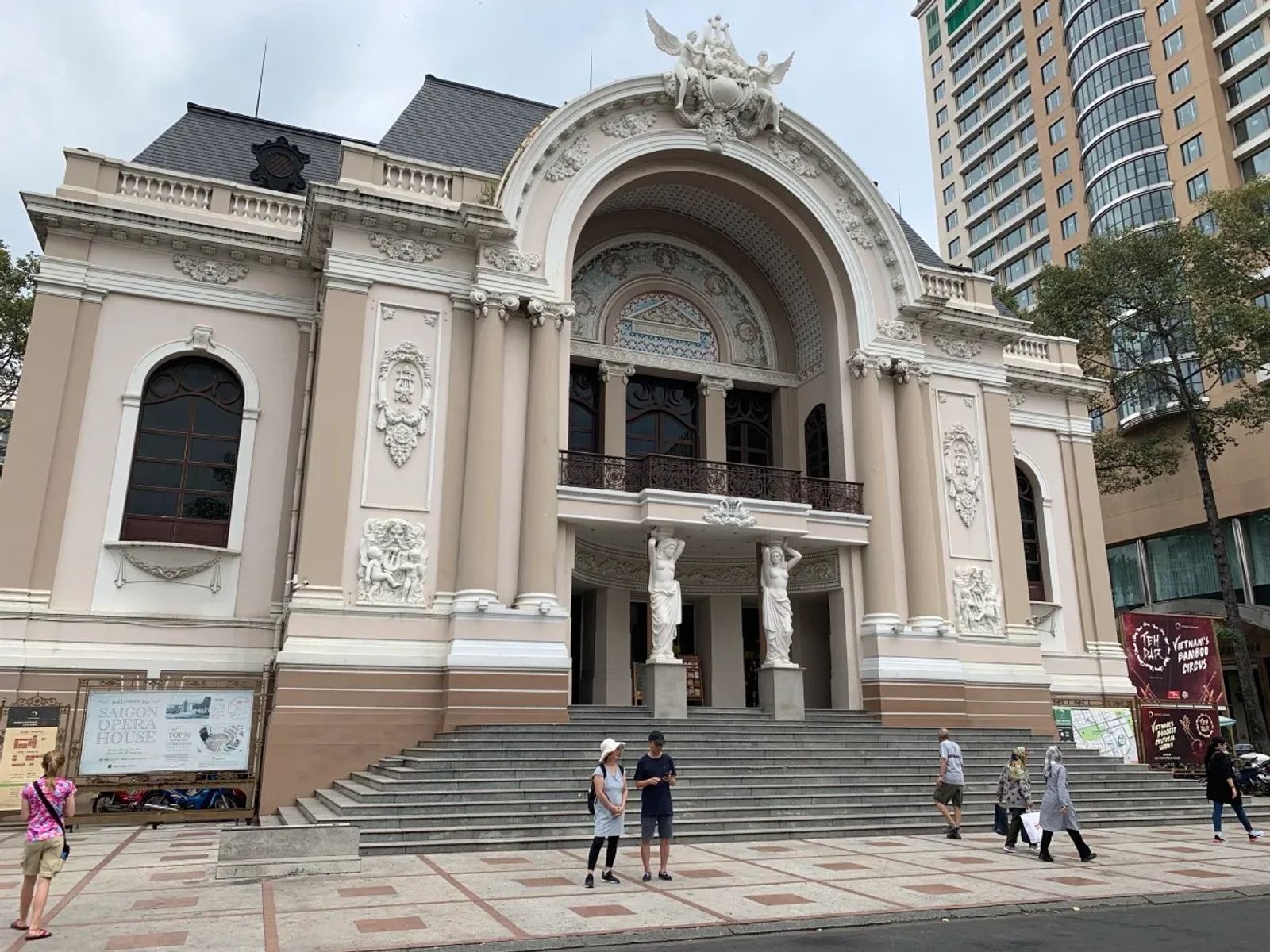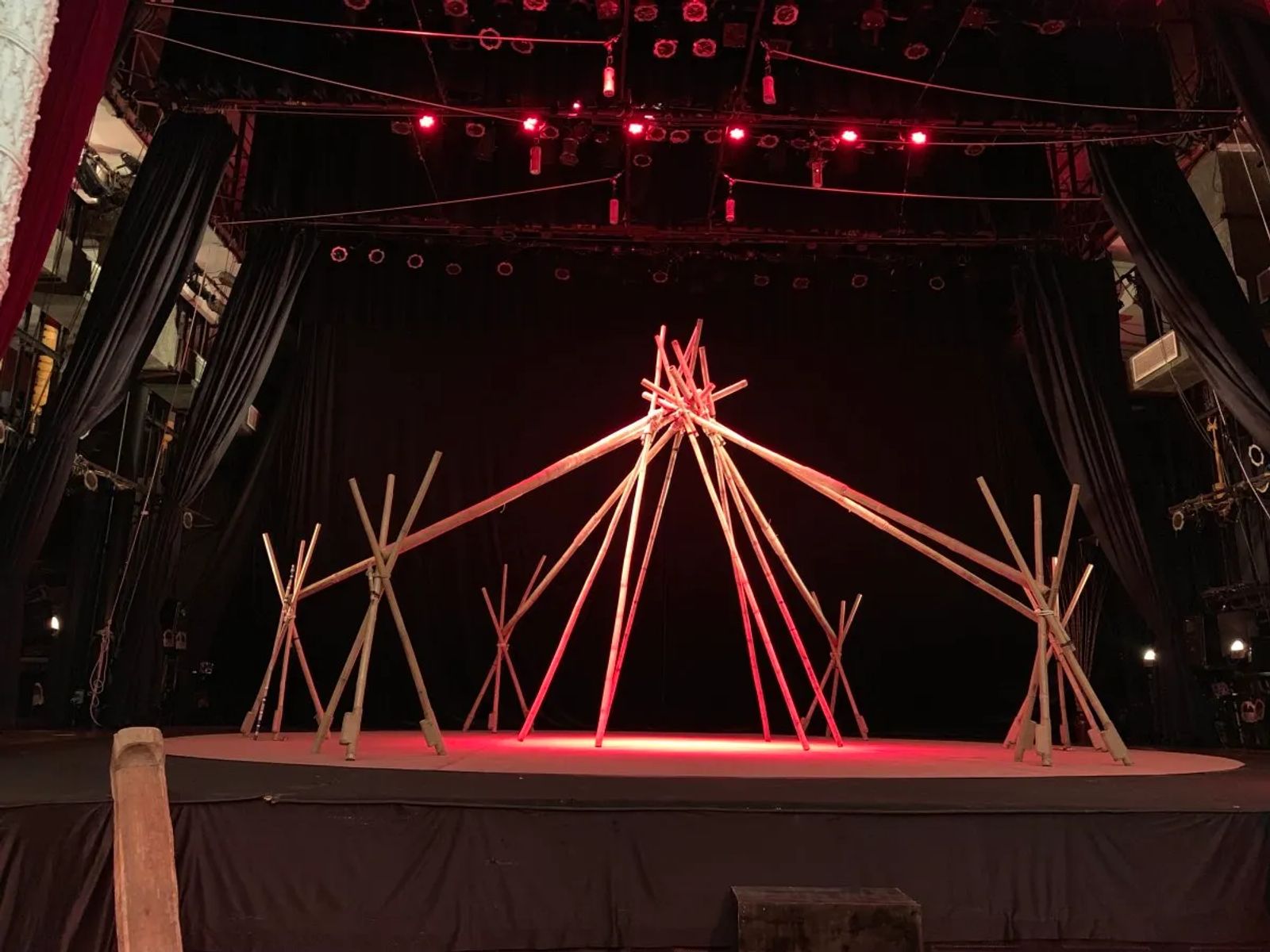 Teh Dar is a theatrical performance featuring a bamboo cirque, stunning acrobatics and live tribal music. The show features tales of tribal life on the South West Highland of Vietnam using creative use of bamboo and jaw dropping acrobatics performed by skilled artists. The 60-minute show kept us enthralled the entire time and was the best performance we saw during our entire holiday.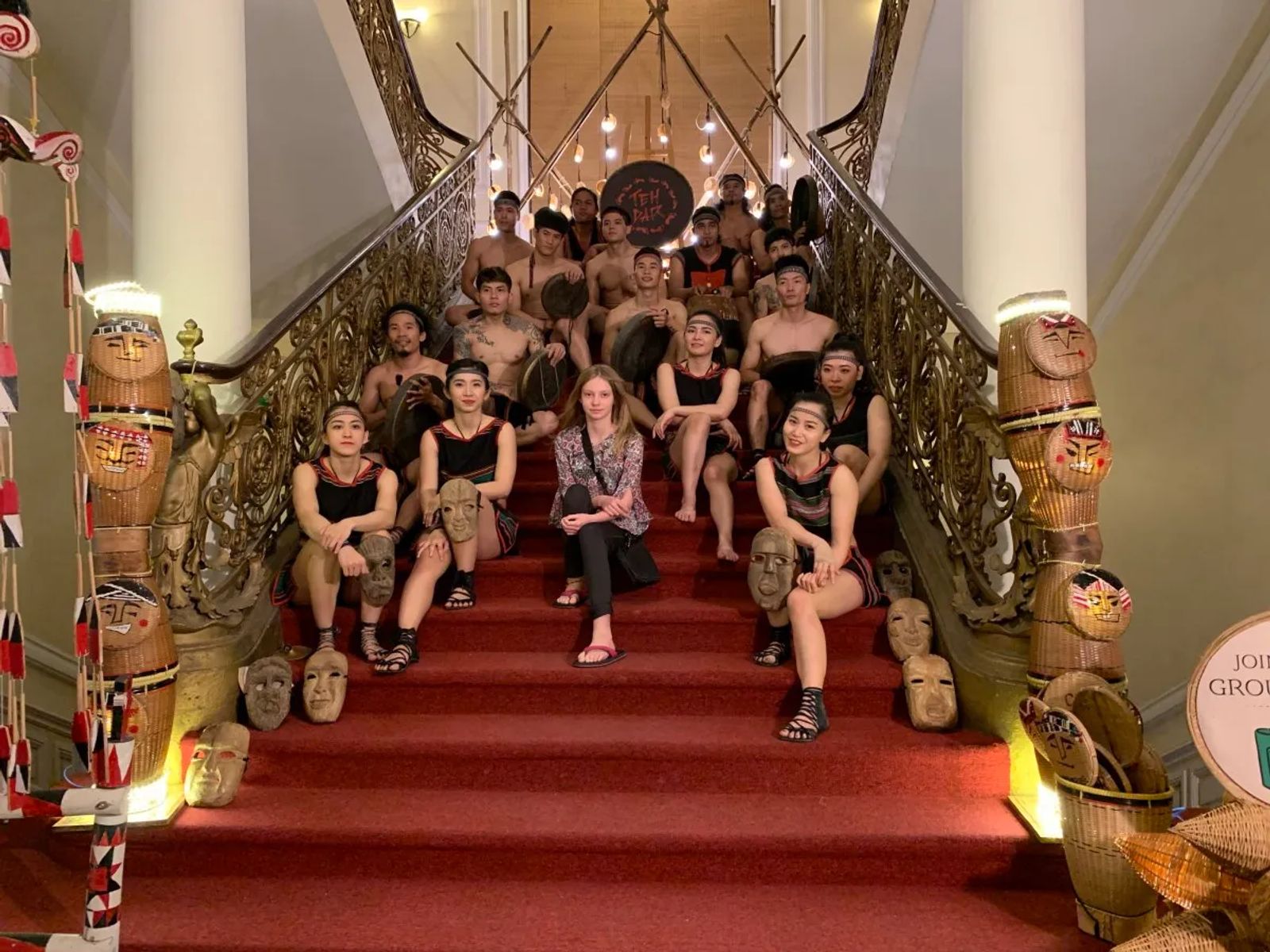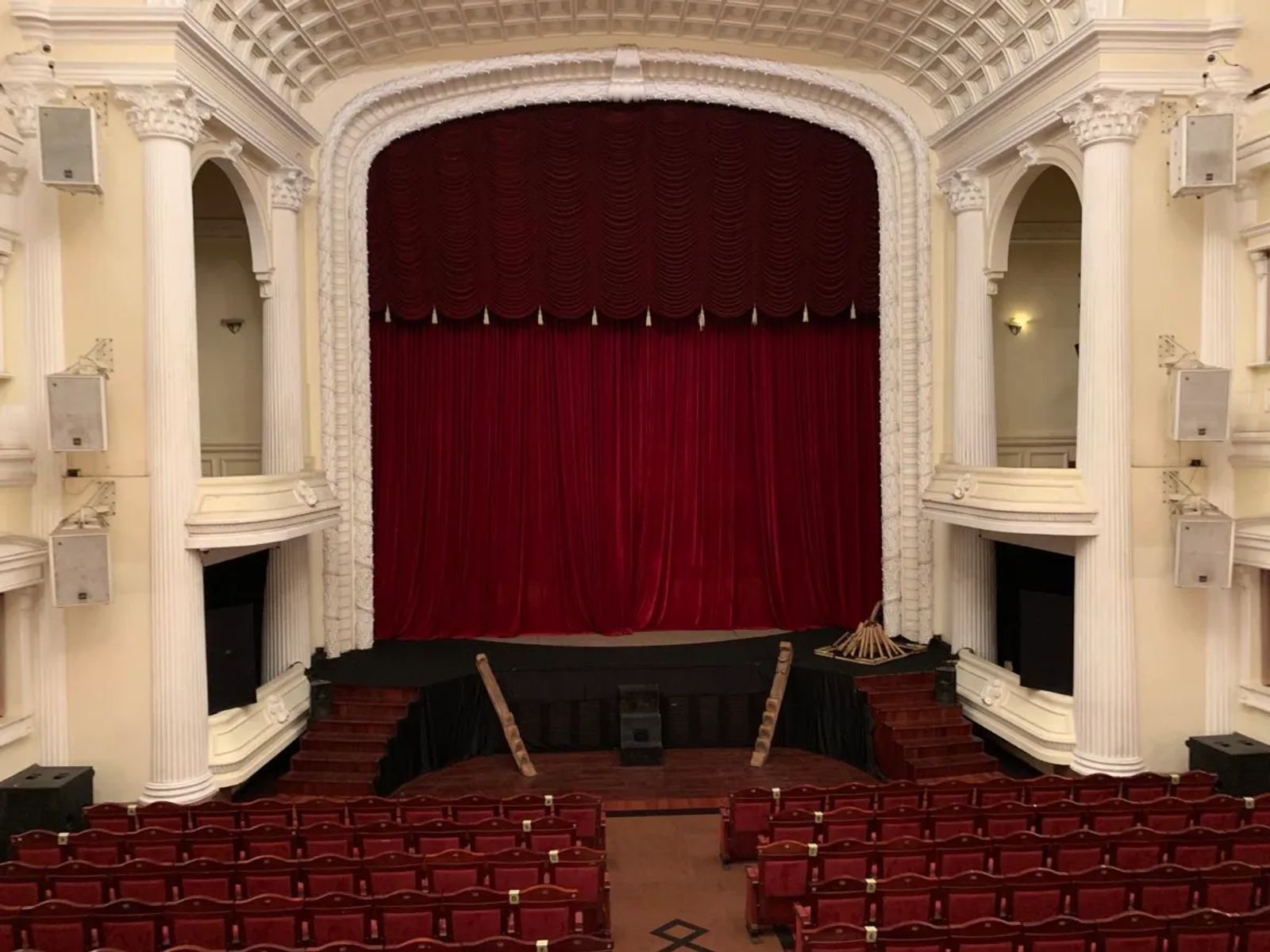 We arrived about 45 minutes early so we could have a tour of the theater and enjoy complimentary local drinks prior to the show starting. After the show, the cast came into the lobby and people were allowed to take pictures. We booked our tickets online through their official website. All seats are excellent and we sat in the first row. I would maybe opt for the balcony next time just for a good overview of the stage.
Day's 4 & 5
2-Day Authentic Mekong Delta Village Life
During our visit to Vietnam, I really wanted the kids to experience a family overnight and experience rural life. Through the site WithLocals.com, I stumbled across an overnight in the in the Mekong Delta with Son in his village of Lai Vung. We kept our apartment in HCMC and just brought an overnight bag for this adventure. On the day of our visit, Son picked us up promptly at 9:00 am and we began the 3.5 hour journey south into the Mekong Delta region. Son was very animated and excited to show us his village as he is a blossoming entrepreneur in the hospitality business. When we arrived, we were welcomed in his home with lovely fresh drinks and shown to our room with 4 beds. Son lives with his parents and his mother was busy cooking and preparing our lunch when we arrived.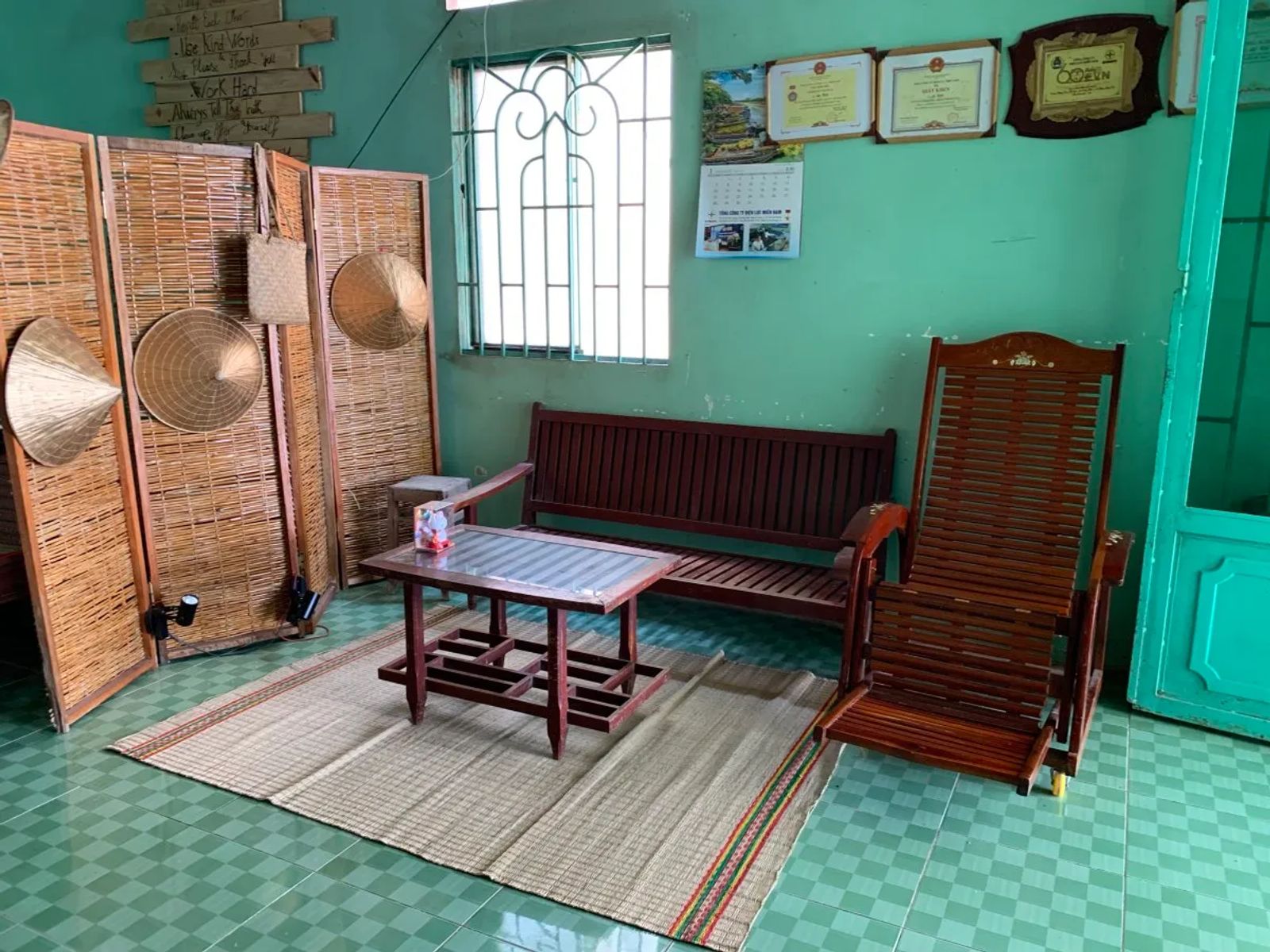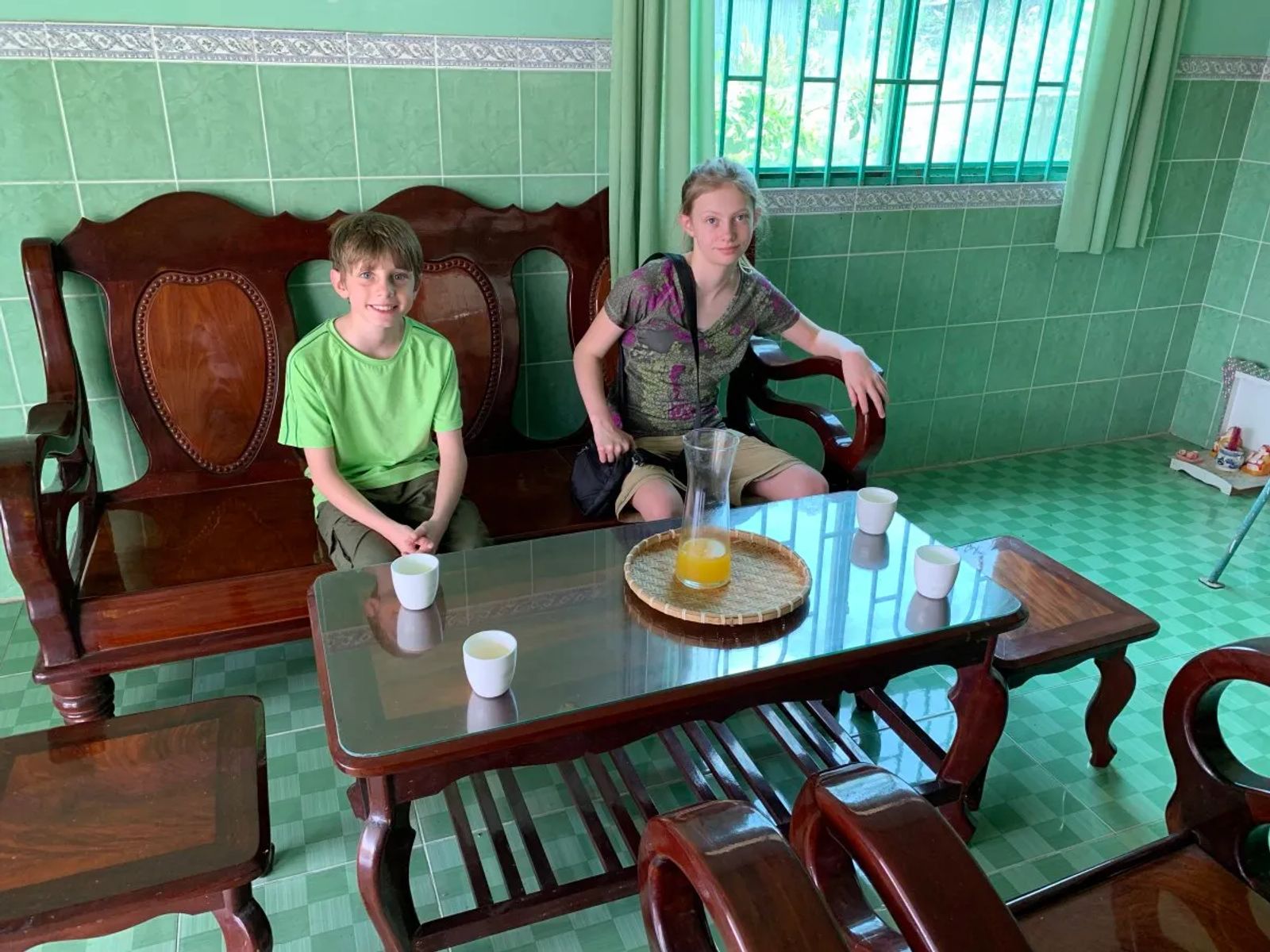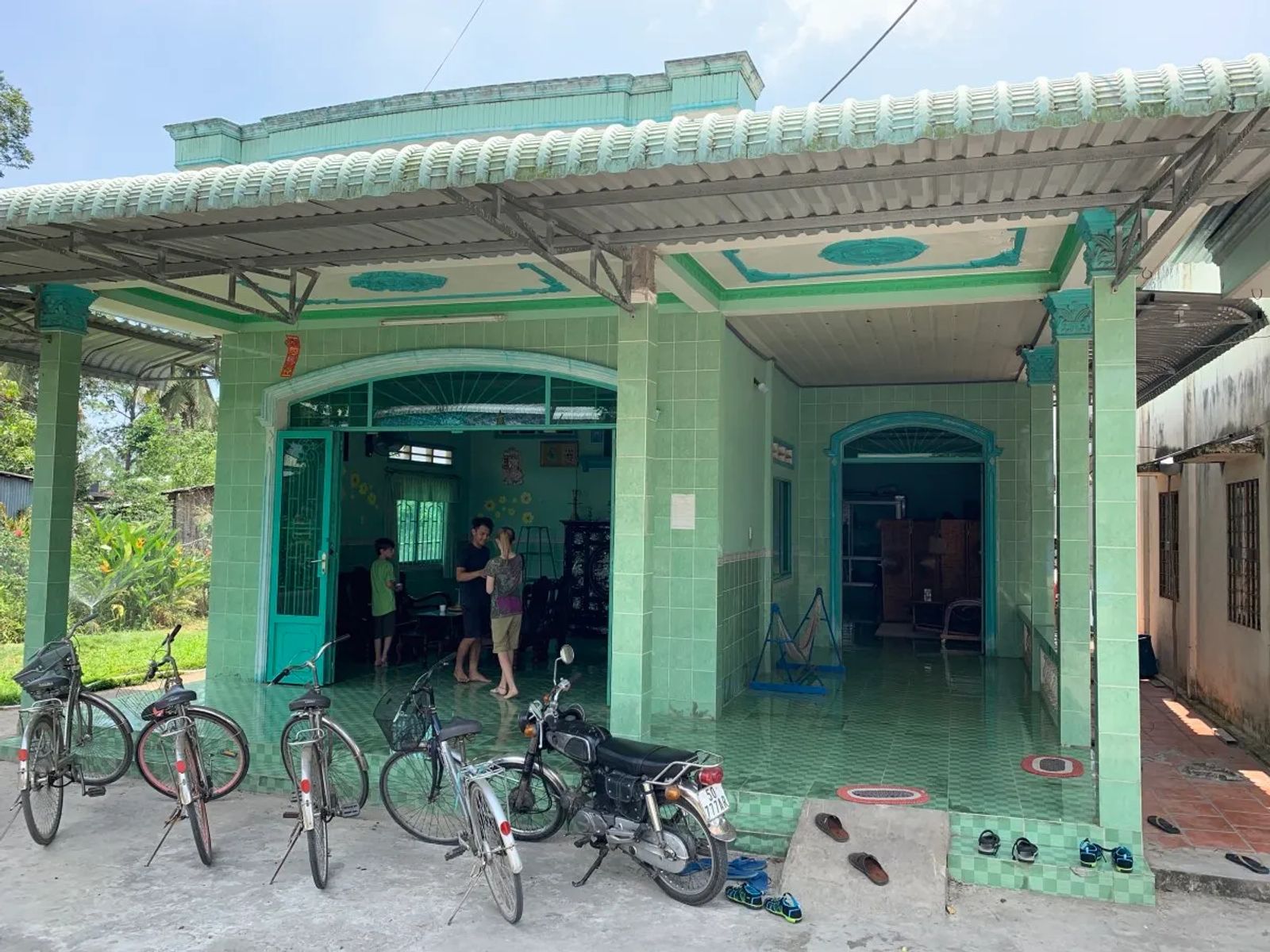 Son's family are 5th generation farmers and he took us out to explore his land where he showed 20 types of fruit plants. Eventually we settled into a shaded gazebo where he served us some jack fruit, pineapple, oranges and coconut.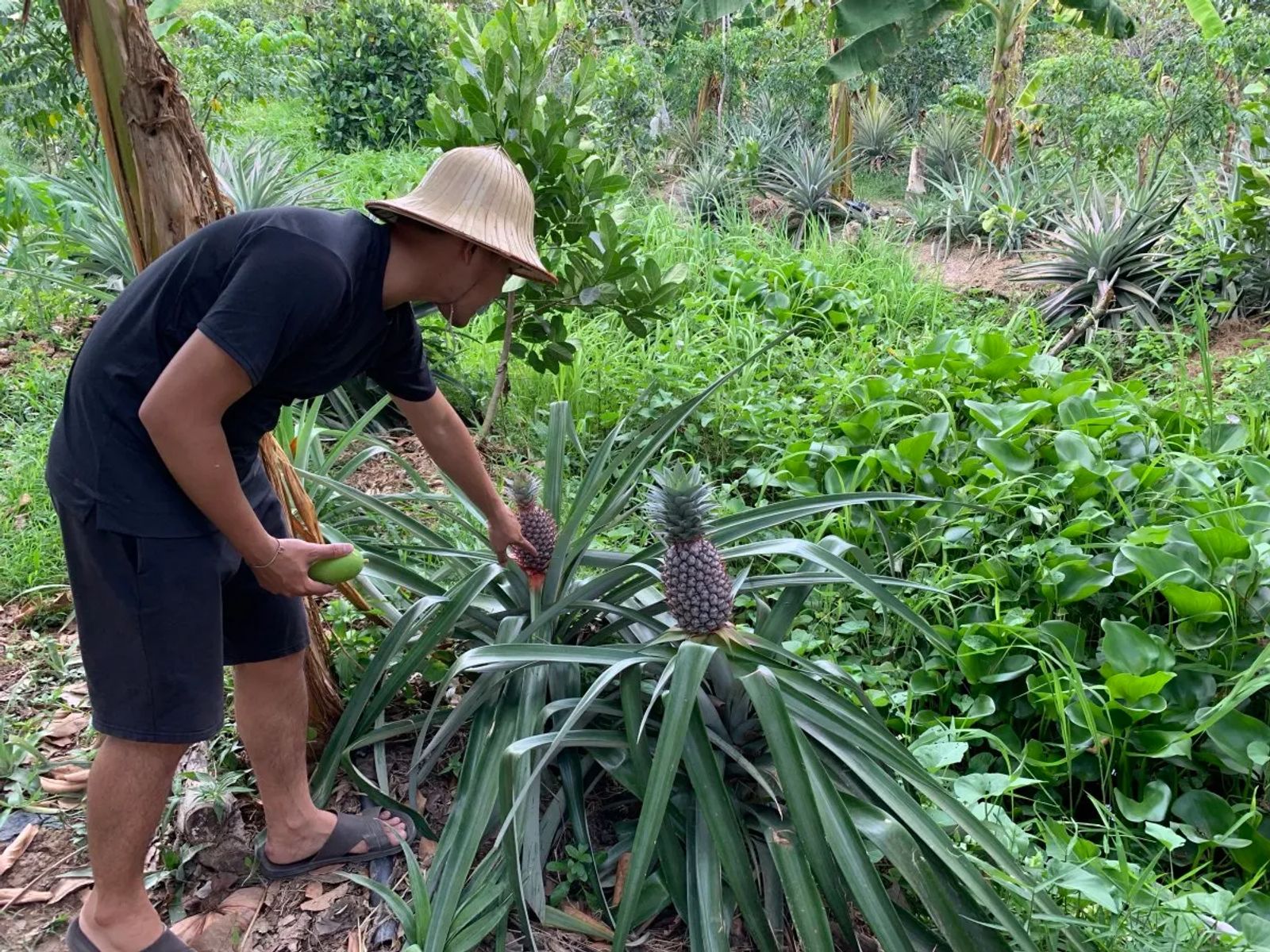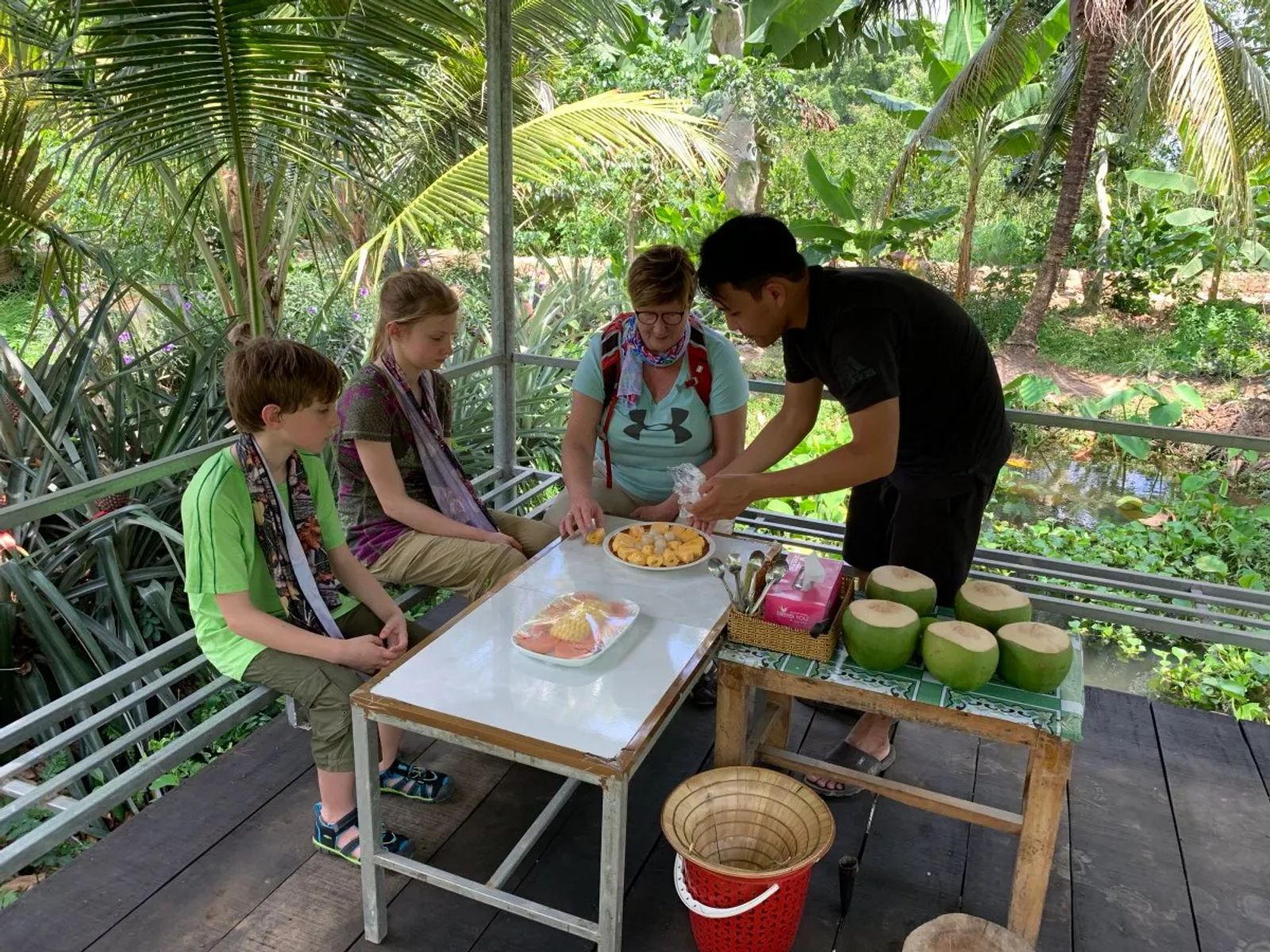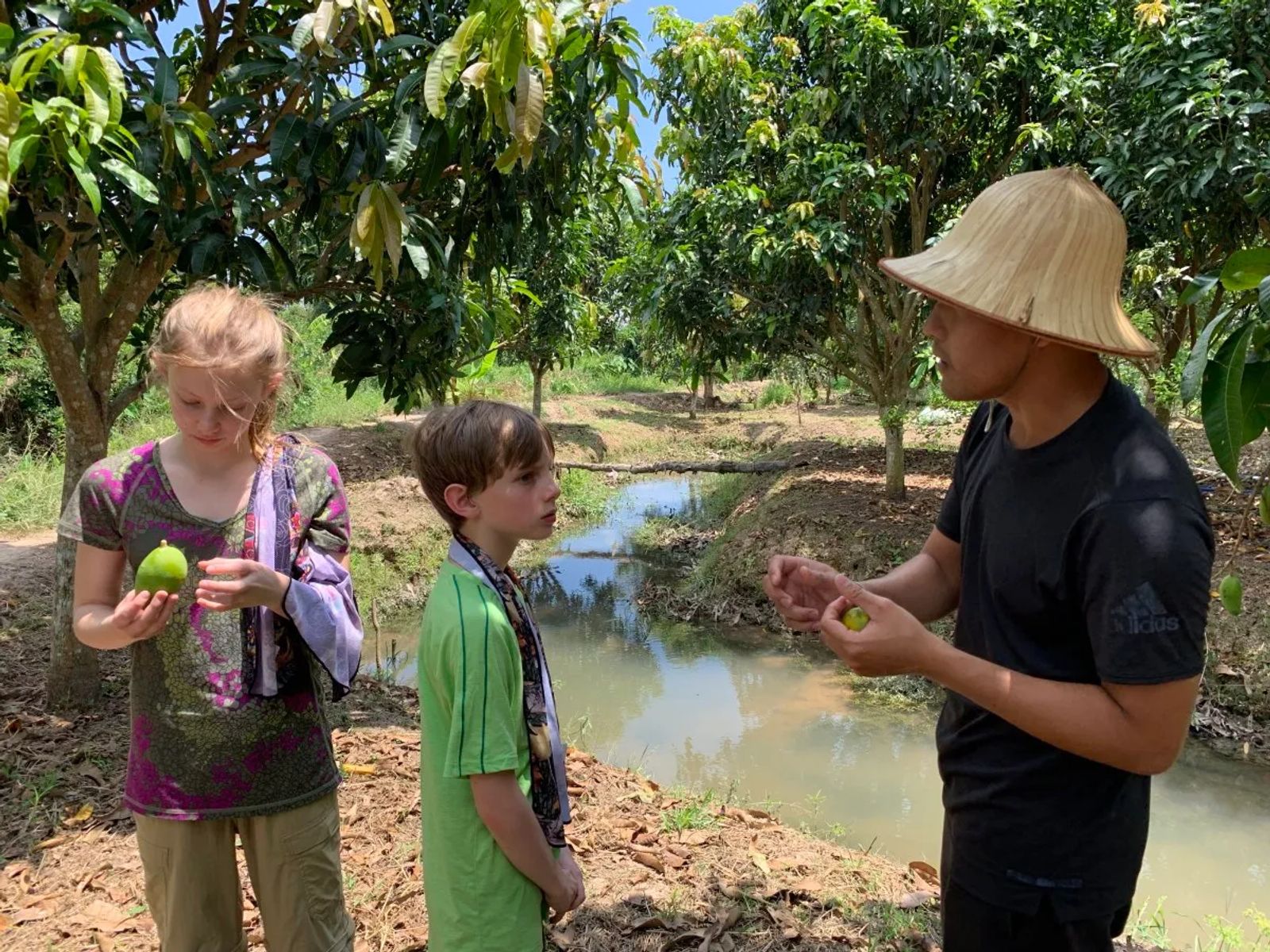 After a lovely homemade dinner, we headed off to explore his village on bicycles. There were times I was a bit nervous as we were on main roads without helmets and the bikes were not of any decent quality, but it was enjoyable. Son brought us to a restaurant where we watched the sunset while sipping on refreshing drinks. It was on the return where my son Isaac's bike got a flat tire. Isaac ended up riding on the back of Deb's bike which he actually appreciated.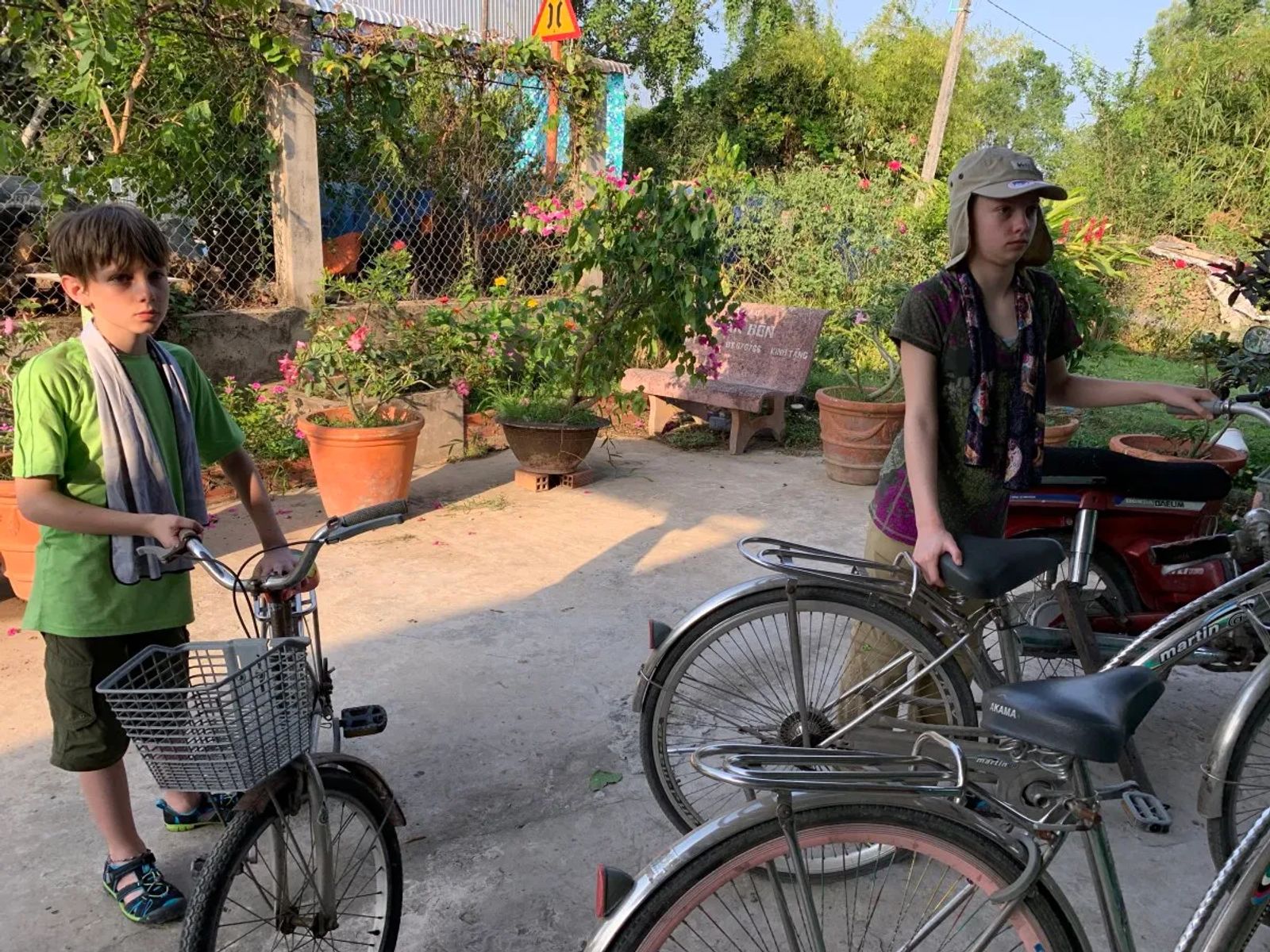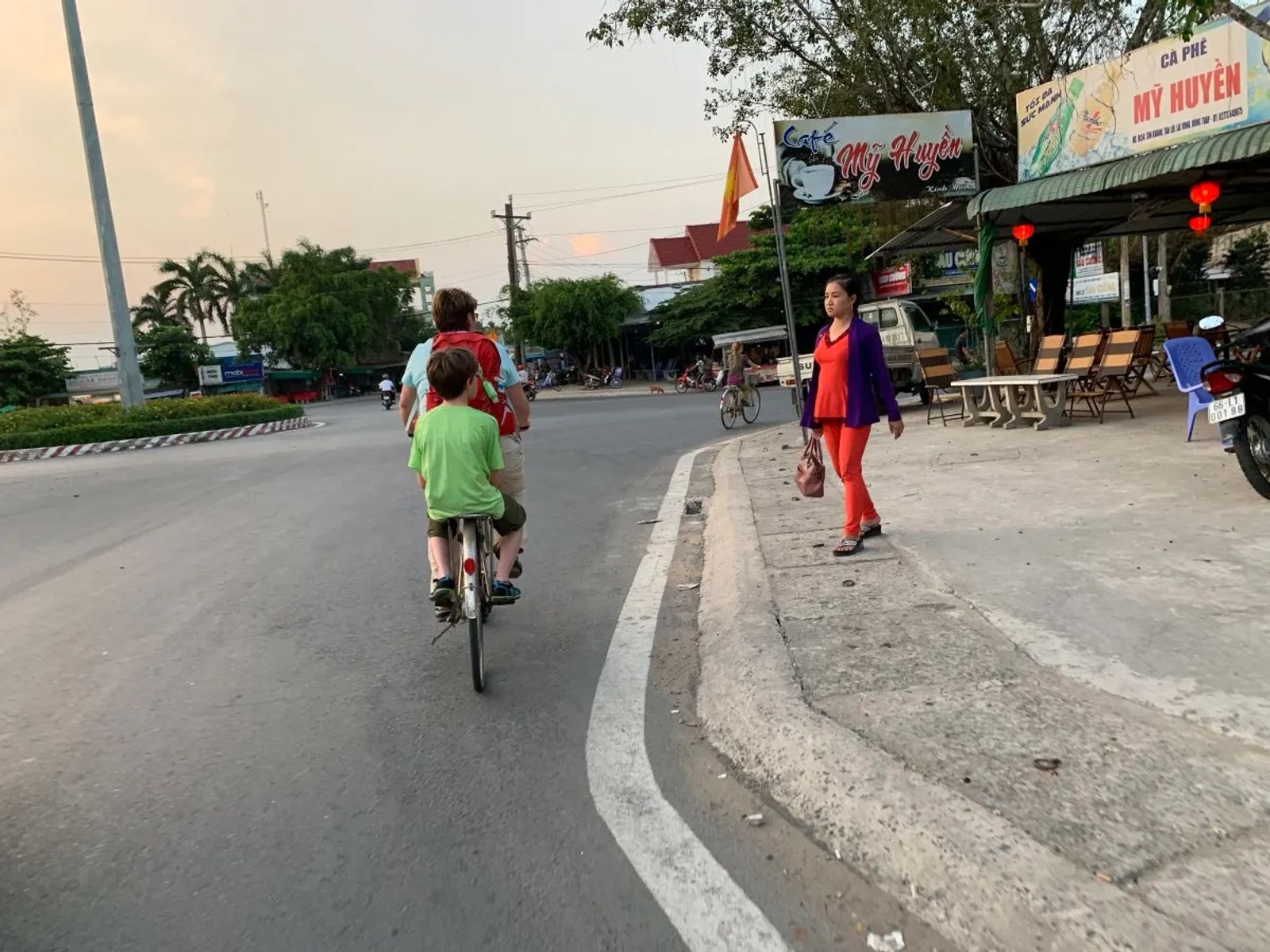 In the rural villages, all visitors must be registered in the district headquarters for accountability. We accompanied Son while he presented our passports to the authorities who then spent about an hour processing our paperwork and verifying we were legitimate. It was interesting to see that process. I noticed a rudimentary white board with tick marks showing how many people lived in the village, and how many visitors.
The following morning we enjoyed a large breakfast and then headed off to explore local and floating markets. It was really exciting to see an area not inundated with tourists and we were definitely a novelty as the locals in this area don't see many westerners. While on the river, we stopped by a few refugees floating homes and brought school supplies for the children. They were so excited to receive pencils, crayons, and coloring books! I wish we could have spent more time with them.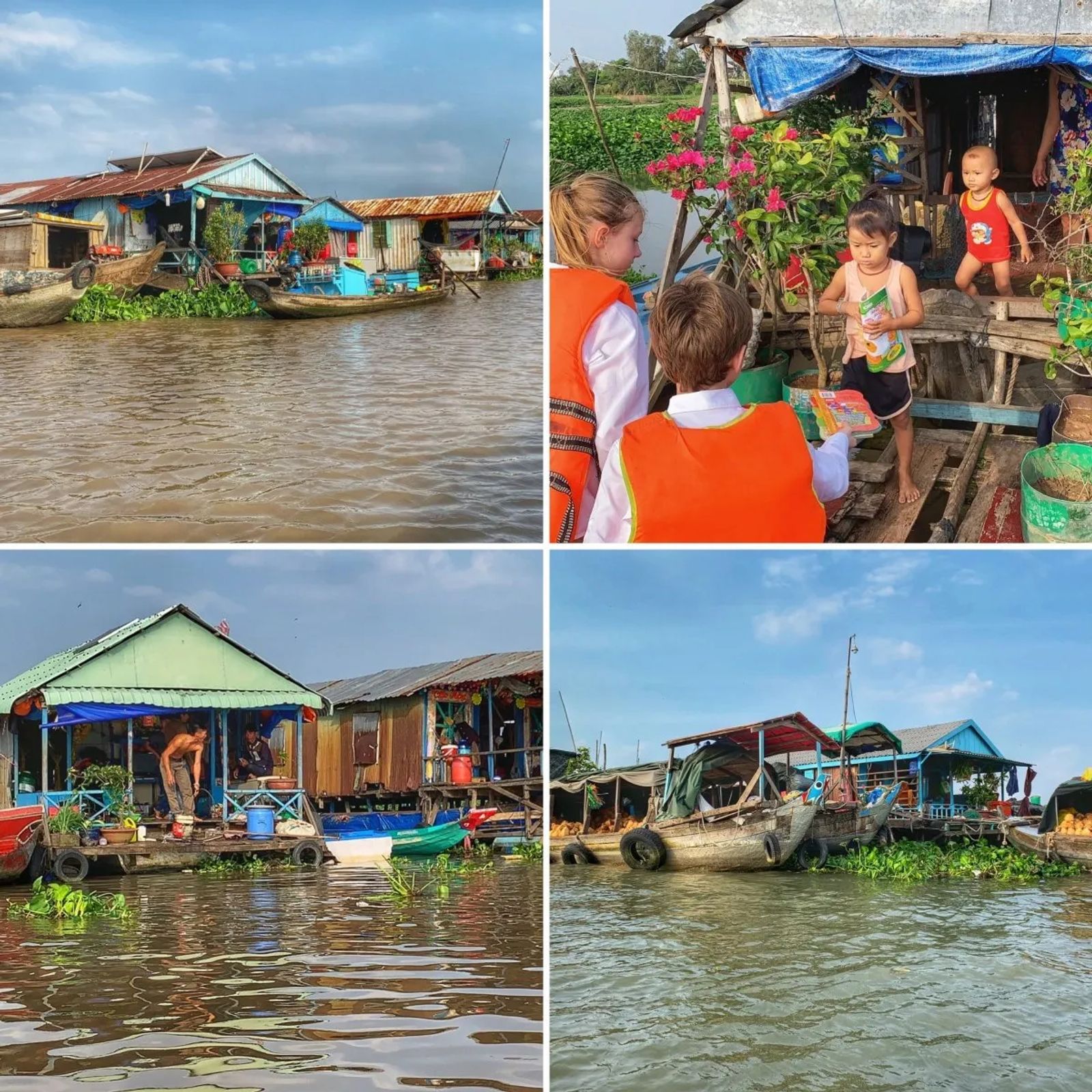 We returned back to Son's home for a large lunch and then we headed that afternoon back to HCMC. We enjoyed our stay very much and appreciated the hospitality of Son and his family.
Day 6
Our time in Ho Chi Minh City came to a close and we flew to Hanoi for a 4-day/3-night cruise in Halong Bay. Admittedly, 6-days in Ho Chi Minh City is a long time, but the region offers so much to see that it was the perfect base to explore. We also enjoyed trying to new restaurants and did a little shopping. We would love to return!

2 Moms Travel
Thank you so much for coming to our site and interacting with us! We love sharing our travel experiences and hope we can inspire you to travel! When the blog first started, LGBT travel with kids wasn't as prevalent as today. We love that sharing our stories has encouraged others to travel not only within the United States, but all over the world! Because our itineraries have been popular with our readers, 2 Moms Travel now is also an official travel company!