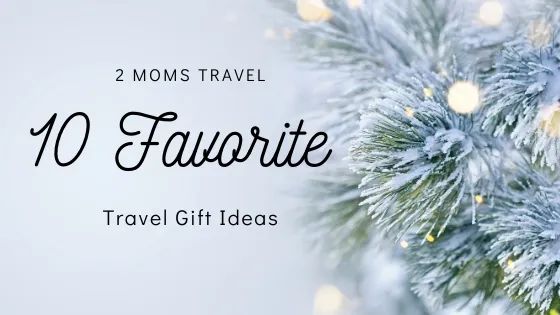 Our 10 Favorite Travel Gift Ideas
What every wanderluster in your life seeks are experiences, but having a few essential items can make those experiences extraordinary. As much as we enjoy adventures and seeking to explore far-away places, let's face it, getting to our destination can be a bit stressful. And with exorbitant luggage fees, we are all learning the art of efficient packing. Admittedly, taking only what we need on a trip is hard. My instagram pictures will document us wearing the same outfit day in and day out. Ahh - but I fit that 3-week vacation into a single carry-on!
Even though we carry less with us, it is imperative to still have the necessities to keep organized, travel efficiently and in the end have fabulous memories!
Here are our top 10 gift ideas every traveler will appreciate.
1) Family Passport Holder. Travel Wallet RFID Blocking Document Organizer Bag.
Every traveler knows the importance of keeping devices charged. Our phones, ipads, laptops, kindles and headphones need charging every night and hotels are notorious for having a lack of outlets. I always travel with a power pack so I can charge everything in one place without having to root around icky nightables, hotel desks, etc.. What makes the UPWADE Outlet Travel Power Strip appealing is it not only has 4 smart USB ports, a 5ft cord but it's a surge protector. I have heard horror stories of these things catching fire, but this is fireproof! It's super portable and lightweight, making it a travelers favorite!
The Koala Kloud Inflatable Foot Rest Pillow makes flying with the littles so much easier! When inflated, your toddler can stretch out and get some much needed sleep as it essentially converts their seat into a makeshift bed. Simply inflate it and put it between their seat and the seat in front and viola! Genius! The Koala Kloud isn't just limited to an airplane, it can be used in a car, train, bus and even at home next to a chair. Although I haven't personally used this product, I have heard wonderful feedback from parents. I once saw a smaller adult curled up in a window seat, sleeping soundly with this! It is super portable which is great when we already have too much stuff when we travel.
From what I understand a few airlines might not allow this product on their flights. Be sure to consult with your airline prior to flying.
I have tried soooo many carry on suitcases, that it is ridiculous! I have several in my travel arsenal but my go-to suitcase is my Chester Minima Carry-On Spinner. I.LOVE.IT. Seriously, this is my favorite roller and for good reason! It is ultra light and compact enough to fit in most overhead bins. The interior is well thought out and features several compartments to keep your items organized. Chester is new to the market and they have hit the ground running!
Did you ever think a handle could make you smile? Well, this beauty will...It features an effortless handling with 100% aluminum telescoping ergonomic handle with two lock positions for ultimate control and maneuverability. Perfect for individuals of any height. Another feature to love is it has top and side easy grab handles to load into overhead compartments. I could go on and on... you need to see for your self! You won't be disappointed.
Right now Chester is offering FREE 2-day shipping.
2 Moms Travel is a participant in the Amazon Services LLC Associates Program, an affiliate advertising program designed to provide a means for sites to earn advertising fees by advertising and linking to amazon.com, amazon.co.uk, amazon.ca. Amazon and the Amazon logo are trademarks of Amazon.com, Inc. or its affiliates. I may receive a commission if you purchase any of these products.
What Isaac & Isabelle Thought

2 Moms Travel
Thank you so much for coming to our site and interacting with us! We love sharing our travel experiences and hope we can inspire you to travel! When the blog first started, LGBT travel with kids wasn't as prevalent as today. We love that sharing our stories has encouraged others to travel not only within the United States, but all over the world! Because our itineraries have been popular with our readers, 2 Moms Travel now is also an official travel company!