Behold Best Buy's Samsung Family Hub Refrigerator
Recently while attending the Mom 2.0 Summit conference in Dana Point, CA, I had the opportunity to check-out the Best Buy demonstration booth. Showcased was a dazzling array of the latest and greatest high-tech gadgets and products. Most impressive was a full kitchen they set up featuring appliances designed to catapult the modern kitchen into the 21st century. I was especially blown away by the Samsung Family Hub Refrigerator. Hands down, this fridge stole the show and everyone was oohing and awwing over its capabilities. This imposing fridge is destined to pull together a hectic family into a more cohesive and organized unit. You are probably thinking how a refrigerator can pull this off? Well, there isn't much this fridge can't do!
21.5 inch Touchscreen Wi-Fi Enabled Tablet
The most striking feature of this fridge is the 21.5 inch Wi-Fi touchscreen tablet prominently located on the door. This is truly the hub of the fridge and will no doubt become the hub of your household! Some of its capabilities include the ability to sync family calendars, leave "sticky notes" share photos and even find recipes online. Music can be streamed through Pandora or your smart phone Bluetooth and played through its internal speakers. Yes, a fridge that is smarter than your smart phone! I kid you not!
Three Built-in Cameras
It might seem a little weird that there are three built-in cameras, but this is an awesome feature! Every time the doors close, photos are taken of the inside of the fridge so you can access the contents anytime, anywhere via an app on your smartphone. You will always know what you have or what you are missing. Plus, the app allows you to plug in expiration dates so you never have to worry about food going bad. Brilliant!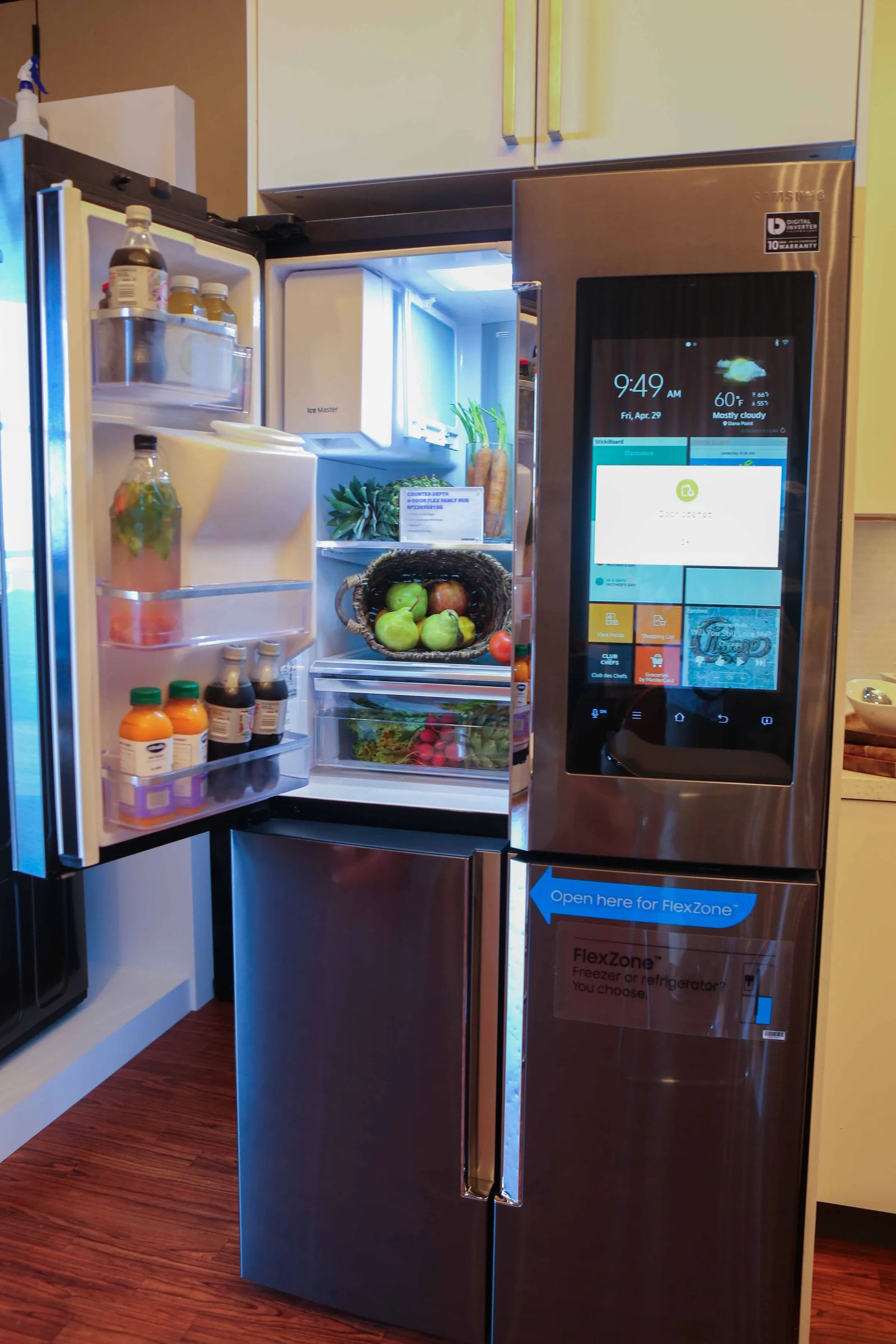 4-Door Flex
Another convenient feature of the Samsung Family Hub Refrigerator is the 4-door flex system. With the simple touch of a button, you can convert freezer space into additional fridge space. I know there are times I could use more fridge space, especially while hosting a party. I end up storing extra food in the garage so problem solved with this feature!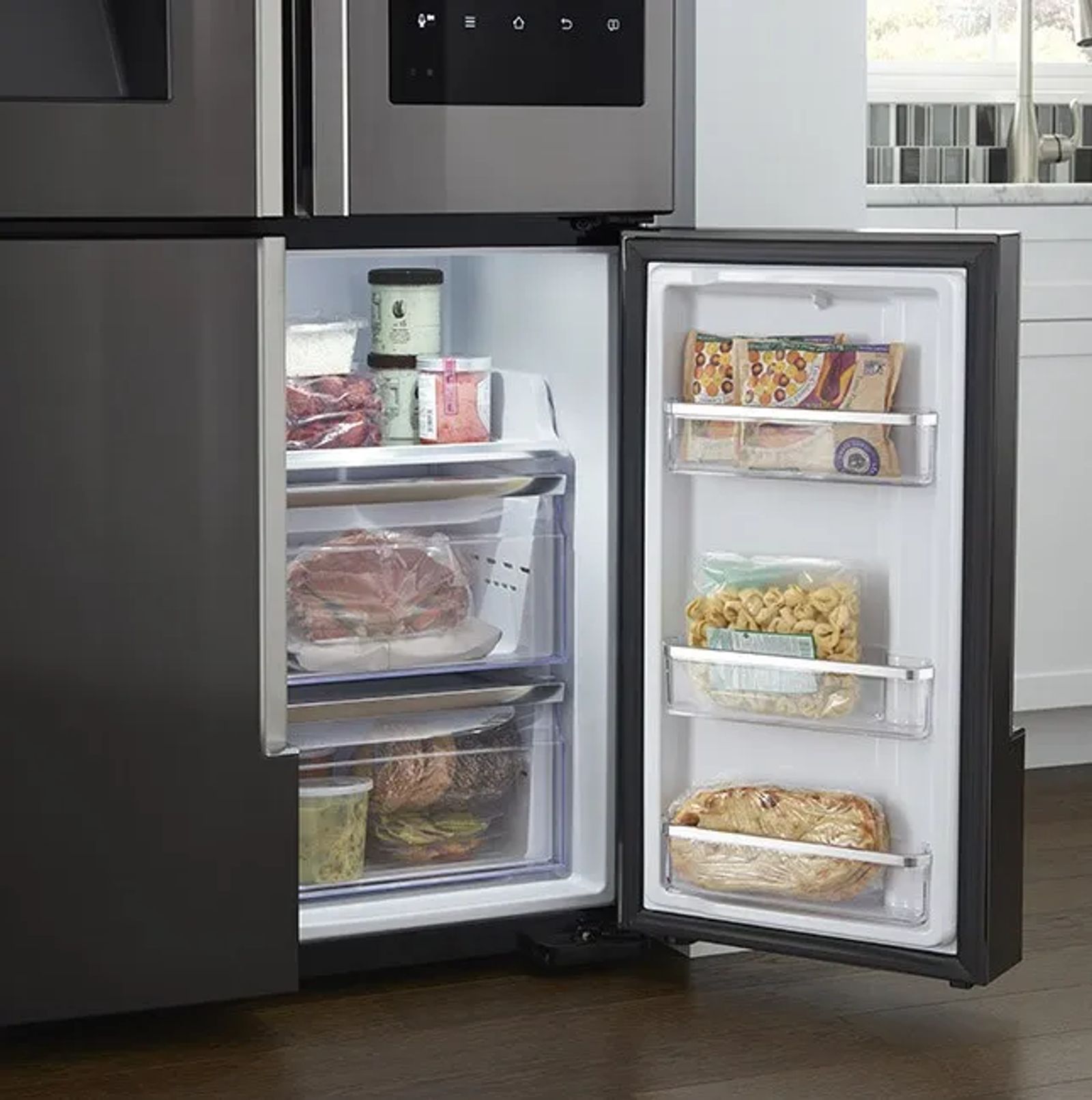 Keep Groceries Fresh Longer
Isn't it frustrating when food goes bad after a couple days? The Samsung Family Hub Refrigerator has a triple cooling temperature management system that keeps temperatures just right so food stays fresh longer.
Overall, I was quite impressed with the Samsung Family Hub Refrigerator featured in the Best Buy Booth at Mom 2.o Summit. I am already a loyal Samsung fan, so I am simply pining for this fridge! Additionally, I made a little cheeky YouTube video so you can see just how fabulous this fridge is & how entertaining it was for all of us at Mom 2.0 Summit:——> Samsung Family Hub Refrigerator YouTube Video.
You can also find additional information about Samsung Technology at BestBuy.com
Disclaimer: I have been compensated in the form of a Best Buy Gift card and/or received the product/service at a reduced price or for free. However, all opinions are strictly my own and reviewed honestl

2 Moms Travel
Thank you so much for coming to our site and interacting with us! We love sharing our travel experiences and hope we can inspire you to travel! When the blog first started, LGBT travel with kids wasn't as prevalent as today. We love that sharing our stories has encouraged others to travel not only within the United States, but all over the world! Because our itineraries have been popular with our readers, 2 Moms Travel now is also an official travel company!