Flying Air Mauritius in Business Class was Fun for our Family!
After spending a glorious week in Mauritius, we had to face reality and return back to the United States. This concluded a 5 week holiday for our family in which we visited lovely friends in South Africa, went on a couple safari's and relaxed on the charming island of Mauritius. To get back to the states we had to fly in a bit of a round-about way because we added our week in Mauritius as an 'add-on' to our trip to South Africa. To save a substantial amount of money, we had to fly back to Cape Town via Johannesburg on our way back to the states. It made for a very long return but we enjoyed trying different airlines and the kids were fantastic the whole way.
I booked our flights to and from Mauritius on South African Airways (you can read my review here) but on the return we had a code share with Air Mauritius (MK 851) on an A340-300e. I knew it wouldn't be as nice as the SAA A340-600 but I was still excited to give it a try! We booked our flights in business class and really it wasn't much more expensive than flying economy and it made the journey much more comfortable. When the lines at the airport are really long and our suitcases weigh a ton, priority boarding and extra baggage allowance is a nice perk. Plus, for longer flights it is nice to have a bit more comfort.
While in Mauritius we stayed at Hilton Mauritius Resort & Spa and it was a sad morning when we had to leave. The hotel provided (for a fee) our transportation back to Sir Seewoosagur Ramgoolam International Airport early that morning which was about a 45 minute drive. The airport is pretty coo,l located right by the water and the new passenger terminal is designed after the 'Traveller's Palm', a tropical plant that grows on Mauritius. This environmentally and ecologically friendly terminal recently opened in 2013 and has a capacity of 4 million passengers. It can even accommodate the massive A380 (it was fun watching those come and go!)! Way bigger than I could ever imagine for a little island airport!!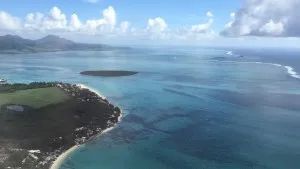 Even though we were a bit tired because it was an early morning for us, check-in was a breeze and we were invited to spend some time in the multi-airline lounge because we were flying business class. As we traipsed across the airport to the lounge, we passed several large dodo bird characters wishing travelers well on their journeys. The kids loved being on the same island that the dodo bird once inhabited and knew all about them from the popular PBS series, Wild Kratts, so the goodbyes were bittersweet.
Arriving at the lounge, we were greeted by pleasant staff that verified our boarding passes allowed us access. The lounge is multi-level but only the first floor was open at that early hour. It is a pleasant lounge with a calm and relaxing feel and not too sterile. Many of the US lounges to me are just sterile and feel more like an office rather than a place to relax. The Air Mauritius lounge had earth tone decorations, plants and even a little bridge over a moat-like structure. There was a large business center with computers, magazine and newspapers but we never actually went in that room. We pretty much headed to the buffet for breakfast as we were all suddenly pretty hungry. The food selection was decent with an assortment of hot and cold items and we ate in the dining area which offered plenty of tables. Judging by the size, I imagine it gets pretty busy in there, but it was relatively quiet the morning we arrived.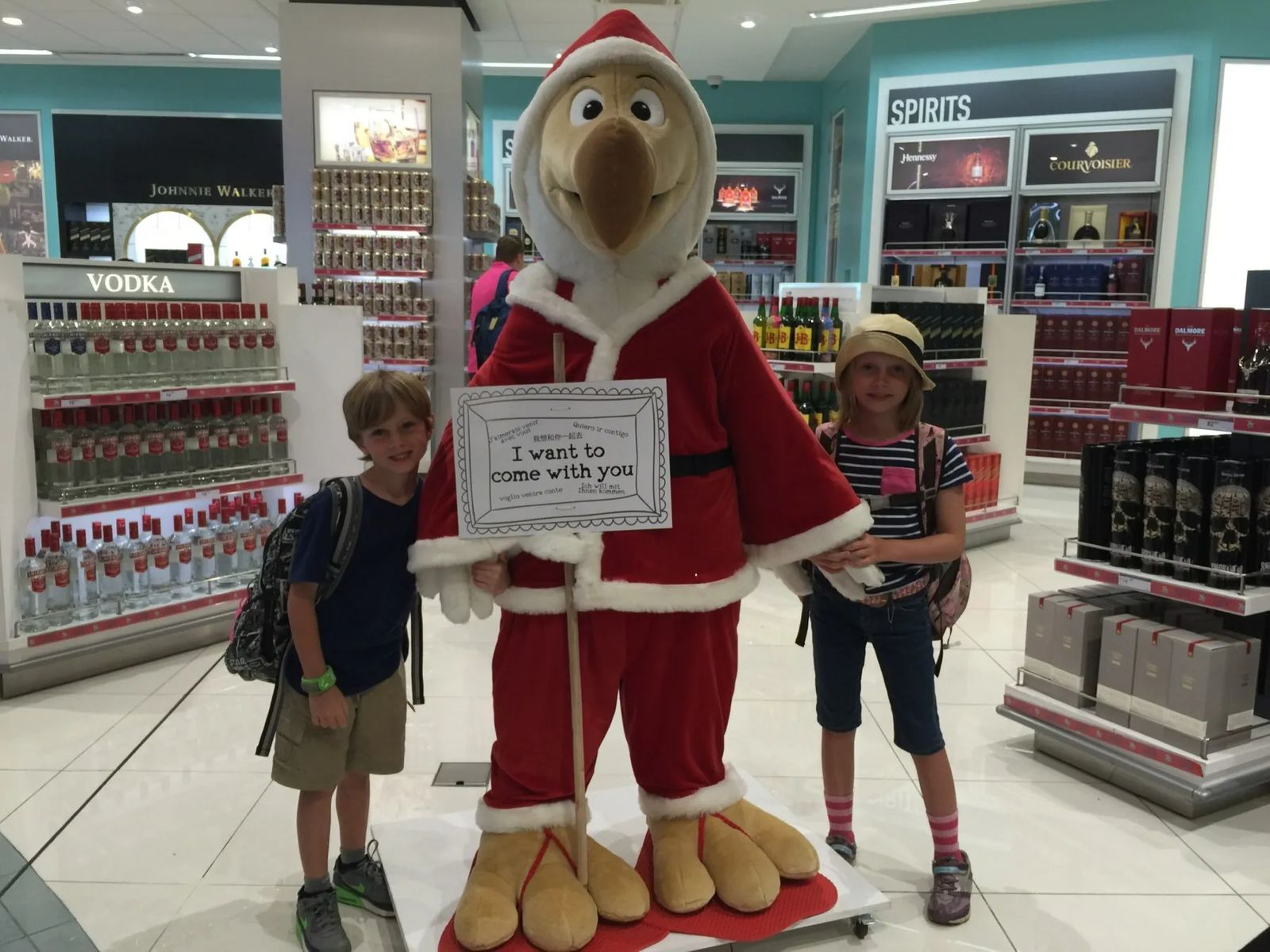 Once we finished our breakfast, we relaxed in the what was like a large living room for about 45 minutes. There were plenty of comfy couches and chairs and good light for reading. The restrooms are also updated and offered separate areas to clean up including nice showers. We didn't need a shower but they looked nice and appeared to be well maintained.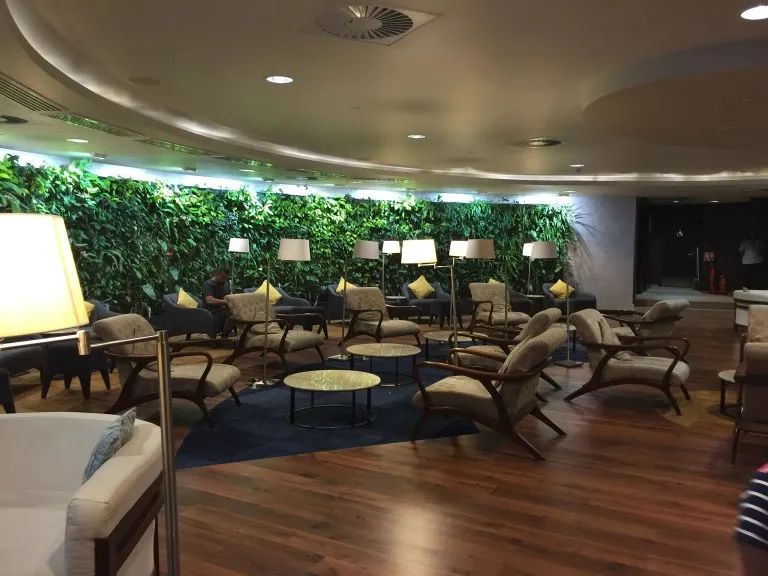 Finally, it was time to board and we were excited! My family enjoys flying and the kids have always been great passengers even when they were challenging toddlers. This leg of the journey was from Mauritius to Johannesburg, South Africa and flight time is was around 4-hours. The plane was an A340-300e featuring 275 seats with three cabin configurations: Affaires (business class), Premium Voyageur (premium economy) and Voyageur (economy). The plane itself felt a bit on the older side with slightly worn, angled-flat (they called it 'relaxed') seats. This wasn't a problem for us as the flight was fairly short so we wouldn't need to sleep. I am not sure how comfortable the 'relaxed' mode would be for a longer, red-eye flight since the pitch is only about 60″.
Take off from the airport was amazing as the runway extends close to the water and the views of the crystal-clear, turquoise waters of the Indian Ocean made me want to turn the plane around and enjoy another day on the island! Sigh. Quickly we were at cruising altitude and the flight attendants came by with fun little goodies for the kids. US airlines have cut back drastically on all amenities and rarely give out the 'wings' anymore, let alone anything meaningful. Flying international carriers with kids is so much more fun and they really take care of the younger passengers! Air Mauritius was no exception and they gave the kids adorable metal-like lunch boxes filled with crayons, coloring paper, a doodle board, origami paper and a cute stuffed Air Mauritius airplane. The kids loved the little treasure box and use it at home to hold their Pokémon cards. It was such a nice gesture by the Air Mauritius crew to hand those out and they weren't just for kids in business class, all kids on the flight received this amenity kit.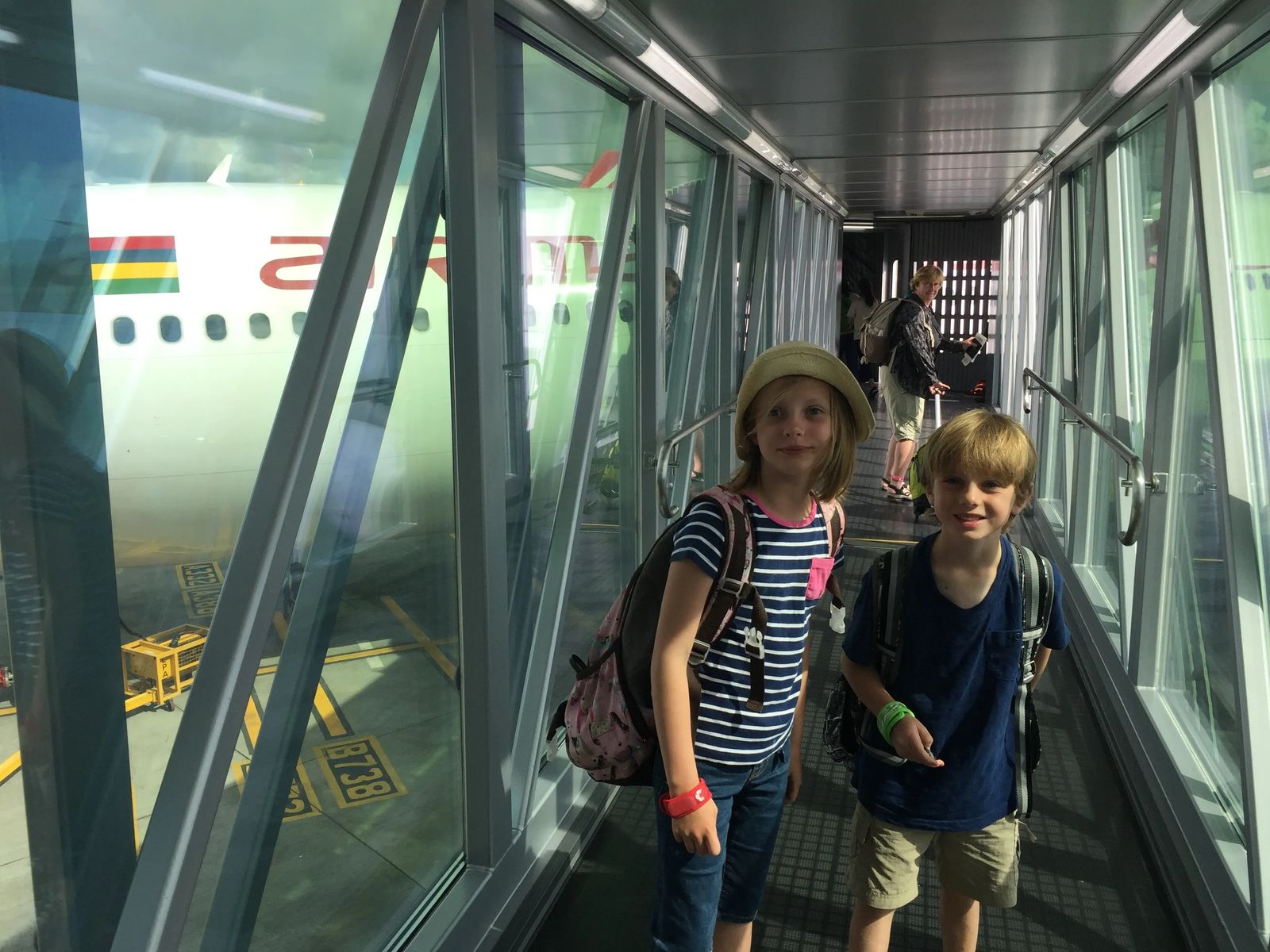 The flight was relatively short so once we reached cruising altitude, the crew quickly began preparing breakfast. Prior to take-off, passengers were given menus so we were ready to order once service started. There were several items to choose from and all seemed quite delicious. Items ranged from cornflakes to a more hearty meal. Since we had eaten in the lounge we weren't terribly hungry, but the kids decided to have a bowl of cornflakes and I tried the Tortilla Valenciana. It was really delicious and flavorful.
Once breakfast was over, we still had a couple hours so we settled in to watch some movies. The entertainment center was a bit old and didn't have much selection but my daughter enjoyed flipping through the channels to watch some kids cartoons. I opted to read for a bit and listen to music and my wife caught up on some zzzz's.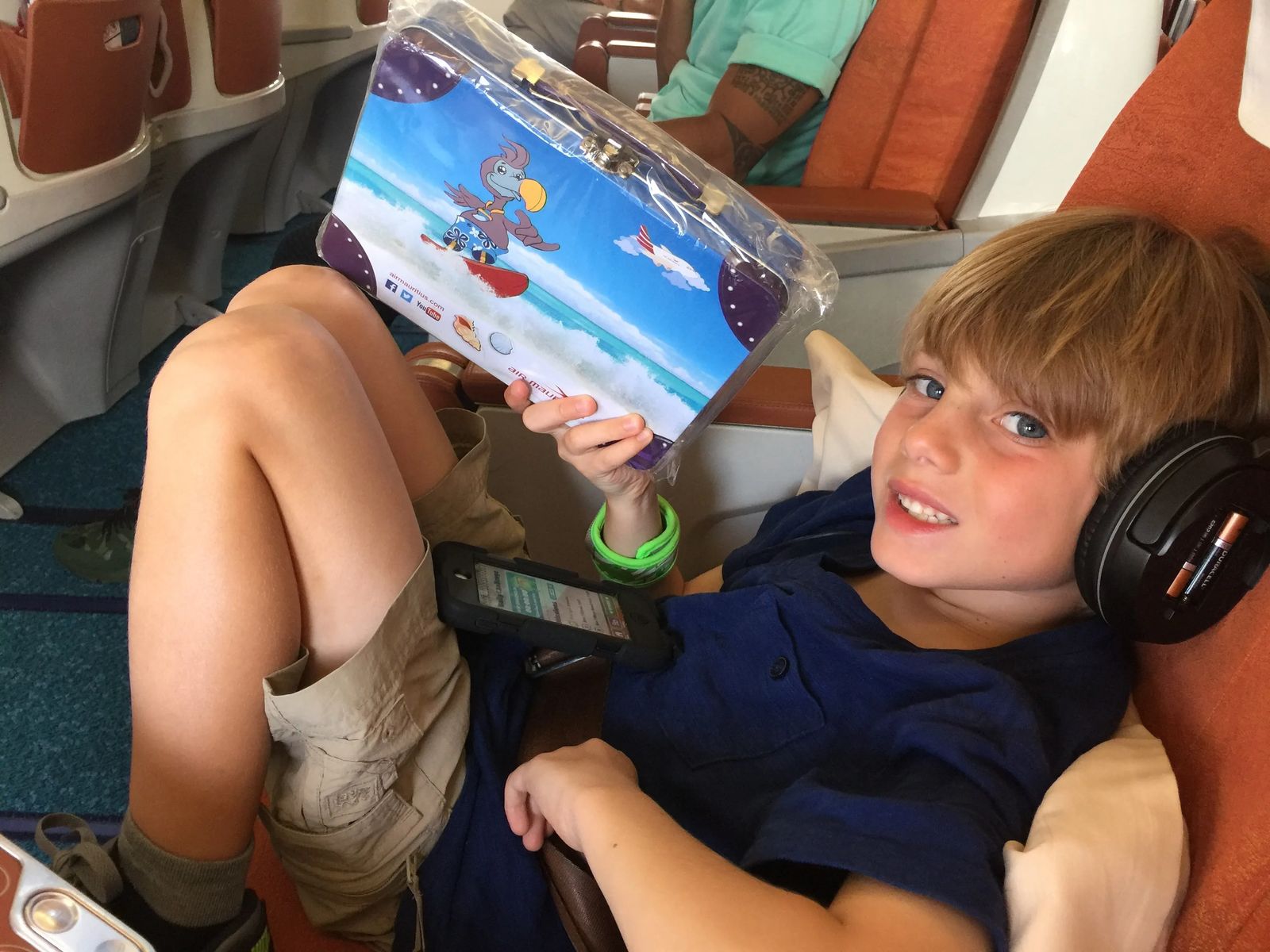 All in all it was a great flight. It was comfortable and the crew was amazing. That is hands down the most important part of a flight: the crew. They were funny, engaging and really loved their job. We fly a lot and have come across some wickedly unfriendly flight crew and that can really dampen an otherwise fun trip. So, hats off to the Air Mauritius crew! We will not hesitate to fly this airline again should we find ourselves in that part of the world!
I made a little YouTube video about our lounge and flight experience: Air Mauritius Business Class with Kids is Fun!
Enjoy!

2 Moms Travel
Thank you so much for coming to our site and interacting with us! We love sharing our travel experiences and hope we can inspire you to travel! When the blog first started, LGBT travel with kids wasn't as prevalent as today. We love that sharing our stories has encouraged others to travel not only within the United States, but all over the world! Because our itineraries have been popular with our readers, 2 Moms Travel now is also an official travel company!