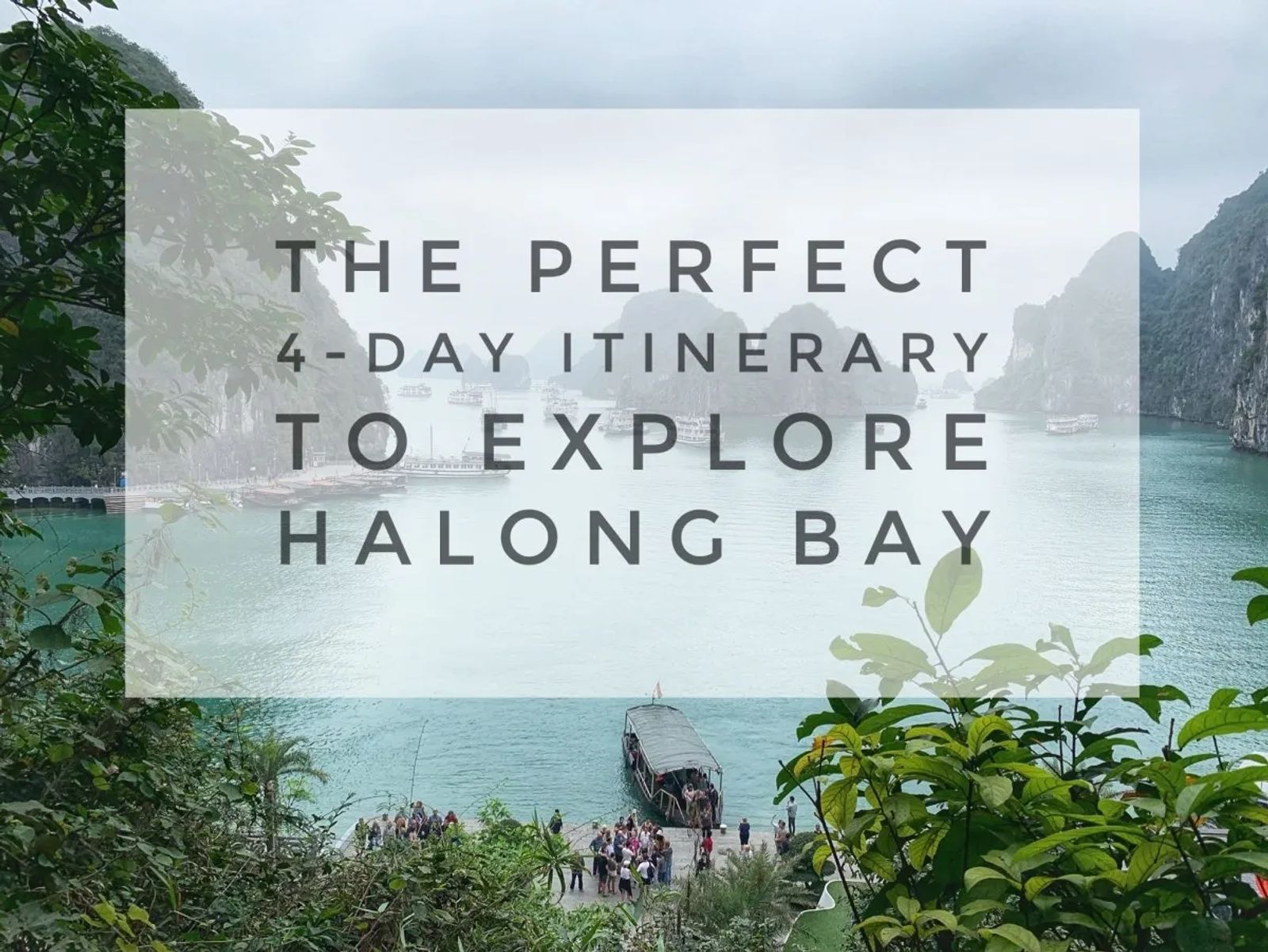 The Perfect 4-day Itinerary to Explore Halong Bay
Traveling to Vietnam was so exciting for our family! While planning my family's itinerary, I knew Halong Bay would most definitely be included. I just needed to find out which company to use, how many nights, would we do a private cruise (more economical than it sounds!) or go for a multi-passenger ship? My friend, Jon Bailey of 2 Dads With Baggage, highly recommended Bhaya Cruises as his family had a wonderful experience with this company a couple years ago.
After a lot of research, and personal recommendations (thanks, Jon!) we went with Bhaya Cruise and designed our own 4-day/3-night private cruise in and around Halong Bay. Honestly, a private cruise in Vietnam is not as expensive as one would think. Granted its not budget but not super crazy either!
Bhaya Cruises was so helpful designing a custom cruise itinerary for my family. I wanted adventure, relaxation, culture, uniqueness and above all else – fun! Check, check and check! They delivered and then more.
Sustainable Tourism
A particular draw for me to select Bhaya Cruises is their commitment to sustainable tourism. They work tirelessly to protect the environment and give back to the local communities. In the village of Viet Hai on Cat Ba Island, they have created farms to employ the local people and for food to serve on their cruises. In fact, an activity we had while on our cruise was the opportunity to bike around Viet Hai. We saw first-hand the farms and the positive impact Bhaya Cruises is having locally.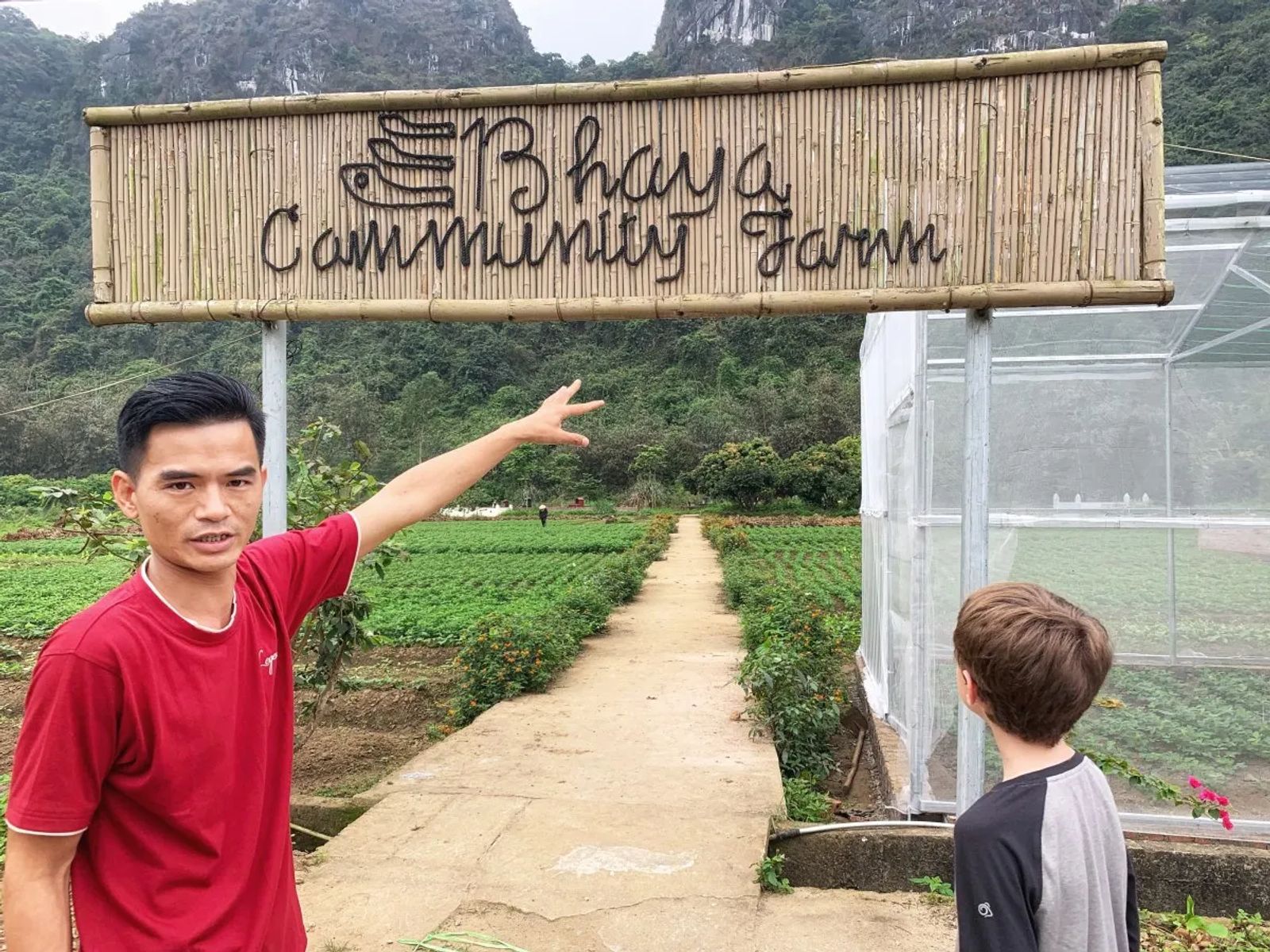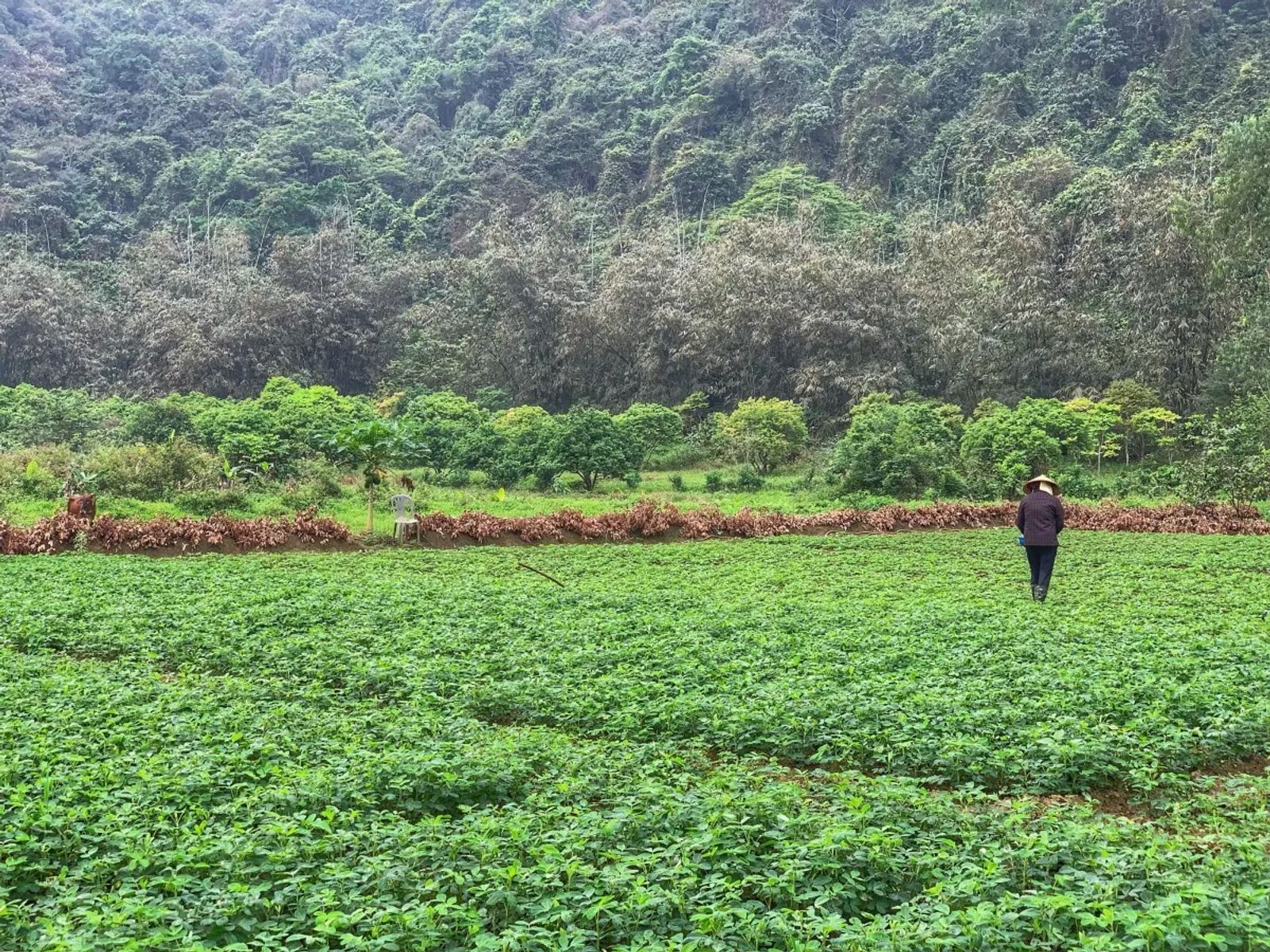 Our Boat – The Bhaya Legend 4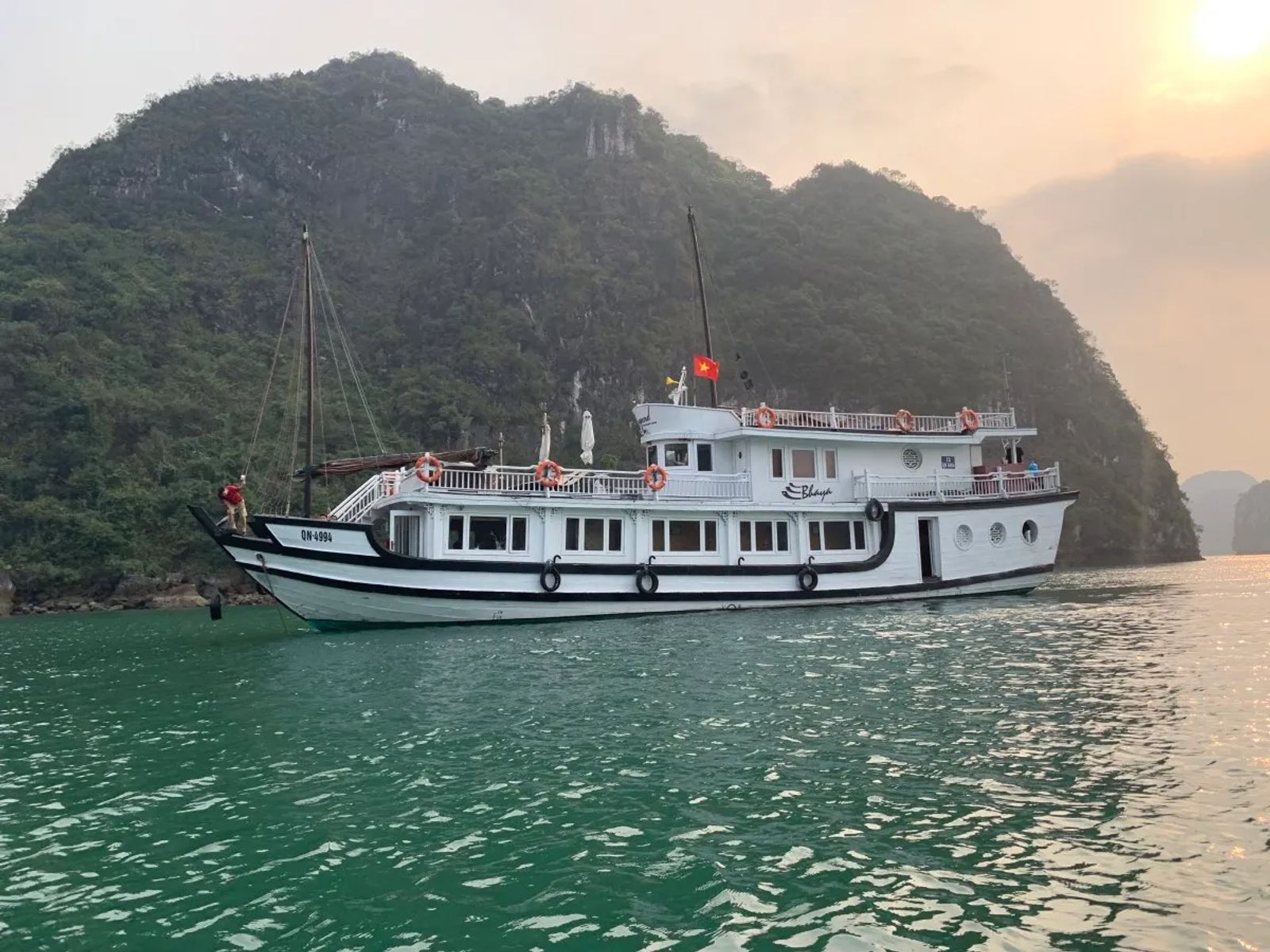 Bhaya Cruises has several vessels for their sailings in Halong Bay. Some can sleep up to 40 people, while others are smaller for more intimate and private cruises. Because we had a private cruise for just our family, we had the Legend 4 which is their luxury boutique style vessel. Designed in the traditional Vietnamese Junk style, the Legend 4 can sleep up to 6 passengers in 3 luxurious suites and has approximately an 8-person crew.
We were assigned a butler named Day who oversaw everything to make our cruise special. I am not sure he slept the entire time! The rest of the crew consisted Susu; he was our bartender, Tai Chi instructor and helped Day with activities. Vu was the housekeeper and assisted with our activities. Hai was a cook. Nam was a cook, worked the generators and assisted with activities. Hung worked the generators. Nghiep and Thuy were the captains. The staff was phenomenal, discreet but efficient and throughout our 4-days we had incredible conversations and laughs despite the language barrier!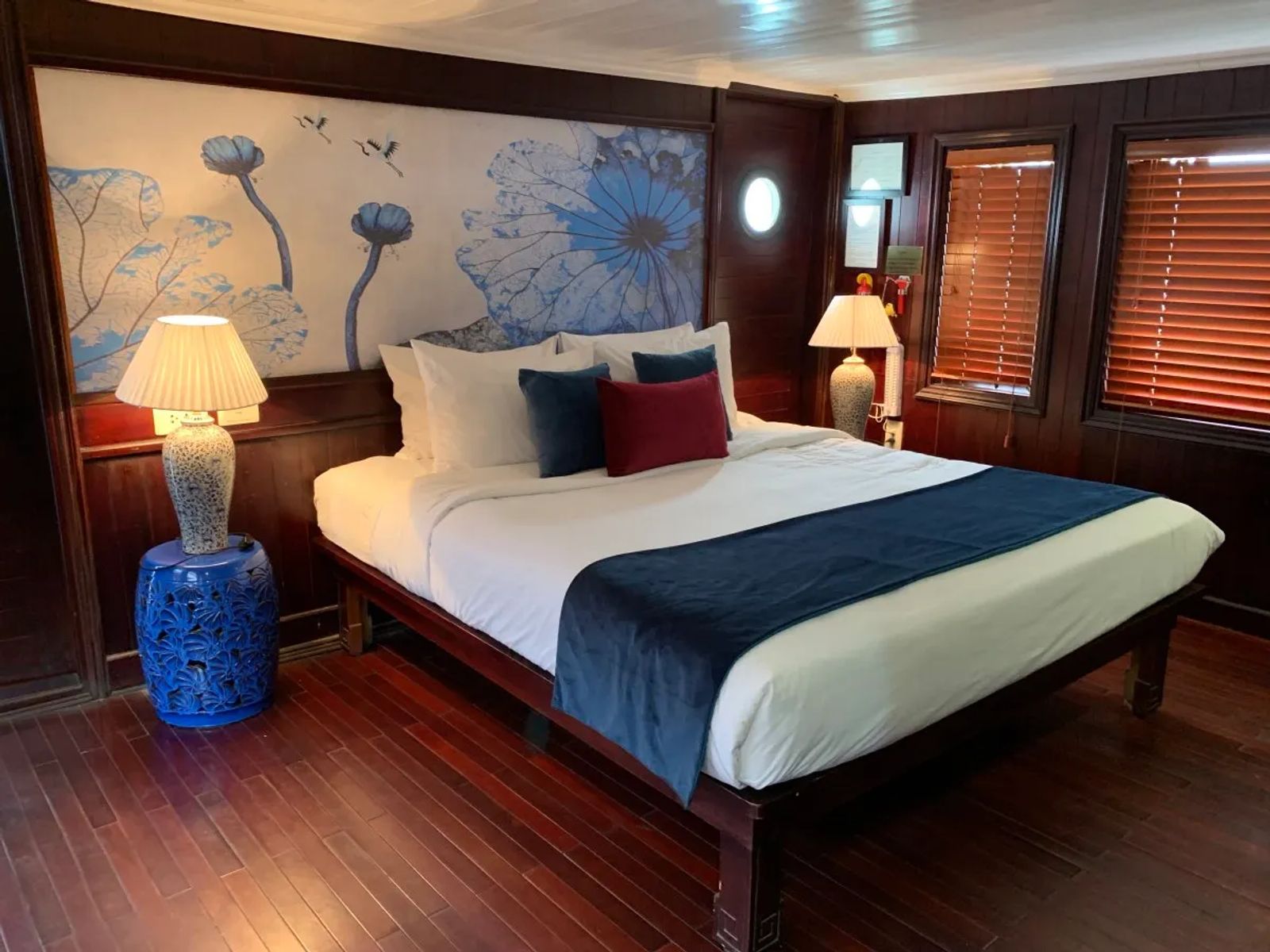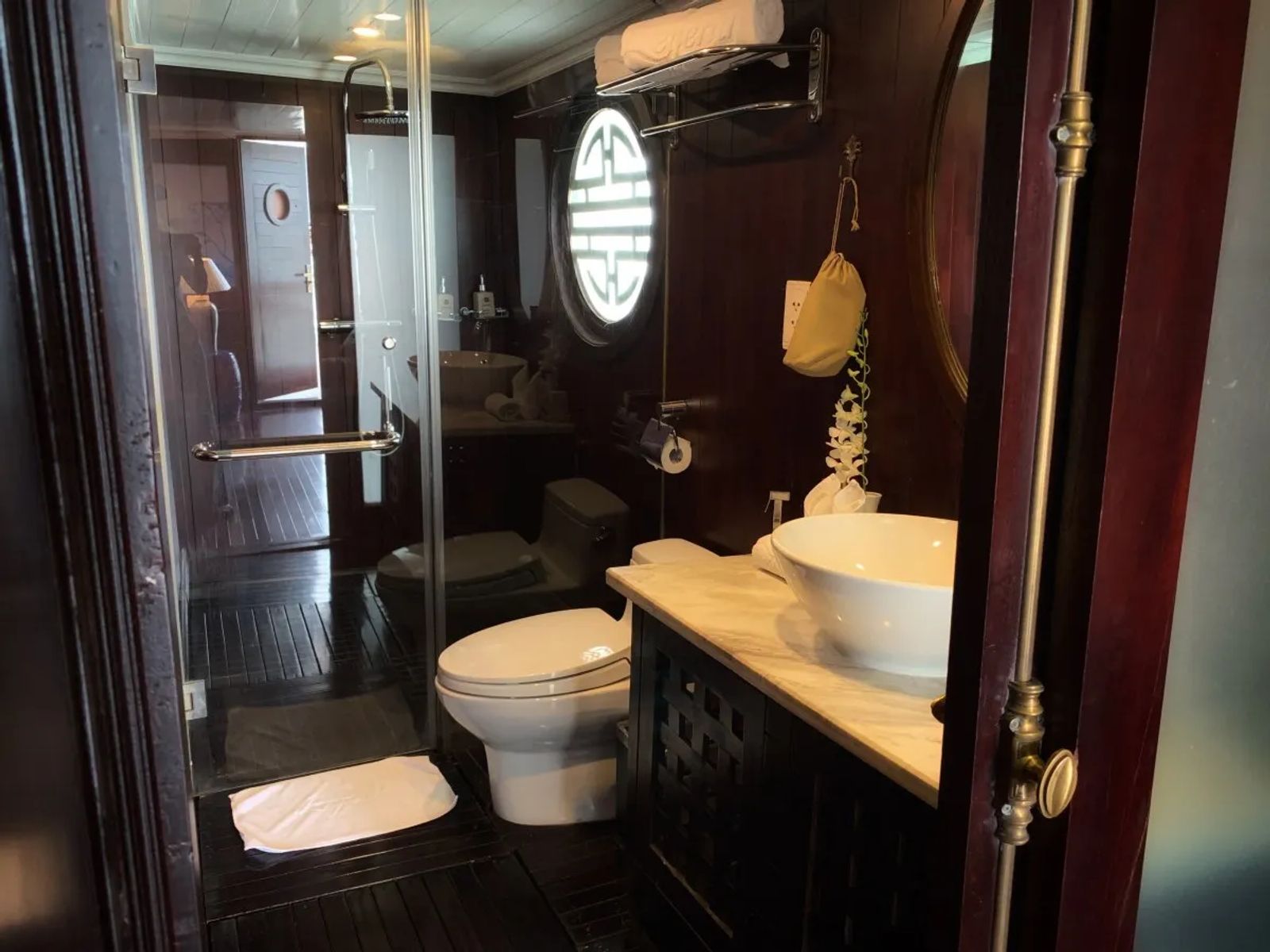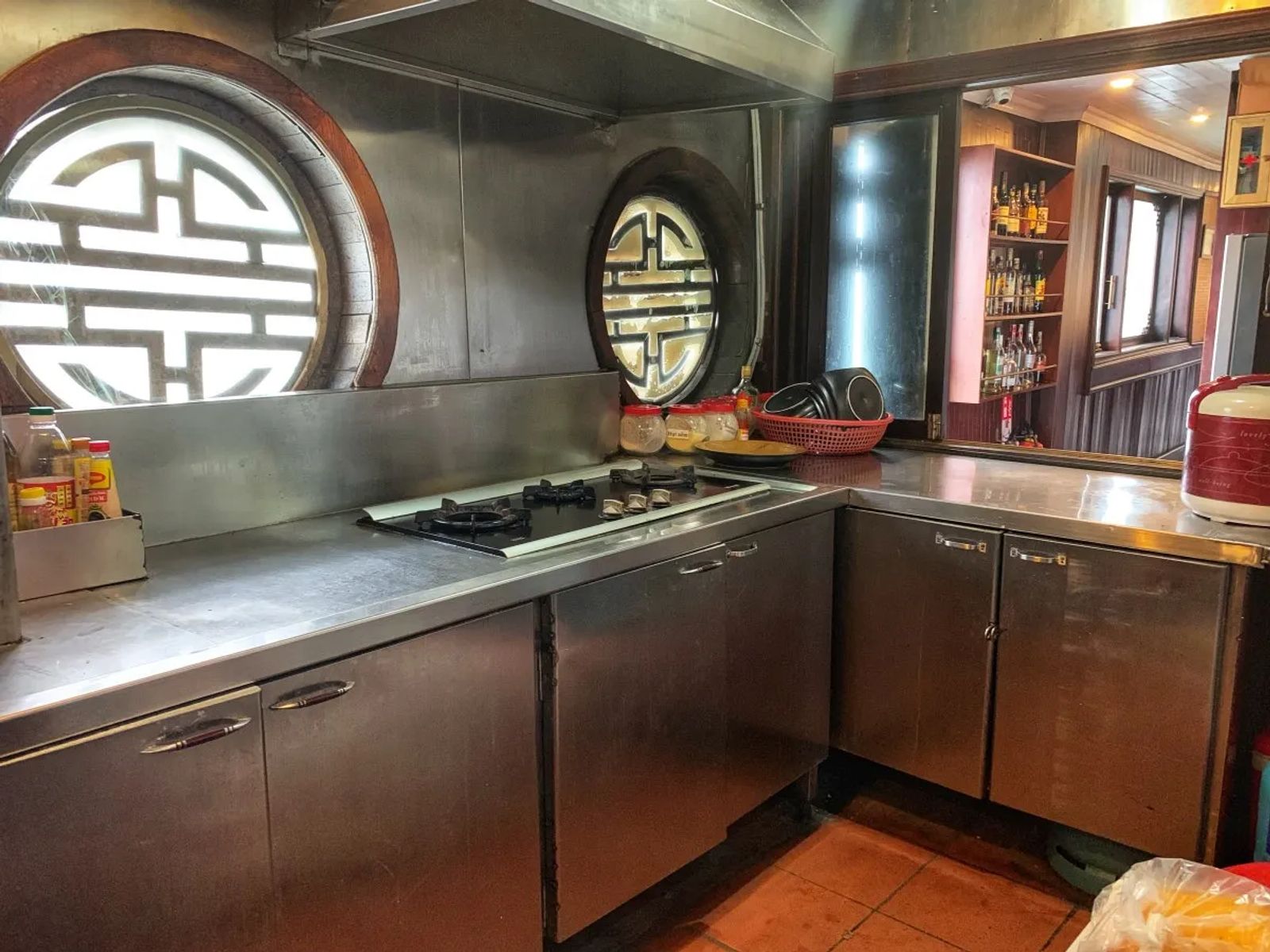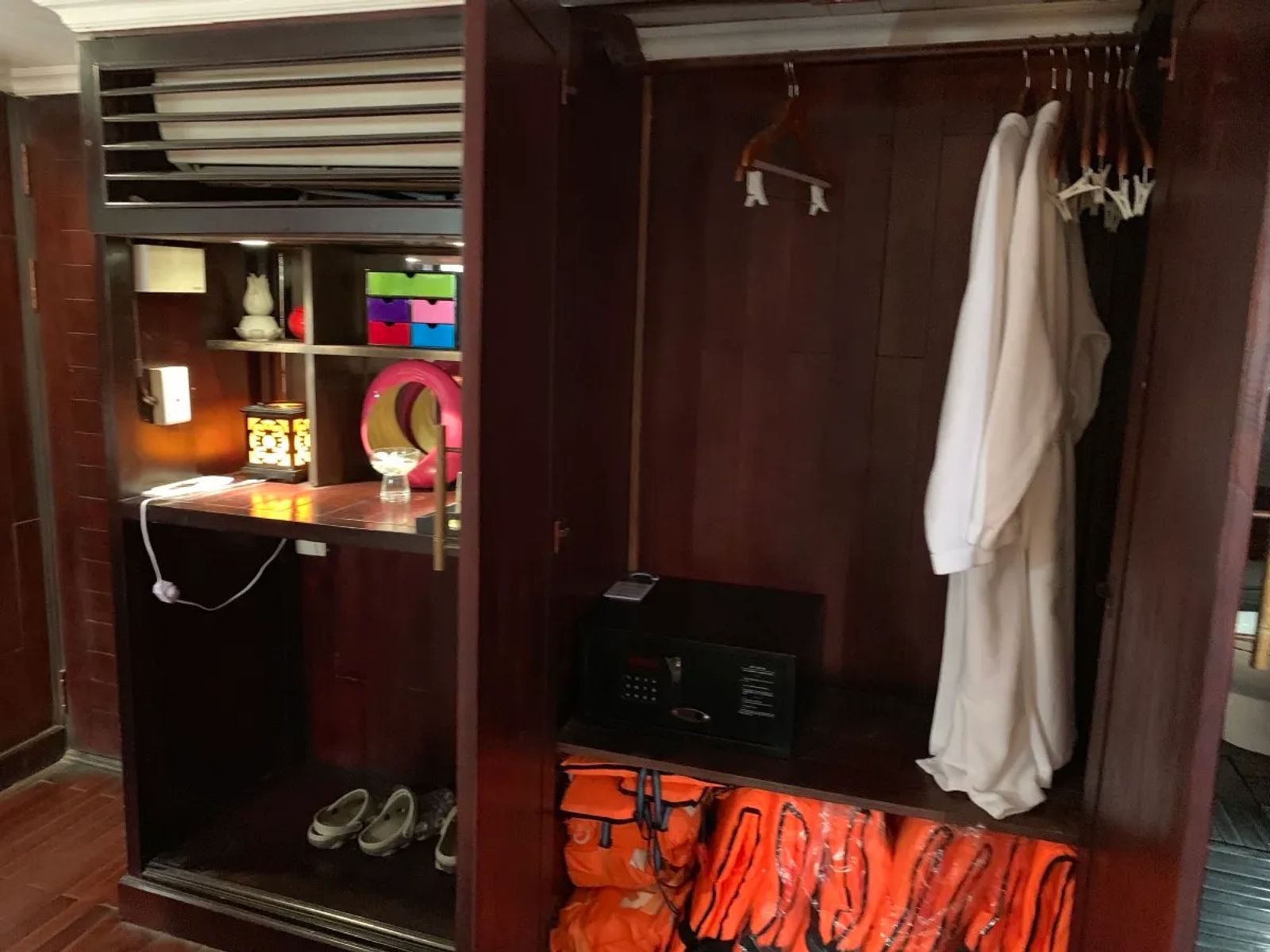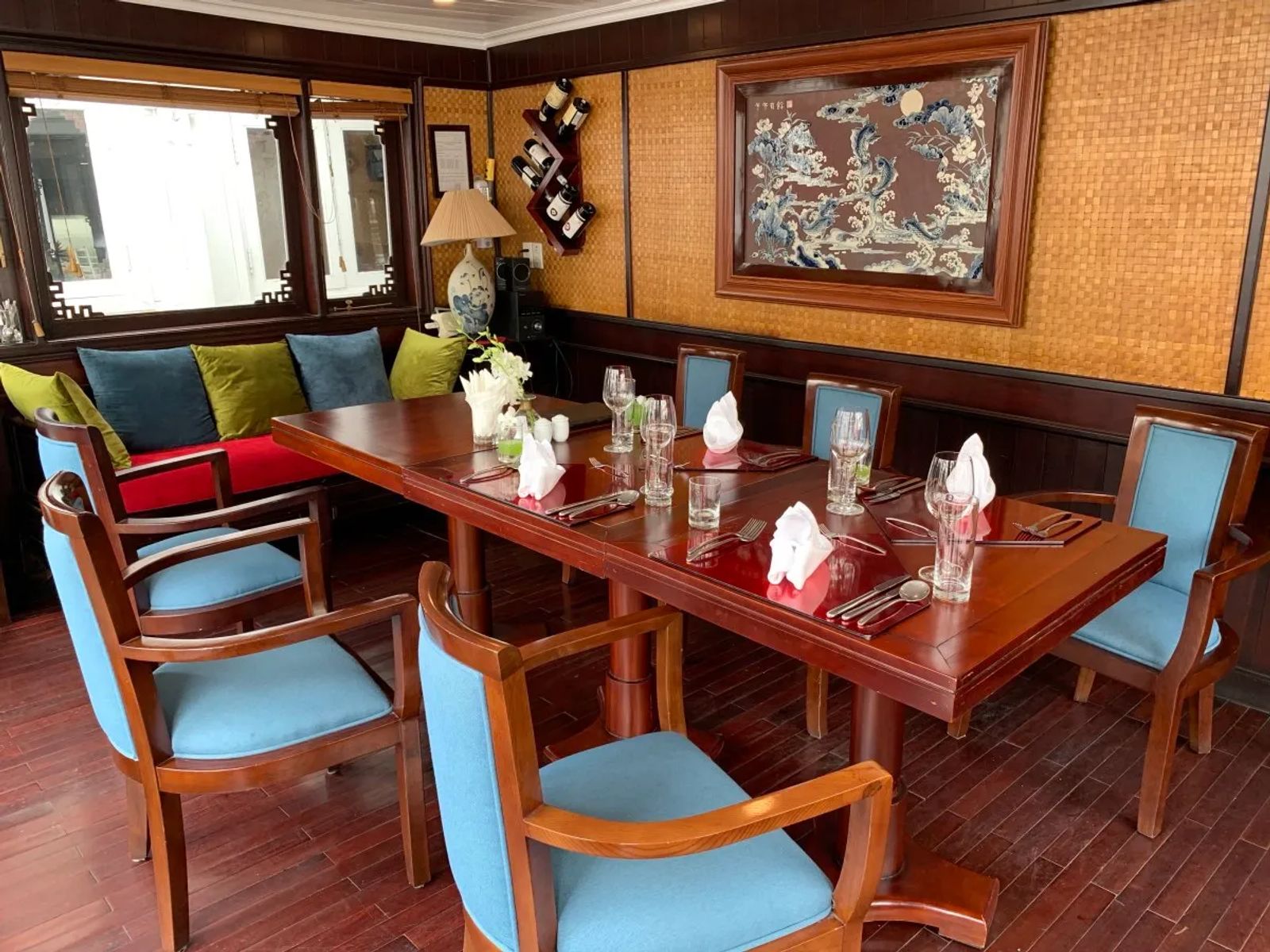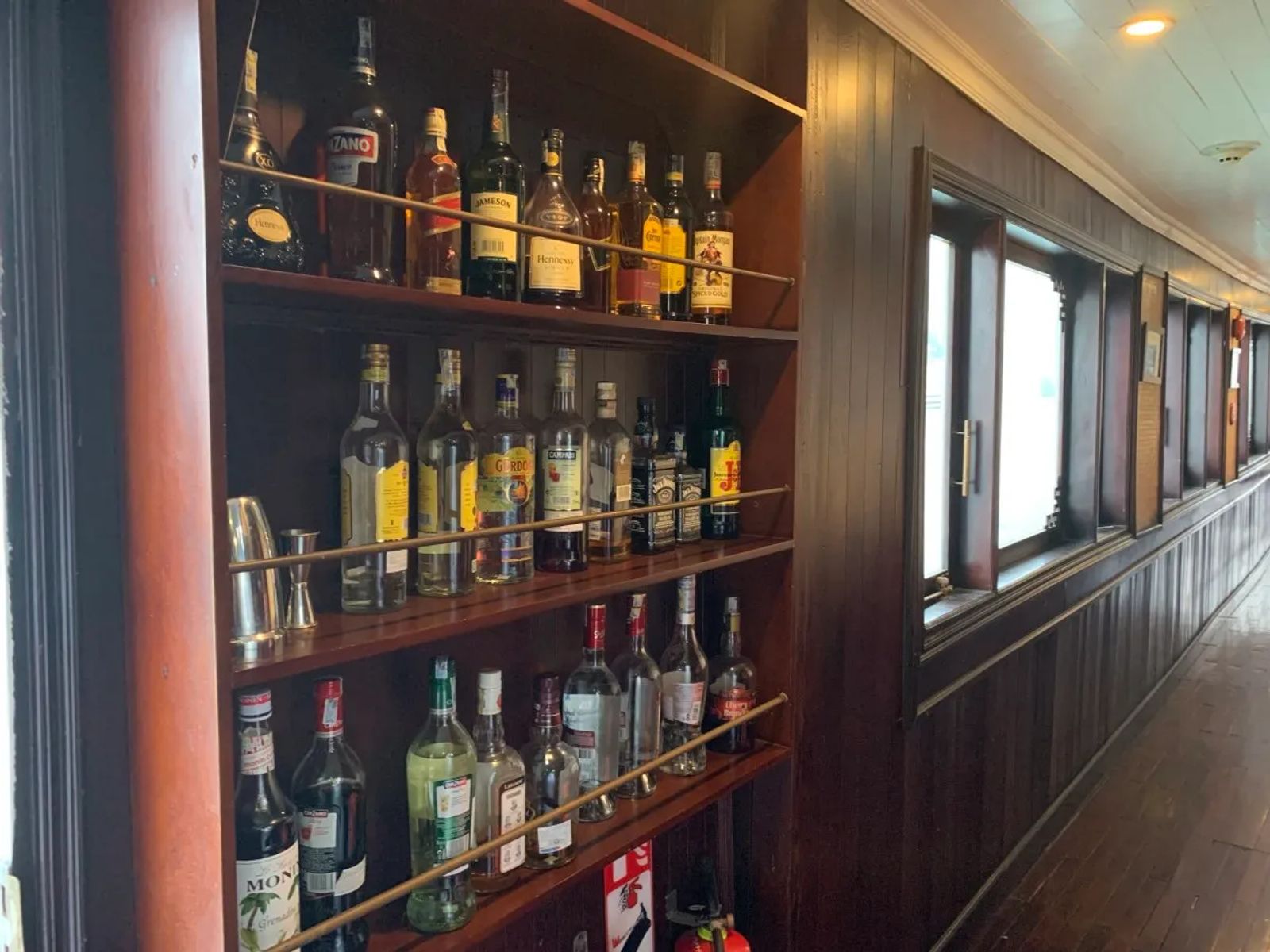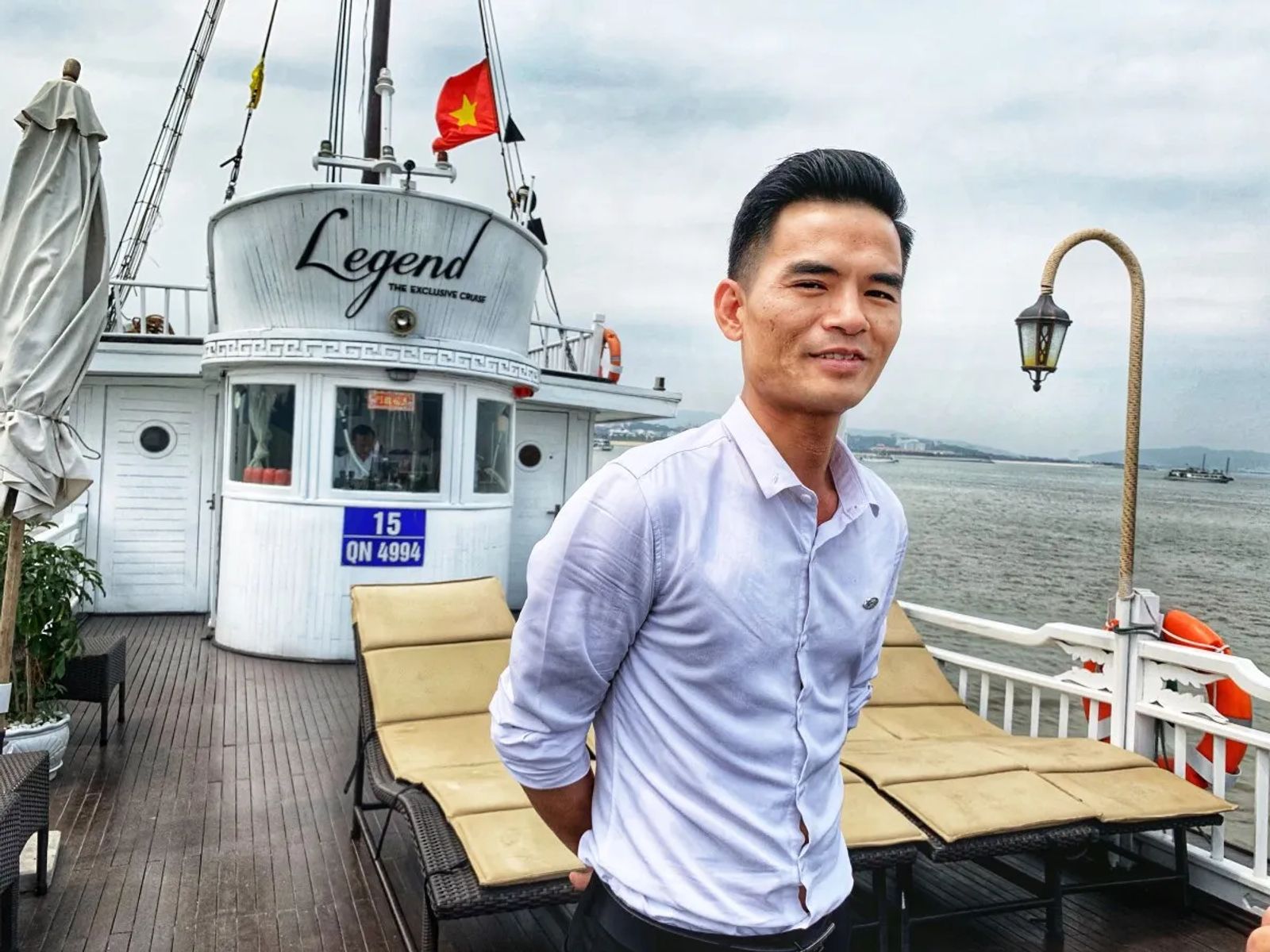 What did our itinerary look like?
Day 1
As we sailed out of the marina, we were entranced by the soaring limestone karsts and islands of various sizes. Although overcast, it was hot but it didn't diminish the view whatsoever. In fact, it gave it a certain almost eerie ambience.
After sailing a couple hours, we came to Cua Van, one of the larger floating villages in Halong Bay. With an impressive population of approximately 750 residents who live in floating houses, we had the unique opportunity to share some time within their daily lives. Fishing being their bread and butter, we saw kids playing with grandparents, and just enjoying each others company.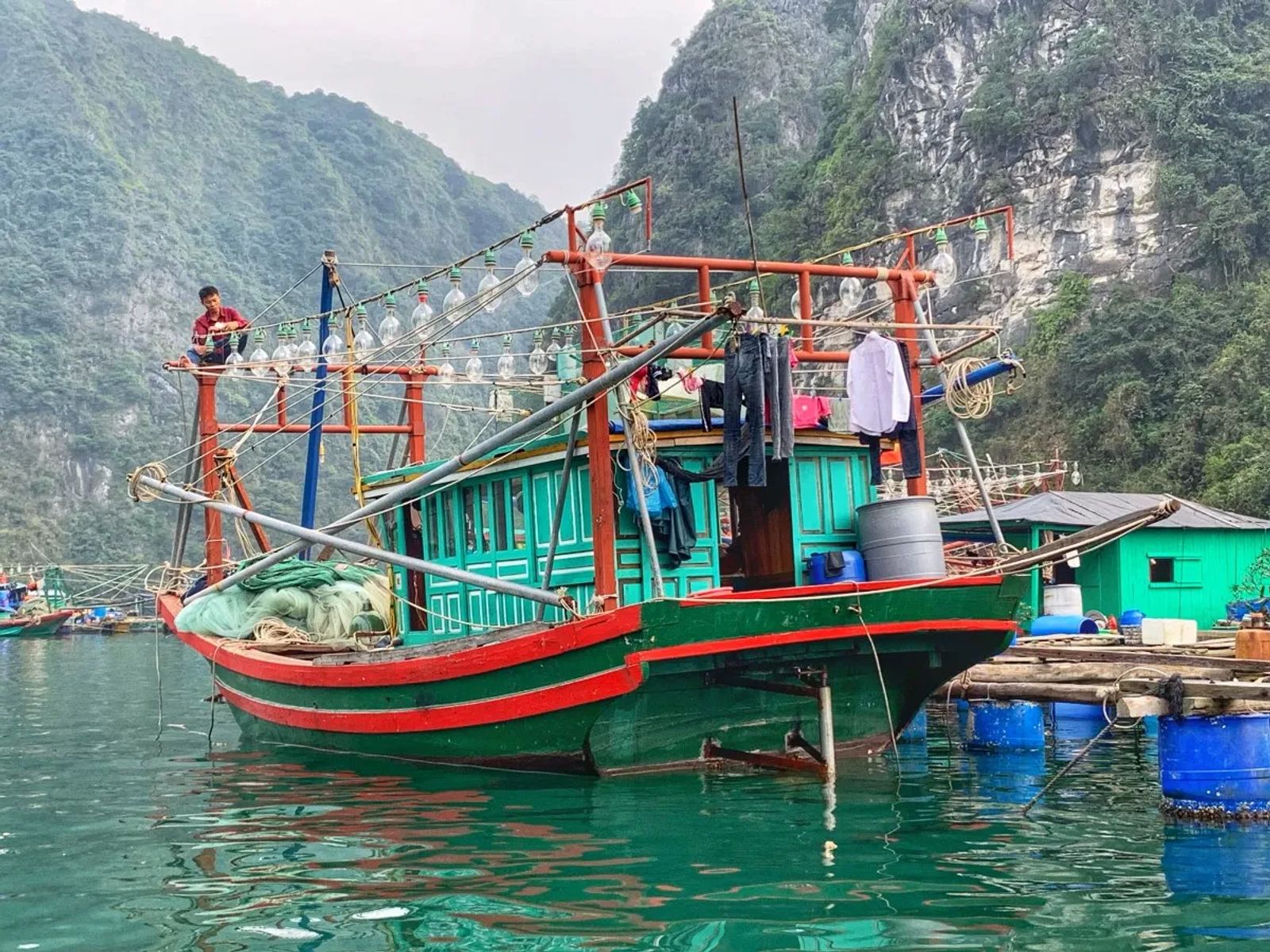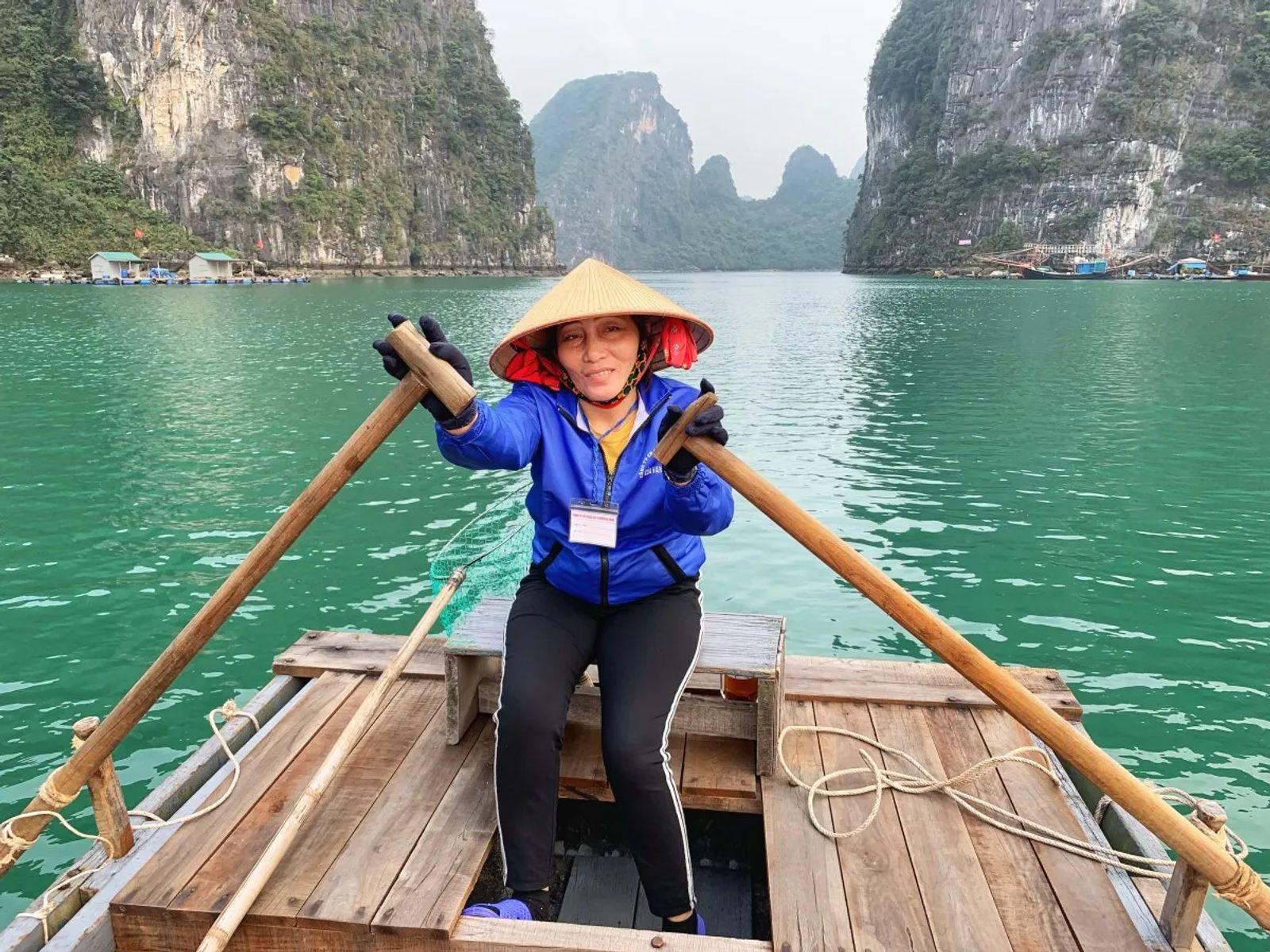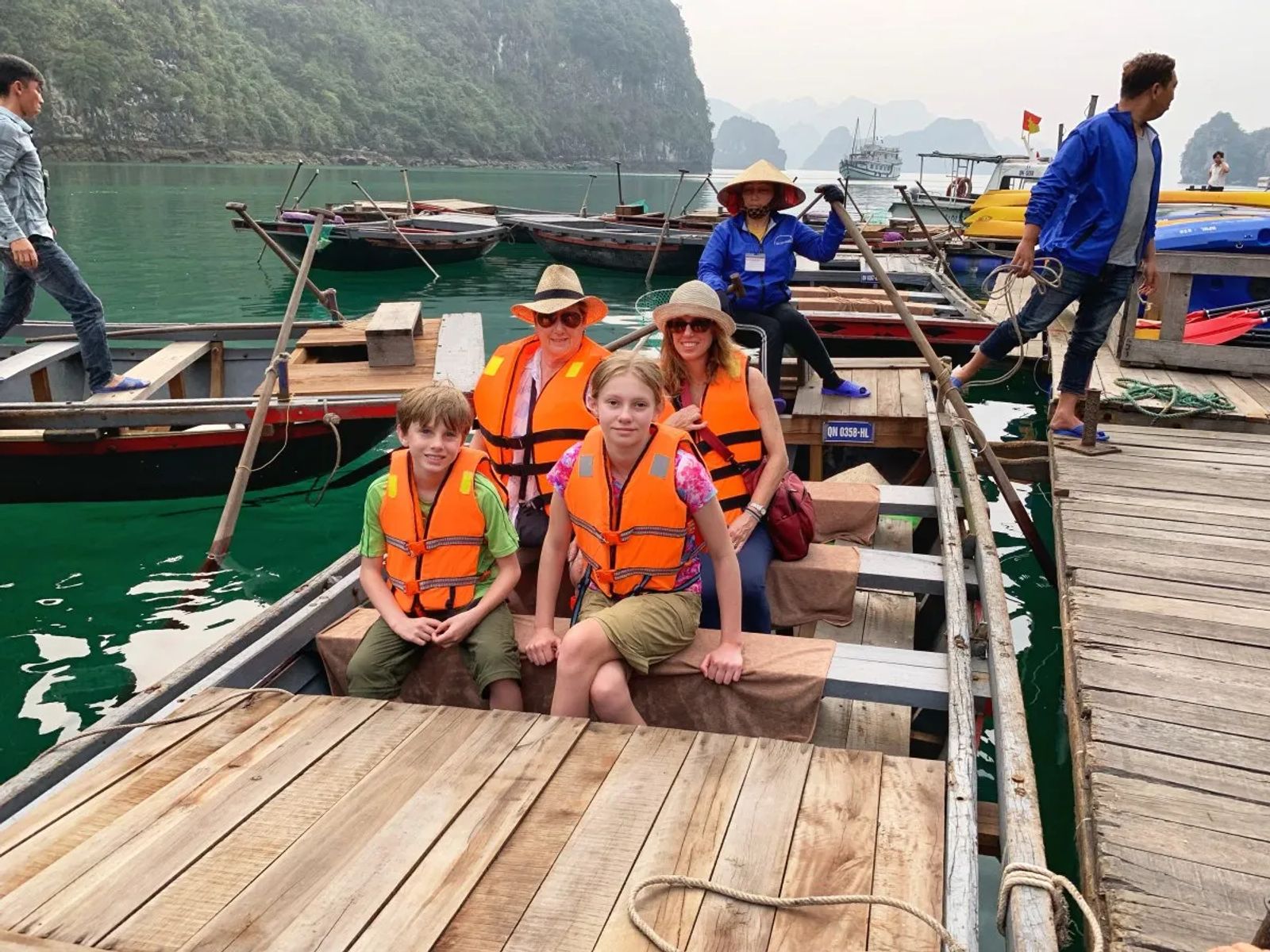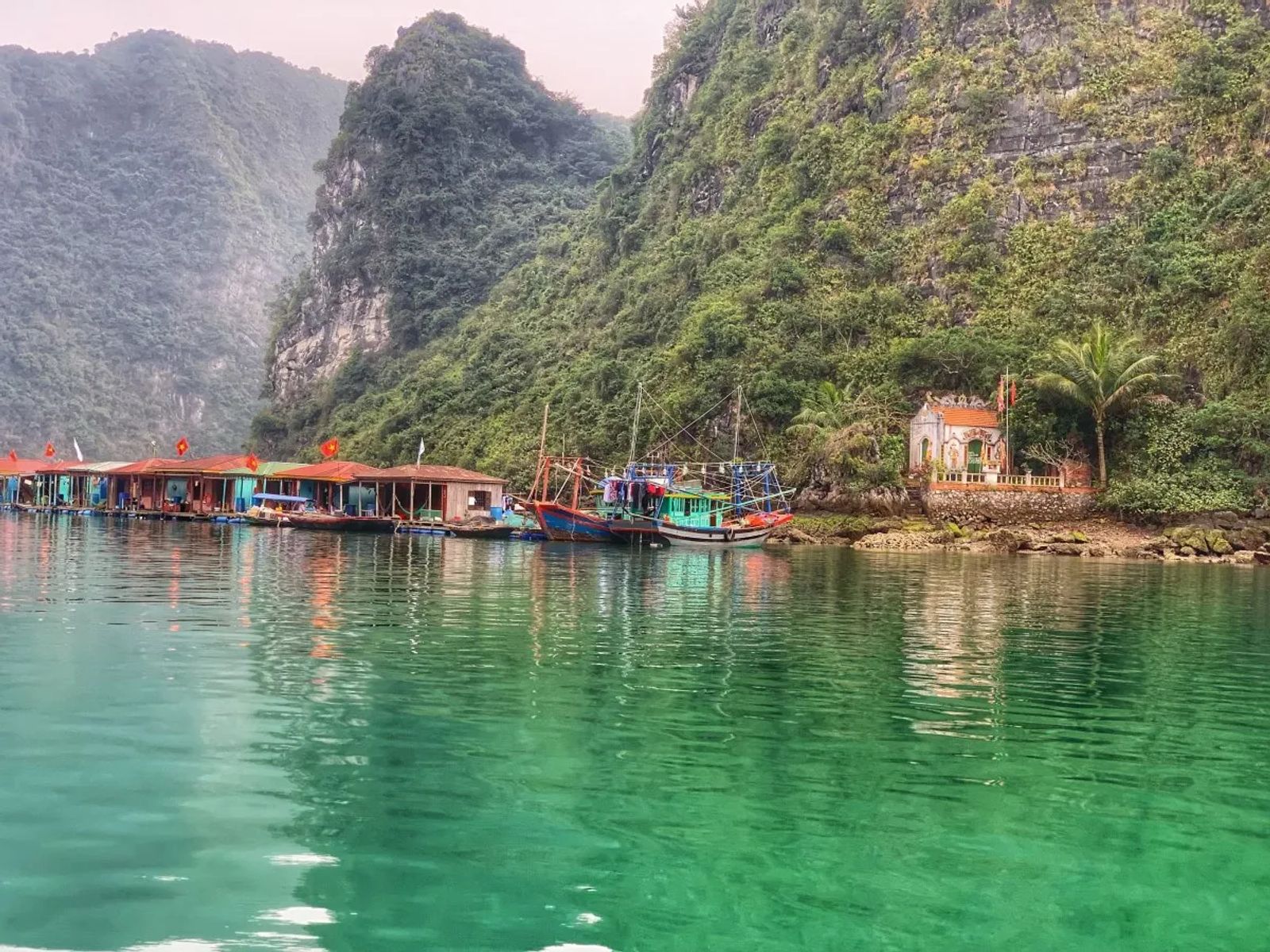 Once we returned to the boat, we were served an incredible 5-course meal! Each meal we had was literally over the top – endless fresh vegetables, meats, deserts. They went all out – starve we did not! I am a vegetarian so I was a bit worried about what I would have. Worry not, my palette was well taken care of and I was always served creative protein dishes (usually tofu based) with an abundance of vegetables.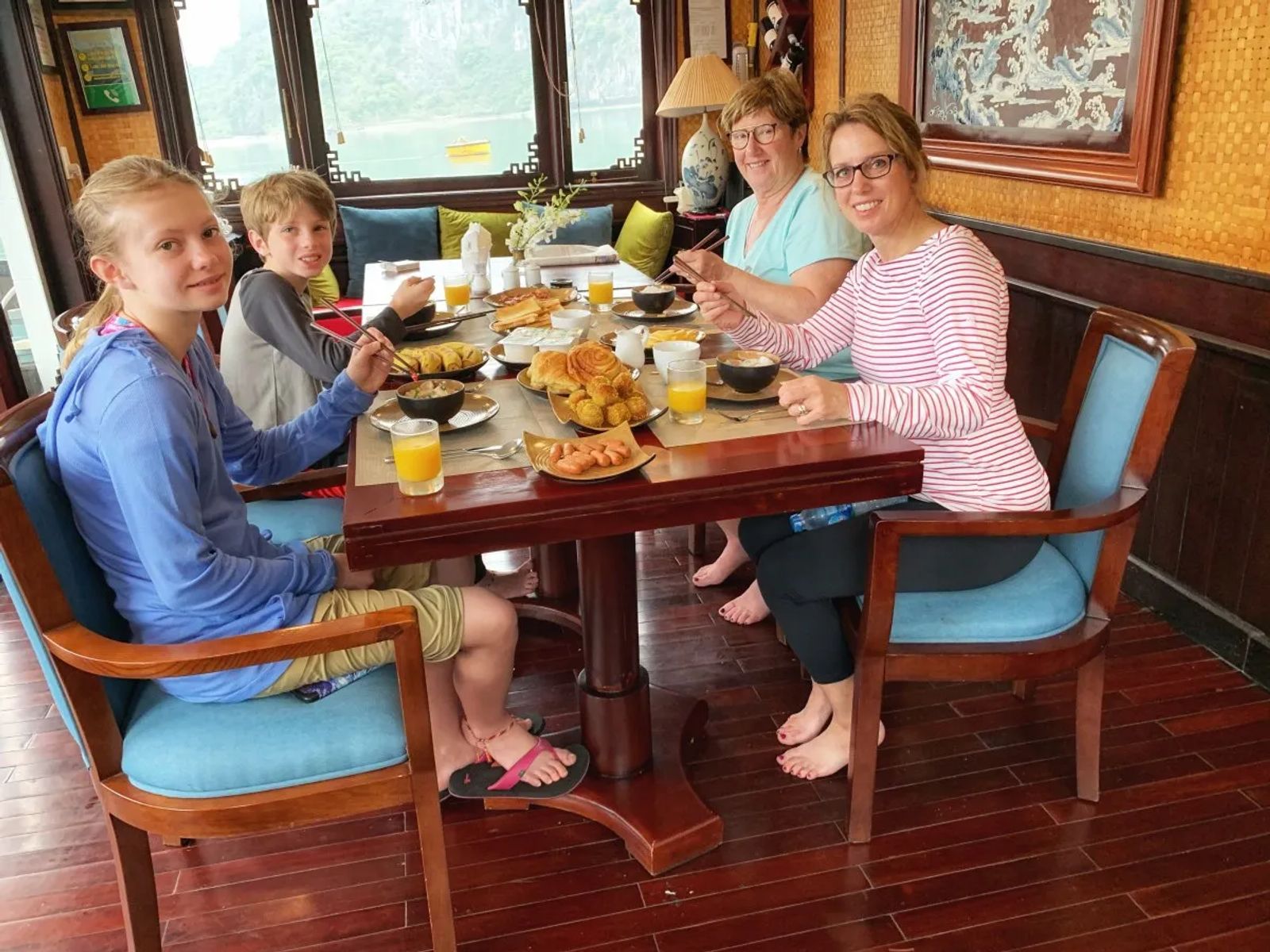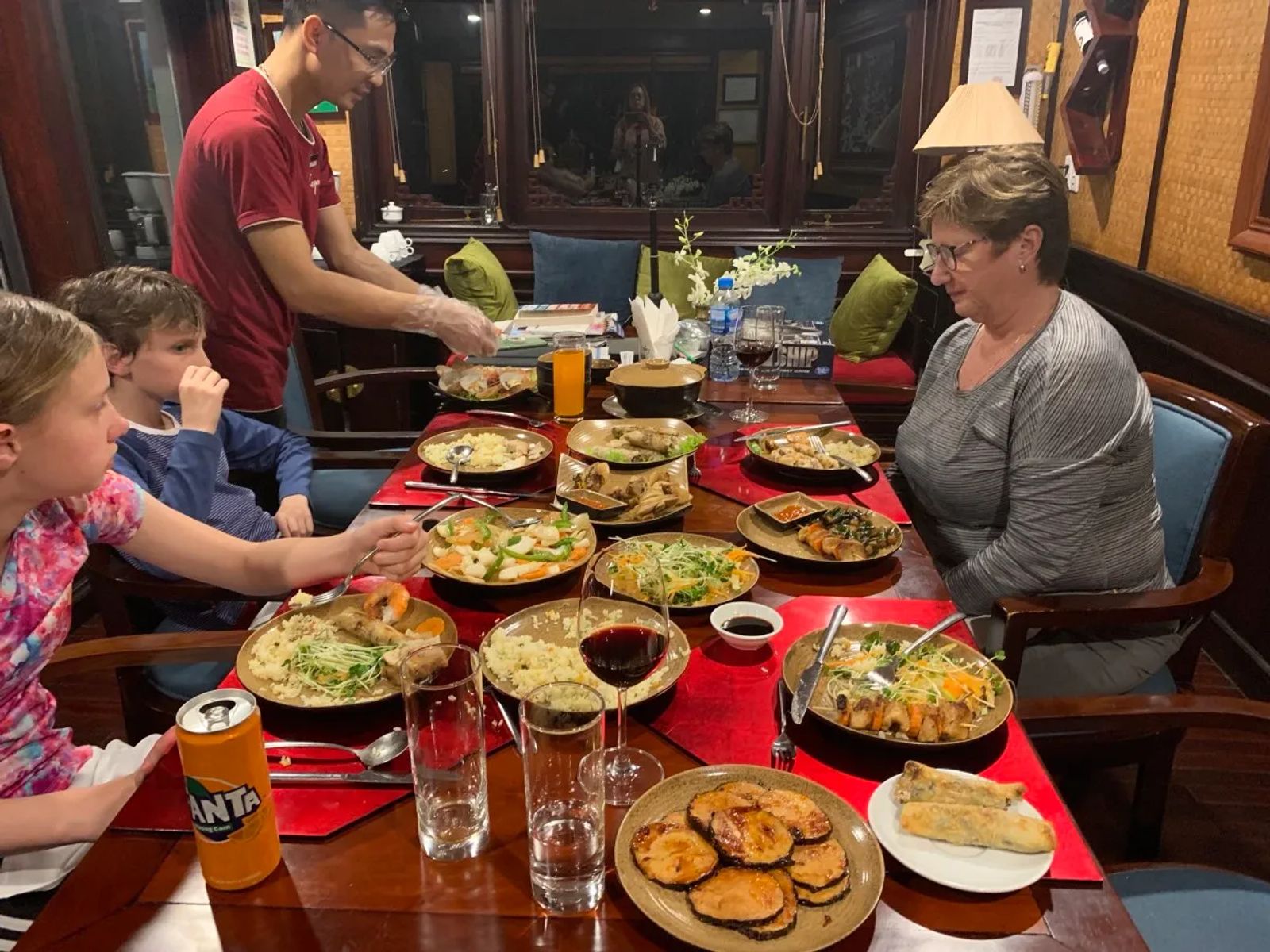 A typical meal during our cruise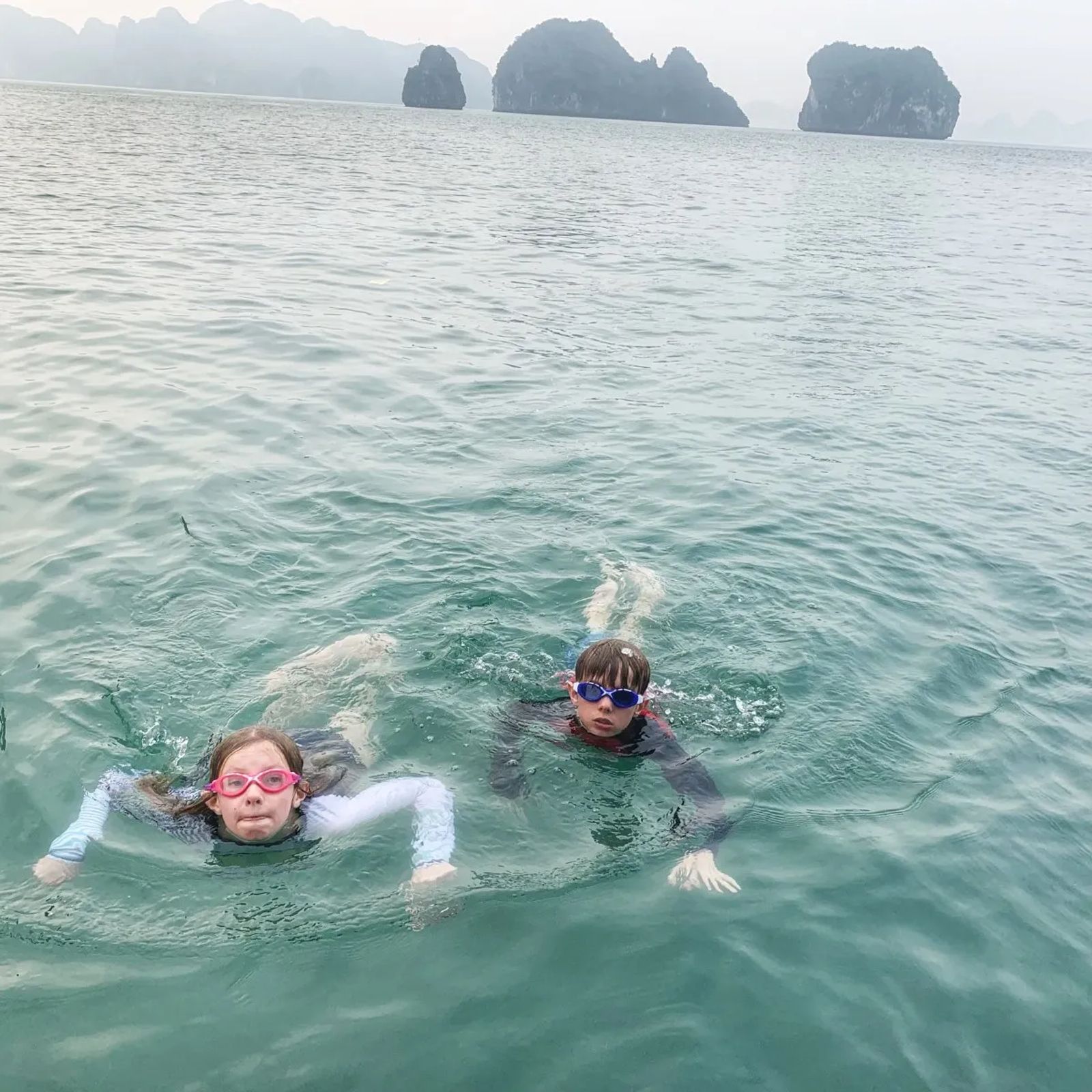 The kids swimming in Halong Bay. The water was cold and also had a lot of jelly fish! Yikes!
Every night, the crew rigged up bamboo sticks so we could try our hand at squid fishing. To attract the squid, they would turn on a large light that shined into the water. Sure enough, the squid would start swimming towards the light. Not only would the squid come swimming by, but large jelly fish as well! Needless to say, the kids never went back into the water.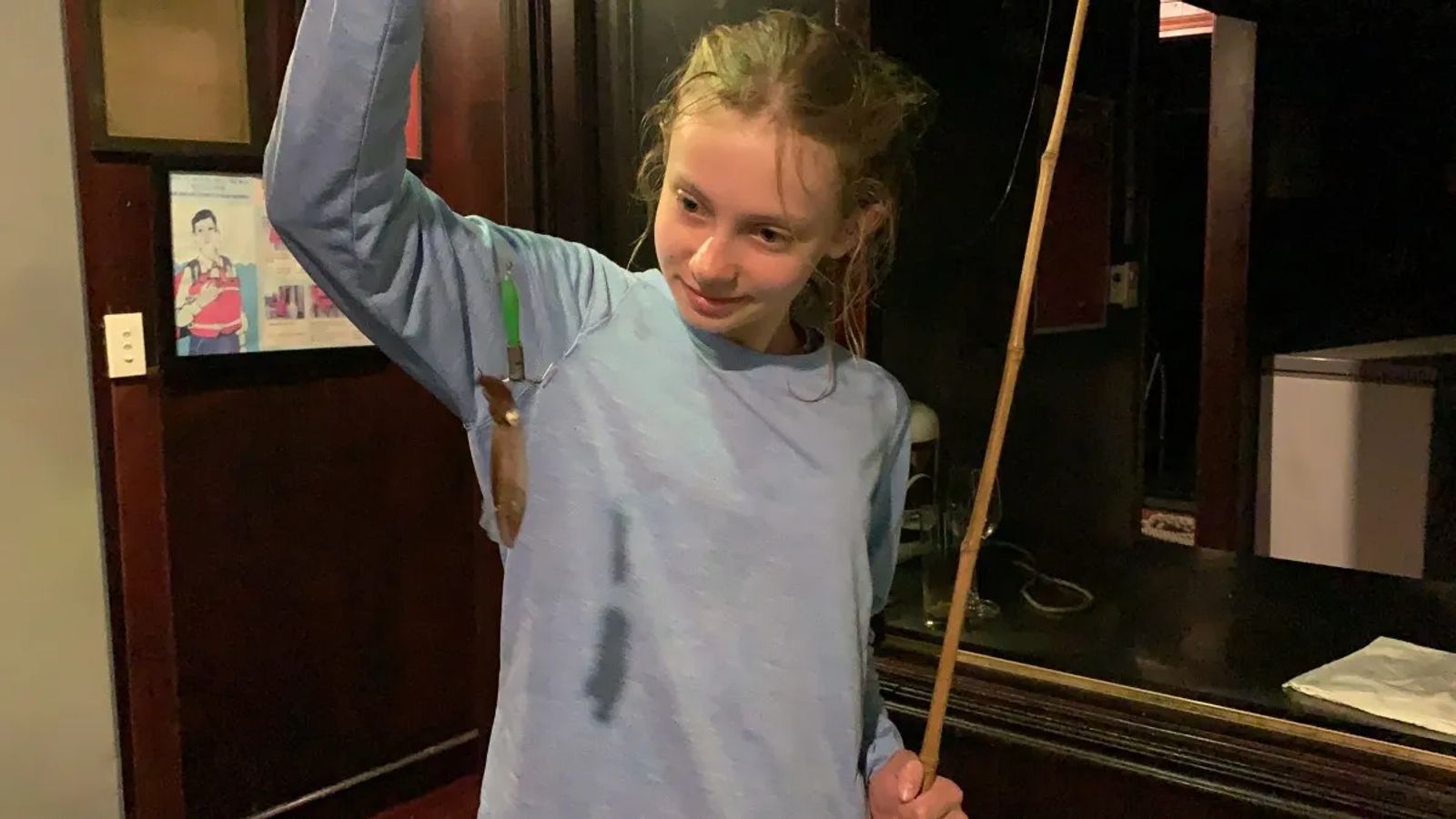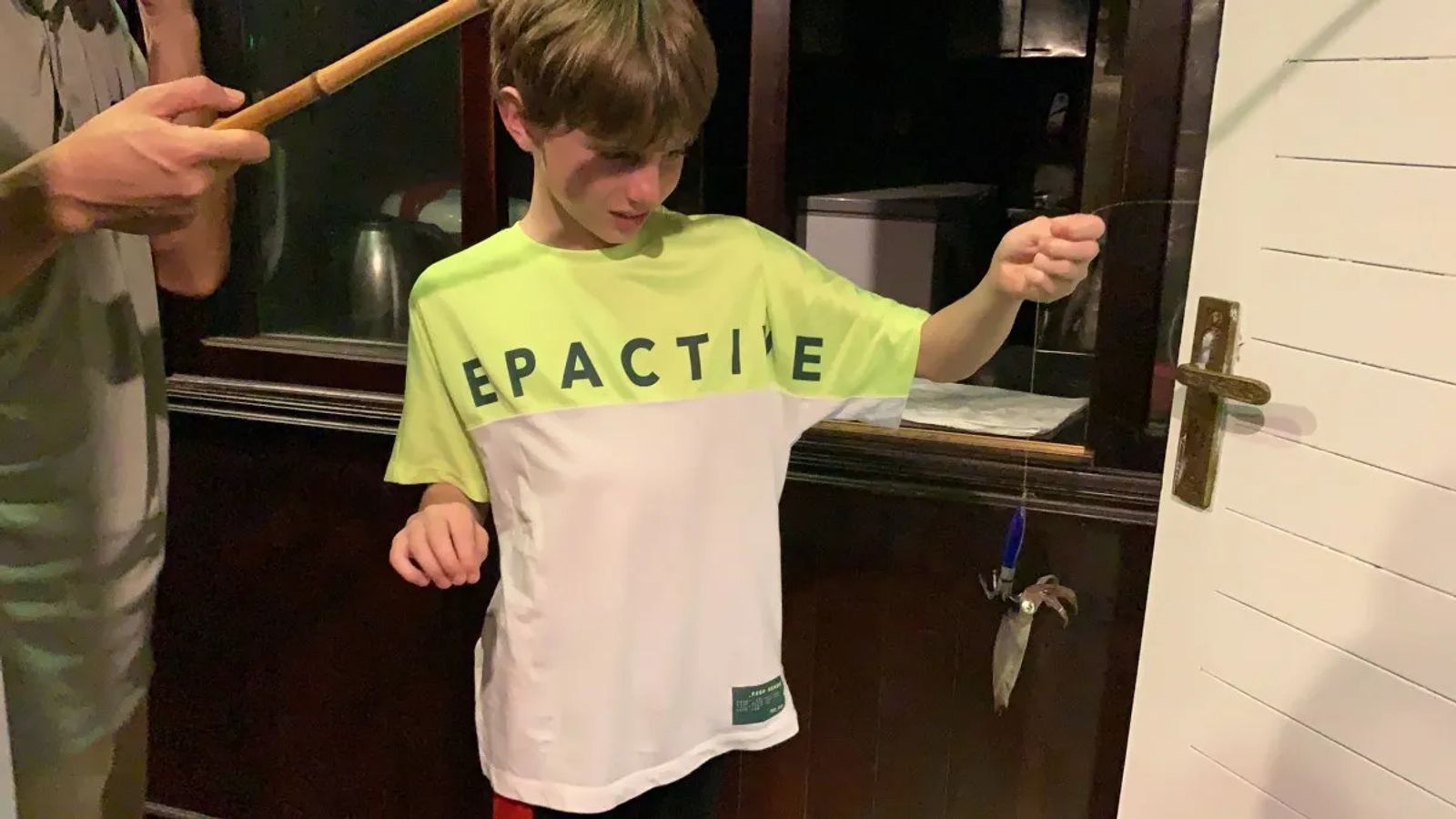 Day 2
Our early morning began with Susu teaching us Tai Chi on the deck. Although our family isn't particularly fond of very early mornings, this was a great way to begin the day! Breathing in the fresh air of Halong Bay as we sailed past the limestone cliffs revitalized our souls.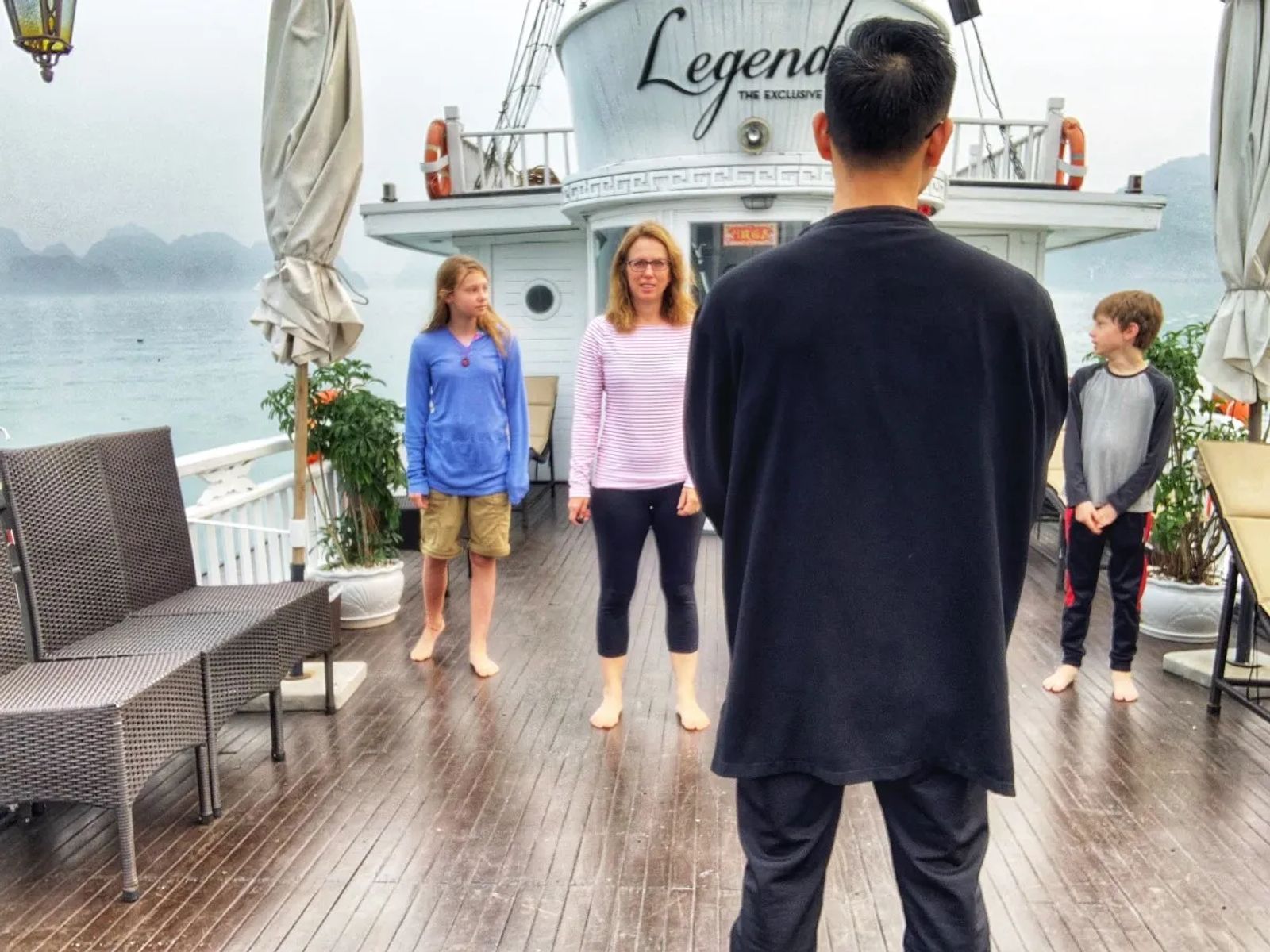 After a large breakfast of Pho, we came to Cat Ba island which we had the opportunity to explore by bicycles. Now, truth be told, the bikes were not of greatest quality, in fact my brakes hardly worked, but it really added to the charm. And we at least were given helmets. Day, Vu and Nam accompanied us as we biked along dirt roads to the village of Viet Hai. Here we saw the farms Bhaya Cruises created to employ locals and help with sustainable tourism.
After a few hours exploring Viet Hai village, we returned to the boat and had a large lunch. For our afternoon adventure, we kayaked to Ho Ba Ham Islets which means 3 Narrow Lakes. It was so beautiful kayaking through caves and exploring! Day accompanied us to show us through the caves and explain the geography.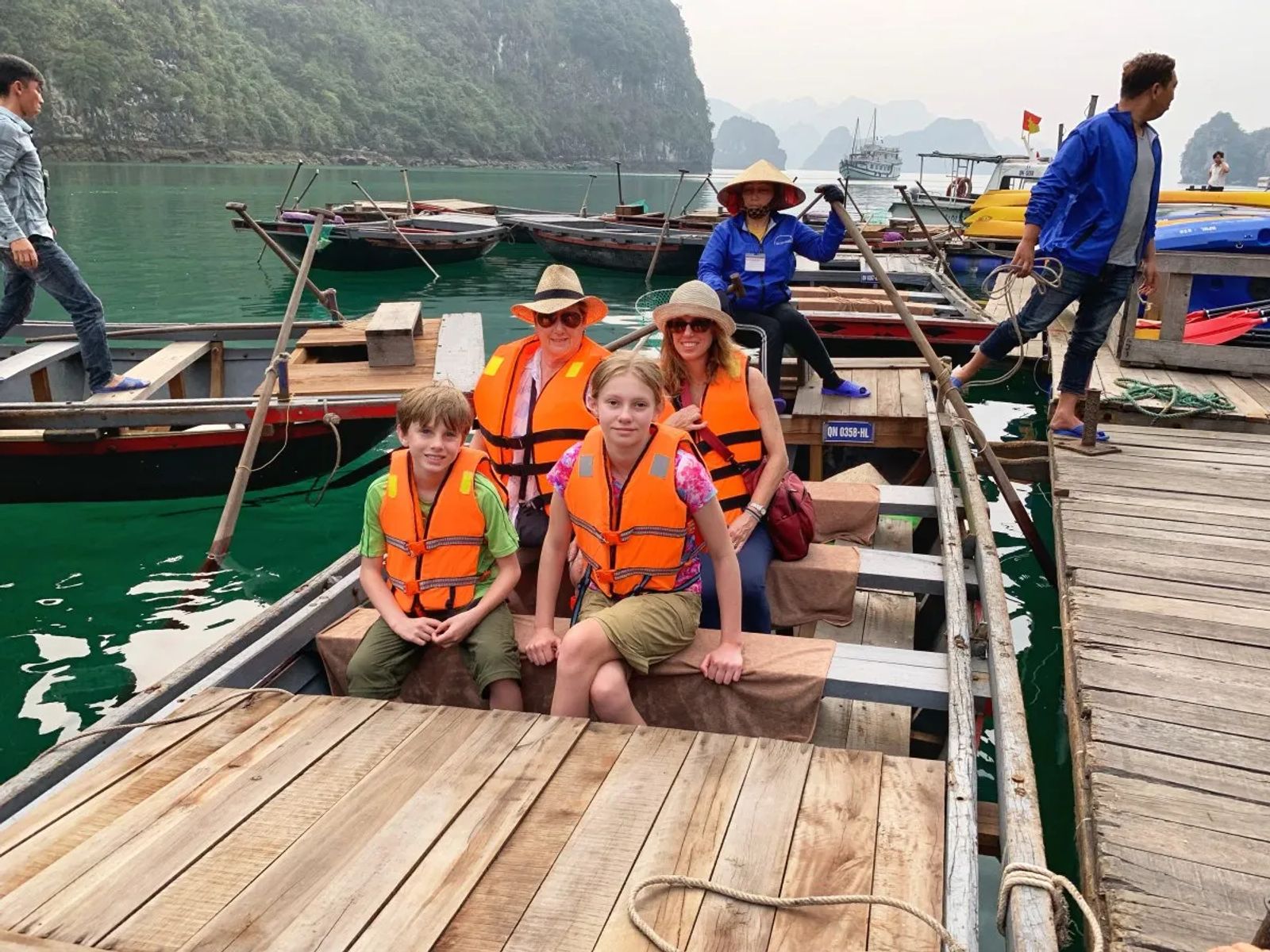 Day 3
Our morning began once again with Susu leading Tai Chi on the deck of the boat. This morning we headed to the Trung Trang Grotto Tunnels on Cat Ba Island and then hiked through Kim Giao forest. We definitely needed good walking shoes on this day! We were exhausted at the end, but it was so worth it!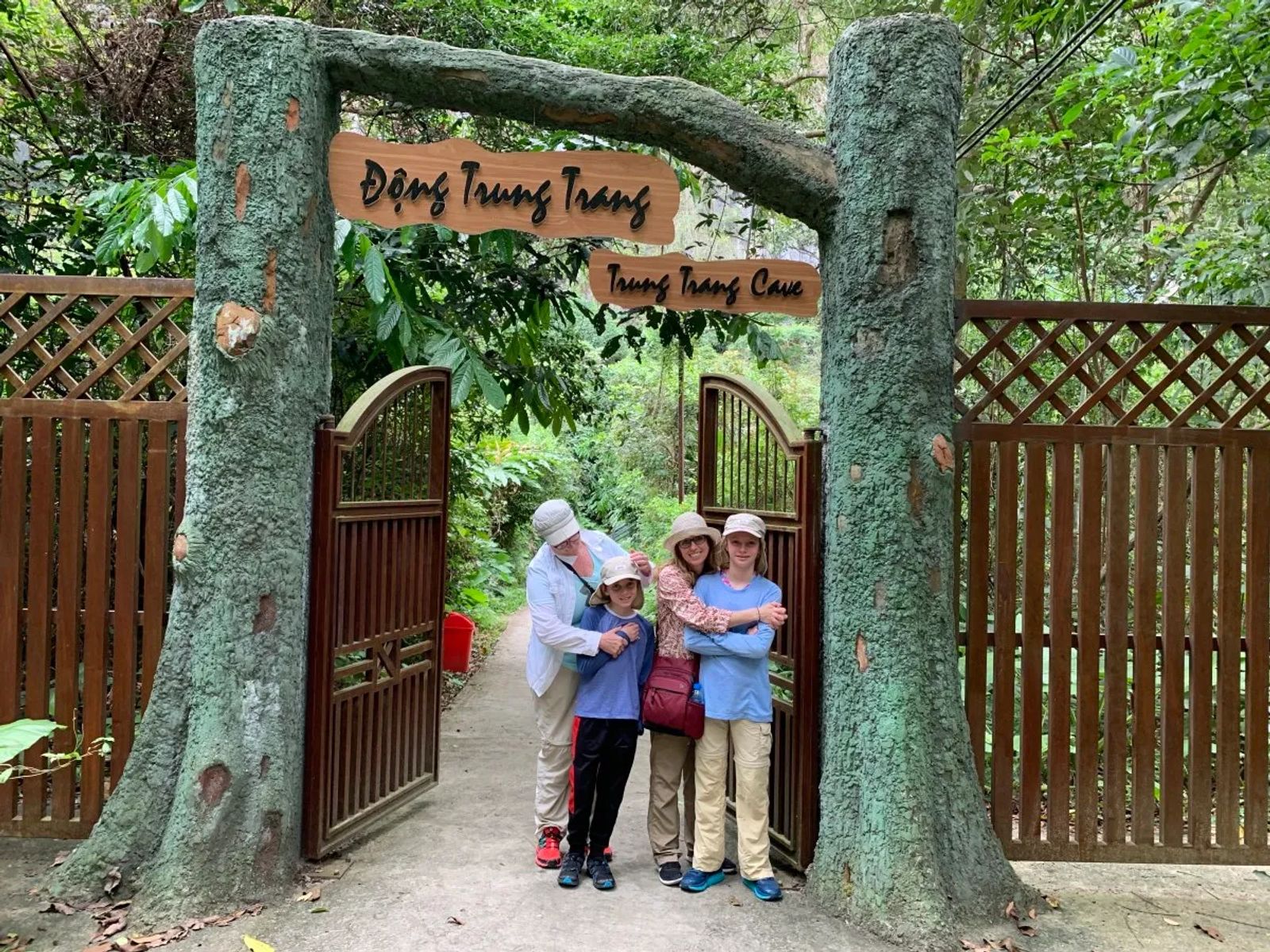 Heading into Trung Trang Grotto Tunnels on Cat Ba Island.
The Trung Trang Cave, known locally as "gold treasure" goes for approximately 300 m through the mountain and contains thousands of unique stalactites that glitter in the dim light.
After a light lunch, we headed to Cat Ba National Park were we trekked through the Kim Giao jungle to reach Ngu Lam peak – it has an elevation of 3,280 feet! Again, crew from our boat accompanied us and helped us in the more challenging areas. For the kids, they climbed the steep rocks like little mice, us adults were not as quick, but we made it! To reach Ngu Lam peak, the trail winds approximately 1.5 km through Kim Giao forest which is home to the endangered rare Kim Giao trees and the critically endangered primate, the langur (unfortunately, we did not see any!).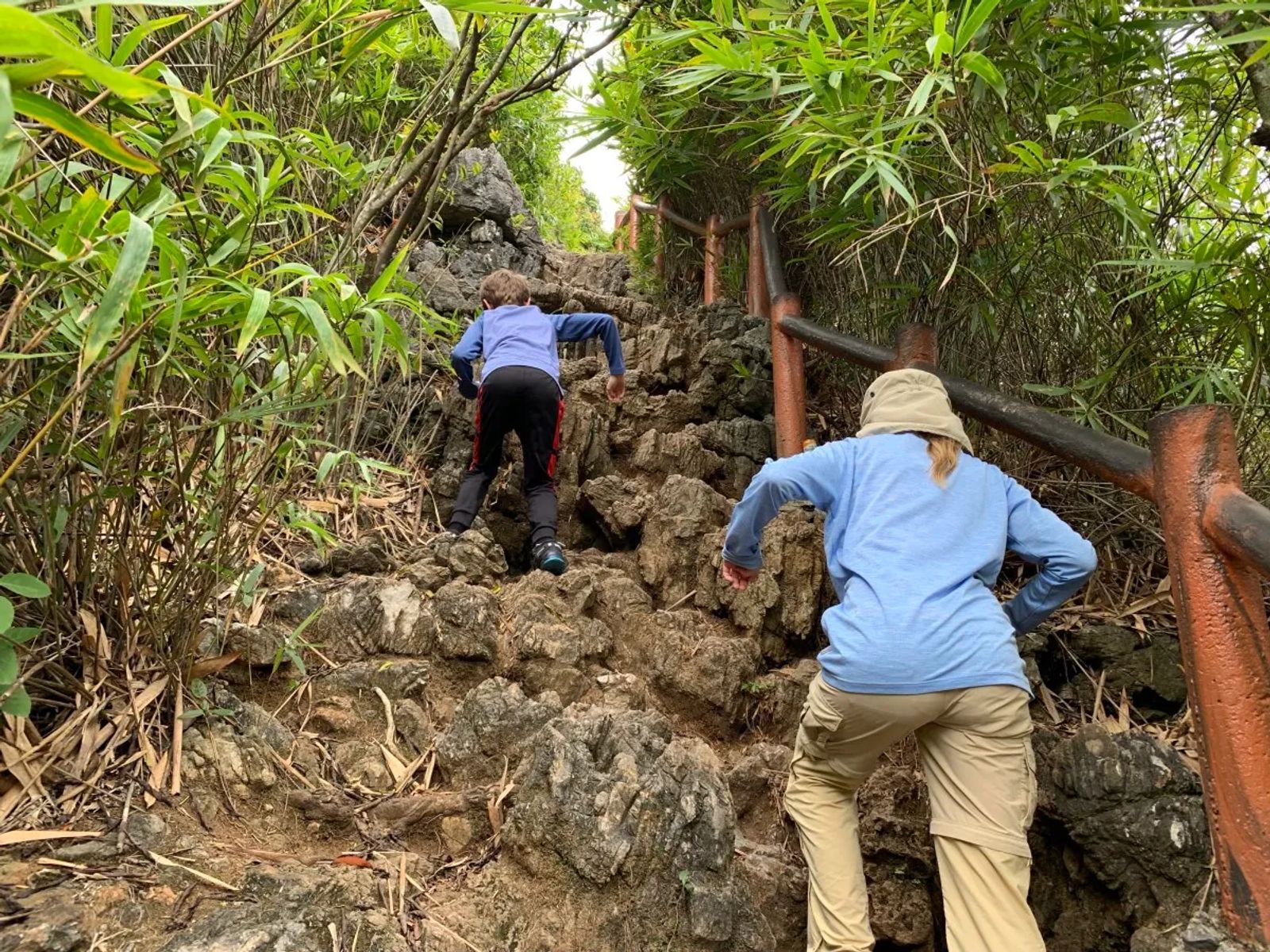 The last push to Ngu Lam Peak in Cat Ba National Park.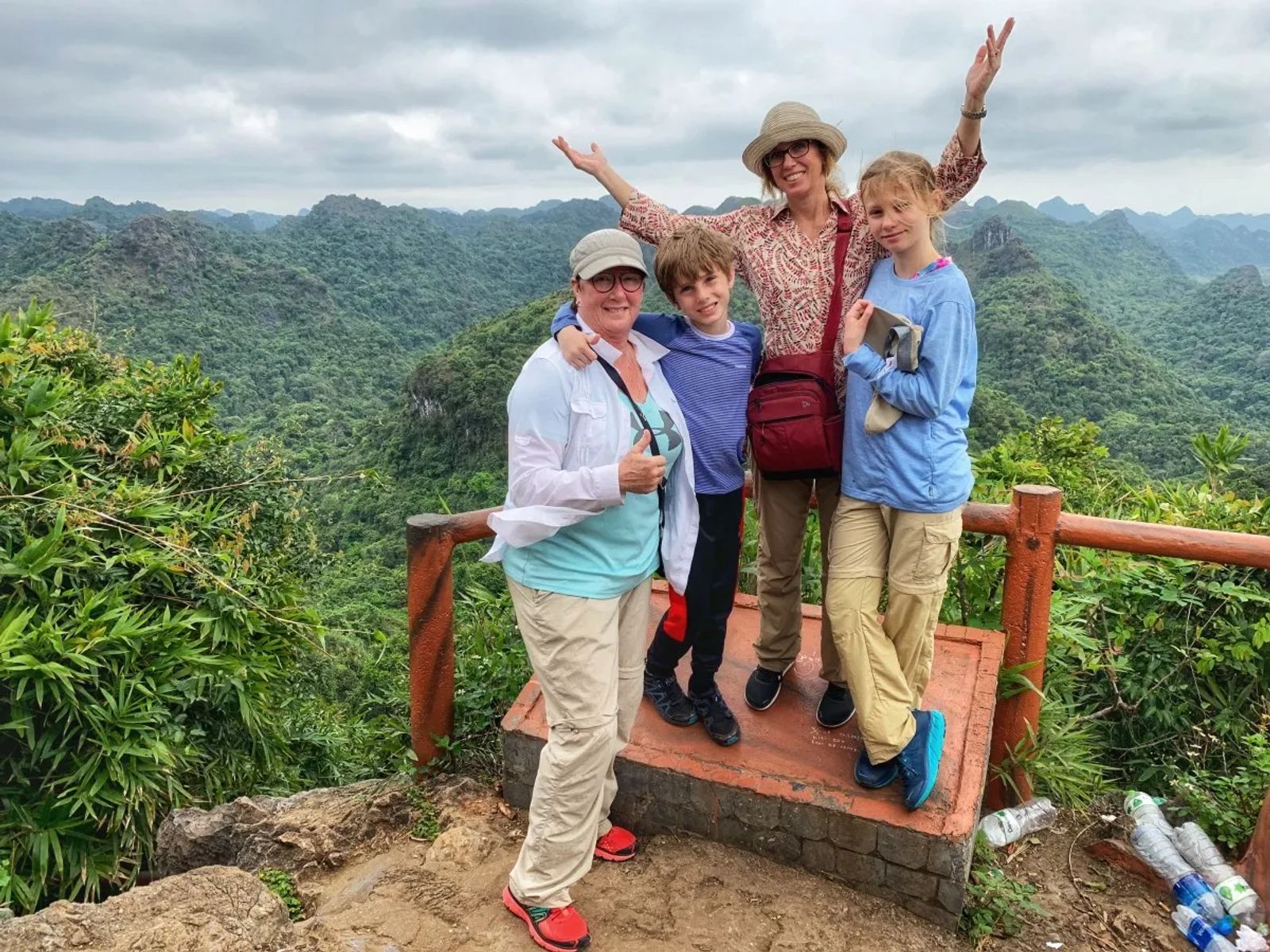 This day was by far the most challenging as far as physical activity went but it was so incredible to explore Cat Ba Island! After we hiked down the mountain, we found a cute local restaurant where we marveled about the hike and cooled down with delicious ice cream!
We returned back to the boat and had some down time; the kids worked on some homework (because they missed nearly 3 weeks of school, they needed to keep up on their assignments). During that time, Deb and I enjoyed a lovely cocktail made by the wonderful Susu and sat on the deck and marveled at the landscape of Halong Bay.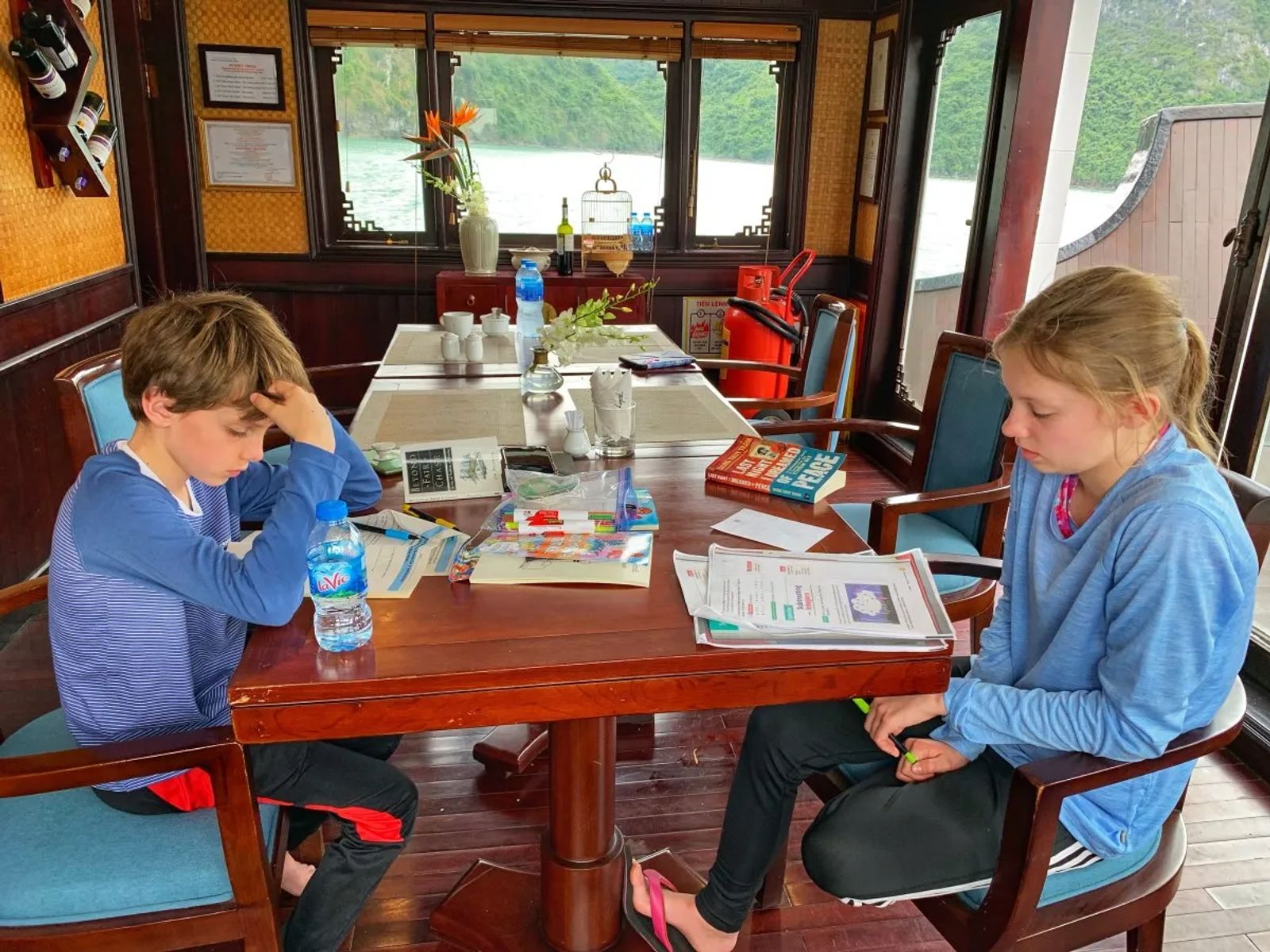 Later that afternoon we arrived at Soi Sim Island which has a private beach and the kids enjoyed sea-shell collecting. Deb and I made friends with another family from Singapore that were also sailing with Bhaya Cruises. After a couple hours, we returned to the boat and Day taught us how to make spring rolls! It was fun and they were delicious!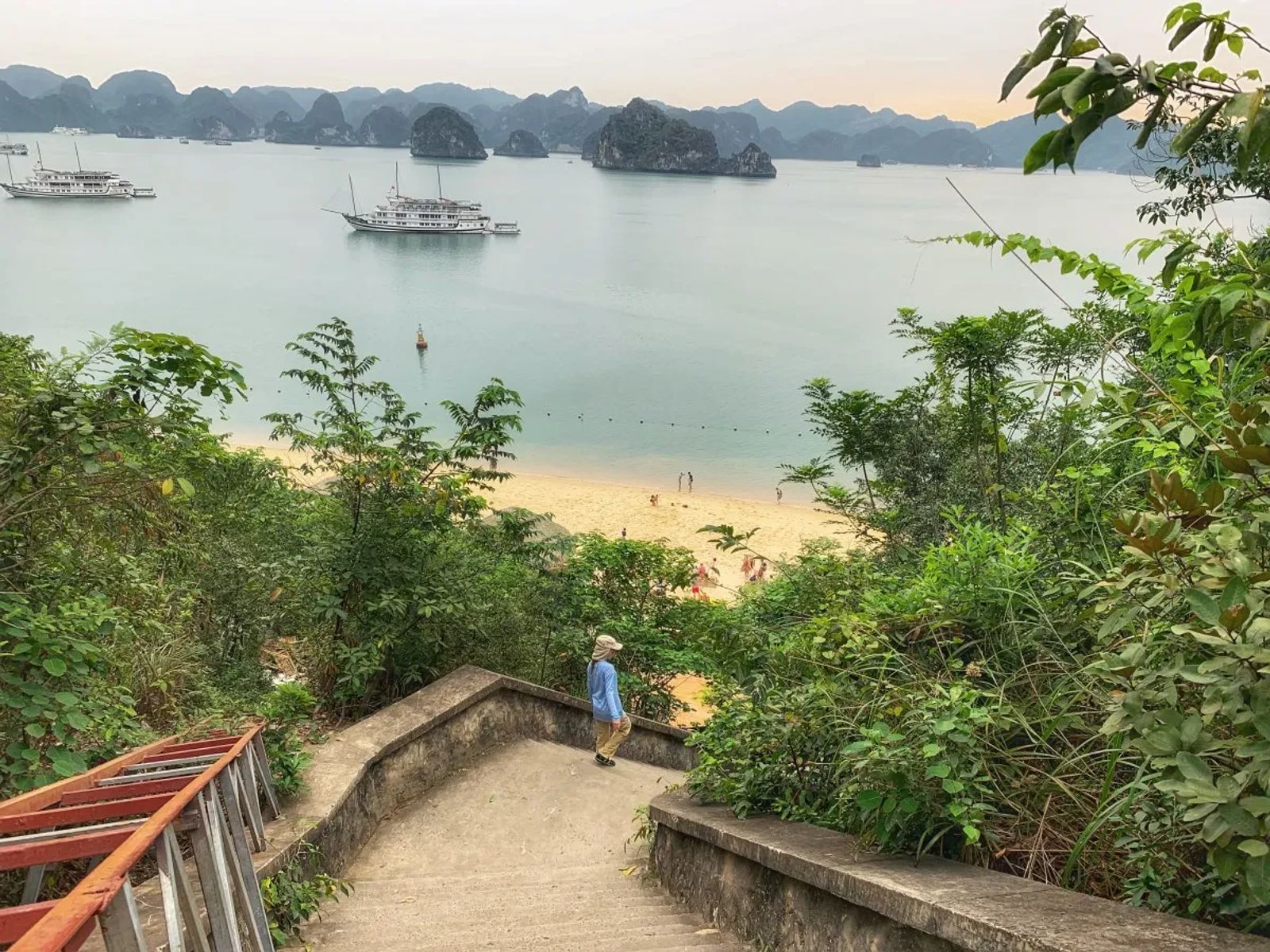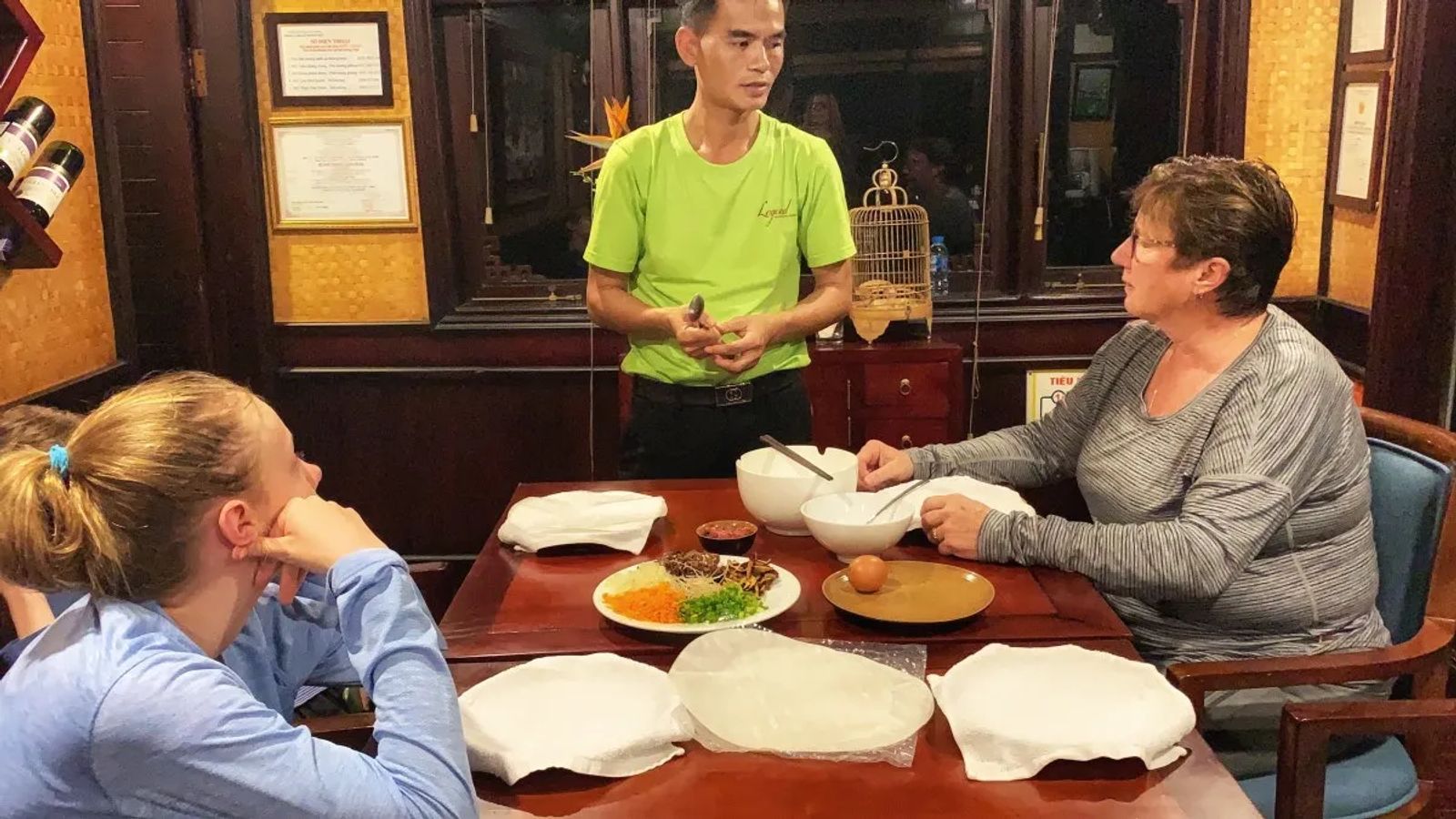 Day 4
I woke up sad knowing our time was drawing to a close, and poor Susu had fallen ill so he could not conduct our morning Tai Chi class. We still woke up early and enjoyed the fresh morning air on the deck. After a small breakfast, we were taken to Ha Long Pearl farm. We arrived before any other visitors and had a personalized tour. It was interesting to learn about the different types of pearls and what gives them their value. We also saw a demonstration of how pearls are extracted in the pearl 'operating room'. Of course, there is a jewelry store to purchase pearls as you leave the facility. Truth be told, we did make a couple purchases even though the jewelry seemed expensive. I can wear that necklace and have fond memories of where it came from!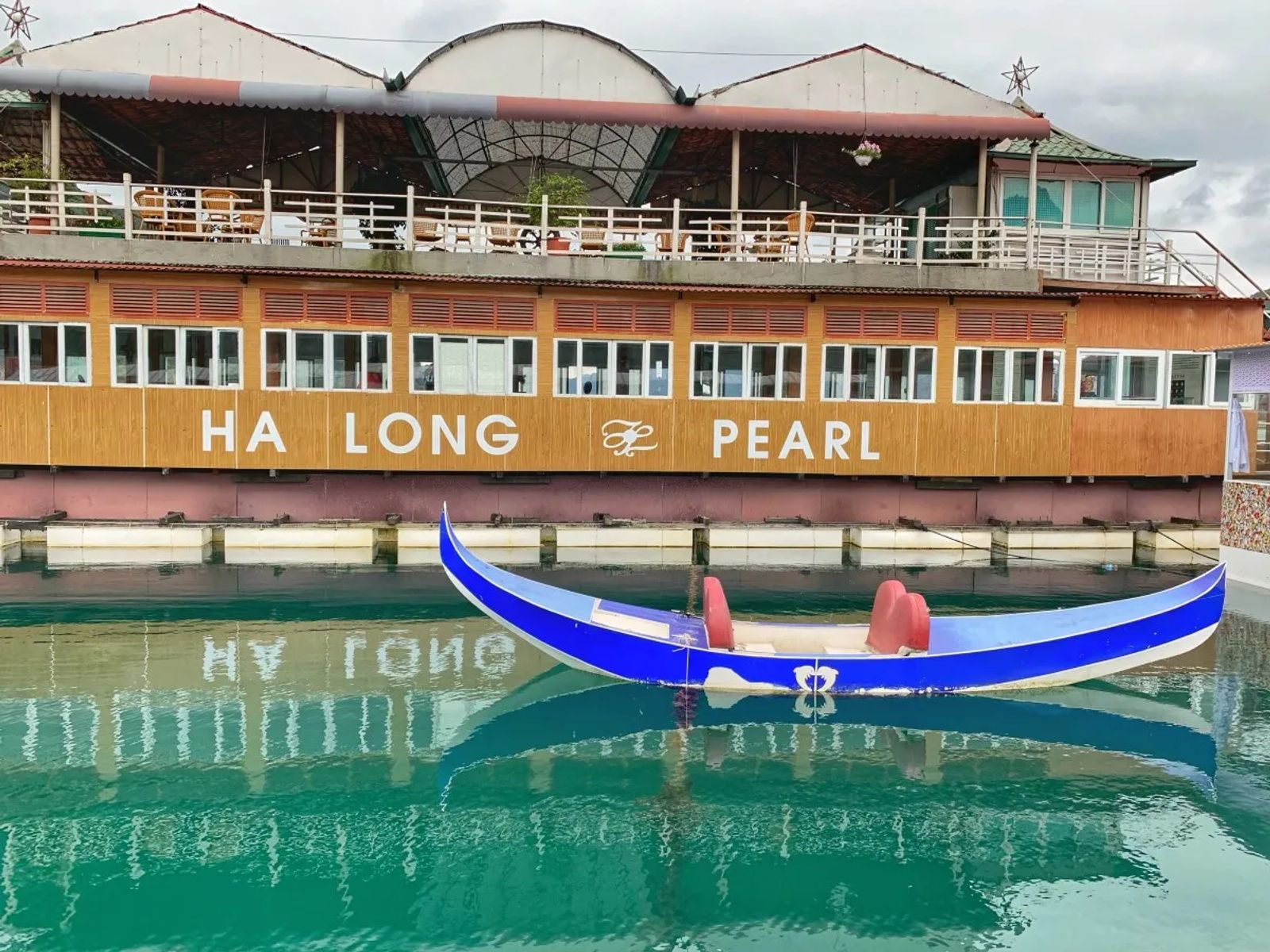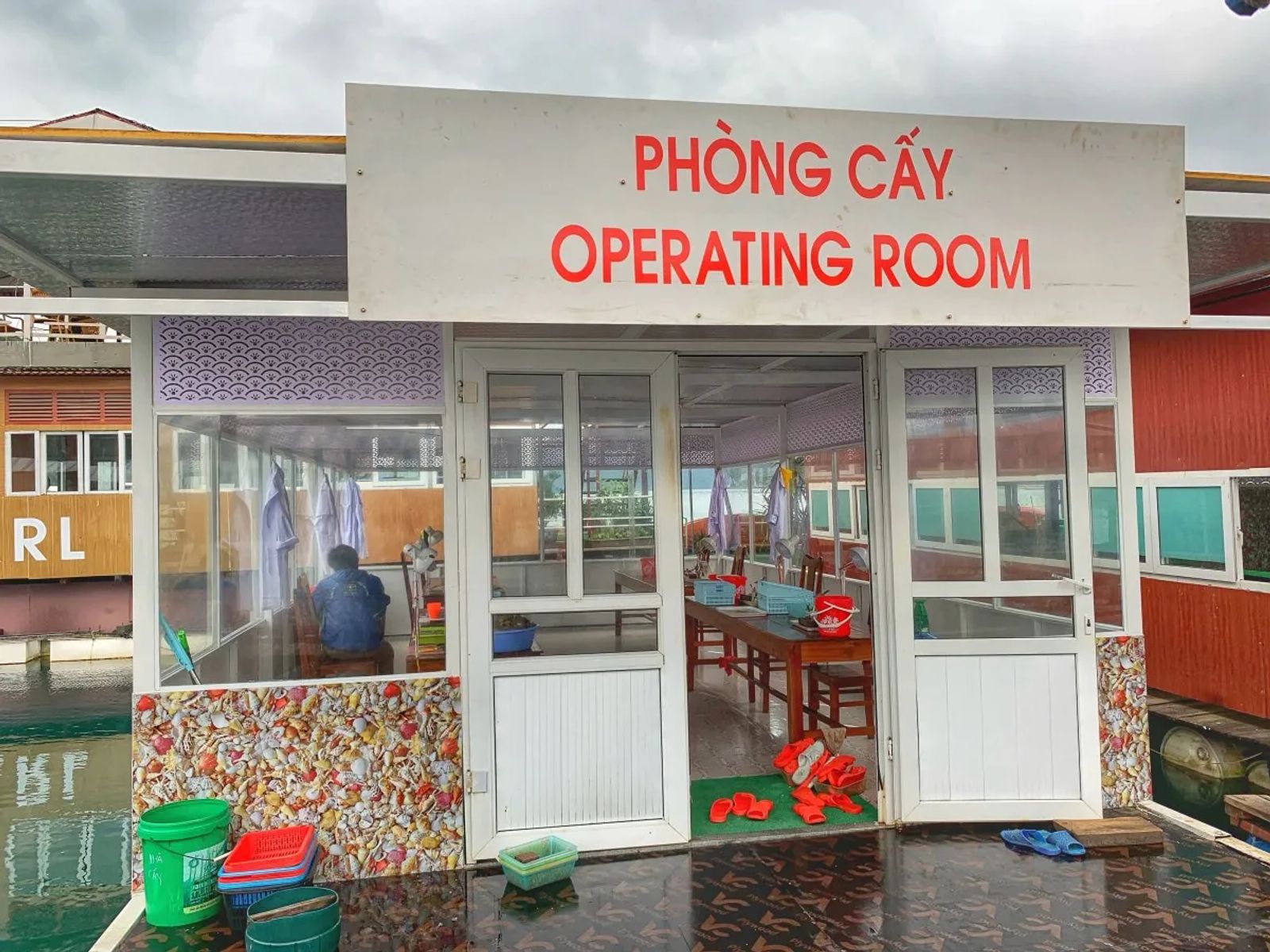 Next, we took a small boat to Bo Hon Island to explore Sung Sot Cave. This cave was discovered by the French in 1901 and was originally named 'Grotto des Surprises' because of its surprising beauty. It is now a World Heritage Site. We had to climb a 100 steps or so to reach the mouth of the cave. Normally not a problem but admittedly, I was a bit sore from the hike to Ngu Lam peak the day before. The cave is 10,000 square meters, 30 meters high and has a 500-meter long passage. A boardwalk takes visitors through 2 caverns where staggering stalactites and stalagmites soar to the top. I have seen caves throughout the world, but Sung Sot Cave is truly impressive!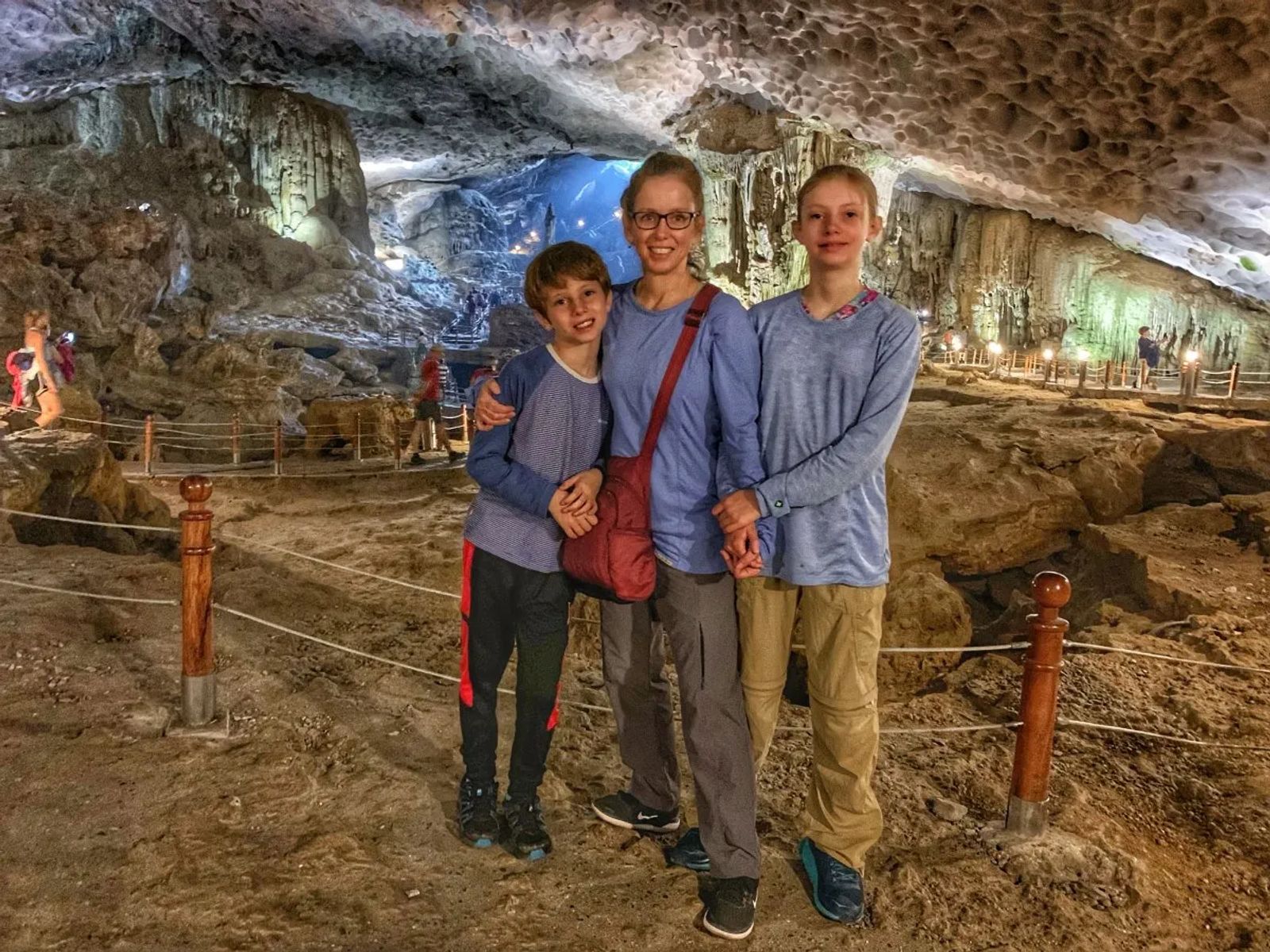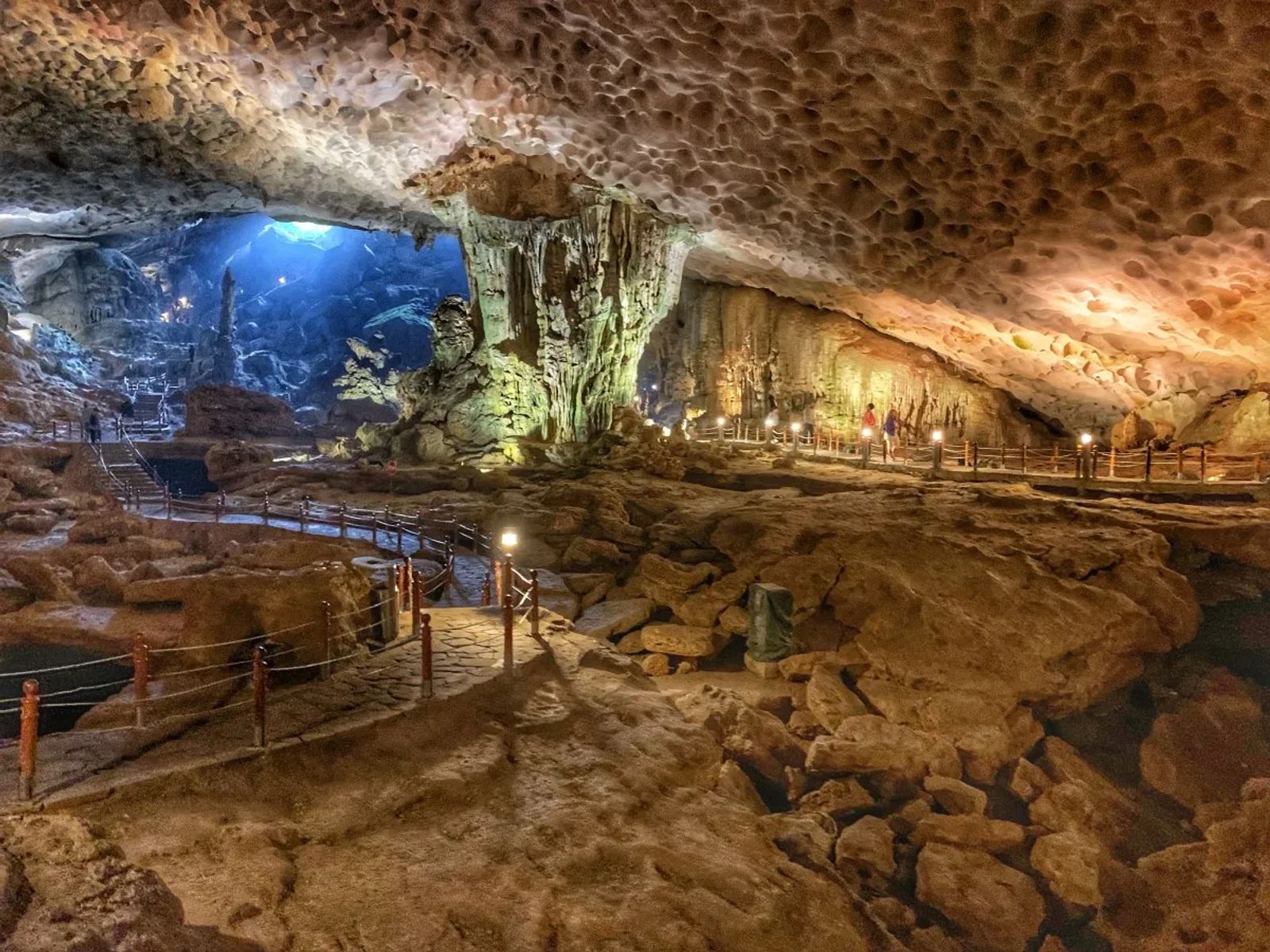 All good things must come to a close and it was time to sail back to the marina. We returned promptly at noon and were given a lovely farewell by the staff. They took such good care of us during our tour and we made life-long friends! I wouldn't hesitate to take another tour with them.
This was the perfect 4-day itinerary to explore Halong Bay. We wouldn't change a thing!
If you want more information on Bhaya Cruises, please go to their website and tell them we sent you!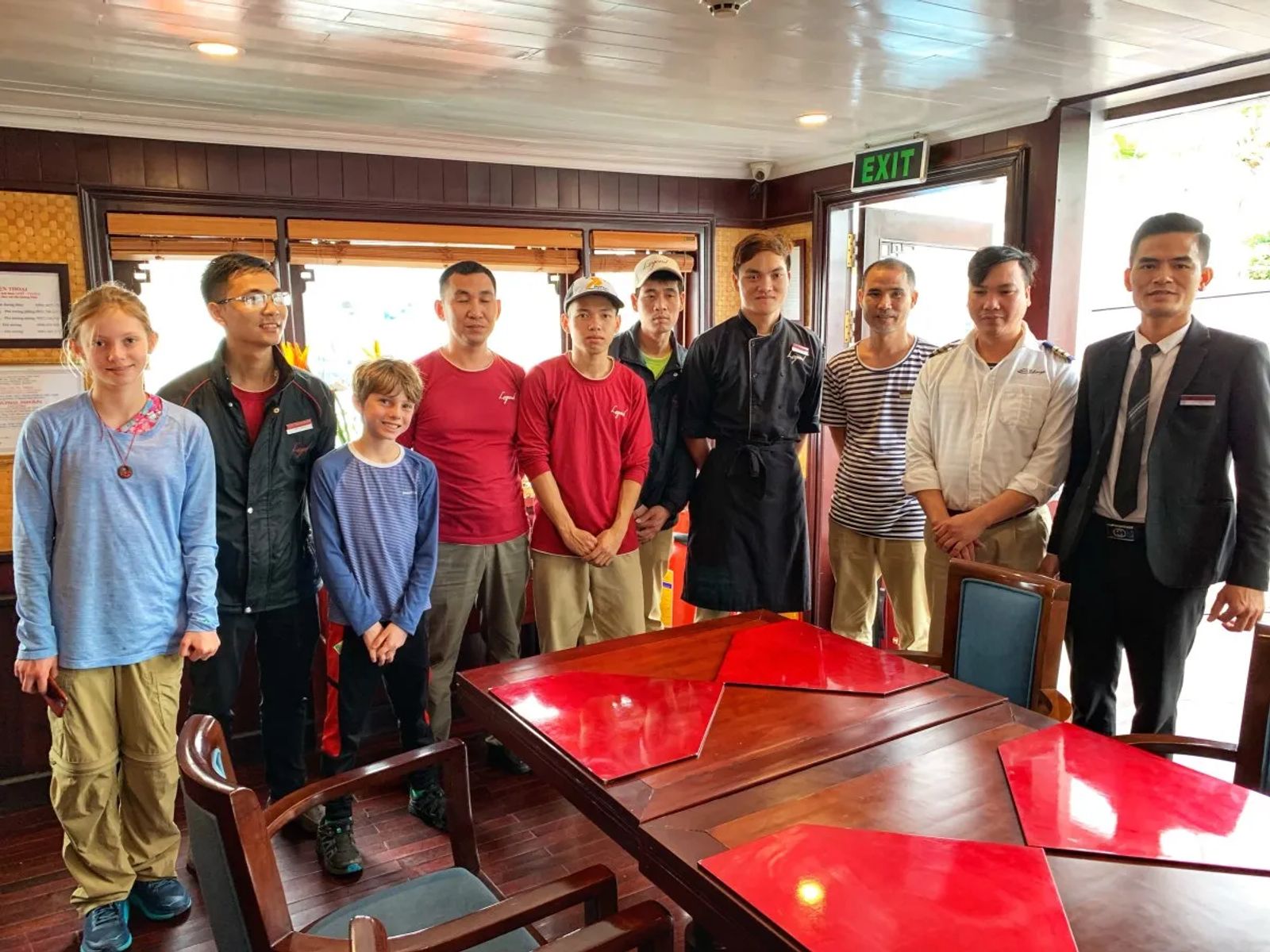 The crew that made it all happen!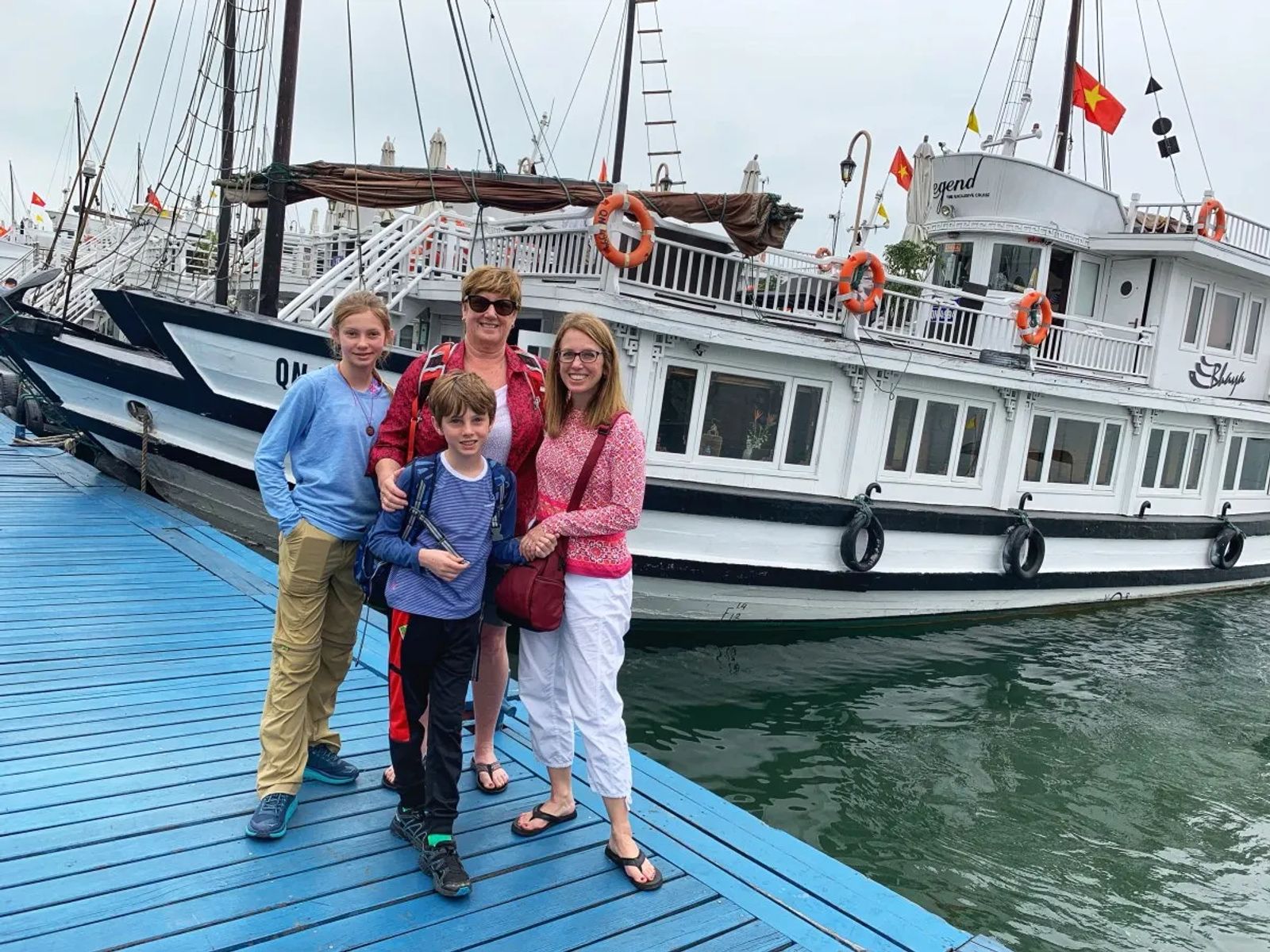 Would you like to read more about our adventures in Vietnam? Read about our fabulous itinerary in Ho Chi Minh City.

2 Moms Travel
Thank you so much for coming to our site and interacting with us! We love sharing our travel experiences and hope we can inspire you to travel! When the blog first started, LGBT travel with kids wasn't as prevalent as today. We love that sharing our stories has encouraged others to travel not only within the United States, but all over the world! Because our itineraries have been popular with our readers, 2 Moms Travel now is also an official travel company!
© 2019 2 Moms Travel. All Rights Reserved.