Santa Barbara Sea Center is Fun for the Whole Family
My family visits Santa Barbara two or three times per year and no visit is complete without a stop at the Sea Center located on Stearns Wharf. Although my kids (ages 7 & 8) have been a gazillion times since they were toddlers, they still enjoy every visit like it's their first time. With all of the interactive exhibits, even adults will enjoy learning about the local coastal environment of Santa Barbara.
Touch a real shark!
Upon walking in you will notice all the natural light streaming in from the large windows that allows for breathtaking views of the Santa Barbara coastline. The exhibits begin with a shark tank that houses several swell sharks which reside locally (and harmlessly) in the waters. If you are brave enough, volunteers will assist you with touching them. Luckily, they are quite harmless and it's pretty awesome to have the experience of safely touching a shark! You will also find a "shark nursery" where egg casings are on display filled with developing swell sharks. I actually found one on the beach once and took the egg to the Sea Center where it was put into the nursery.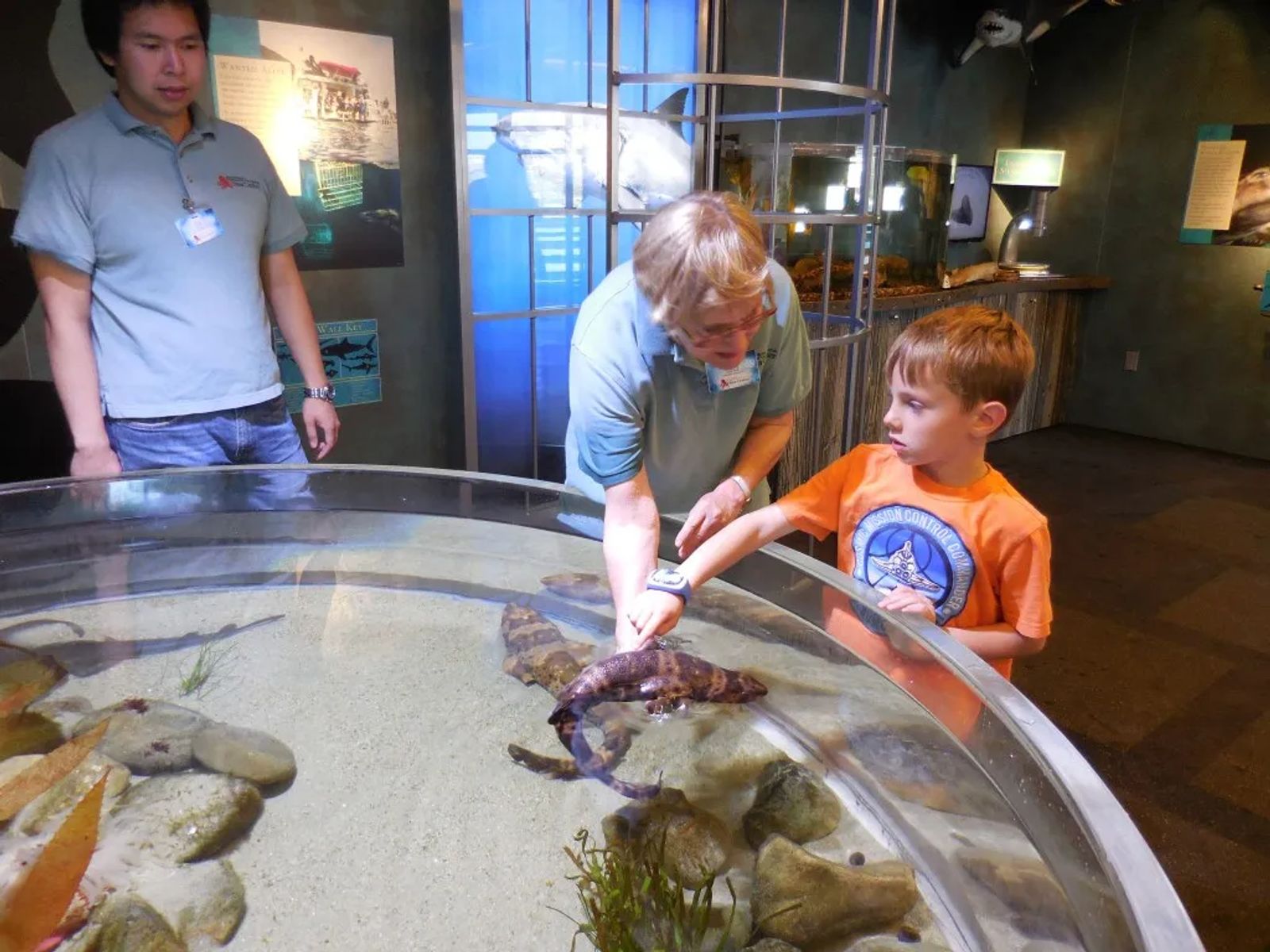 Life in the surge
Visitors will enjoy walking in and around an example of what the local ocean looks like right under the surge. Every couple minutes a "tide" rolls in and it's a fun and unique way to watch what happens under the surf! There are little benches to sit on while the wave rolls over your head and the environment comes to life!
Go tide-pooling!
There is another interactive exhibit that looks like a tide-pool filled with starfish and sea urchins that you can touch. This definitely brings out my inner child as I love to get my hands wet alongside my children as we explore the wonders of a tide-pool together.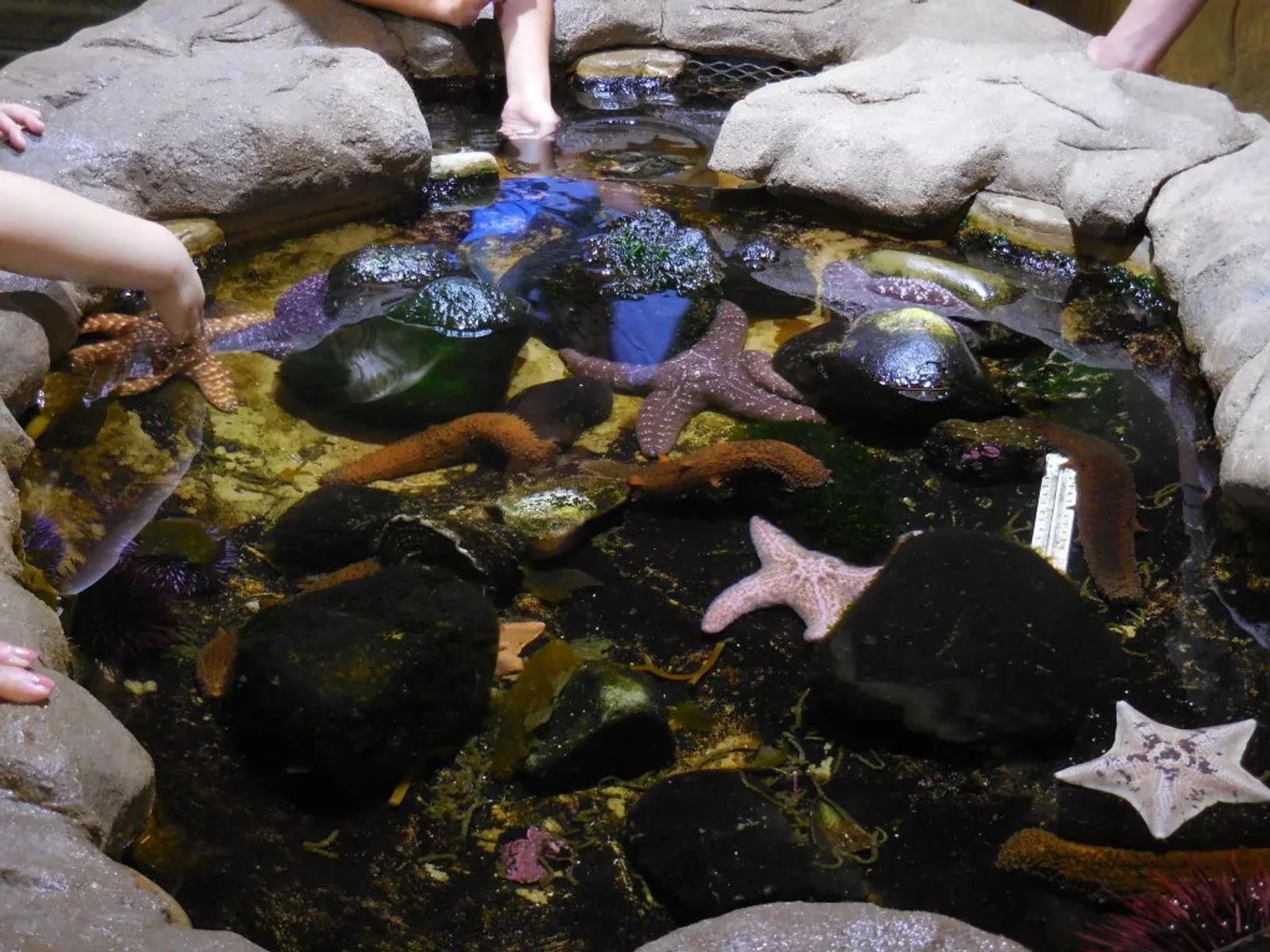 Become an oceanographer!
Next up is the Wet Deck where my kids can spend hours and they think it is the coolest exhibit ever. Fortunately for closing time because that is how I usually get them to leave! The Wet Deck is literally a covered deck that has roughly a 10′ x 10′ opening where volunteers assist visitors with lowering baskets and buckets to scoop up samples of the sea floor and then perform little oceanographic experiments. The real fun begins when you High End get to shift through your "sample" to see what is thriving right under you, literally. My daughter has pulled up some very cool creatures such as a large octopus and some crabs. The volunteers are very careful and adept at taking care of any life coming out of the ocean.
Life amongst the Jellies
From the Wet Deck, visitors will likely head upstairs to the darkened and serene environment of the Jellies exhibit. Soothing music is piped in which adds to the feeling you are underwater with the Jellies. These creatures are always mesmerizing to watch – in tanks. Upstairs there is also a little theater room which shows short films about the sea life of the local area.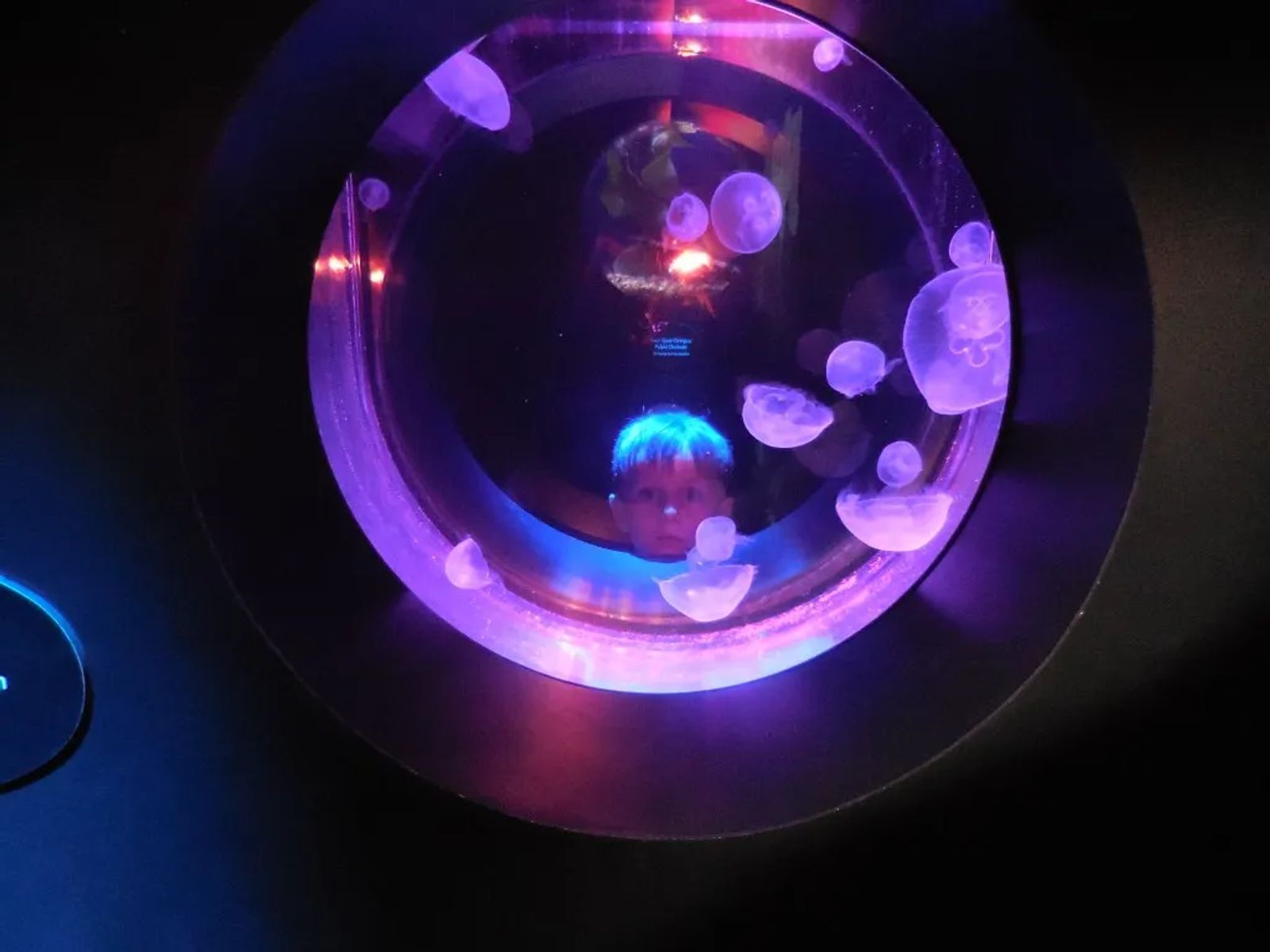 Once you leave the Jellies exhibit, you will find a little reading nook filled with books and natural light streaming in from the floor to ceiling windows and breathtaking views of the Santa Barbara coastline dotted with boats and yachts. There is also a life-size replica of a Gray Whale hanging from the ceiling which gives you an appreciation for their magnificent size.
Definitely worth visiting!
All in all, this little Sea Center which is affiliated with the Natural History Museum is packed full of fun exhibits which are highly educational and keeps us returning time and time again.
Tip: the Sea Center is part of the Natural History Museum, if you are a member of another NHM you may have reciprocity so bring your membership card. Also, parking is free on the wharf for up to 90 minutes.
Please see the Sea Center website for the most up-to-date visitor information.

2 Moms Travel
Thank you so much for coming to our site and interacting with us! We love sharing our travel experiences and hope we can inspire you to travel! When the blog first started, LGBT travel with kids wasn't as prevalent as today. We love that sharing our stories has encouraged others to travel not only within the United States, but all over the world! Because our itineraries have been popular with our readers, 2 Moms Travel now is also an official travel company!
© 2019 2 Moms Travel. All Rights Reserved.