South African Airways Business Class is Perfect for Families!
South African Airways business class is perfect for families! We recently flew both the A320-200 and A340-600 in business class and loved it! After nearly a month in South Africa, we were fortunate to be able to spend a week in Mauritius to wrap up an epic holiday. It's not exactly a hop skip and jump from Cape Town, but close. Mauritius is a 4-hour direct flight from Johannesburg so you can easily be on the beach enjoying the Indian Ocean the same day. South African Airways offers the most flights daily from both Cape Town and Johannesburg, so it was natural we picked them (even though they are a part of Star Alliance)! Ha! Our loyalty is generally with Sky Team but in this part of the world, Star Alliance it was!
South African Airways Business Class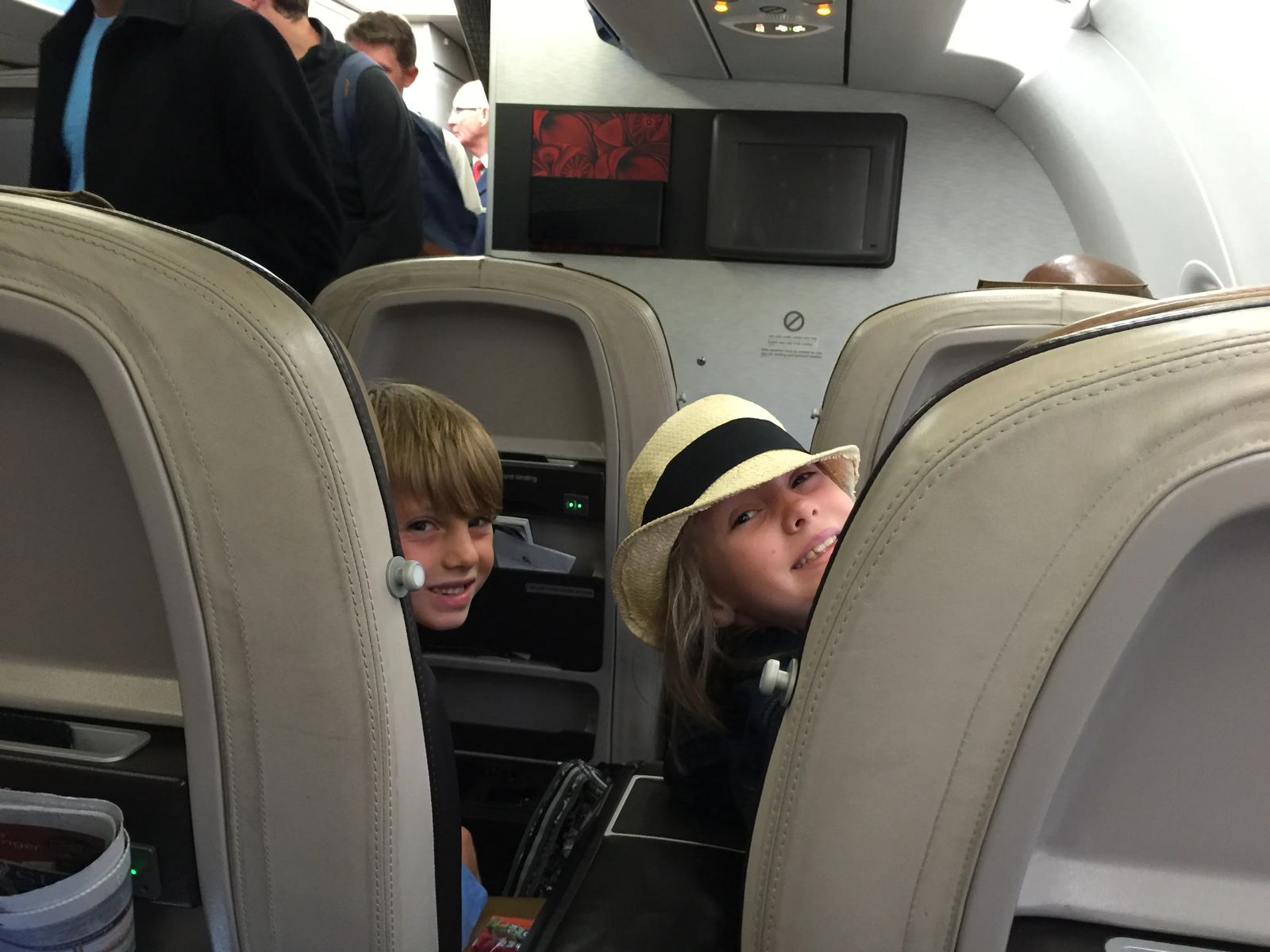 We decided to fly business class as we wanted more flexibility with our tickets and a bit more comfort in the sky. It wasn't that huge of a price difference but the comfort level was definitely worth it. We have flown business and first class as a family all over the world – most notably in Air France La Premiere from Paris to Johannesburg and Emirates first & business class. But, I have to say the service we received from South African Airways was top notch! Of course comfort and amenities are great and really can make or break a flight but what stood out on these flights was the crew and how they treated the kids! They were genuinely concerned about the kids, making sure they weren't hungry and even offered them fun amenity kits. Although our special request meals somehow were overlooked (I ordered them a few weeks in advance and confirmed both via twitter and email), the crew really tried to make up for it and everyone was satisfied in the end.
First leg – Cape Town to Johannesburg
In Cape Town we began the day early with a 3:30 am wake up and we arrived half-asleep to the airport by 4:30 am. We had a 6:00 am flight and wanted plenty of time to get through security. Our first leg on SA302, was considered a domestic flight since we were only flying to Johannesburg. Business class check-in was a breeze and our very heavy bags were loaded without a blink of an eye (thankfully business class has a higher weight limit – 32 kilos vs. 23 kilos in economy). Before we knew it, we were heading through security and boarding an A320-200. It's a lovely and comfortable plane for shorter flights and business is set up in a 2,2 configuration. The kids sat in seats 2D & 2F and we sat directly behind them. It's nice that they are at the age where they can sit together on shorter flights. They love to act like grown-ups and usually giggle and chat the whole way. This flight was only about 2 hours and a full breakfast meal was served! Gotta hand it to these international airlines for keeping their customers fed and happy even on short flights! Honestly, we were still half asleep so I don't remember exactly what we had but it was hot meal.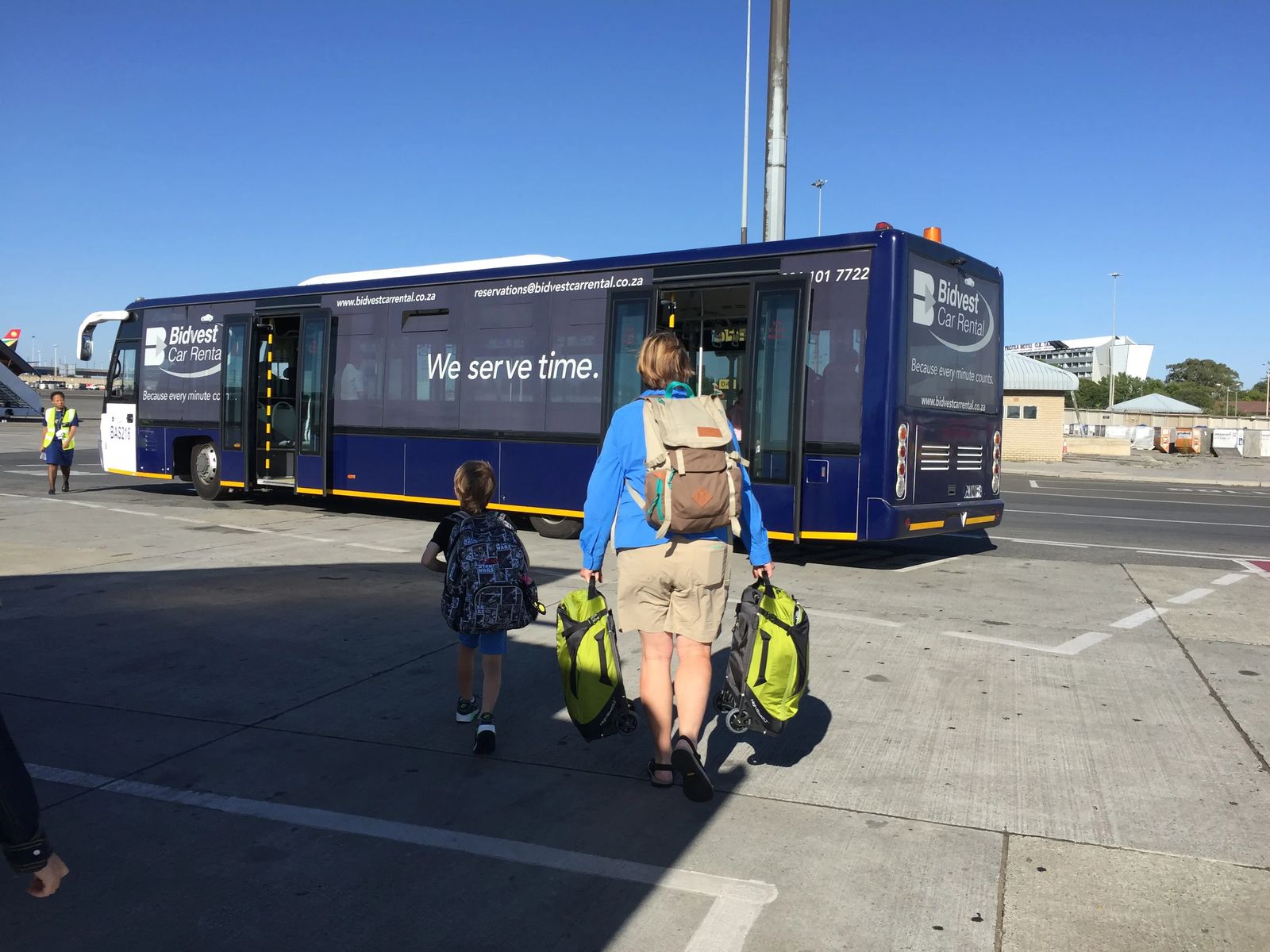 After landing in Johannesburg, we were bused to the terminal. Because we were business class, we were the first off the plane and quickly found a seat near the door on the bus. It didn't take long to get to the terminal, but I have to say once inside it was a bit confusing where to go. We needed to collect our bags and get to international departures for another check-in. It turned out to be quite a trek through the airport with 2 tired kids and 2 tired moms. We only had a 2-hour layover and suddenly I felt panic stricken that we wouldn't have enough time. Not only did we have to check-in again, but go through passport control and security for our international flight to Mauritius. And because we didn't eat much on the flight, we could feel our tummies rumbling a bit.
SAA Lounge was Fab!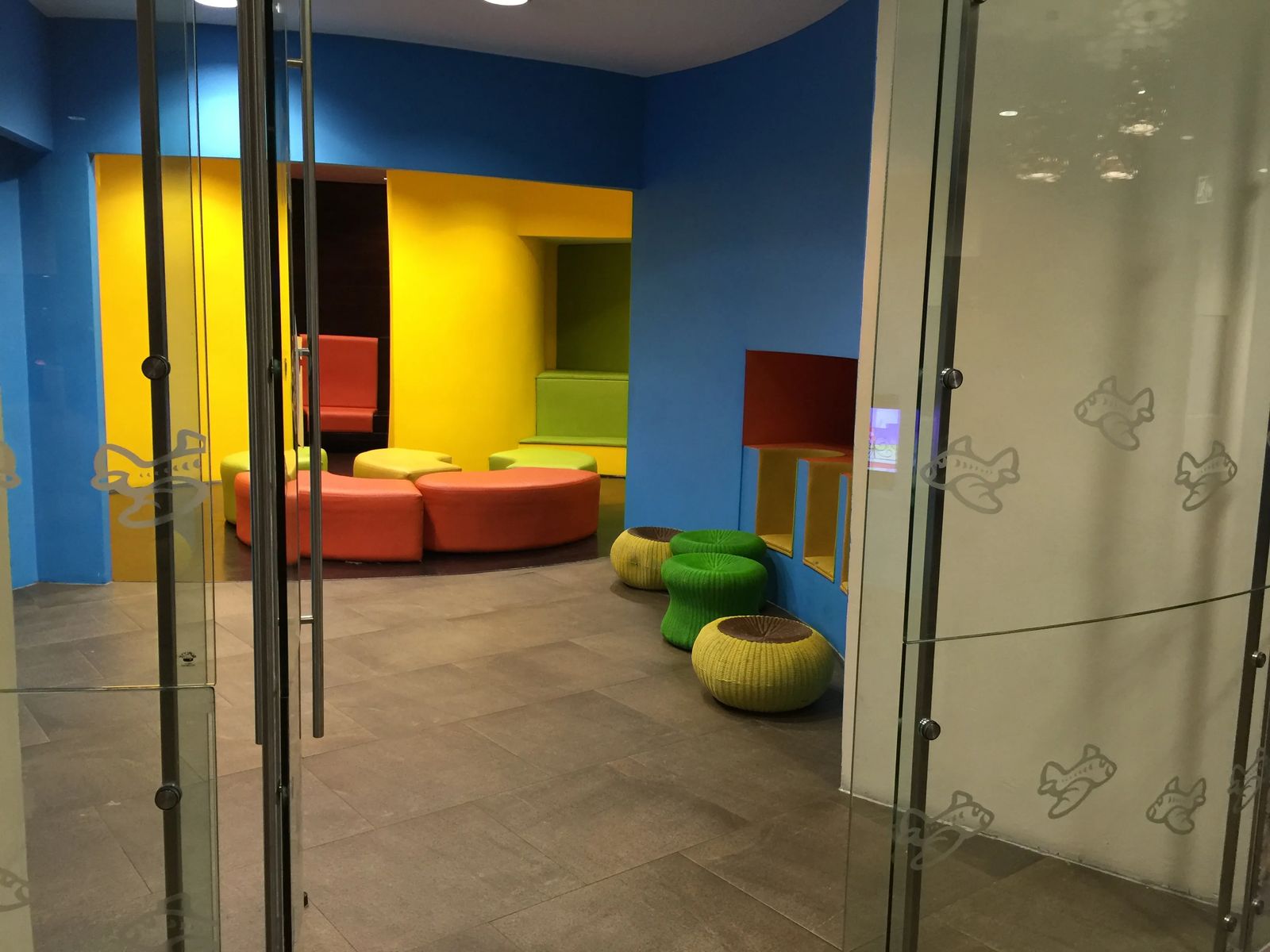 Fortunately, our worrying about time ceased as we realized not only did we have enough time left but we had 45 minutes to check out the SAA lounge. I love international lounges – they are so much nicer than the ones in the states. And I have to say South African Airways has amazing lounges, stocked with plenty of both hot and cold food and even kids' play area. This one did not disappoint.
After a quick breakfast in the lounge, it was time to head to our gate. It took us about 10 minutes or so to walk to the gate and we passed numerous shops filled with fun African souvenirs. It was sad to say goodbye to South Africa after a wonderful month exploring and meeting wonderful people. But we were excited to play in the warm waters of Mauritius.
Second leg – Johannesburg to Mauritius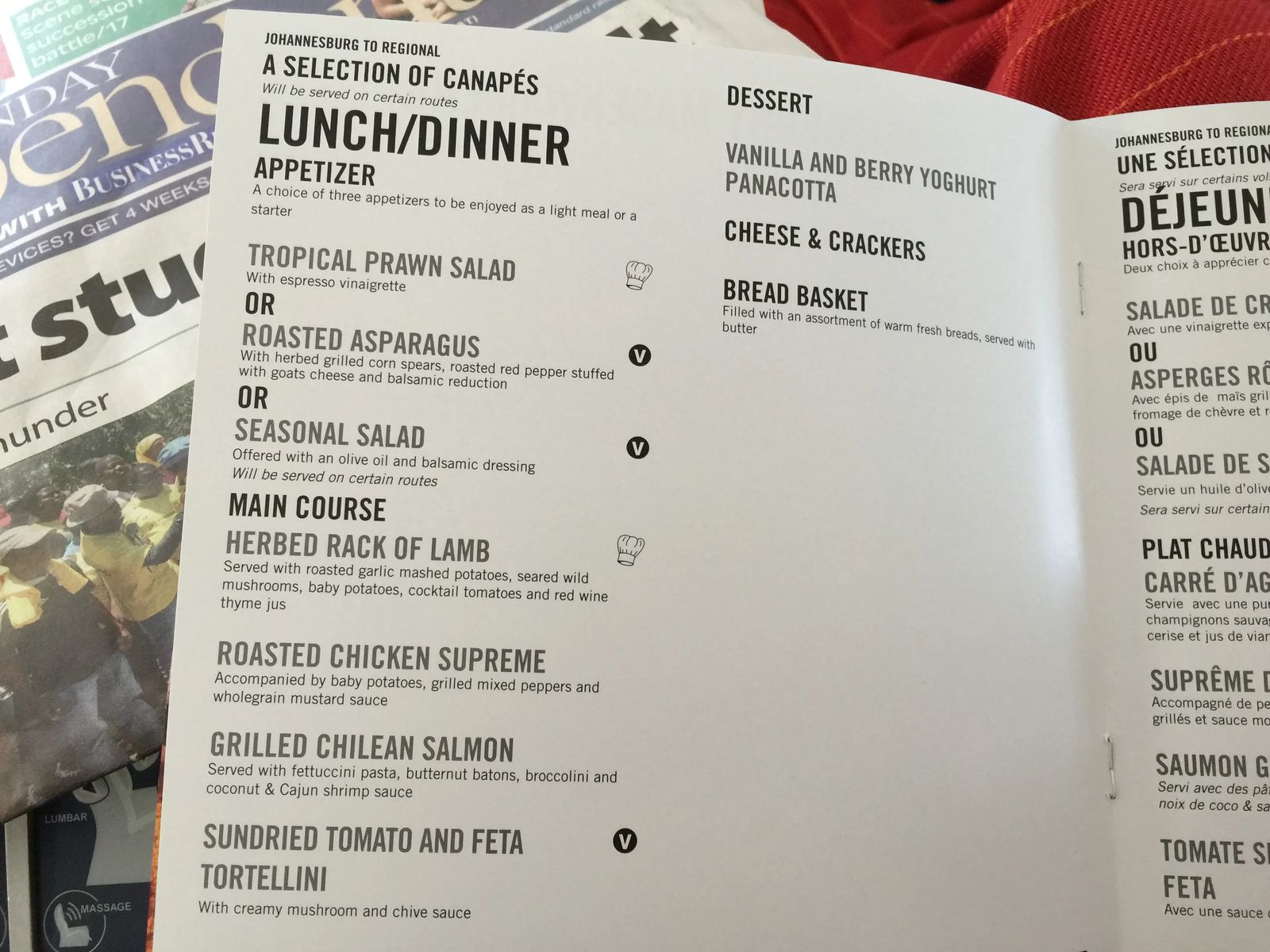 The leg from Johannesburg to Mauritius was on SA190 and the plane was a large A340-600 that had fully flat business class seats (on a 4-hour flight!!)! I was hoping the kids could catch some zzz's on this plane so they wouldn't arrive too cranky. Boarding was a breeze with priority given to business class passengers. Once we boarded, we realized how empty the business cabin was! This plane did not have first class – only business and economy. Business class was set in 2,2,2 configuration and we had window seats. Because this leg was 4-hours, we each sat with a child eliminating having to get up and help them with various requests and needs throughout the flight.
The crew on SA190 was outstanding and they really went out of their way to make sure we were all comfy and had everything we needed. They didn't get our meal requests (surprise!), but they really made sure the kids especially had enough to eat. This was our first flight where the kids were given amenity kits designed especially for kids! They each received a cool bag filled with goodies that kept them occupied both on the plane and in Mauritius. They both even use the bag here at home! This little gesture by South African Airways really meant a lot to both the kids and us as parents. The kids usually only receive adult amenity kits that really aren't much fun for them. So, kudos to SAA for treating their younger passengers right! Because this flight was so short (for international standards), the adults did not receive any amenity kits, but we had little blankets and pillows to make the trip a little more comfy.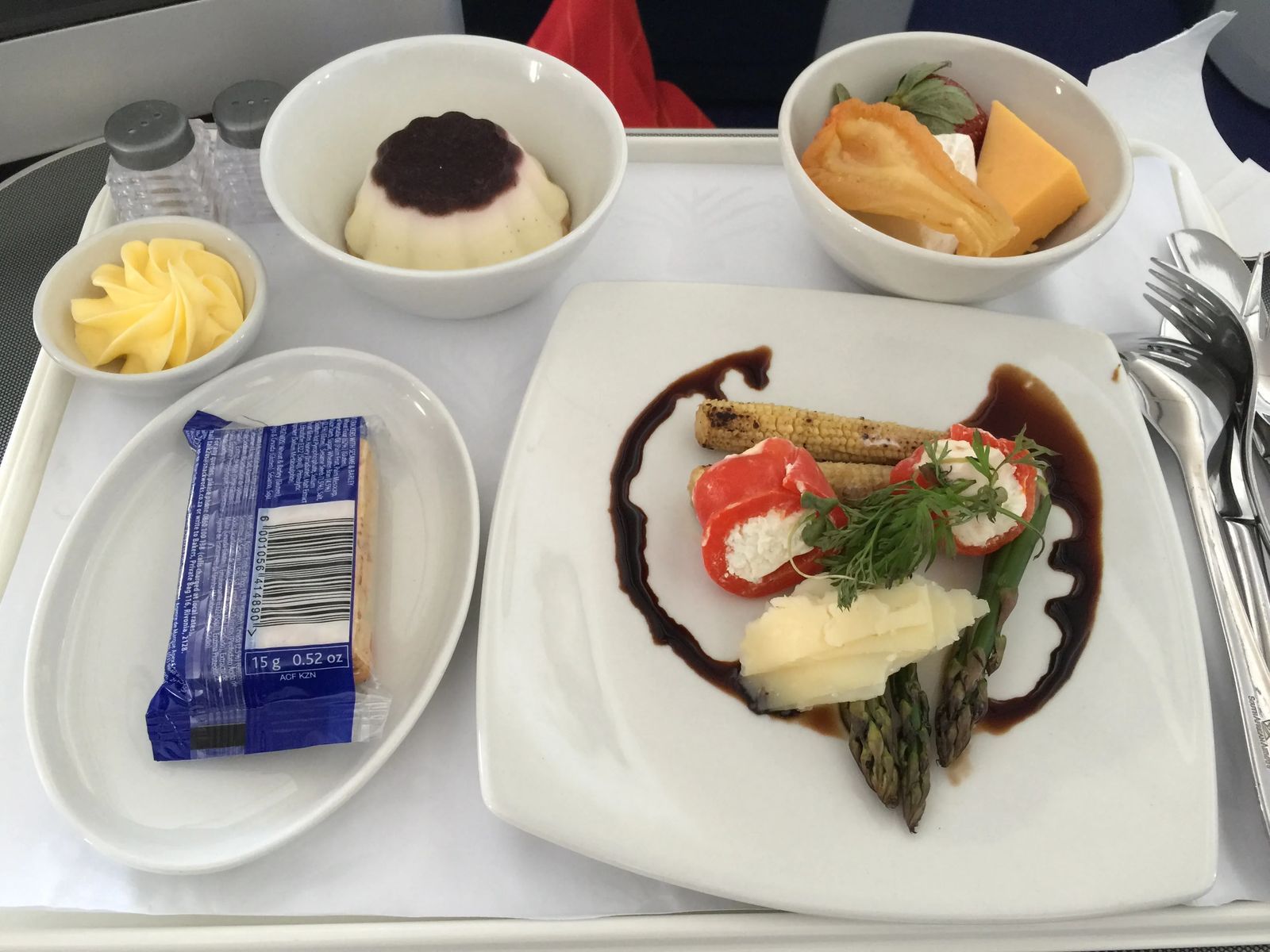 On this flight we were offered a full course gourmet lunch and the wine list naturally included award winning South African wines! Because I am vegetarian, I had a delicious roasted corn & asparagus appetizer followed by pasta in a creamy mushroom sauce and it was all served on beautiful fine-china. I paired it all with an amazing 2013 De Wetshof Naissance Cabernet Sauvignon which went beautifully. The kids enjoyed a chicken lunch, although not specifically designed for kids, it did satisfy their picky little palates. Not long after lunch, the kids happily took a nap (made easier by the fact that the seats were fully lie-flat). I wanted to nap but I decided to finish watching Martian (I started it on a different flight and never was able to finish it…)ahhh – priorities. Once we arrived in Mauritius, we were refreshed and ready to start our next adventure!
I made a little video of our flights from Cape Town to Mauritius to give you an idea of the planes – you can check it out here: Flight from Cape Town to Mauritius. I wouldn't hesitate to fly South African Airways in the future. Thank you

2 Moms Travel
Thank you so much for coming to our site and interacting with us! We love sharing our travel experiences and hope we can inspire you to travel! When the blog first started, LGBT travel with kids wasn't as prevalent as today. We love that sharing our stories has encouraged others to travel not only within the United States, but all over the world! Because our itineraries have been popular with our readers, 2 Moms Travel now is also an official travel company!
© 2019 2 Moms Travel. All Rights Reserved.