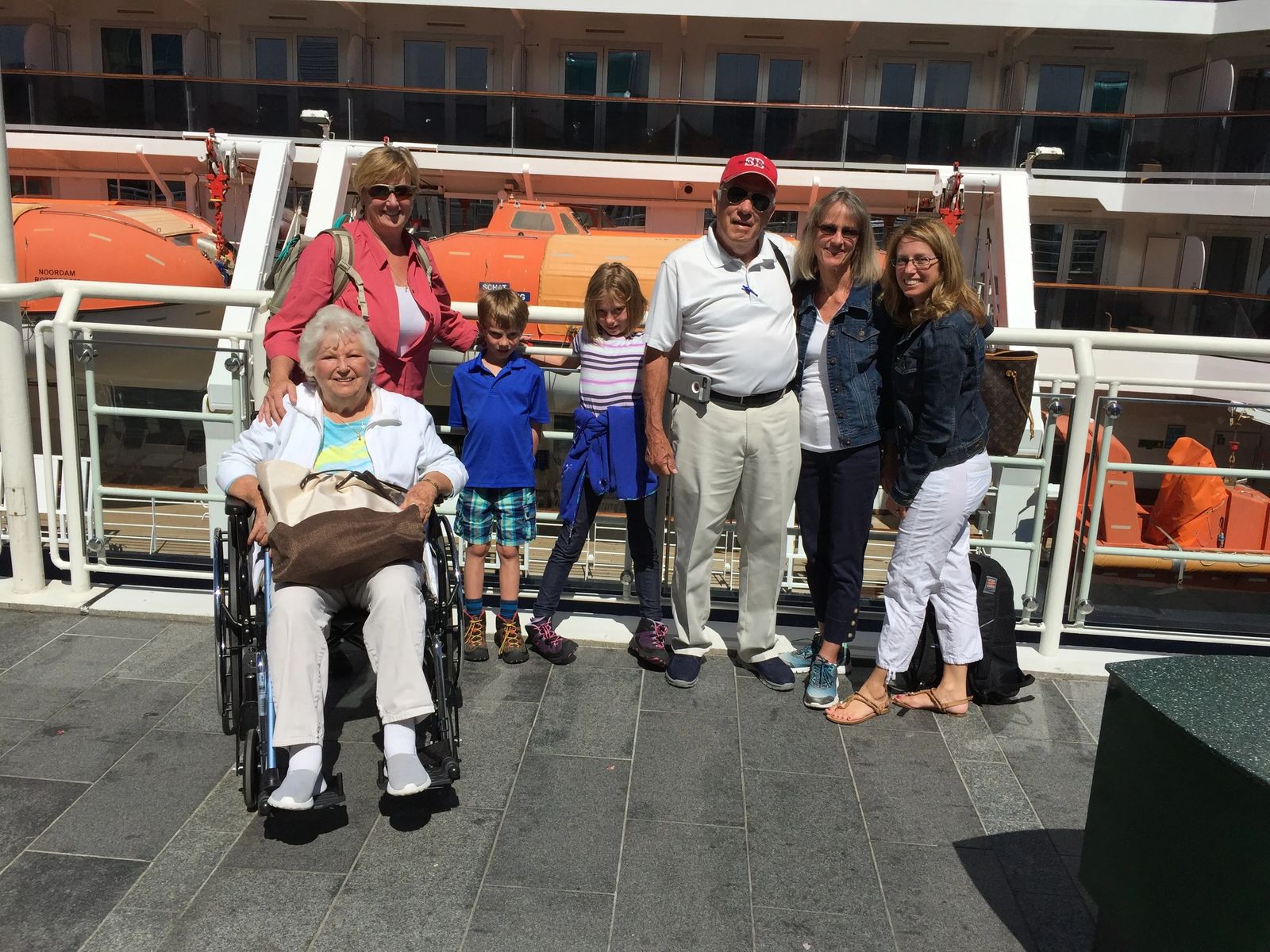 Family Cruise to Alaska with Kids and Grandparents
The Suite Life: The Pinnacle of Luxury Aboard Holland America ms Noordam
Recently my family took a multi-generational cruise to Alaska aboard the Holland America ms Noordam. We booked a 7-day Glacier Discovery Cruise that sailed from Vancouver,B.C. through the inland passage and up to Seward, Alaska. There are several cruise lines that offer this itinerary and admittedly I was a bit hesitant to sail with both young kids and grandparents on a cruise line that tends to cater to an older crowd. Although my kids don't need Disney characters to keep them entertained, it was important that they also enjoy themselves. After reading several reviews we felt confident Holland America would be perfect for our family. To make it really special we decided to splurge on a Pinnacle Suite and adjacent Neptune Suite to accommodate all 7 of us (5 adults and 2 children). This certainly was a treat but absolutely worth the cost as you can't put a price on quality family time.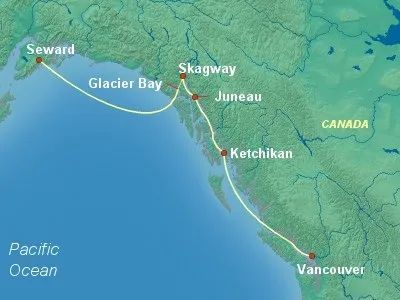 What is the Pinnacle Suite on the ms Noordam?
The Pinnacle Suite is the crème de la crème of suites featured in the Holland America line. Only two of these suites are on each of their ships and provide access to not only the most luxurious accommodations but a range of amenities not found with the typical staterooms. On ms Noordam, the two Pinnacle Suites are located on the Rotterdam deck towards the center of the ship with one the port side and one on the starboard side. Myself, my wife and son, and my mother-in-law were assigned to Pinnacle Suite 7046 which is port side. My father, his fiancé and my daughter were assigned directly next to us in Neptune Suite 7048 (they are not interconnecting suites nor do the verandahs open to each other). Because each suite only allows 4 people, my daughter was technically assigned to my father's suite but stayed with us.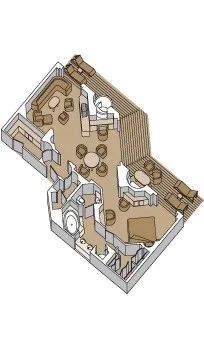 Layout of the Pinnacle Suite
Consisting of nearly 1,200 sq ft, the Pinnacle Suite features floor-to-ceiling glass windows with a door that opens to a huge private verandah with its own hot-tub (it is large enough for 2 adults). Also included in the Pinnacle Suite is a galley kitchen, dining room, living room, master bedroom with a full-size master bath, guest bathroom, and walk-in changing room. There are some seriously interesting decorating choices, such as gold plated sinks and a water fountain in the bathtub. But I guess they wanted to add some razzle-dazzle for the price you pay.
Entrance to the suite
Walking into the Pinnacle Suite you are immediately swept away in luxury (albeit a bit on the dated side). The soothing color palate, artwork and loads of natural light make it quite comfortable. Coming into the suite, you are greeted by a nice entry way with a galley kitchen to the right, guest bathroom to the left and the dining room directly in front. The entry way could also be closed off for more privacy.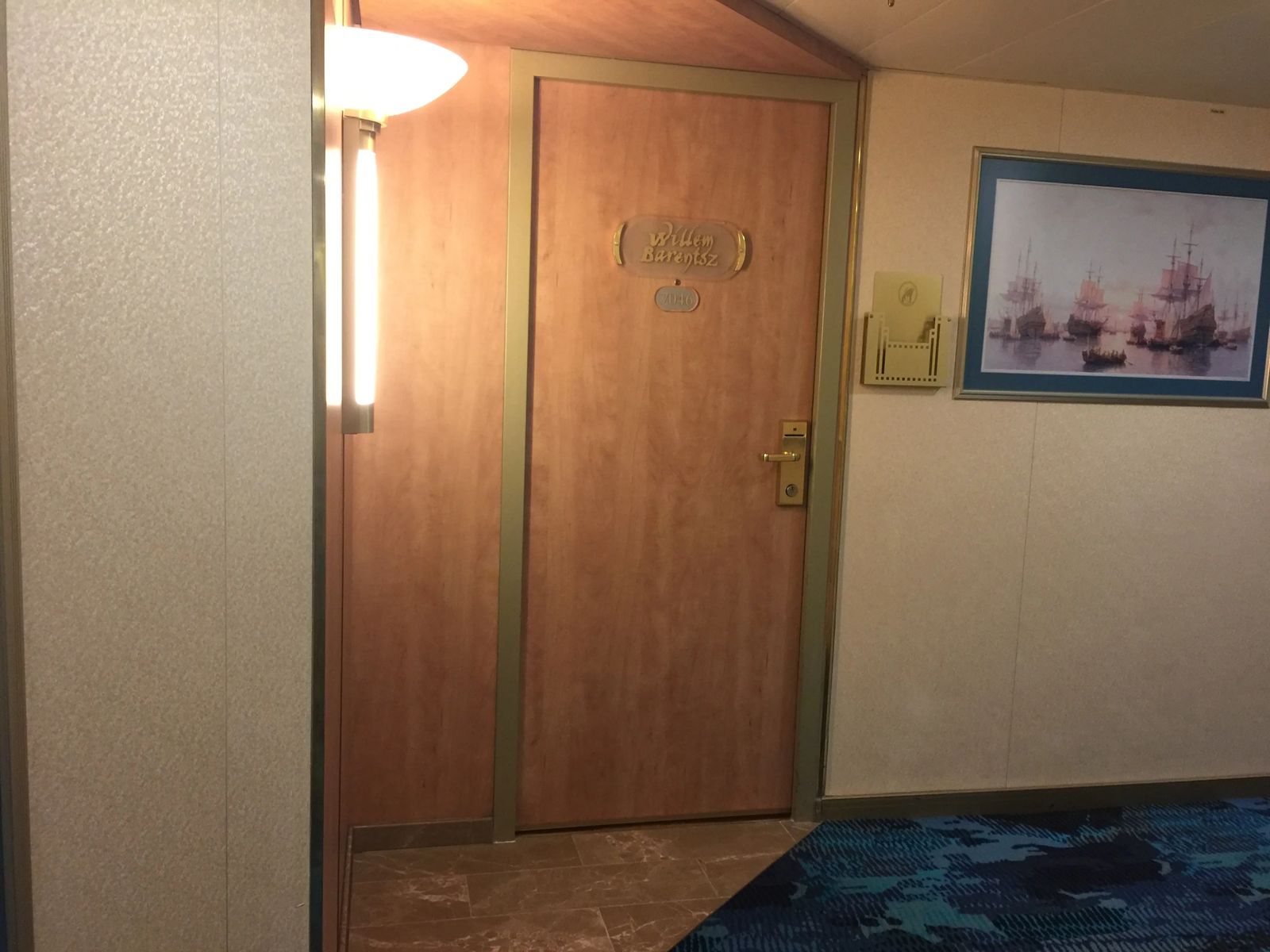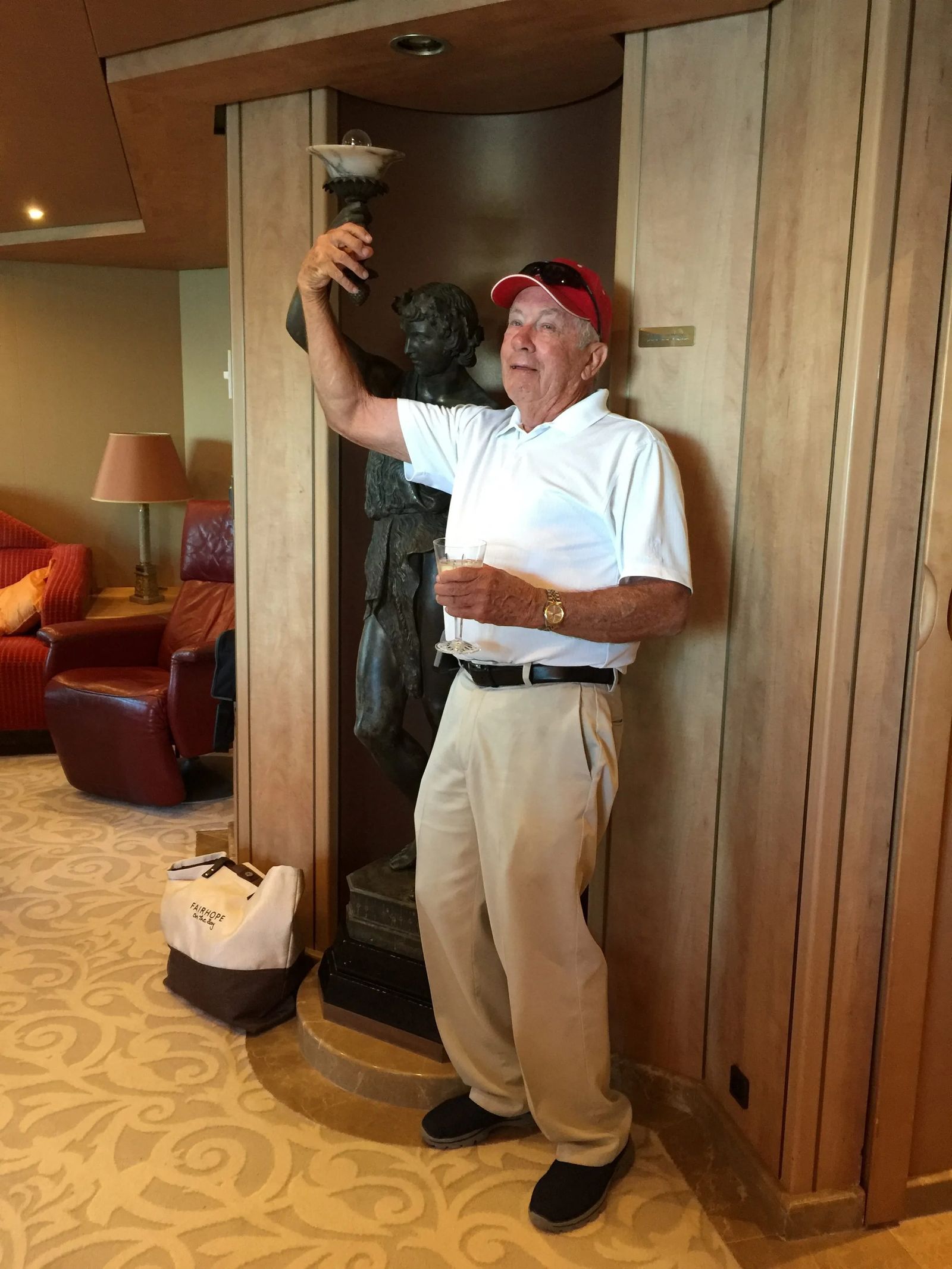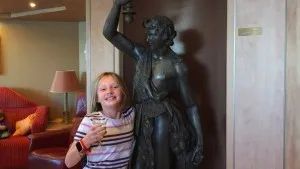 The front entraance to Holland America ms Noordam PS 7046
Posing with the statue in our suite!
Kitchen
The Pinnacle Suite has a galley kitchen, although it doesn't have a stove or oven, it is rather large. There is a large microwave and a stocked refrigerator full of water, sodas, wine, beer and little bottles of hard alcohol. One counter had a toaster, coffee maker and an assortment of teas and coffee. Another counter had a small sink and there was a ton of cabinet space filled with items such as a blender, fine china dishes, and other items one might need in order to be the hostess with the mostess. The kitchen can be completely closed off from the rest of the suite and has a private entrance for staff if you feel you need privacy. My family on the other hand tried to get our steward to join us for a cocktail or appetizer. He always politely declined. Go figure.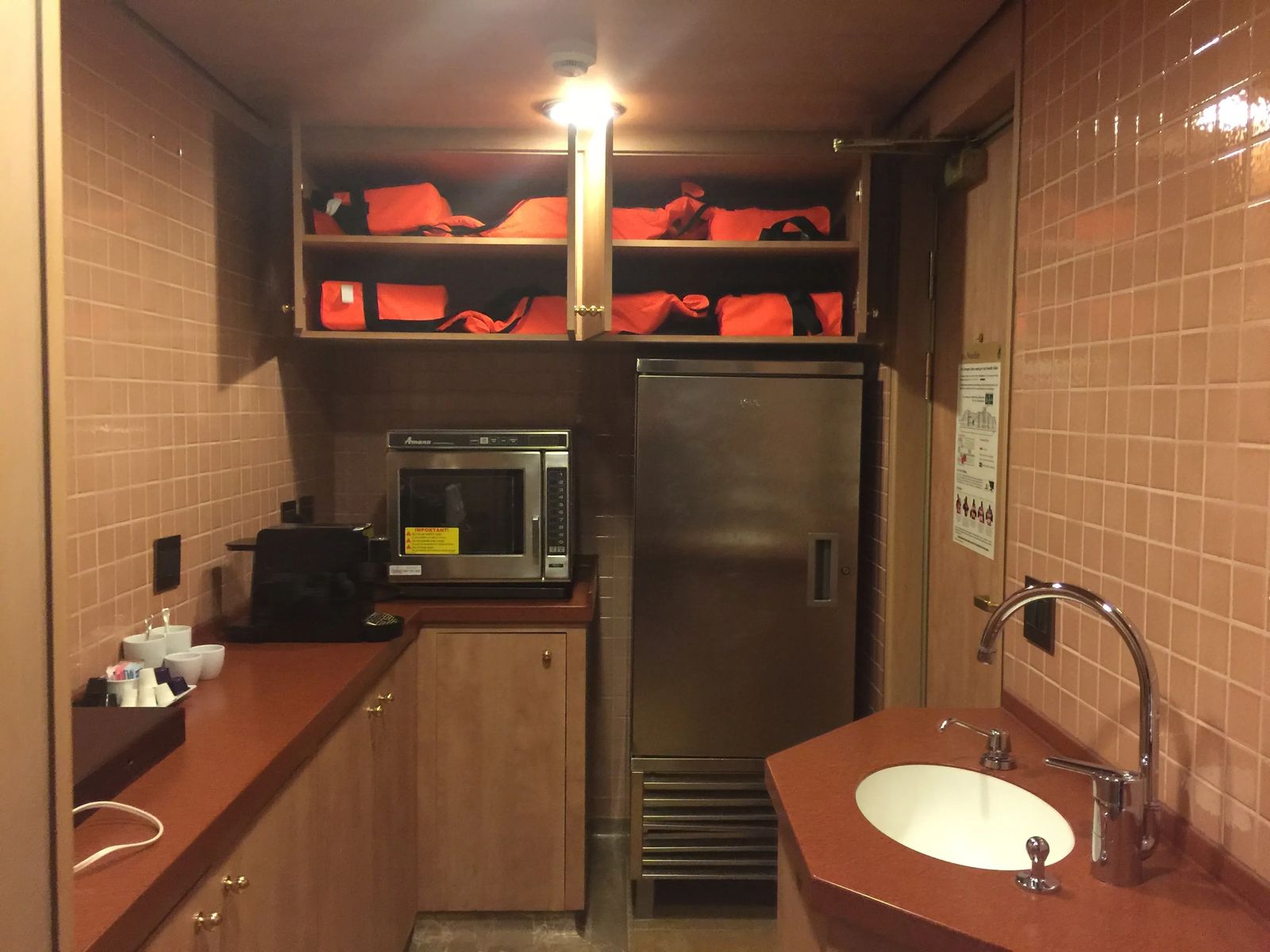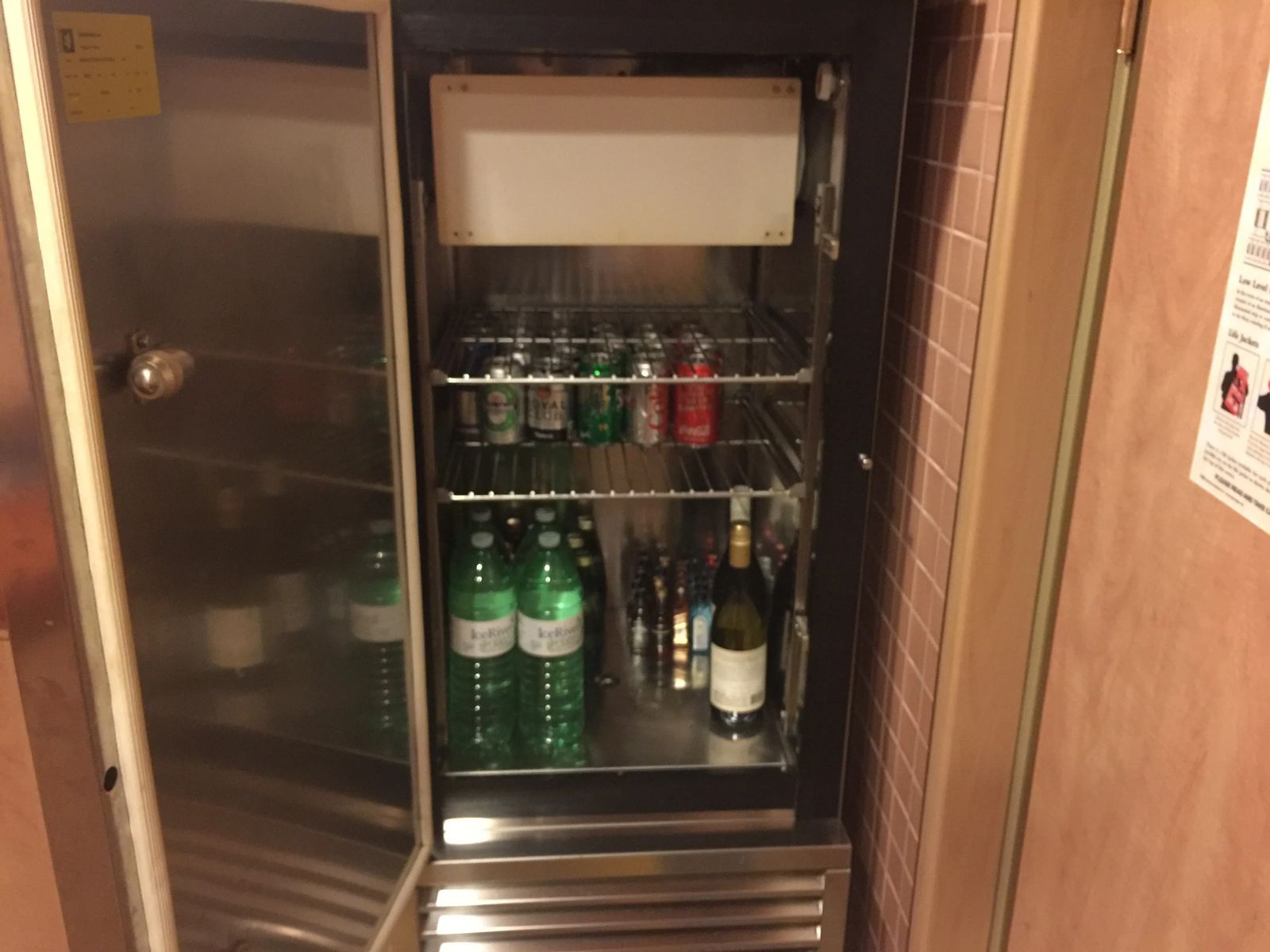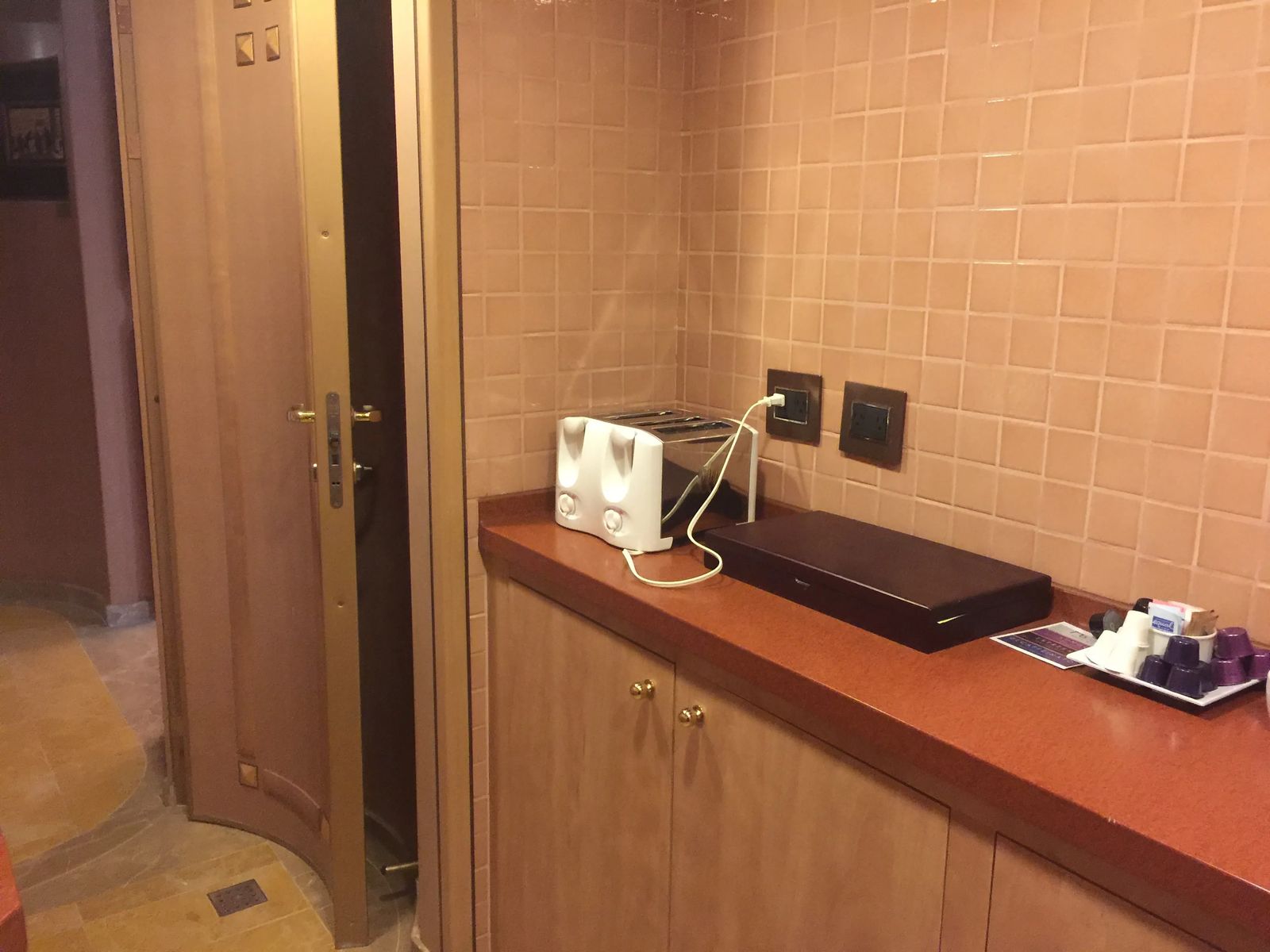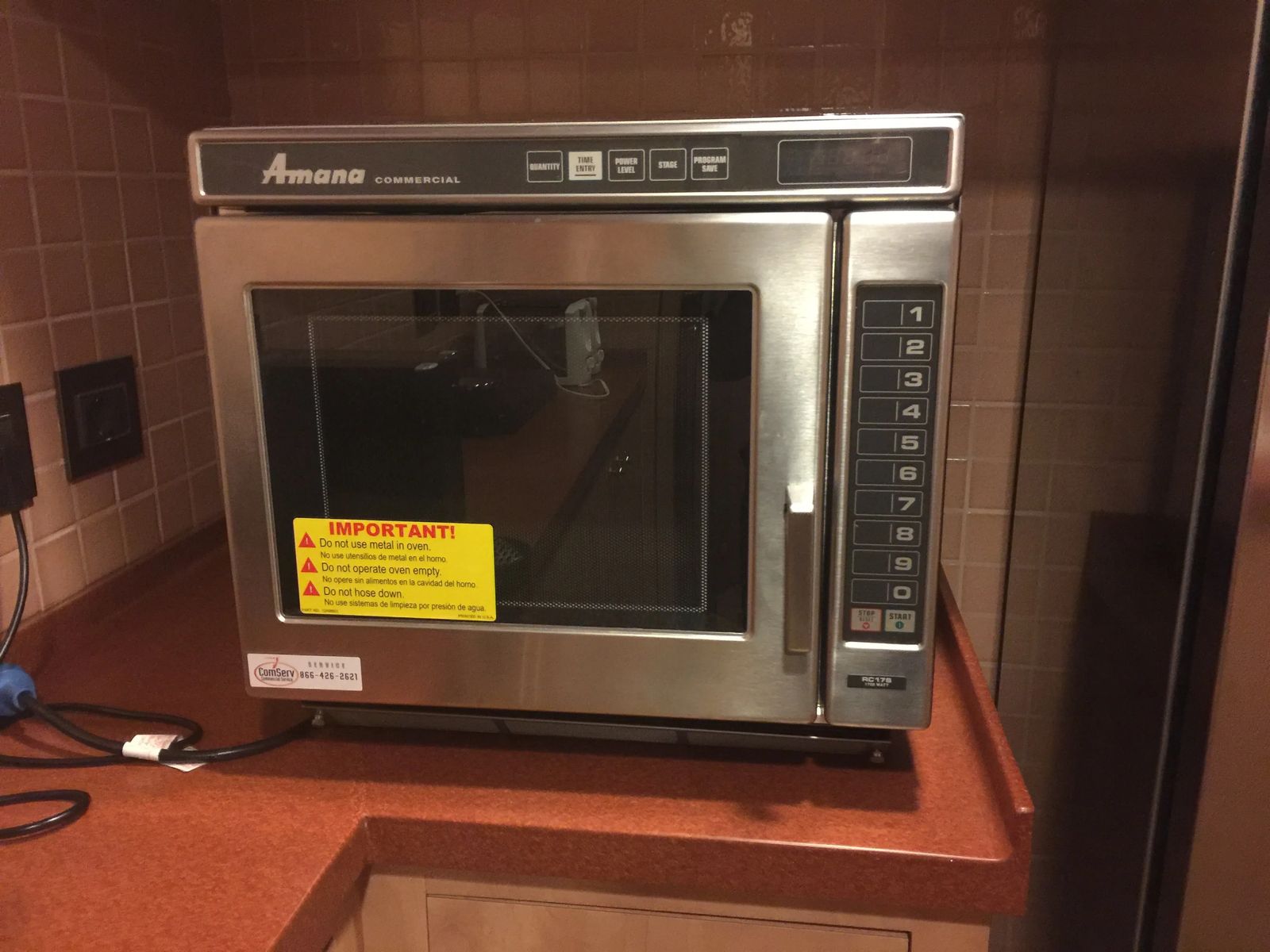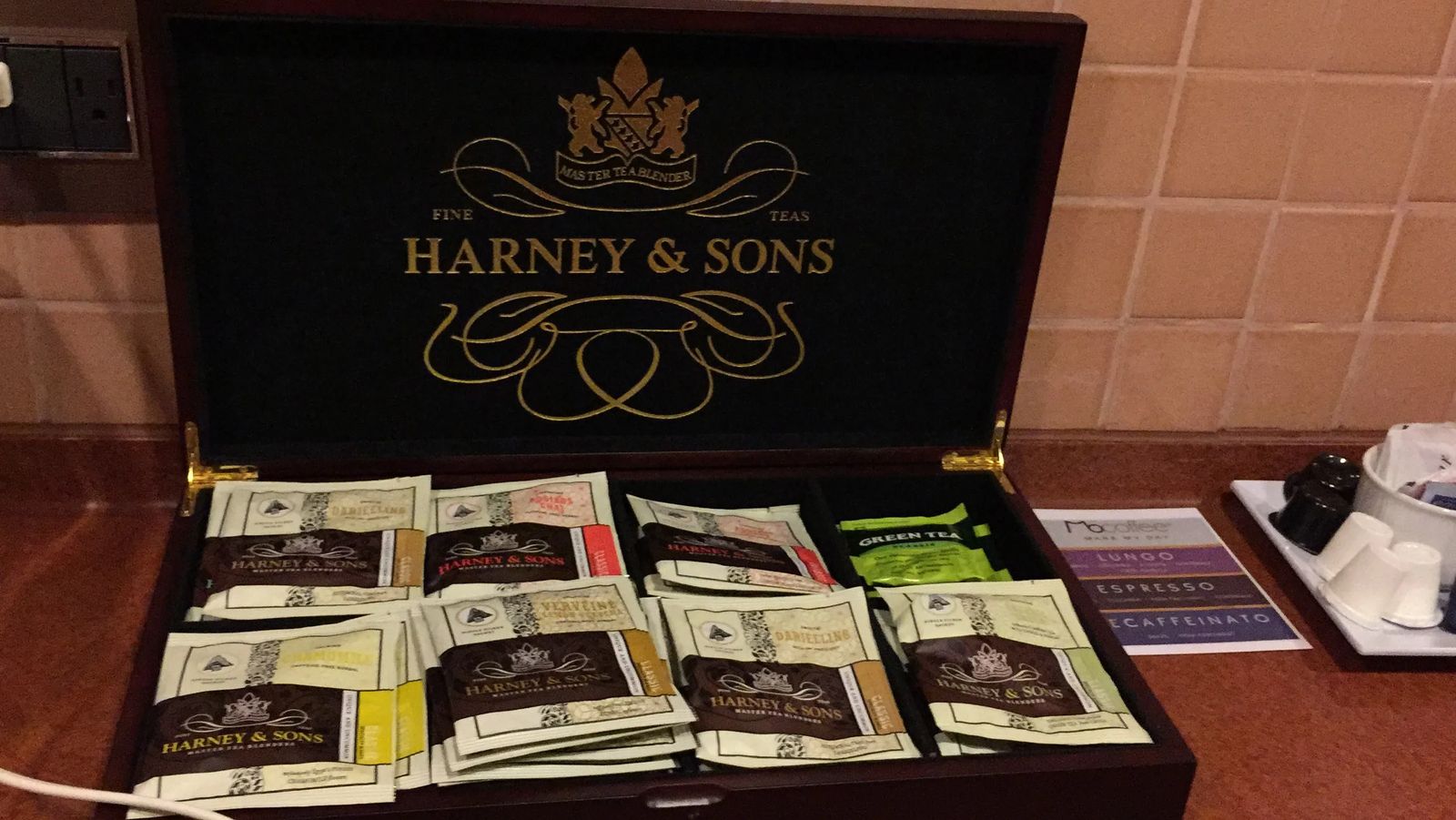 Guest Bathroom
To the left of the entry way was a guest bathroom. It had a wash basin and a separate toilet area both of which were decorated in blingy gold materials. The lock to the bathroom door was quite sticky and unfortunately one morning my son was locked in the bathroom for about 1/2 hour. To keep him calm, his sister slid love notes under the door while an engineer was finally able to get him out but it was quite scary for him!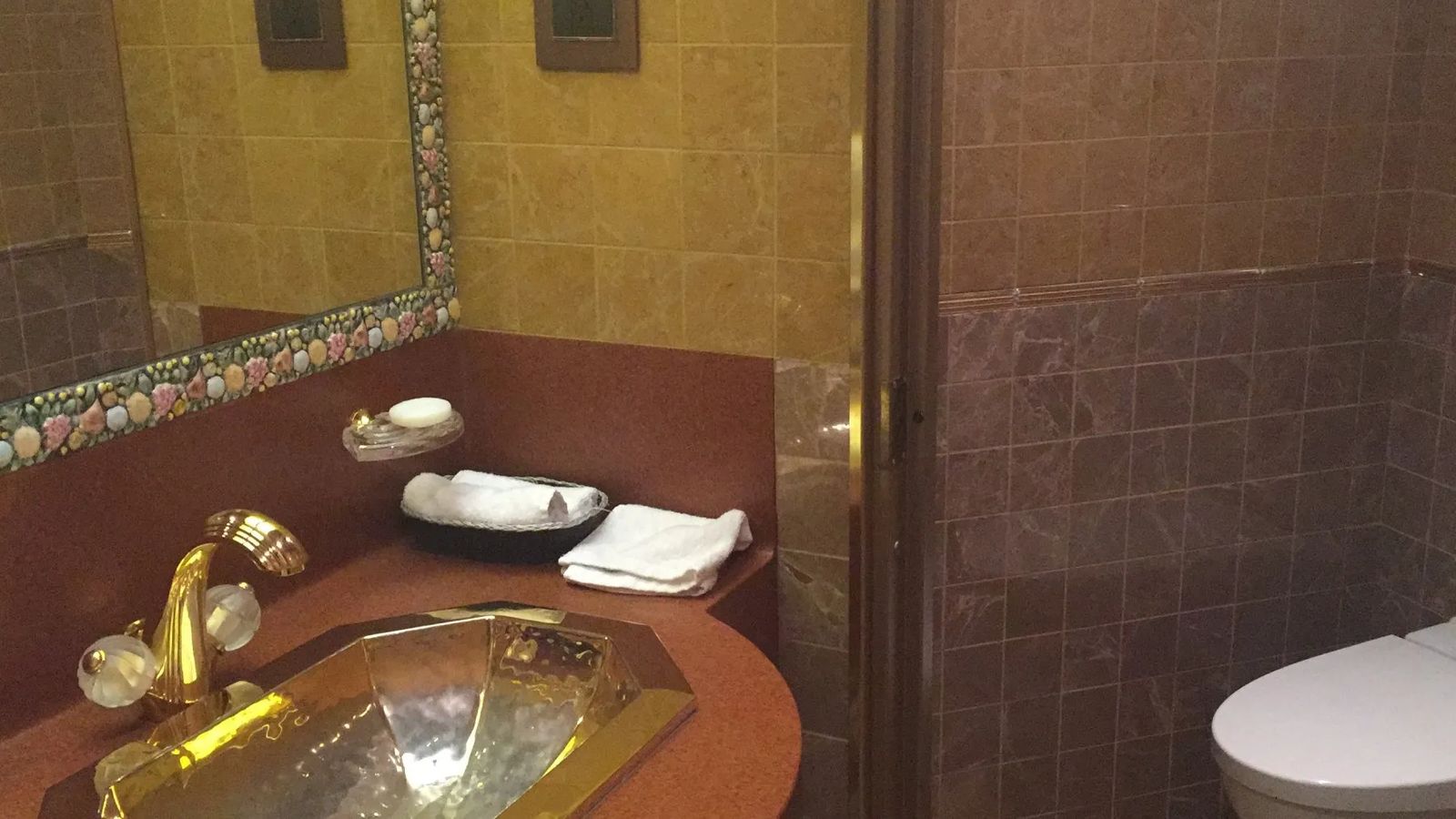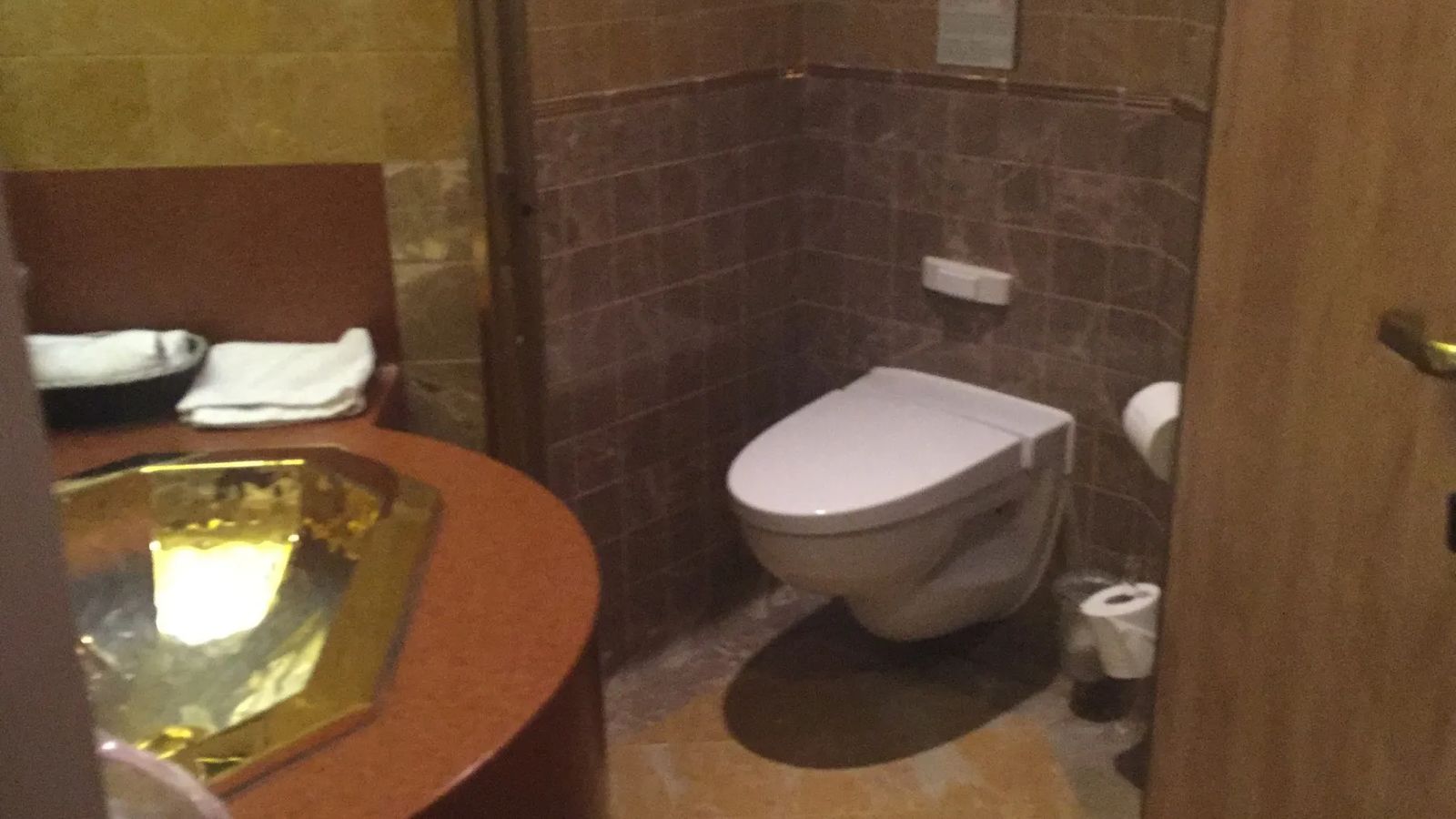 Dining Room
The dining room stole the show with amazing floor-to-ceiling windows allowing tons of natural light to flood the room. Besides the verandah, this is where my family spent a lot of time enjoying each other's company while enjoying a glass of wine or champagne, telling stories and having a lot of memorable laughs. The dining room table expanded to seat 8 people so we could all enjoy a meal together in the room. There was a gorgeous bouquet of fresh flowers from Amsterdam that was the centerpiece (and my daughter wanted to bring home!). A console was stocked with enough sterling-silver place settings to keep 12 people happily eating. There was also large cabinet filled with – no kidding – a large variety of Waterford Crystal to ensure your champagne, red wines, white wines and scotch were served properly and in style!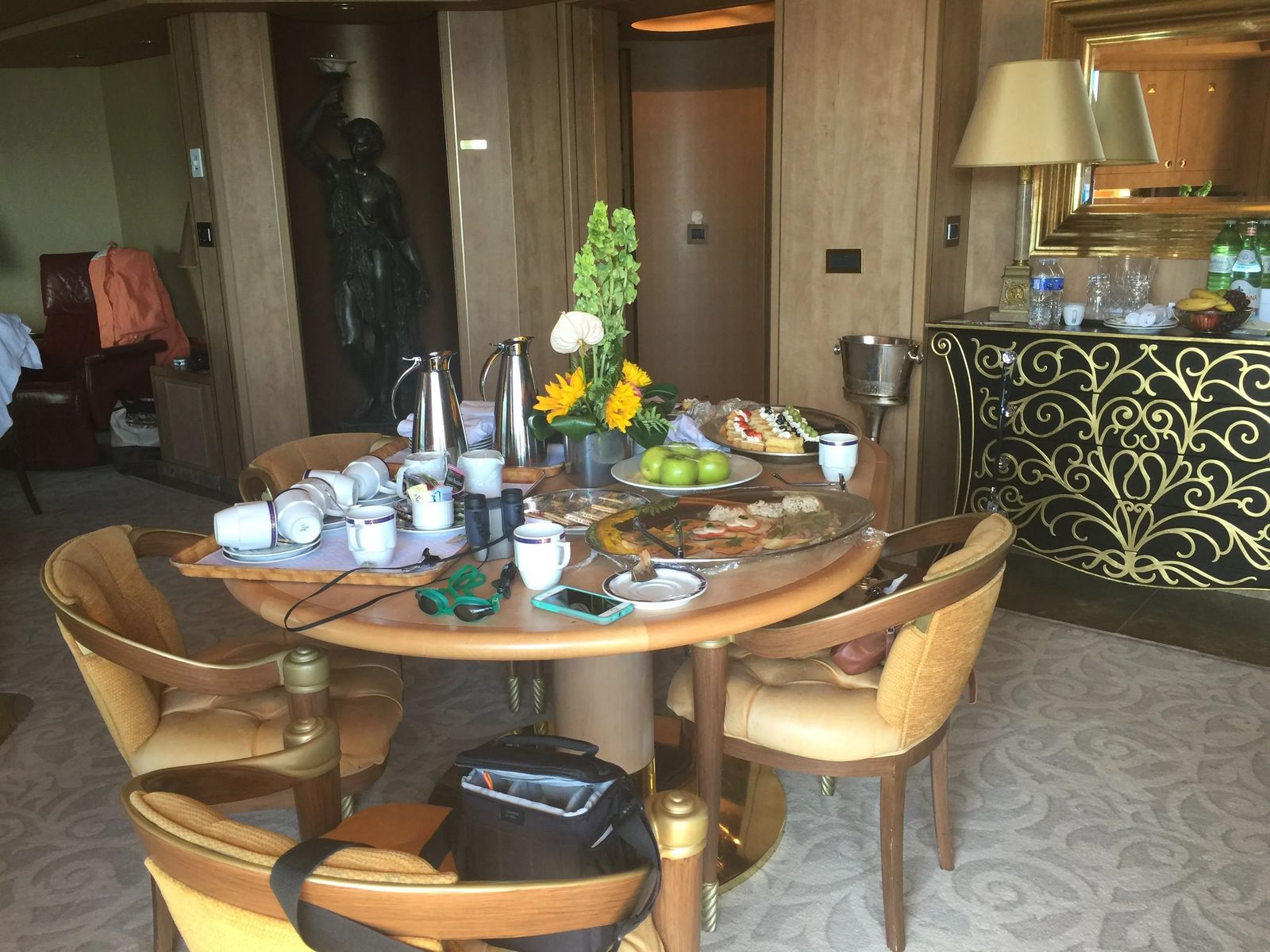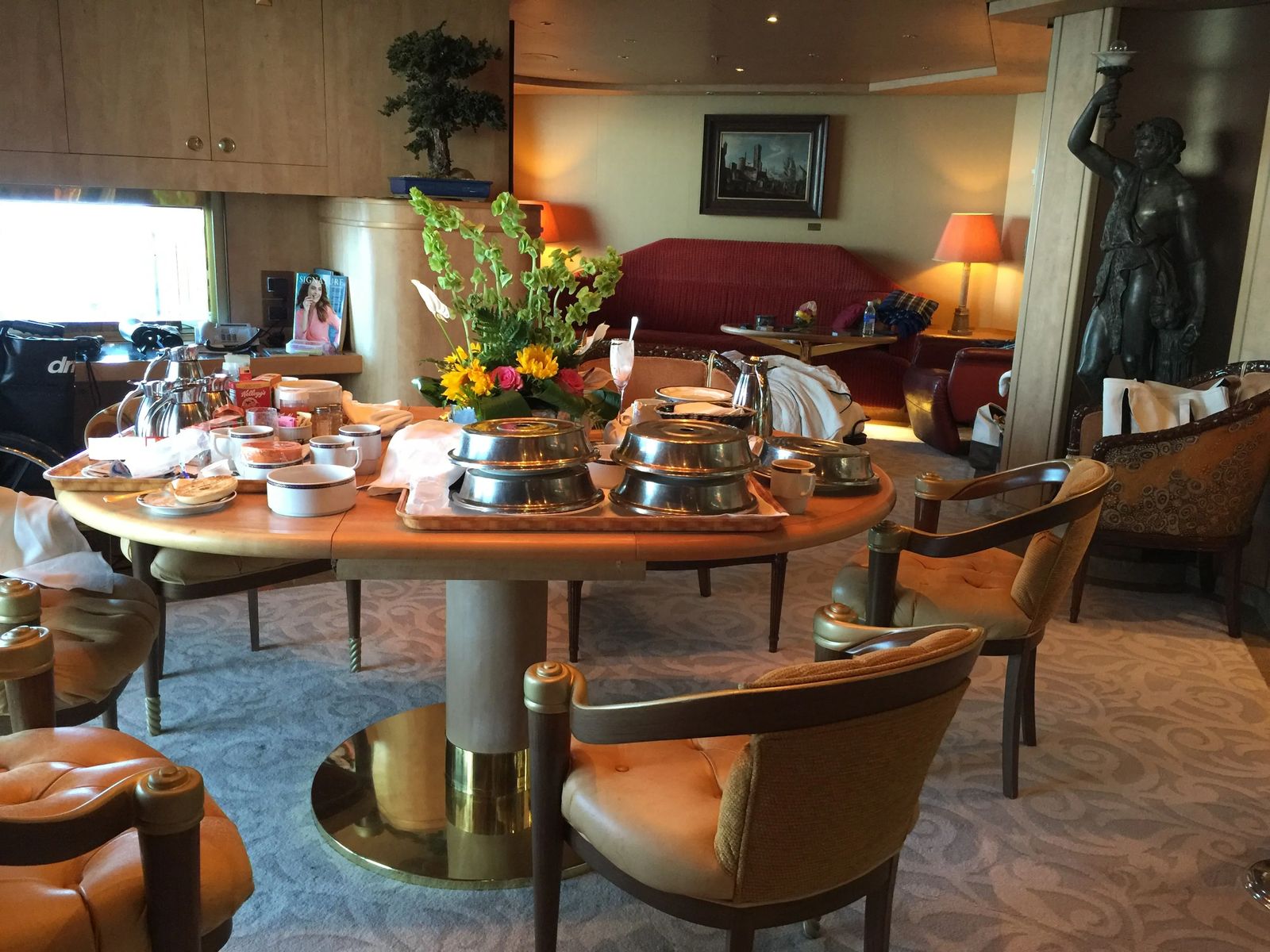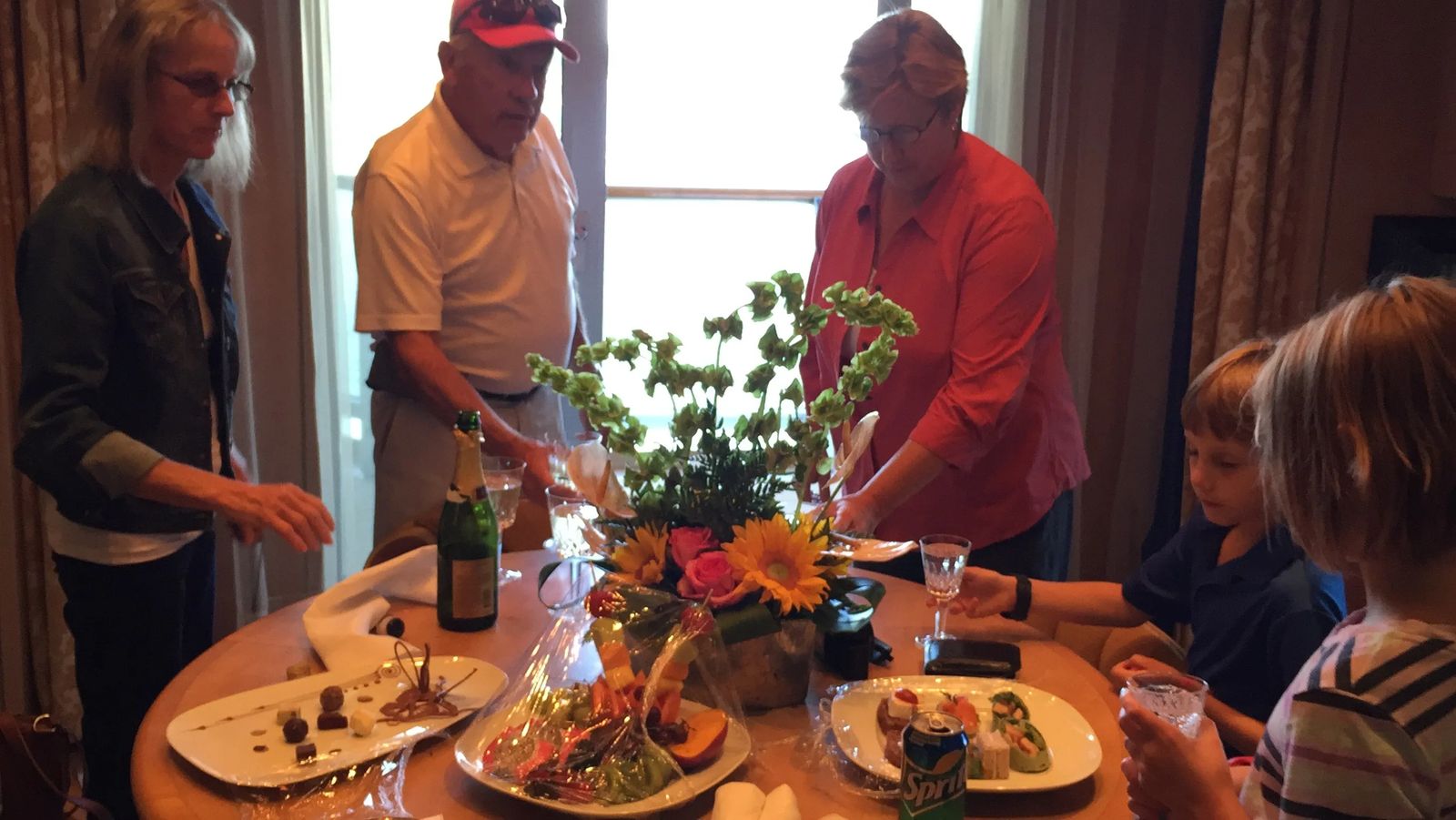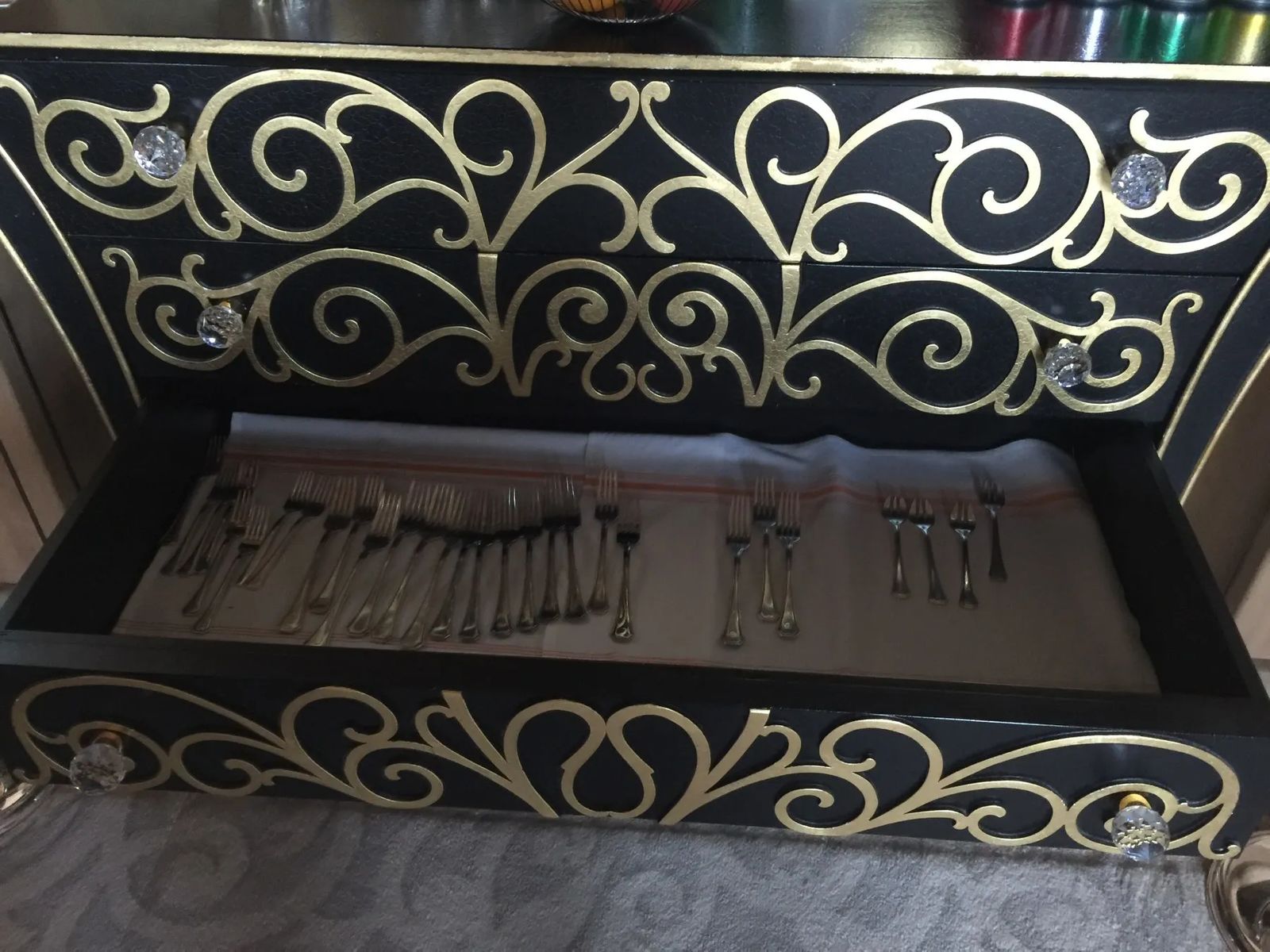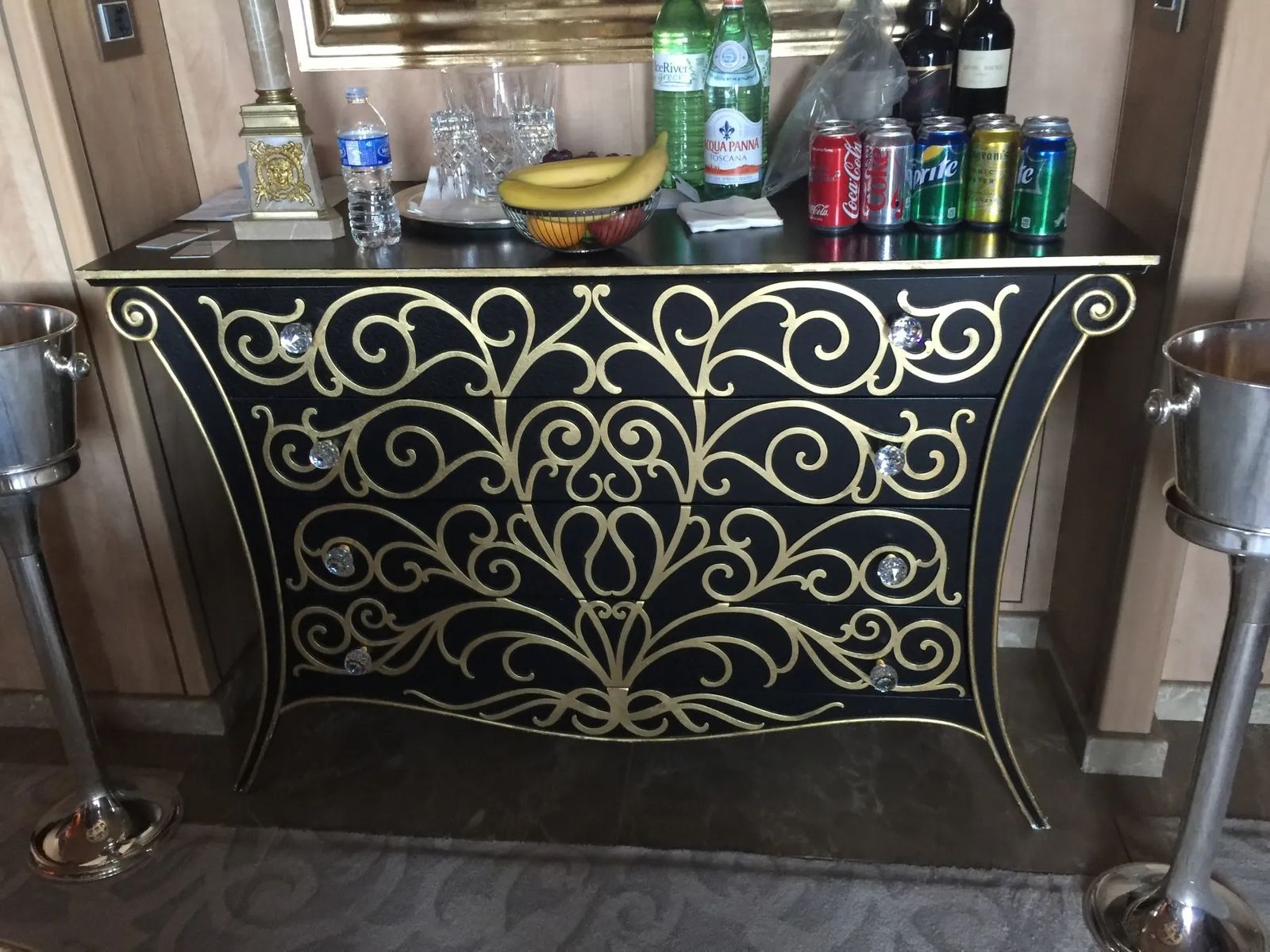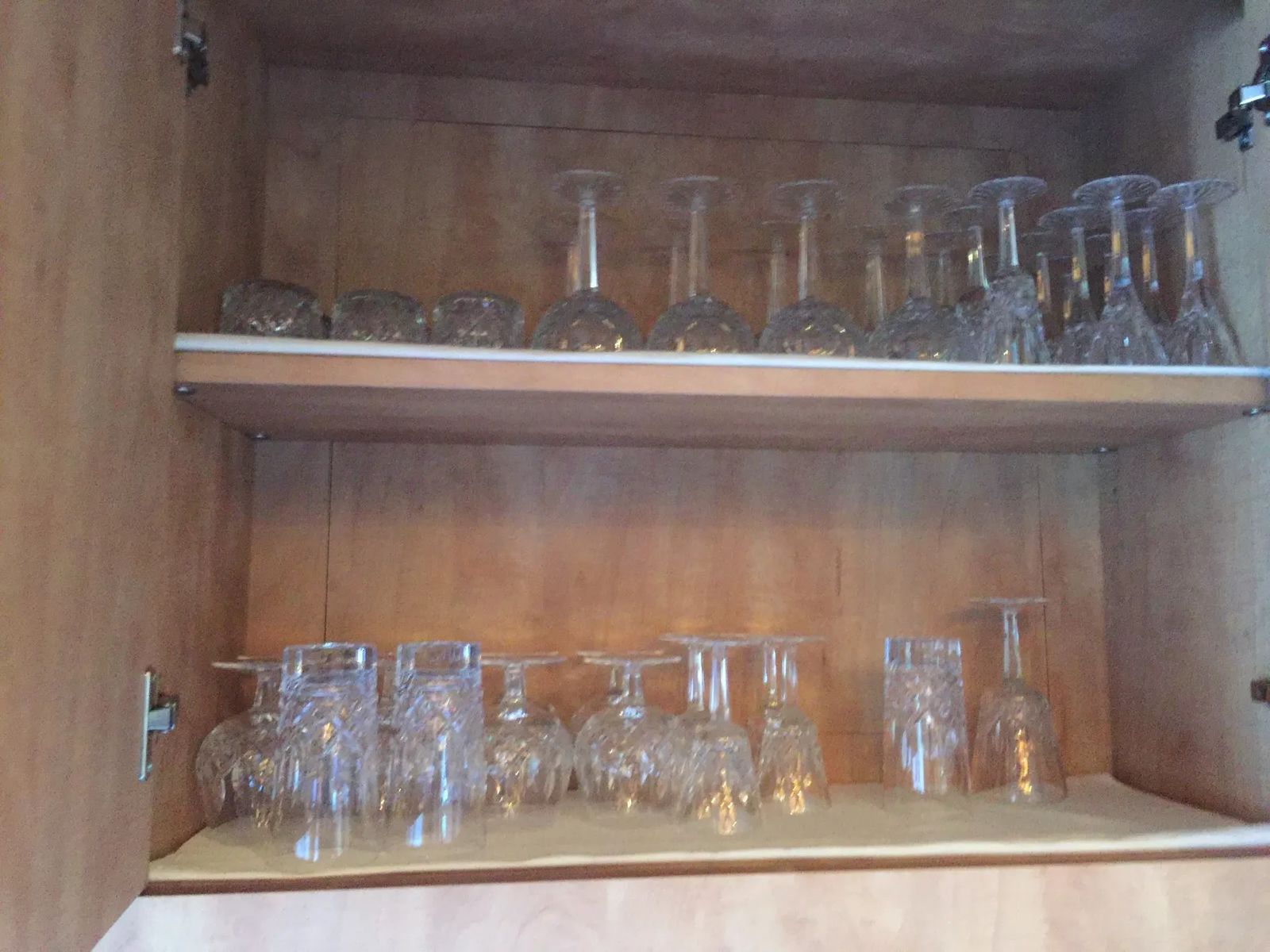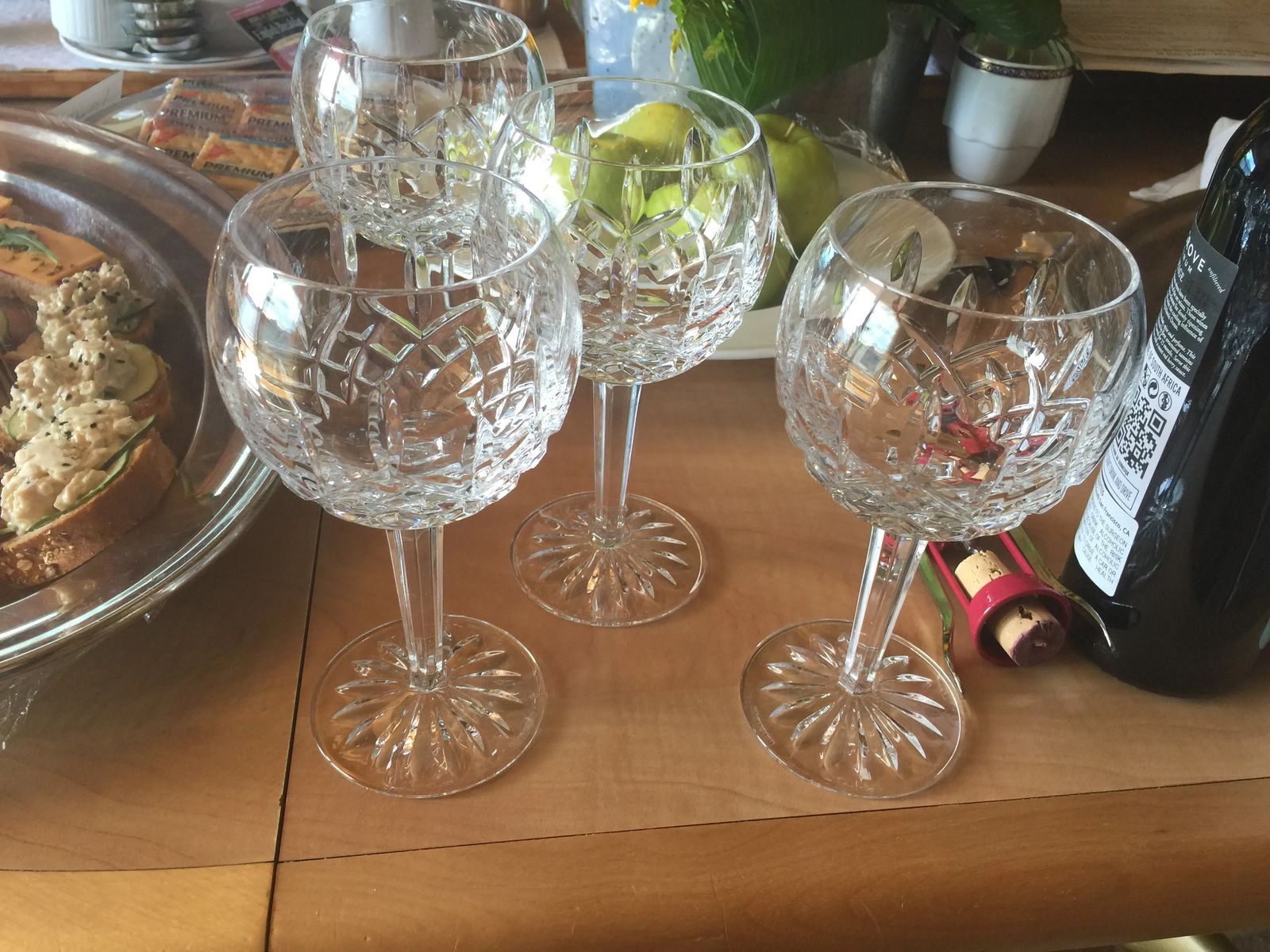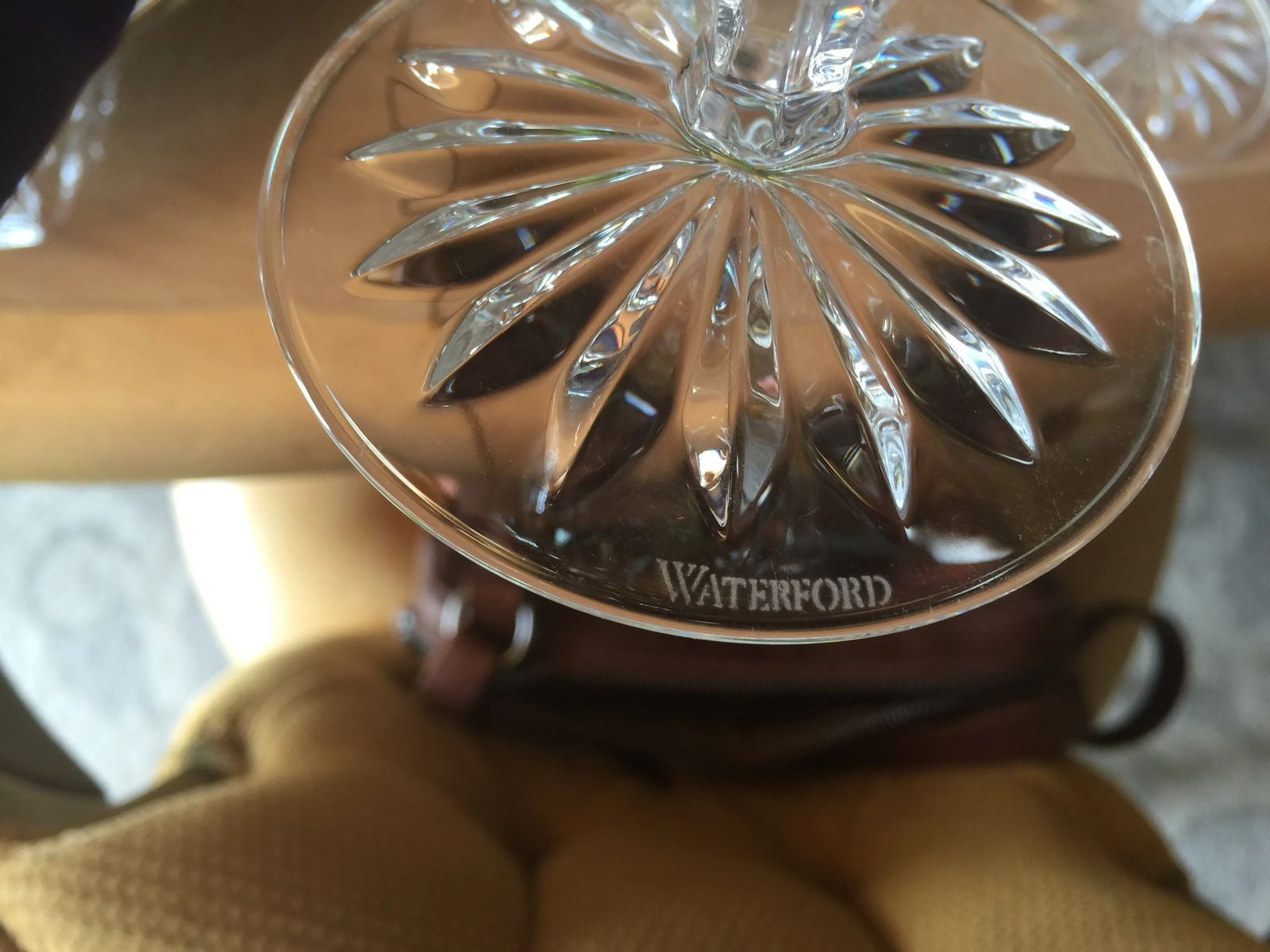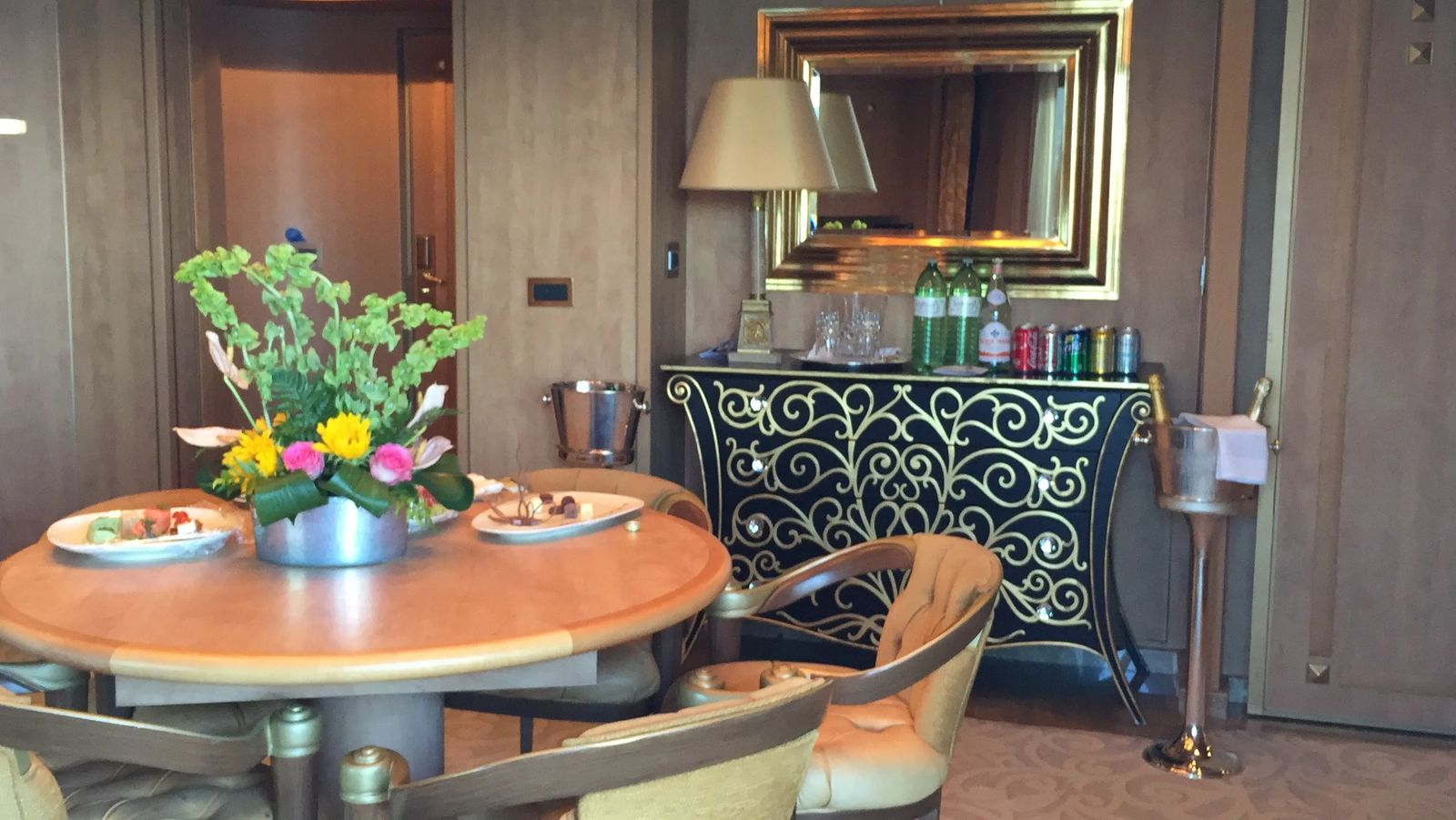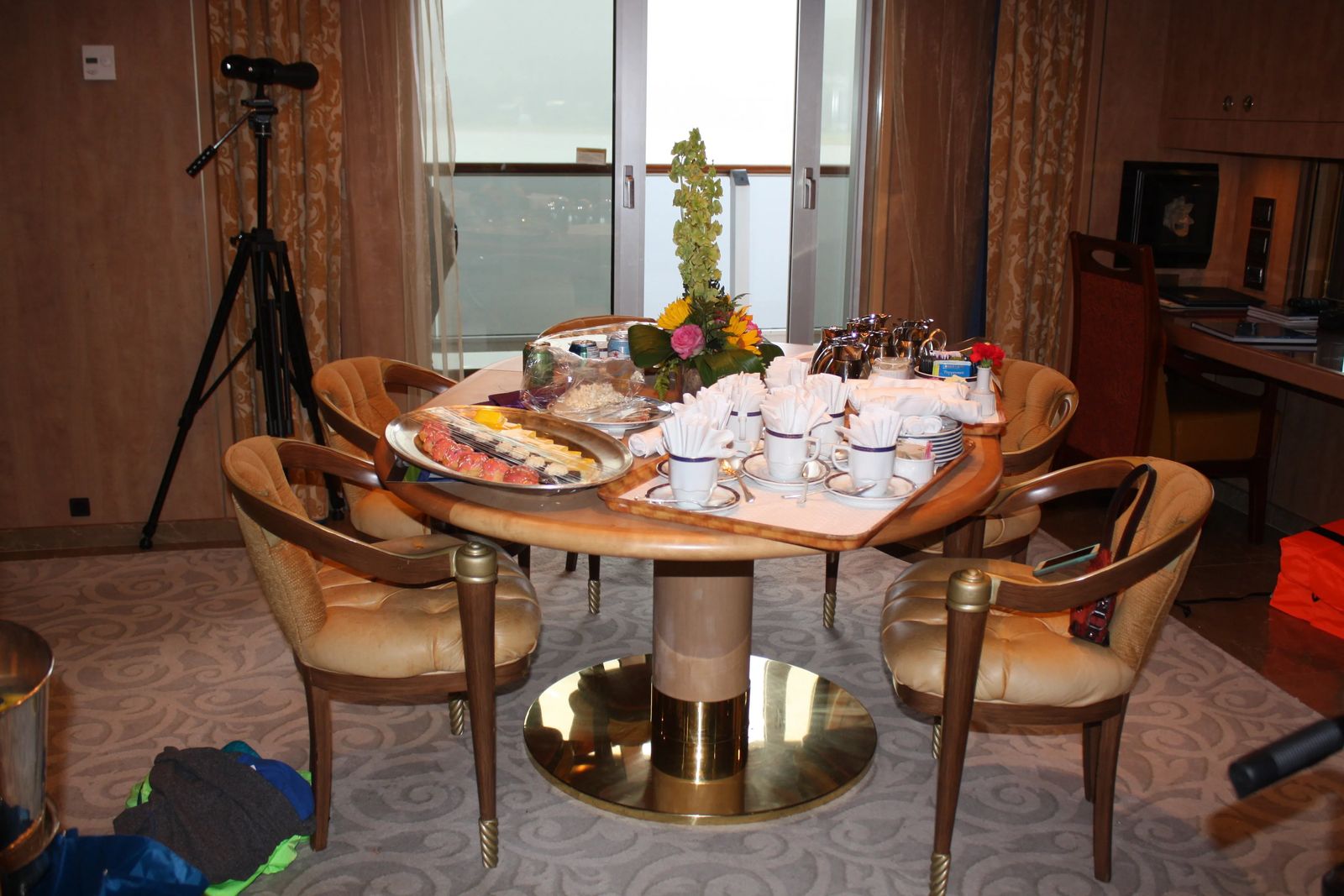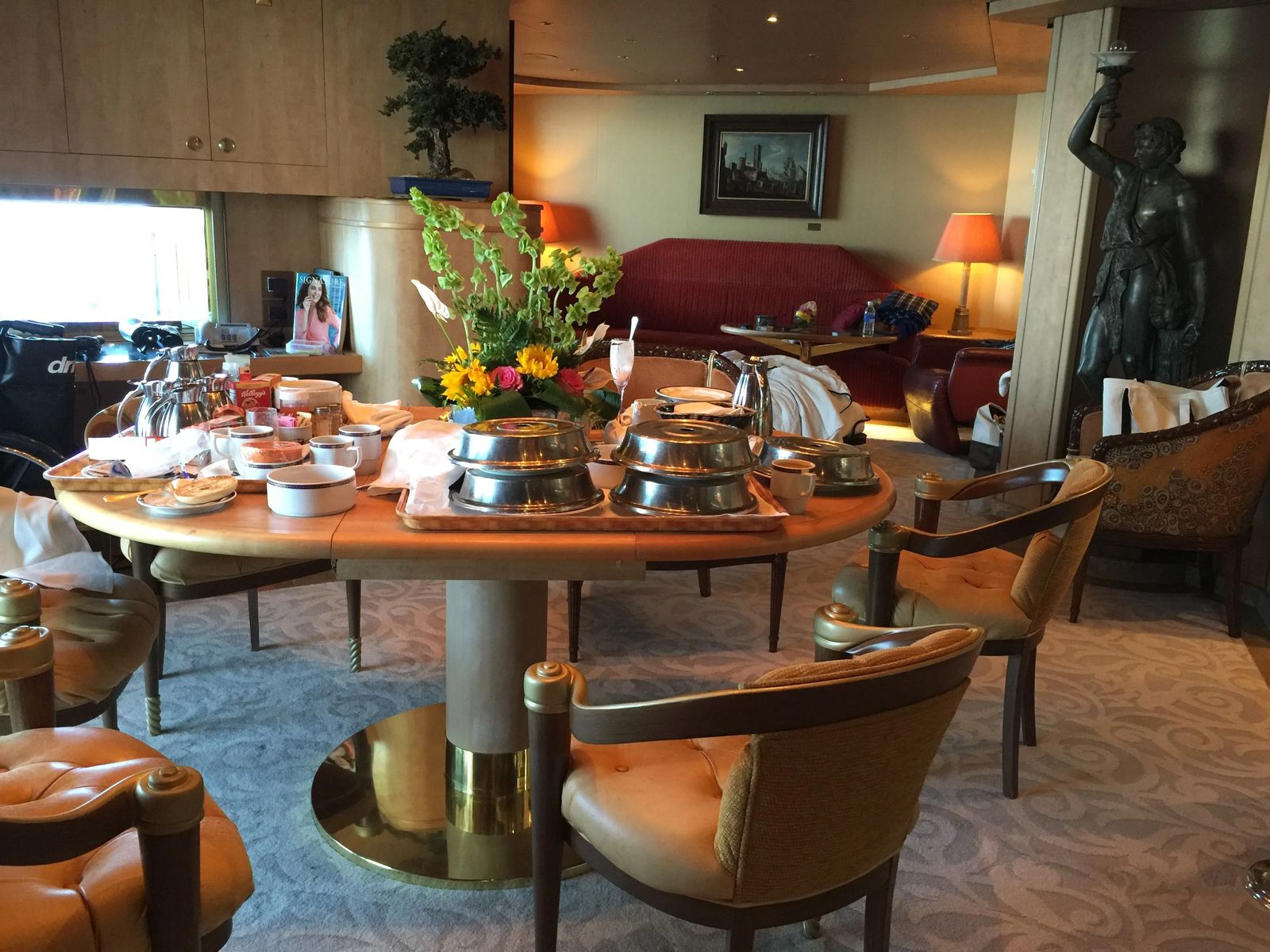 Living Room
The living room was located off the dining room to the right and had plenty of seating for all of us. Artwork was displayed on the walls. The furniture, although a bit dated was comfortable enough. There was an impressive entertainment system with Bose speakers. I am quite tech savvy and so are my kids, but this system was definitely perplexing and we did have to call concierge a couple times to help get it working correctly. The suite actually featured a large binder on how to work everything! Between all the lighting, electric curtains and elaborate sound system it was a bit overwhelming. A very comfortable 2-person murphy bed was expertly tucked into the entertainment center and was made up every night for us. I wasn't sure how comfortable this bed would be but it is a real mattress and my 85-year old mother-in-law found it perfectly suitable. There are plug-ins near the murphy bed for charging cell phones.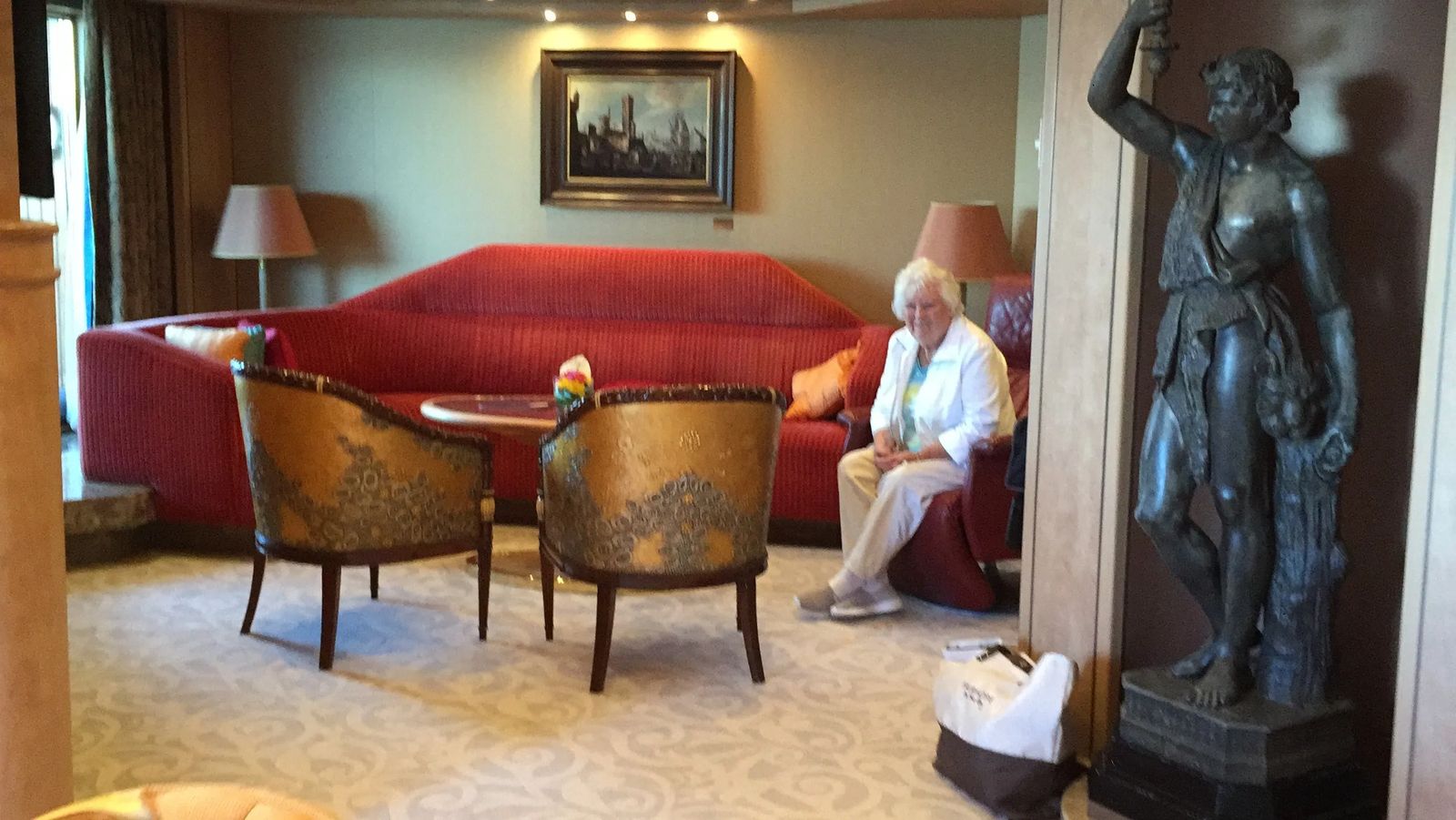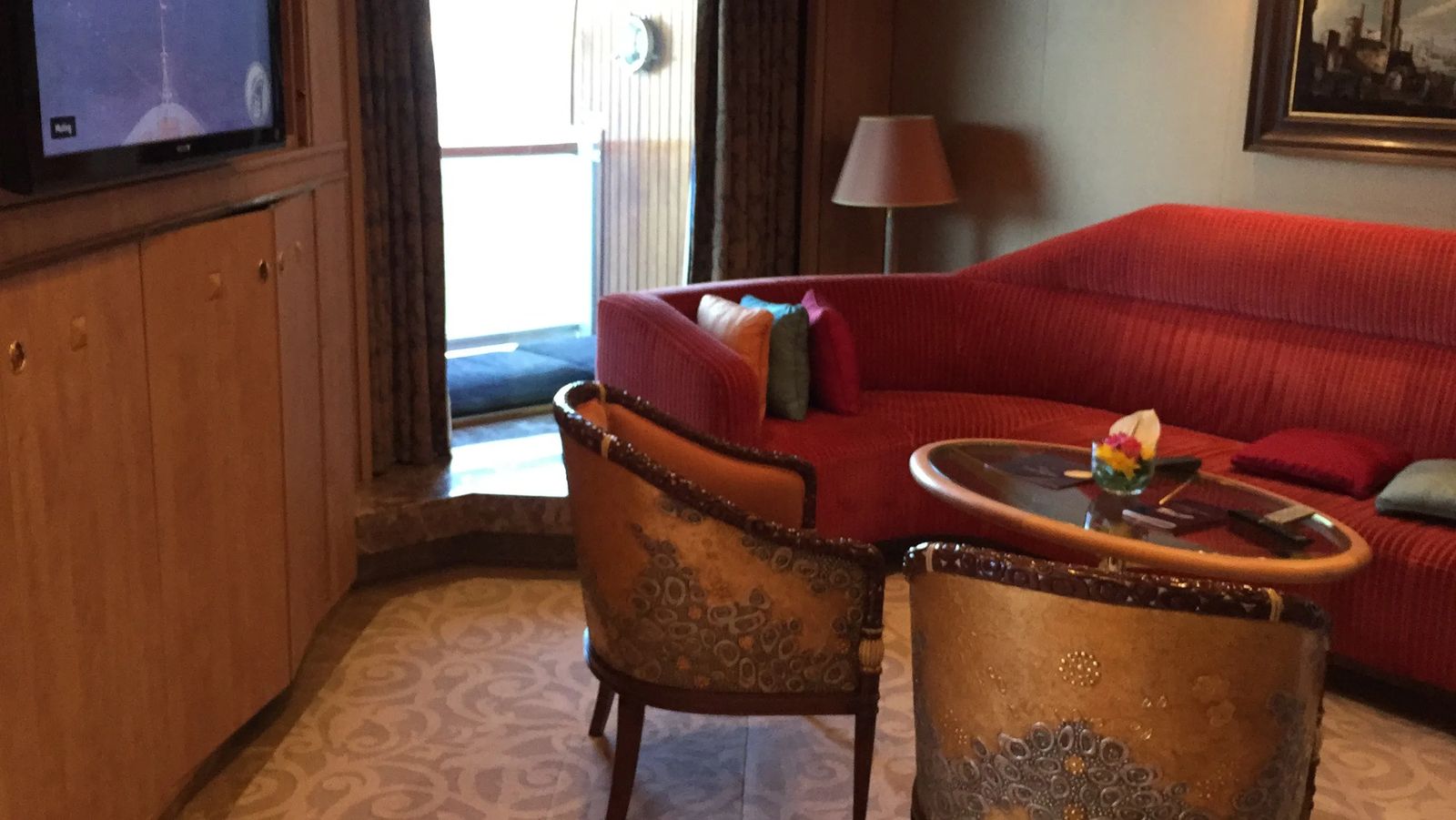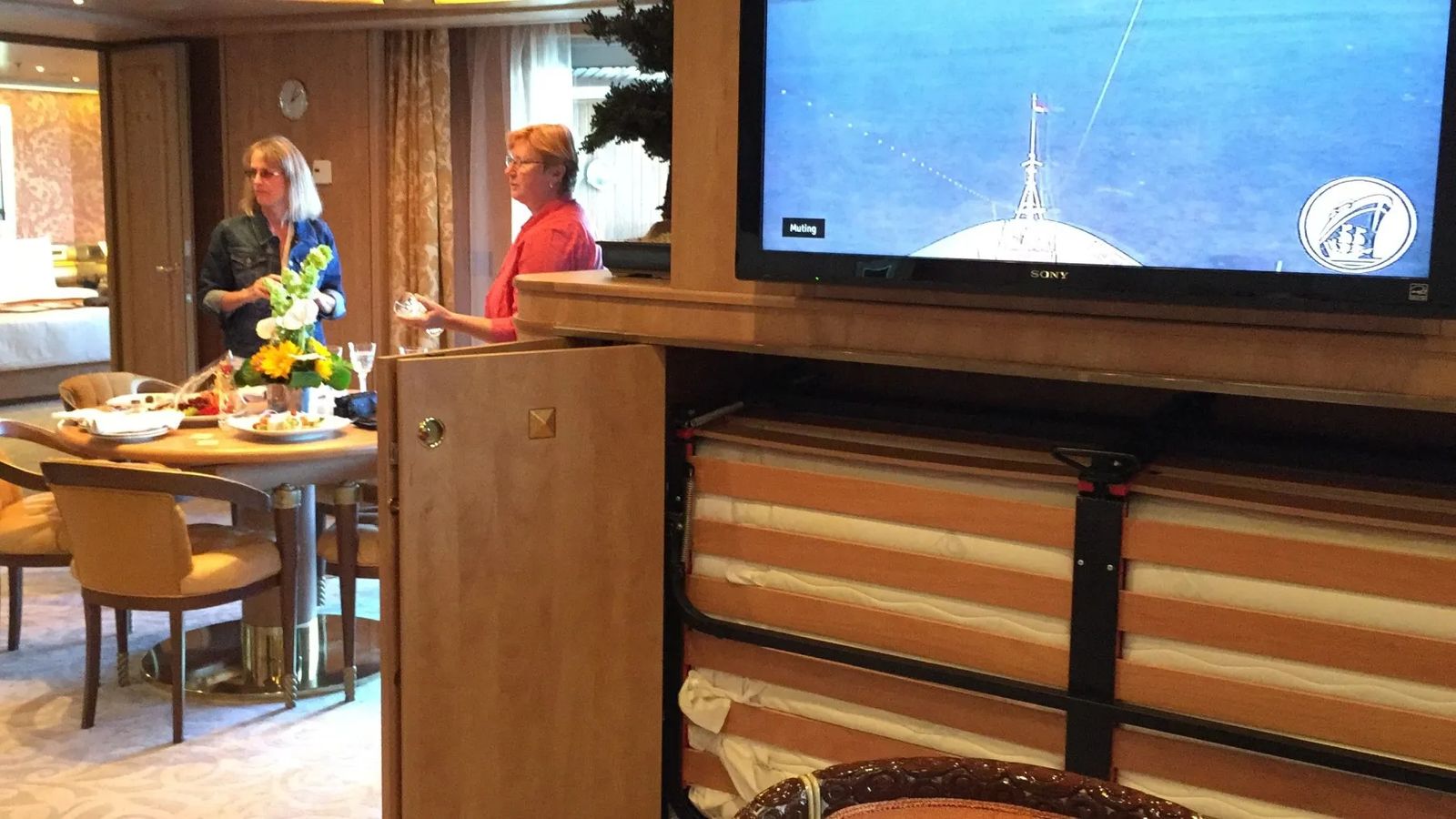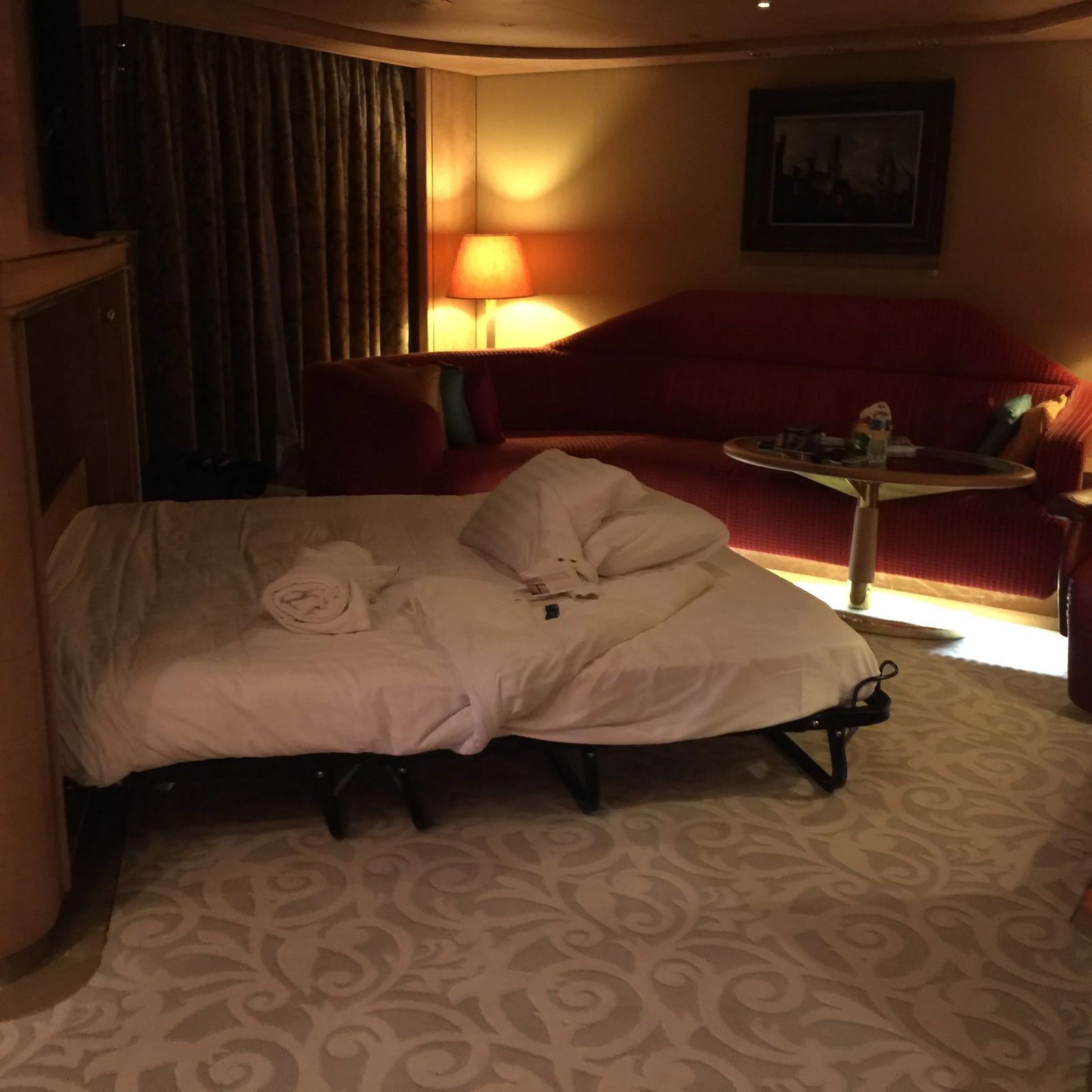 Master Bedroom
The master bedroom featured a high quality king bed that snuggled us in every night and 2 large doors shut off the master bedroom from the rest of the suite. The bedroom was huge! It also had large windows strategically placed so you could view the outside while lying in bed. It was so nice waking up to an ocean view every morning! A large TV was mounted over a large desk and there was a ton of cabinet space as well. Both TV's had DVD players and offered complimentary DVD's to check out at any time. The room also featured a large vanity with plug-ins and rare artwork doted the walls. This master bathroom, although somewhat gaudy with all its bling, is more luxurious than my bedroom at home!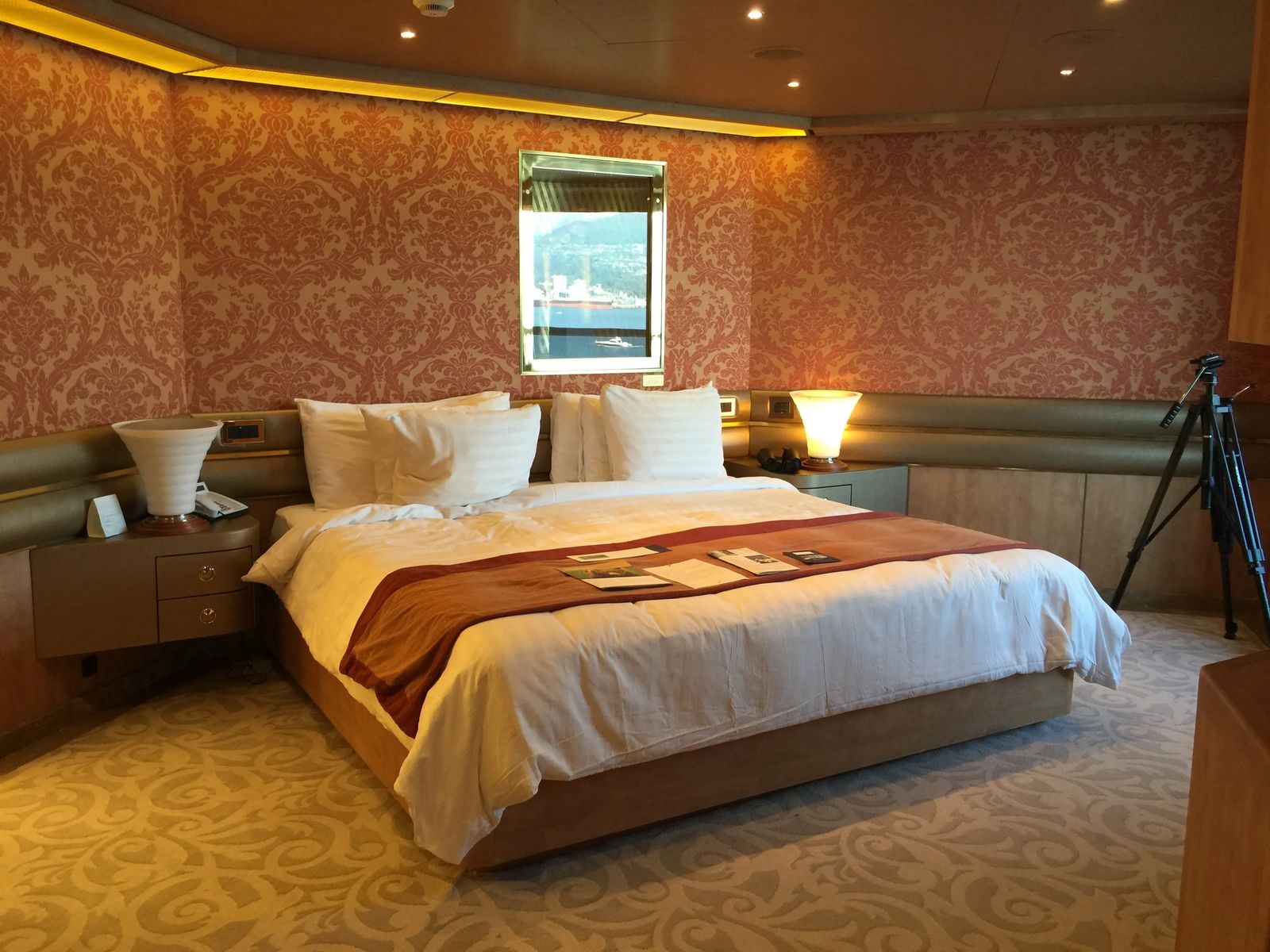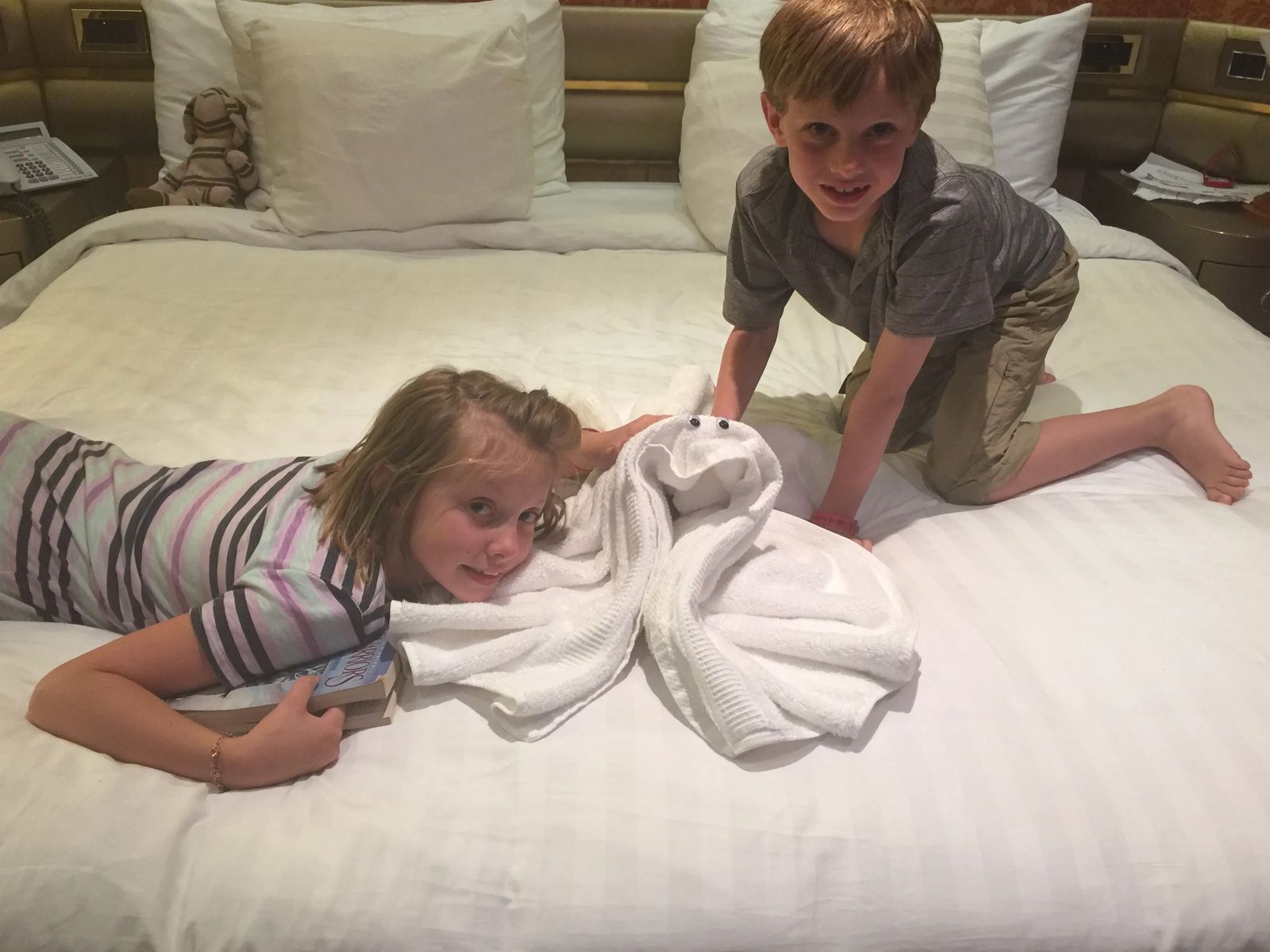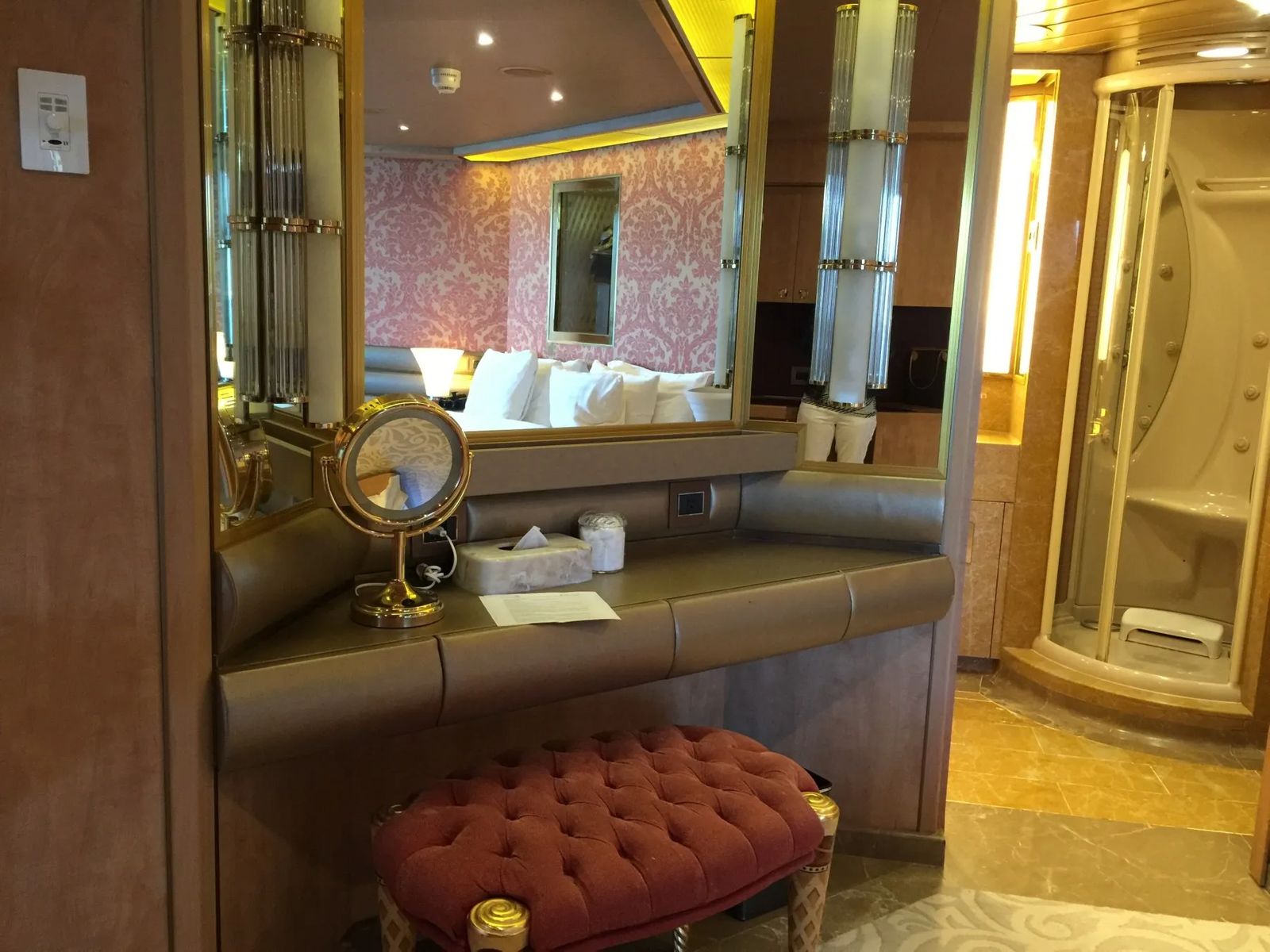 Master Bathroom
The master bathroom is really over the top incredible. Located off the master bedroom, it featured a separate toilet area and sink with its own door. A huge Jacuzzi tub was a hit with the kids that not only had mood lighting but a large wall water fountain! A 2-sink vanity offered a lot of bling with gold plated sinks and accessories and both mirrors were actually medicine cabinets. This suite offered more storage than my house in Montana! A stand-alone steam shower had jets to reach every part of your body, to include the bottom of your feet (although we could never get that to work and honestly didn't feel it was important enough to ask). To the right of the master bath was a huge changing area with 4 separate closets and the safe was located here as well. The changing area also had a door in case someone needed more privacy.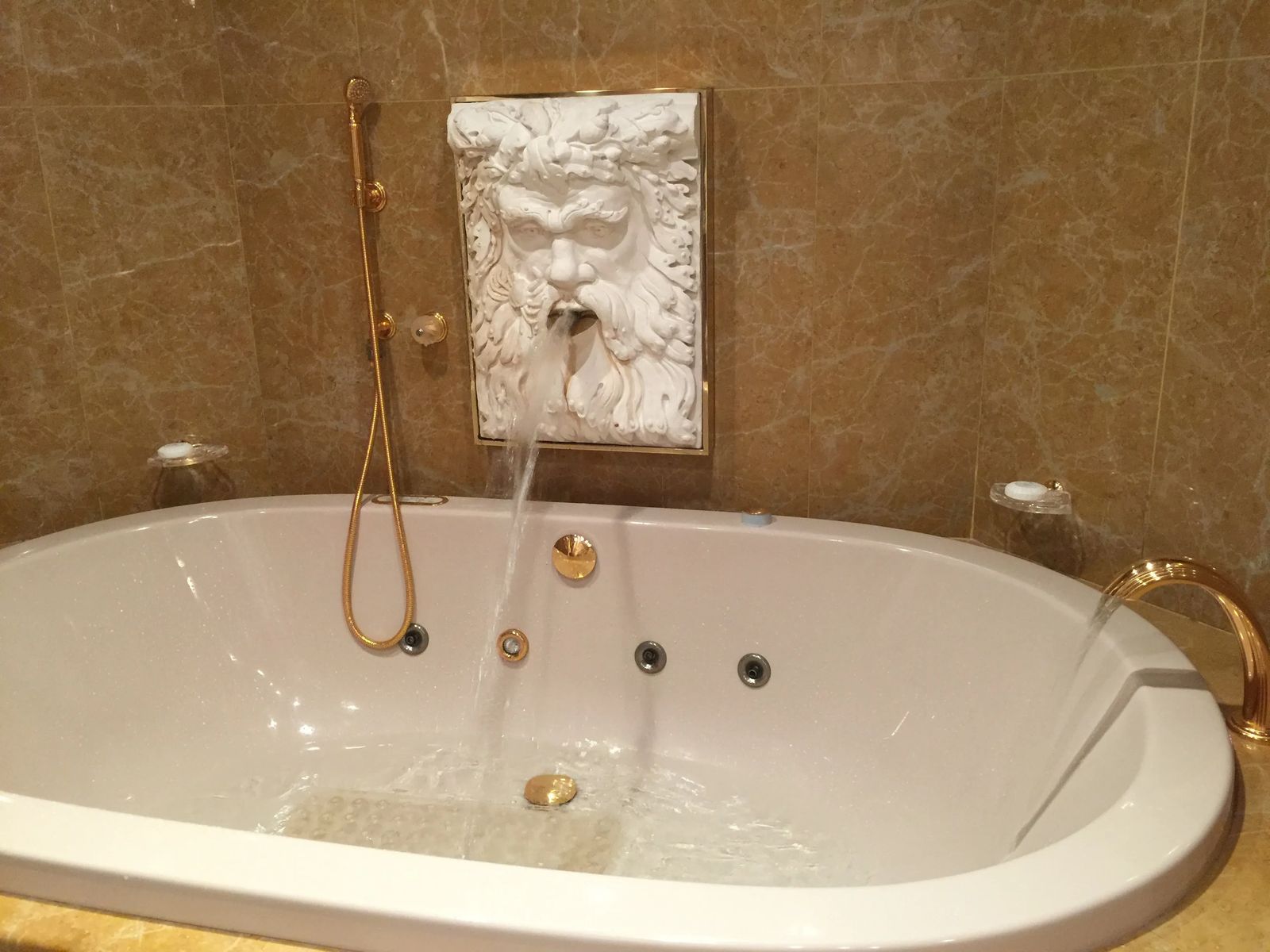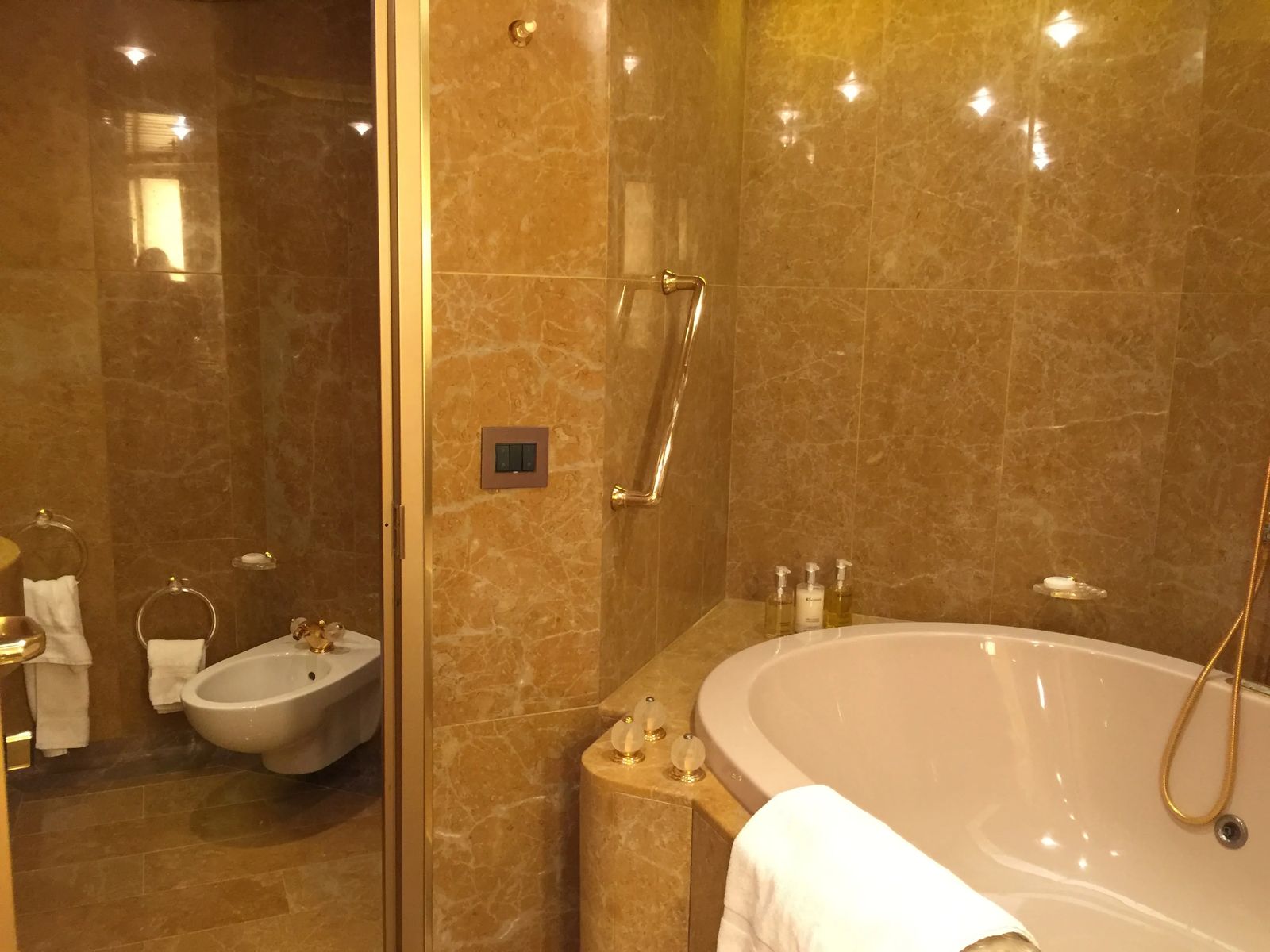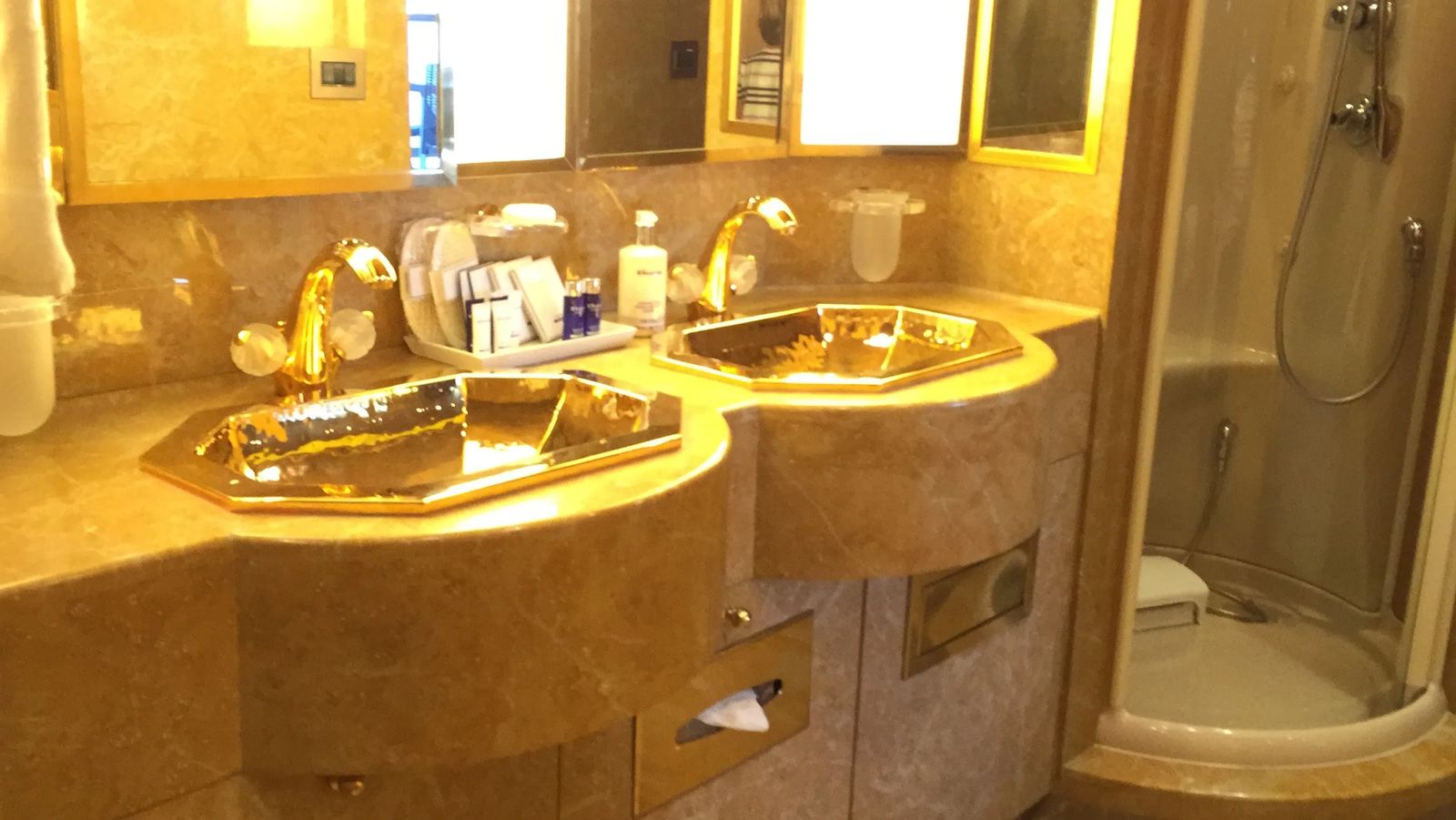 The master bathroom included 2-bathrobes and Elemis bath amenities (that never were replaced during our cruise) and a hairdryer. The one thing that bothered me was the bathrobes were for tall/large people. I am 5'1″. The bathrobe was so big it was a joke. I called and asked for a smaller one only to be told the only size available was a Large. Also, since they know exactly who would be in the room and ages of the occupants, you would think a robe would be provided for everyone. No. I had to call and ask to get a robe for my mother-in-law. I know this all sounds trivial, but when you spend this kind of money for the top-of-the-line suite, the little things make a huge difference. I wanted a robe to wear to the pool or on our verandah. Because it was so large, it dragged all over the floor and soaked up all the deck water. In the end, the staff came through and actually had their tailors custom fit a robe for me! The did admit it was a problem that robes were only one size.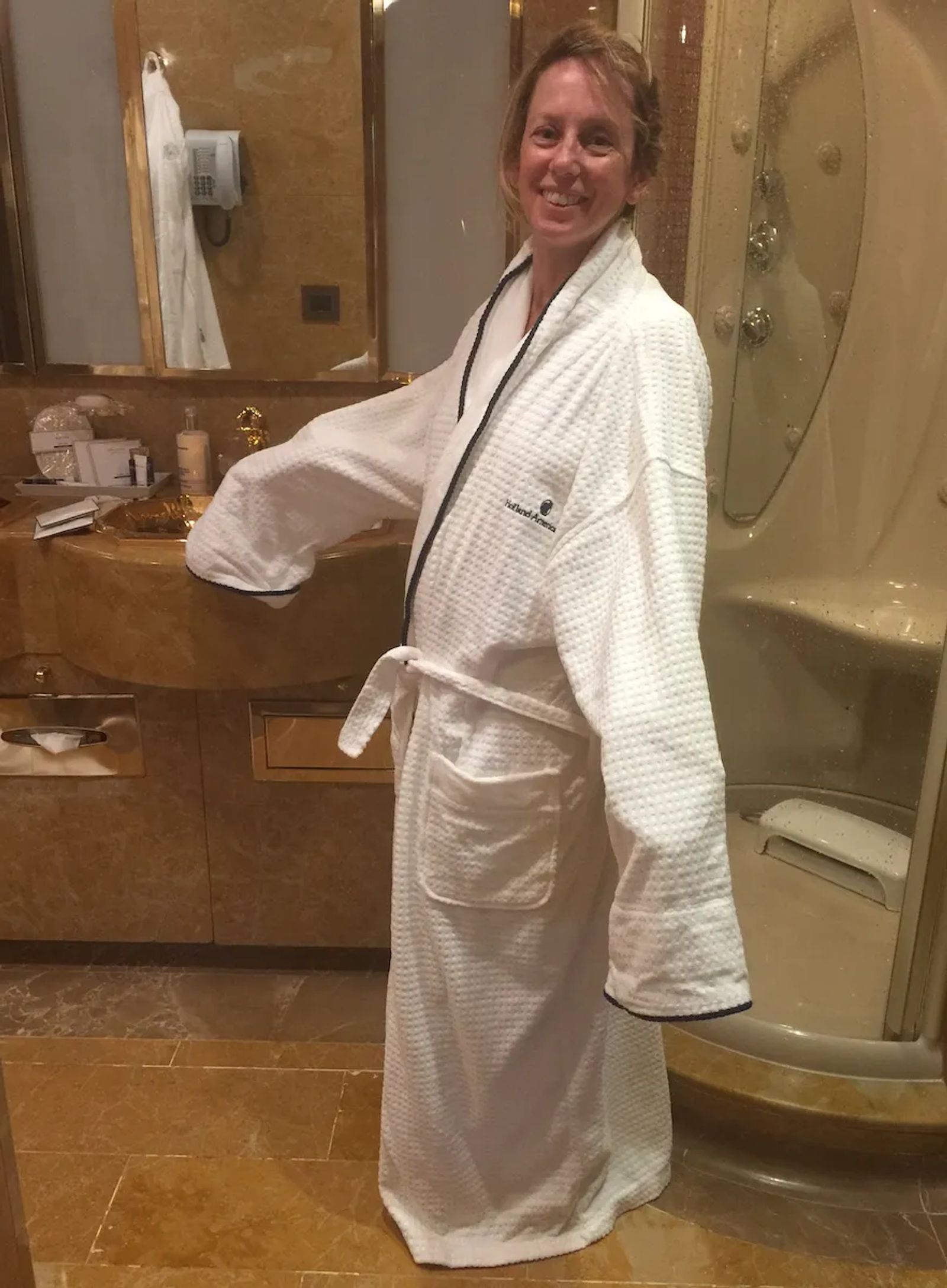 Verandah
The verandah was absolutely amazing and a beautiful extension of the suite. Lined with teak wood, there was plenty of seating for all of us and offered amazing views of glaciers and the shoreline. The best feature was a 2-person hot tub that definitely got a lot of use! It was a bit smaller than I hoped but I am not complaining. It was divine to sit in it with a glass of wine as we circled Glacier Bay on a glorious sunny afternoon. Best.day.ever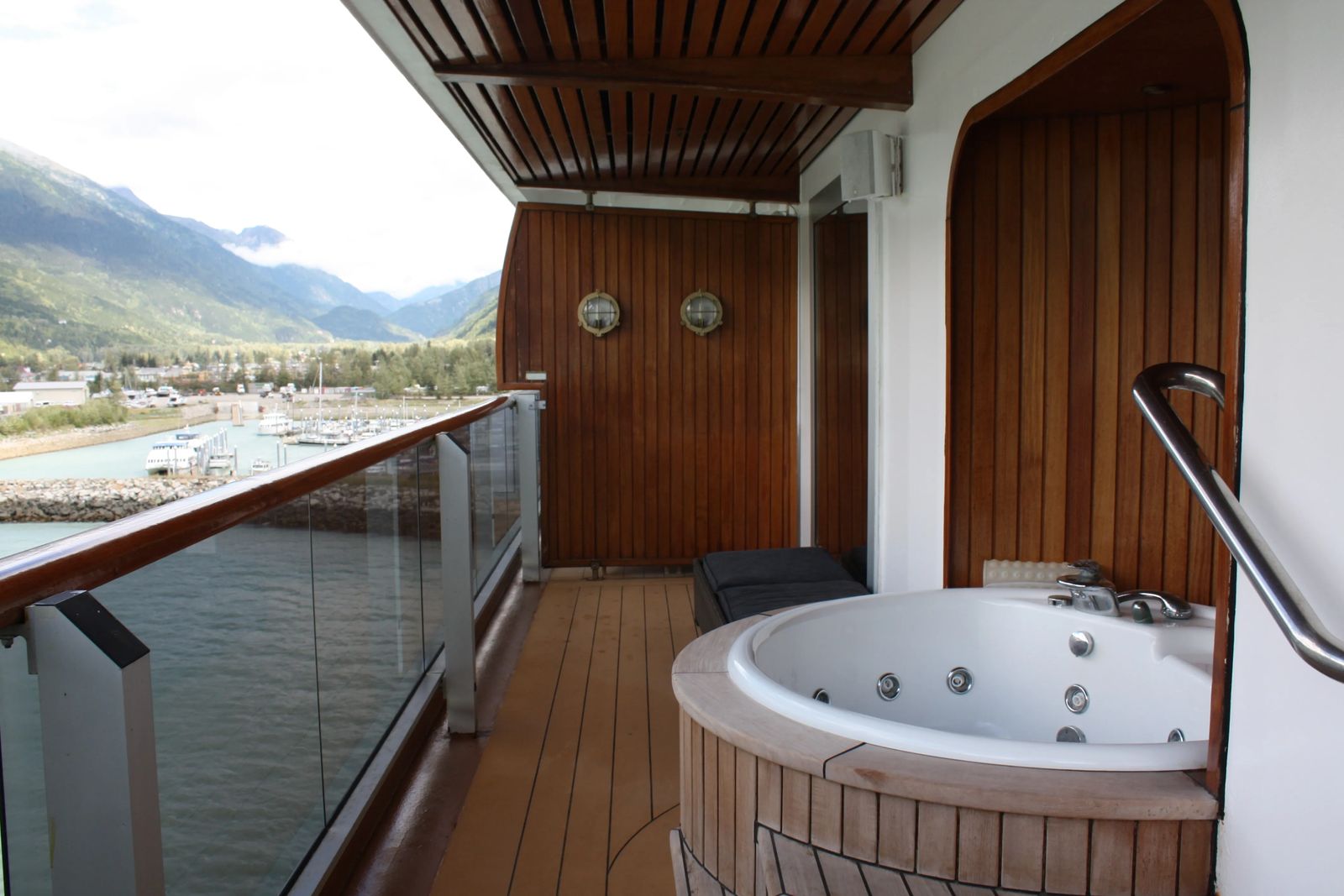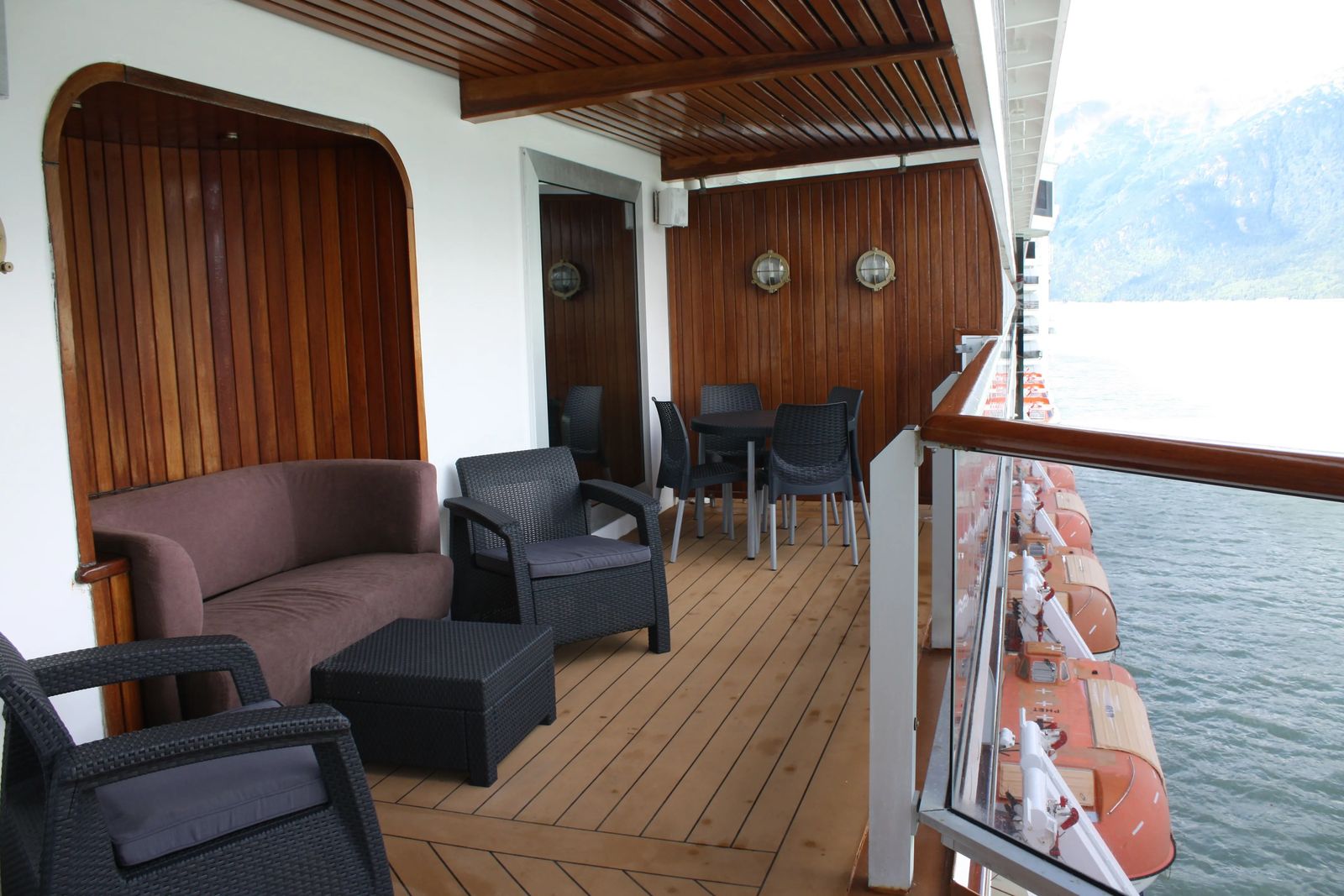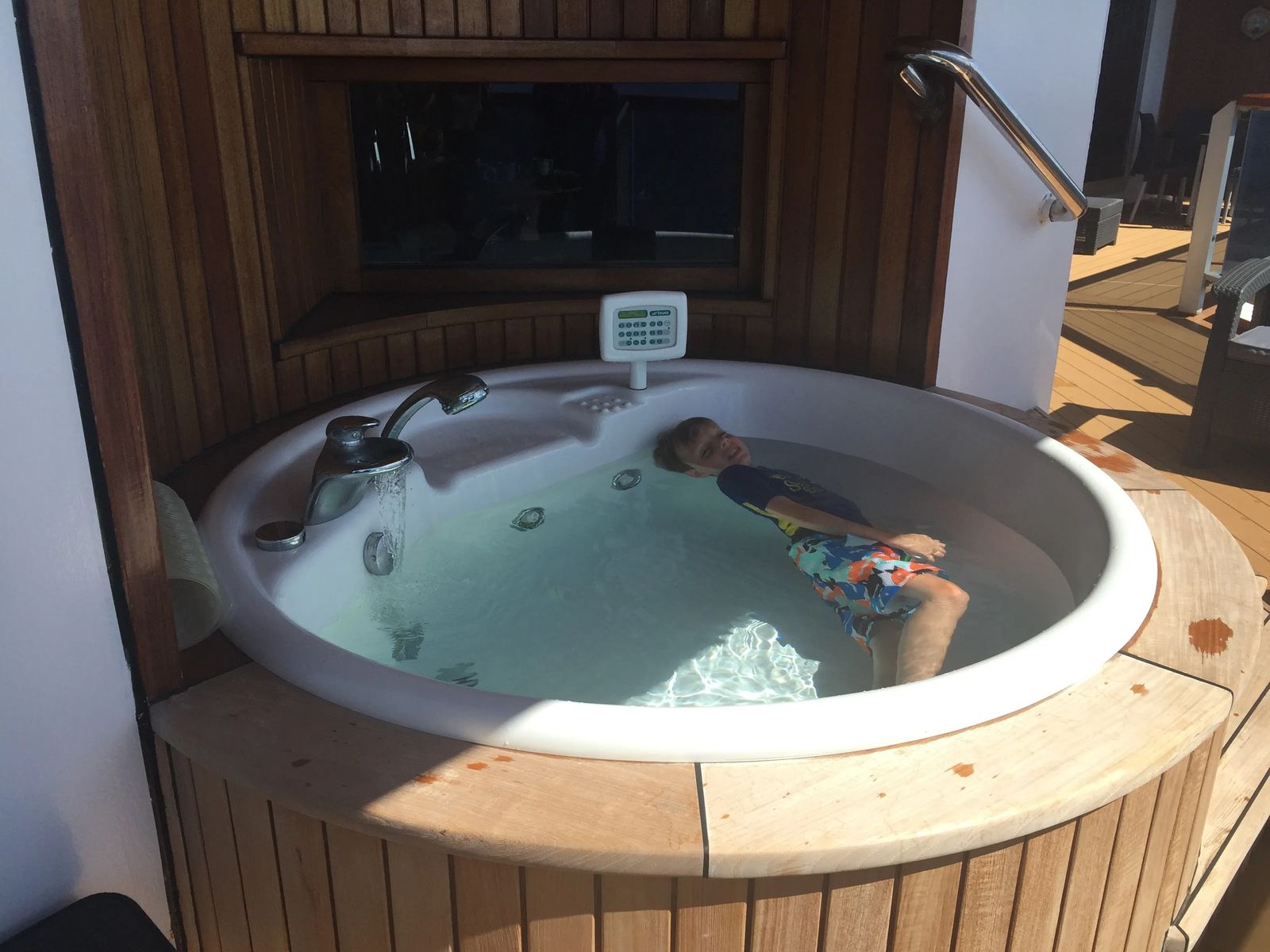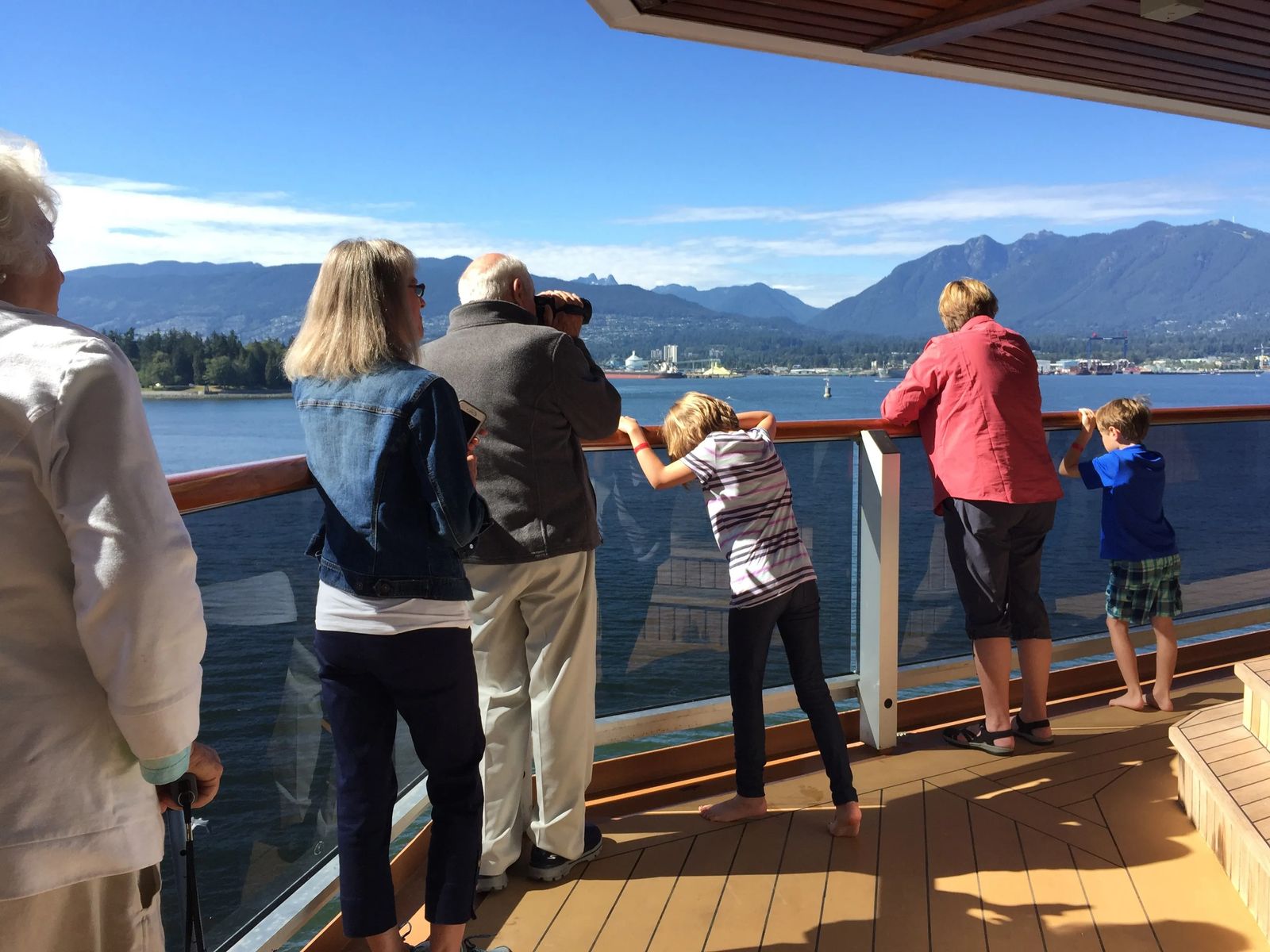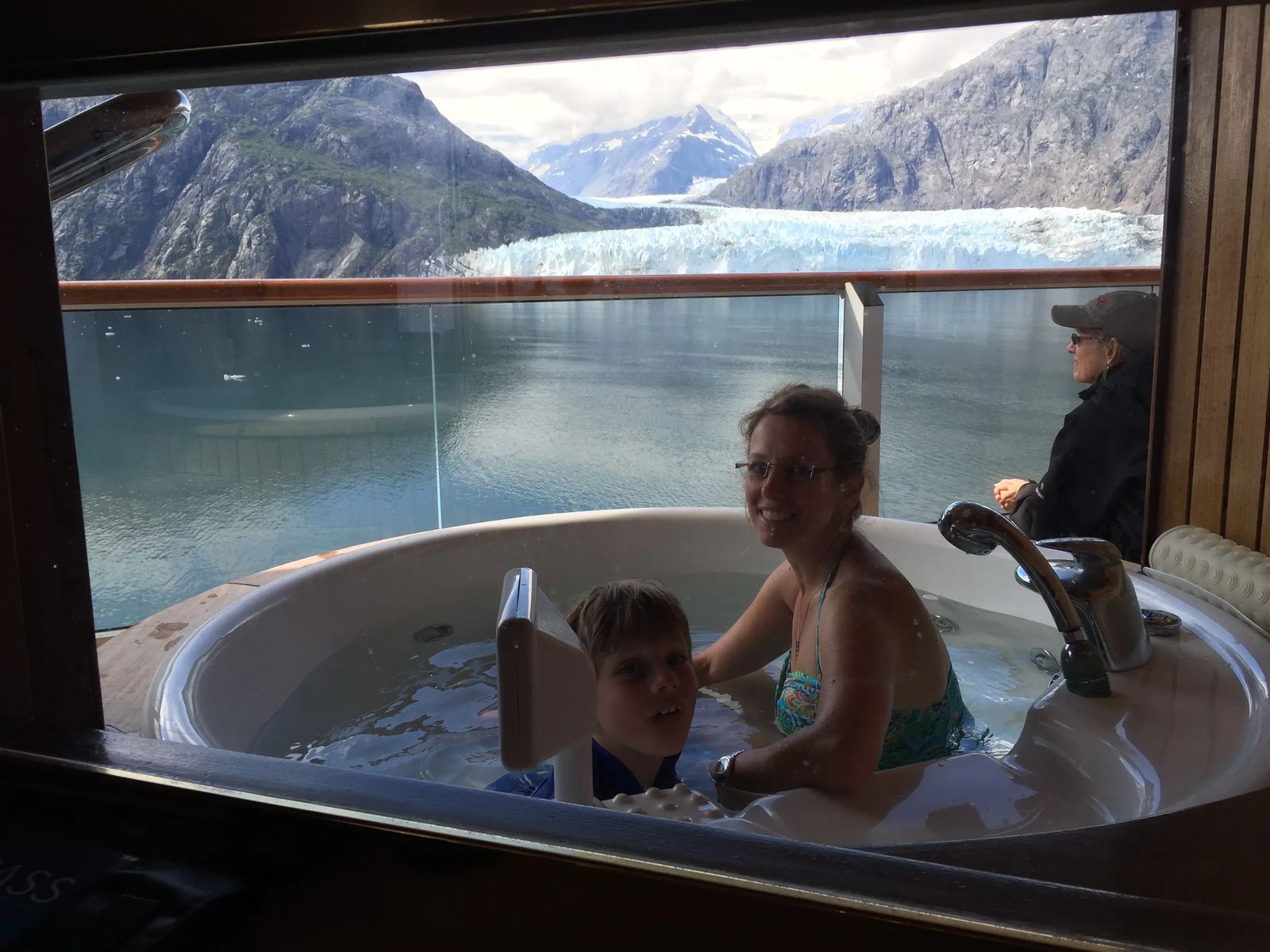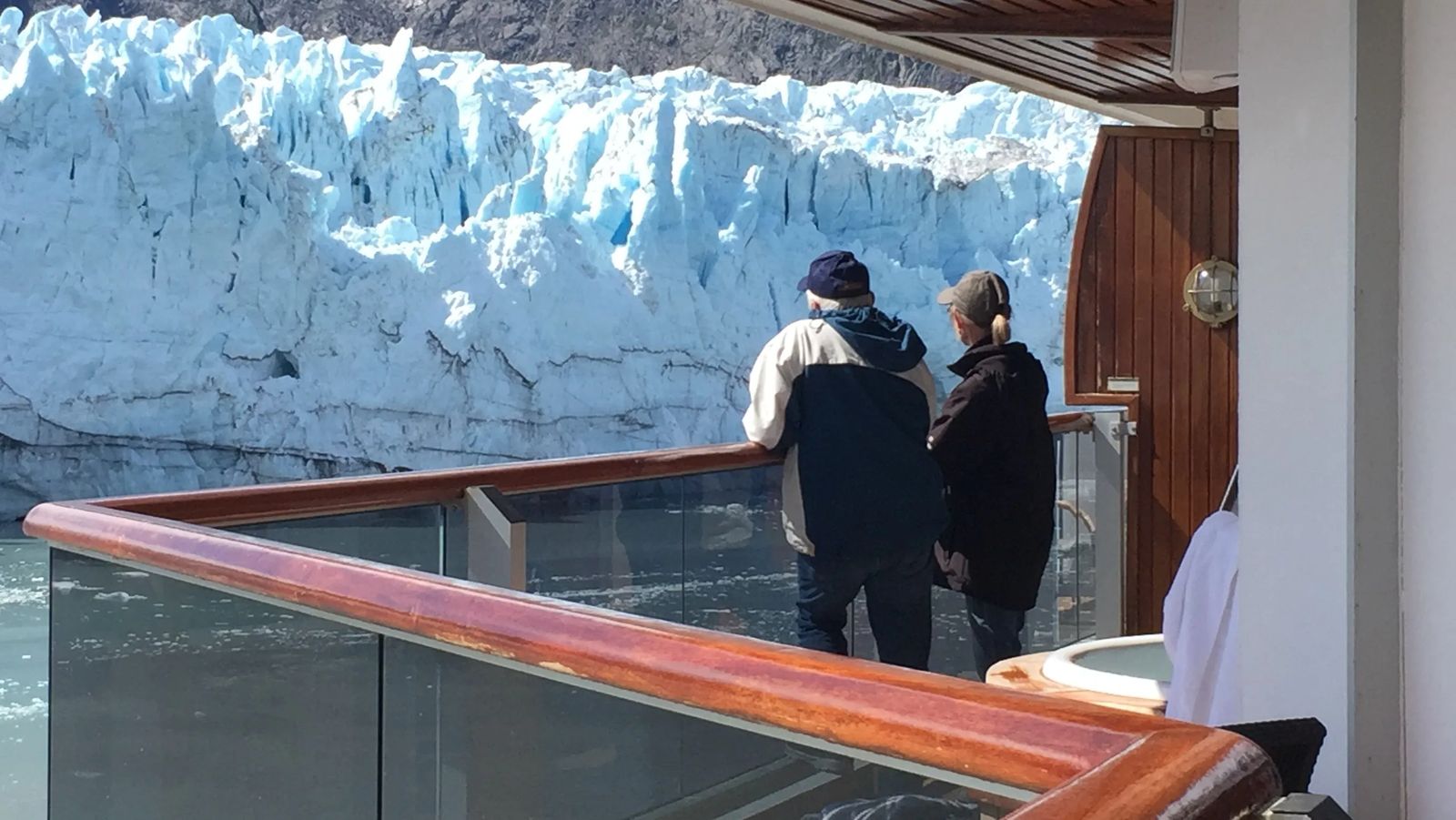 Pinnacle Suite Amenities
A big bonus to having the Pinnacle Suite are the amenities that come with it. First at check-in we had priority and were escorted all the way through customs to the ship by a lovely woman named Elinda. As we arrived to the boarding entrance, we were met by two women named Pollyanna and Laura who escorted us to our suite and they were our private concierge for the entire cruise. The escort service is strictly for the Pinnacle Suite guests but since my father and his fiancée were also in a suite and part of our 'party', they kindly included them in the escort process.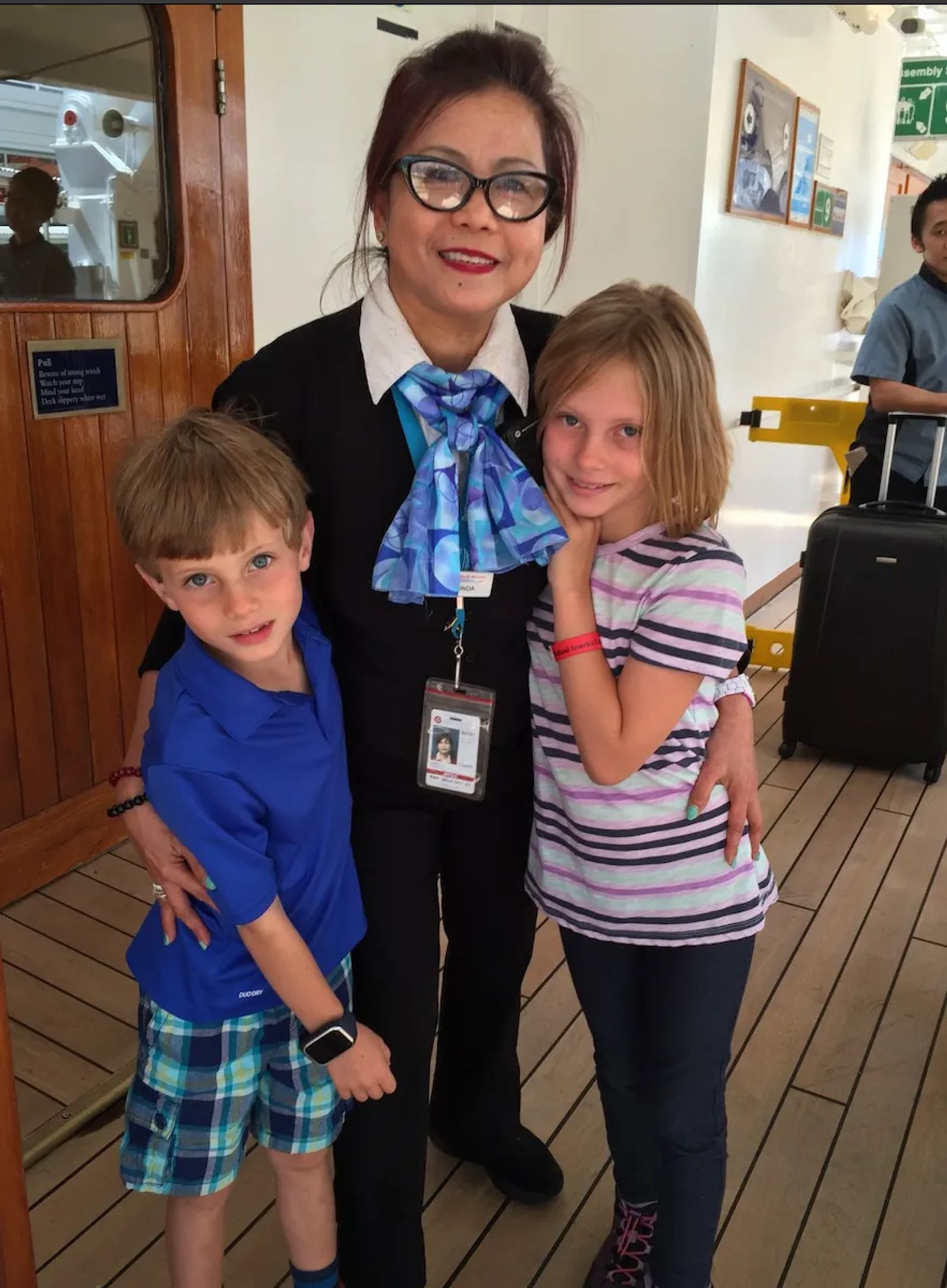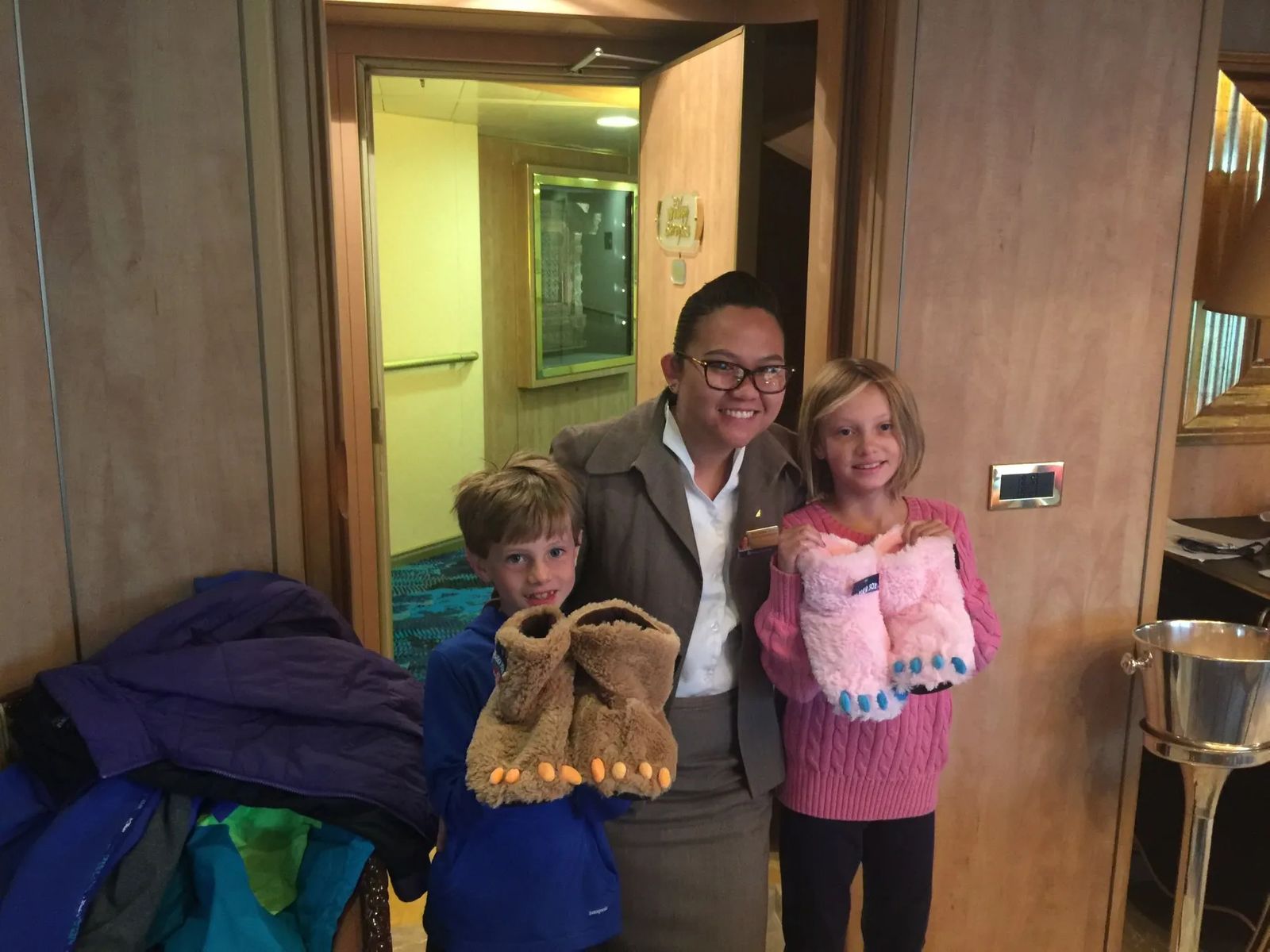 Holland America is the only cruise line with an exclusive lounge available to guests in the Pinnacle and Neptune Suites. I wasn't sure at first what to make of this amenity, but we used the lounge every day! Not only was it a nice place to relax and grab food or a drink, it offered exclusive concierge services! That was a priceless commodity! Both Pollyanna and Laura were amazing throughout the cruise. They really held our hand and made everything special for my family. They even brought the kids special souvenir treats. They organized tours, made our dinner reservations, room service and even helped my son get out of a locked bathroom. They really went above and beyond for us. We were encouraged to use their services for everything we needed and they always seemed to work magic.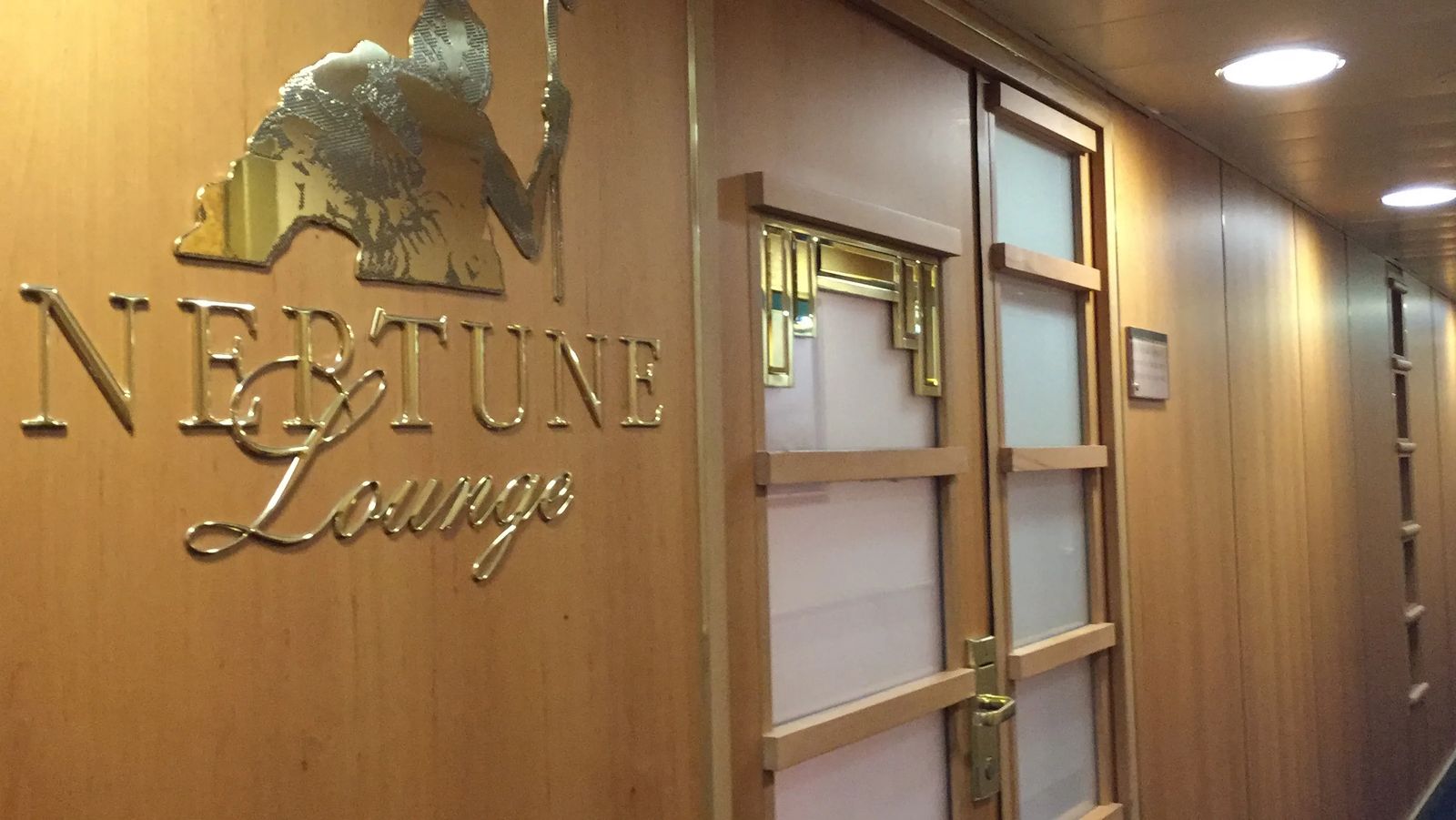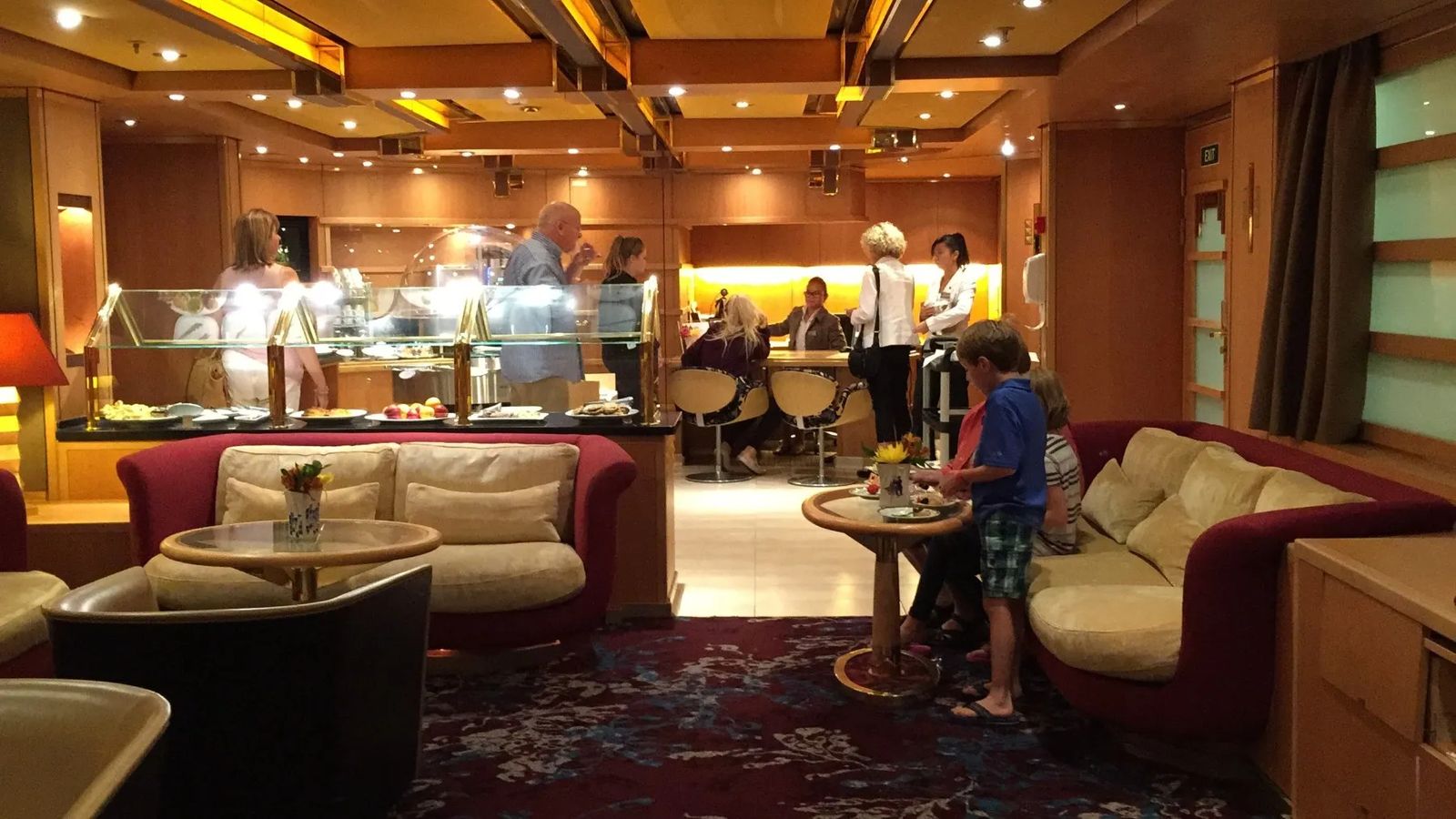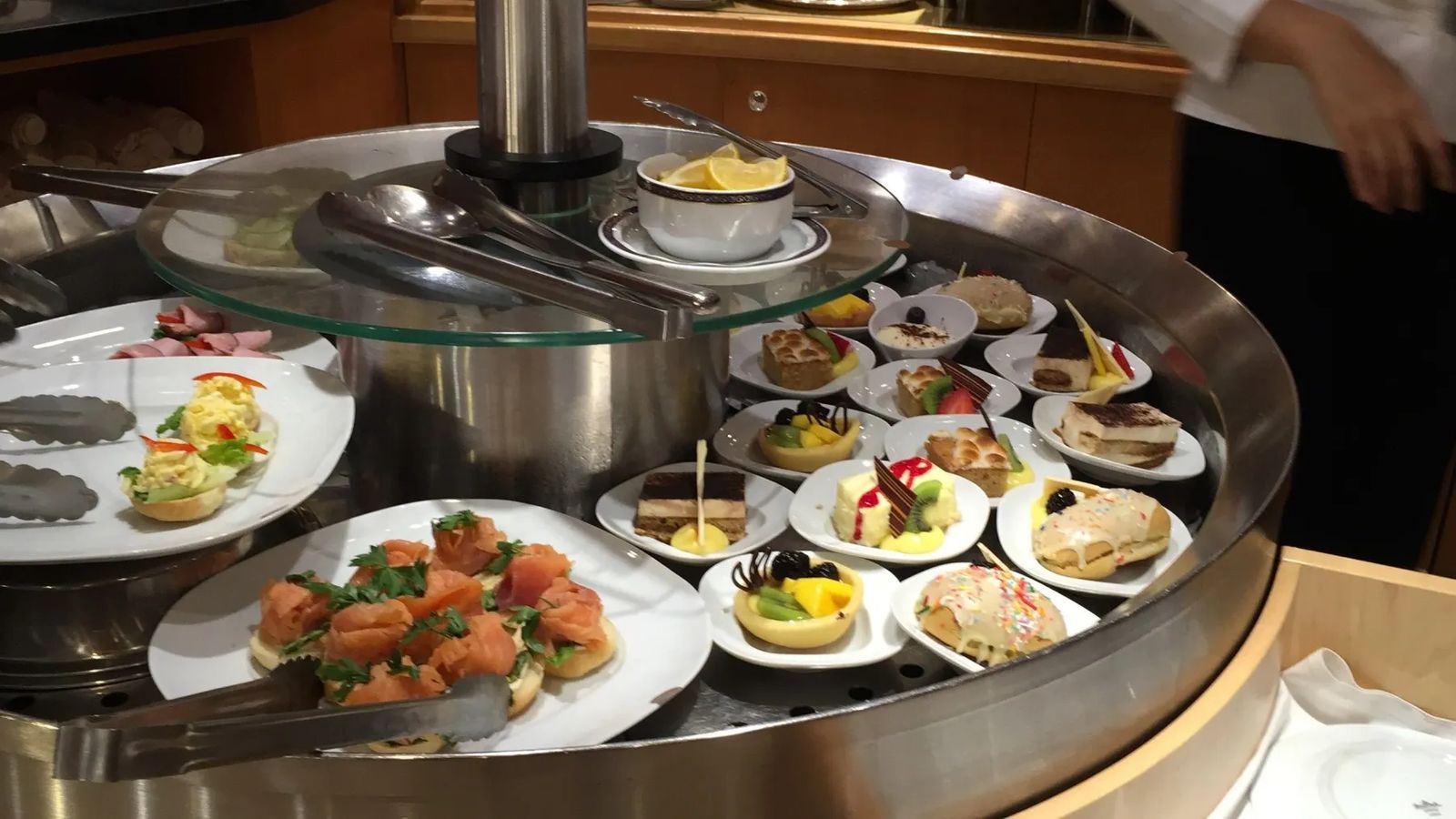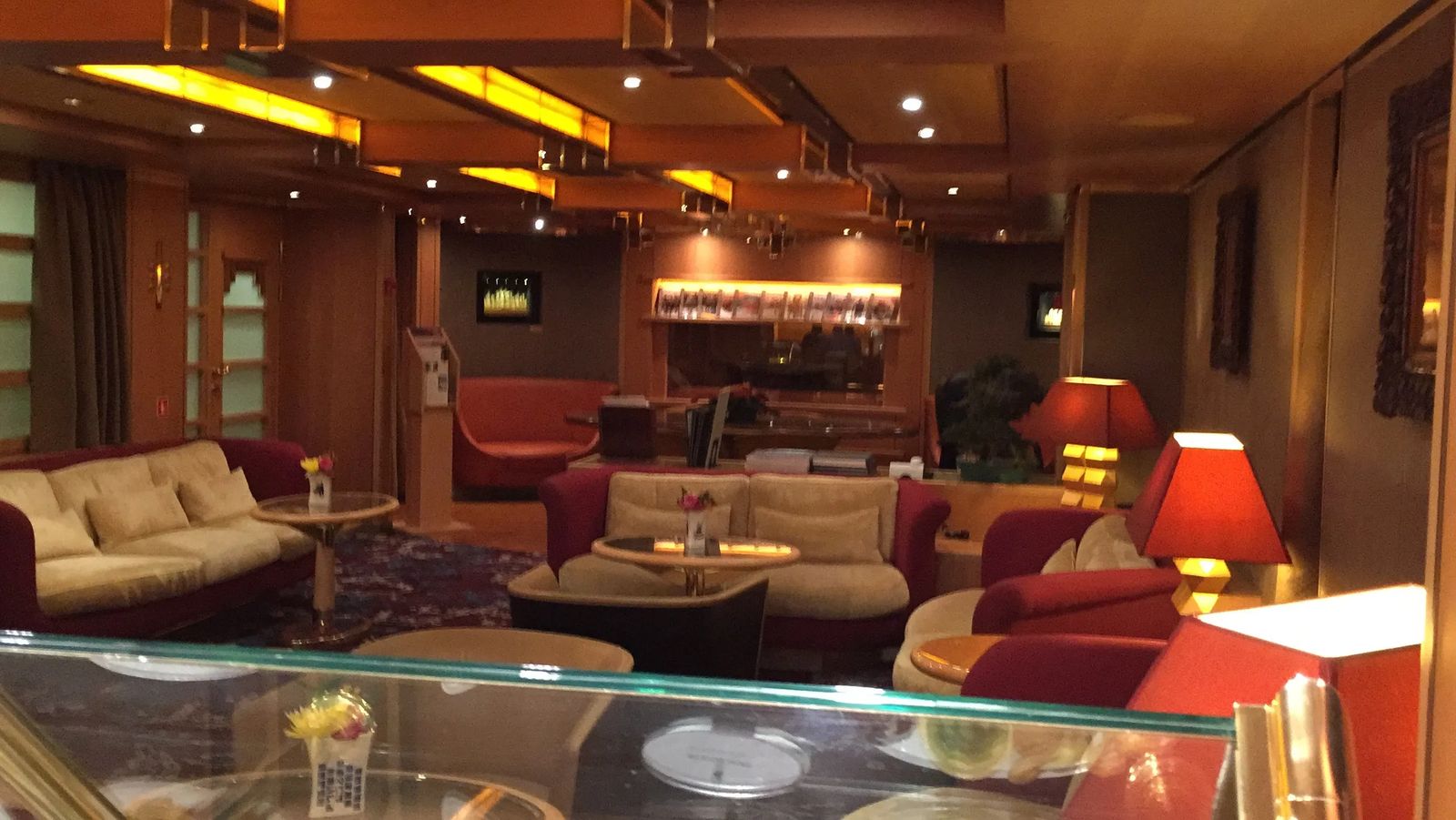 Being guests in the Pinnacle Suite we were invited to two special officers receptions where we met not only the captain but all of the other department officers that make the ship run so smoothly. We also got to take a private tour of the ship and see how everything works and comes together and meet the folks that make it all happen.
Other perks of the Pinnacle and Neptune Suites were complimentary laundry and dry cleaning, oversize bath towels, corsages and boutonnieres for formal night, hors d'oeuvres before dinner, binoculars and umbrellas for use on the cruise, priority boarding, priority dining and seating requests, daily breakfast service, and high tea service in-suite. We took advantage of it all!
Verdict
All in all it was a magical cruise – especially for me since I have never been on one before! The Pinnacle Suite was absolutely amazing and we all enjoyed spending time together in the suite. There was plenty of room for all seven of us and it was so luxurious! We actually enjoyed being in the room so much that we spent a great deal of time just being together. The week went so quickly and it was tough to say goodbye to all the staff that worked so hard to make our stay enjoyable. If I ever take a cruise again (and I hope I do!) it will be hard to beat being in a Pinnacle Suite on Holland America! They certainly made our multi-generational cruise a success.

2 Moms Travel
Thank you so much for coming to our site and interacting with us! We love sharing our travel experiences and hope we can inspire you to travel! When the blog first started, LGBT travel with kids wasn't as prevalent as today. We love that sharing our stories has encouraged others to travel not only within the United States, but all over the world! Because our itineraries have been popular with our readers, 2 Moms Travel now is also an official travel company!