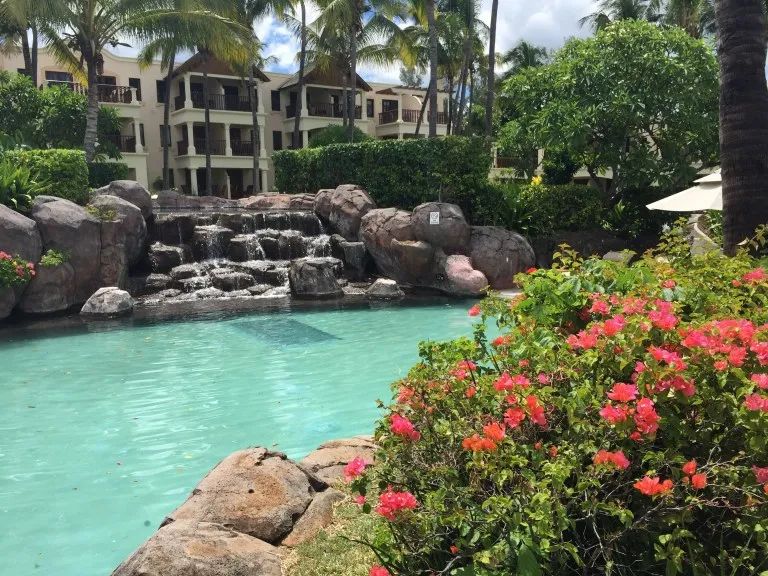 Top 3 Activities for Families at Hilton Mauritius Resort & Spa
Hilton Mauritius Resort & Spa is pure paradise and an ideal family destination located on the western part of the island in Flic-en-Flac. Framed by a stunning backdrop of volcanic mountains, Hilton Mauritius feels more like a boutique hotel with its lush landscaping, waterfalls, and peaceful atmosphere. When my family travels, we look for family friendly destinations where there are activities for all of us. Hilton Mauritius does not disappoint and in fact it exceeded our expectations! The hotel charges a daily resort fee, which in general I am not a fan of as it can add up substantially to the bottom line. But this hotel is definitely an exception; there is so much included in the daily resort fee that we actually felt undercharged! With so much to do, here are our top 3 activities for families at Hilton Mauritius Resort & Spa:
Complimentary Activities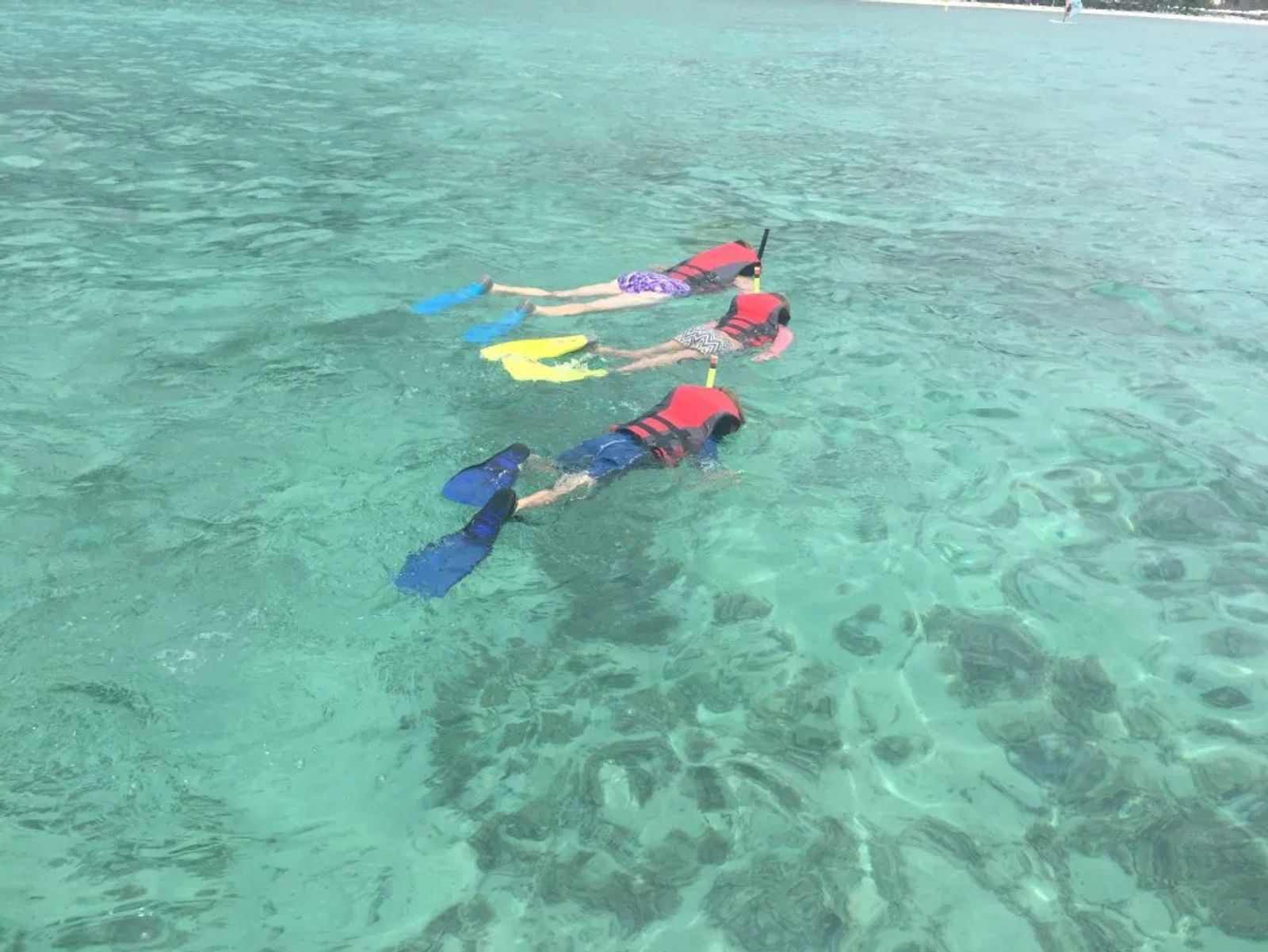 What stands out with Hilton Mauritius are all of the complimentary activities offered to guests. In fact, it can be very difficult to decide what to do. You will find in your room a list of daily activities offered such as morning yoga, pool exercise classes, and tennis lessons. Evening entertainment is also provided and the torch lightening ceremony shouldn't be missed! Best of all, numerous water activities such as water-skiing, snorkeling, and dolphin watching are also complimentary. Like I said, it will be difficult to leave the resort! Some of the activities such as water-skiing and snorkeling past the breaker have a minimum age of 12 to participate. But they will also take younger kids inside the breaker if there is demand and since my kids are 7 & 9, there was a demand. Snorkeling was definitely a highlight! The Hilton 'Beach Boys' took my family out to a nice protected reef, helped us gear up and even snorkeled with us! They were excited to show us their underwater city teeming with marine life and really had fun making sure the kids had a good time. We also tried the dolphin watching. Sadly, no dolphins were to be found but we certainly enjoyed zooming around the lagoon in their boat so we still had a great time.
Tip: When you arrive at the resort, I recommend signing up immediately for beach activities. They can fill up quickly during their busy season.
Note: all activities are weather dependent. If there is inclement weather, activities may be cancelled.
Pools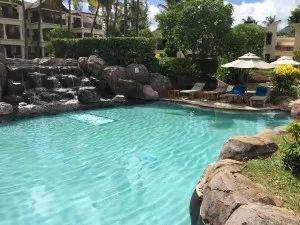 Hilton Mauritius has 2 beautifully heated pools and a hot-tub. One pool is a salt-water adult only infinity type pool and they strictly abide by that rule (if I remember correctly it's 16 and older). The other is a large circular pool for all ages. This family pool is surrounded by a large water-fall and lush tropical gardens and feels like pure paradise. We spent a lot of time swimming in this pool and it was easy to make friends here. In fact, we met several wonderful families from Johannesburg and we still keep in touch on Facebook! Although they didn't seem to offer pool-side service here, the café is nearby which offered full dining and drink options. It would have been nice if they did (maybe they do now…) so we wouldn't have had to leave the kids or our stuff to get food, but it was a small inconvenience.
You probably wonder why anyone would use a hot-tub in Mauritius, but it did get a little chilly on a few afternoons and it was nice to just soak for a few minutes.
One day during our visit, the hotel did have to close the family pool for maintenance and it was closed for several hours. During this time they did NOT allow young kids to swim in the adult pool. Fortunately, that day we were scheduled to tour around the island but had we stayed at the hotel this could have been a slight issue for my family.
Kidz Paradise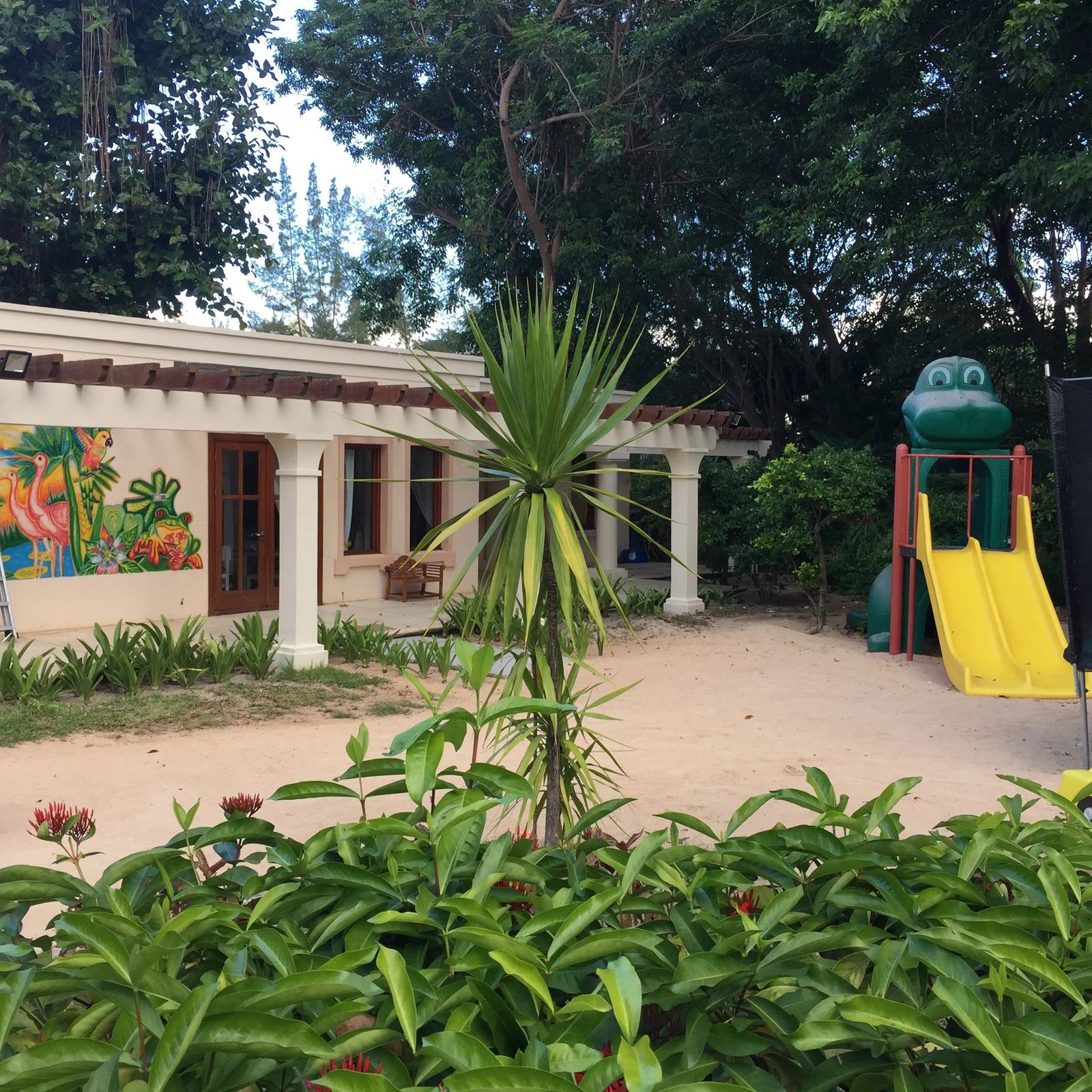 As much as we love to do things together as a family, sometimes it is nice to have adult-time and the kids have kid-time. Kidz Paradise is the perfect place for kids up to age 12 to have fun in a safe and supervised location. Many resorts and hotels have a kids activity center but it's either really costly or kids cannot be left unattended. Hilton Mauritius brilliantly includes Kidz Paradise in the resort fee and no reservations are required! After checking it out on our second day, both kids probably spent at least an hour a day there playing and making friends.
"Adults can do their thing, while kids do their thing! Really fun! ~Isabelle, 9 years old
Kidz Paradise is a detached building near the south-end of the resort, completely fenced and supervised at all times. Hours are posted outside and daily children activities are posted inside. If parents agree, older kids will be taken to the pool area to swim (supervised of course!). The attendants were so good with my kids, playing games with them, coloring and even reading. This allowed us as parents to enjoy a little bit of adult time without worrying if the kids were having fun and knowing they were safe. Adults can use their free time to go on a bike ride, water-ski or even enjoy a spa treatment! My daughter loved this place so much, she helped make a video of Kidz paradise to show you what it's like! You can view my YouTube video here —–> Hilton Mauritius Kidz Paradise
Overall, we immensely enjoyed our week at Hilton Mauritius Resort & Spa. It is pure paradise and we can't wait return!
You can also read my review of the resort on Hilton Mom Voyage
Disclaimer: as a Hilton Mom Voyage travel contributor, my family received complimentary lodging at Hilton Mauritius. However, my review and opinions are honest and my own.

2 Moms Travel
Thank you so much for coming to our site and interacting with us! We love sharing our travel experiences and hope we can inspire you to travel! When the blog first started, LGBT travel with kids wasn't as prevalent as today. We love that sharing our stories has encouraged others to travel not only within the United States, but all over the world! Because our itineraries have been popular with our readers, 2 Moms Travel now is also an official travel company!
© 2019 2 Moms Travel. All Rights Reserved.