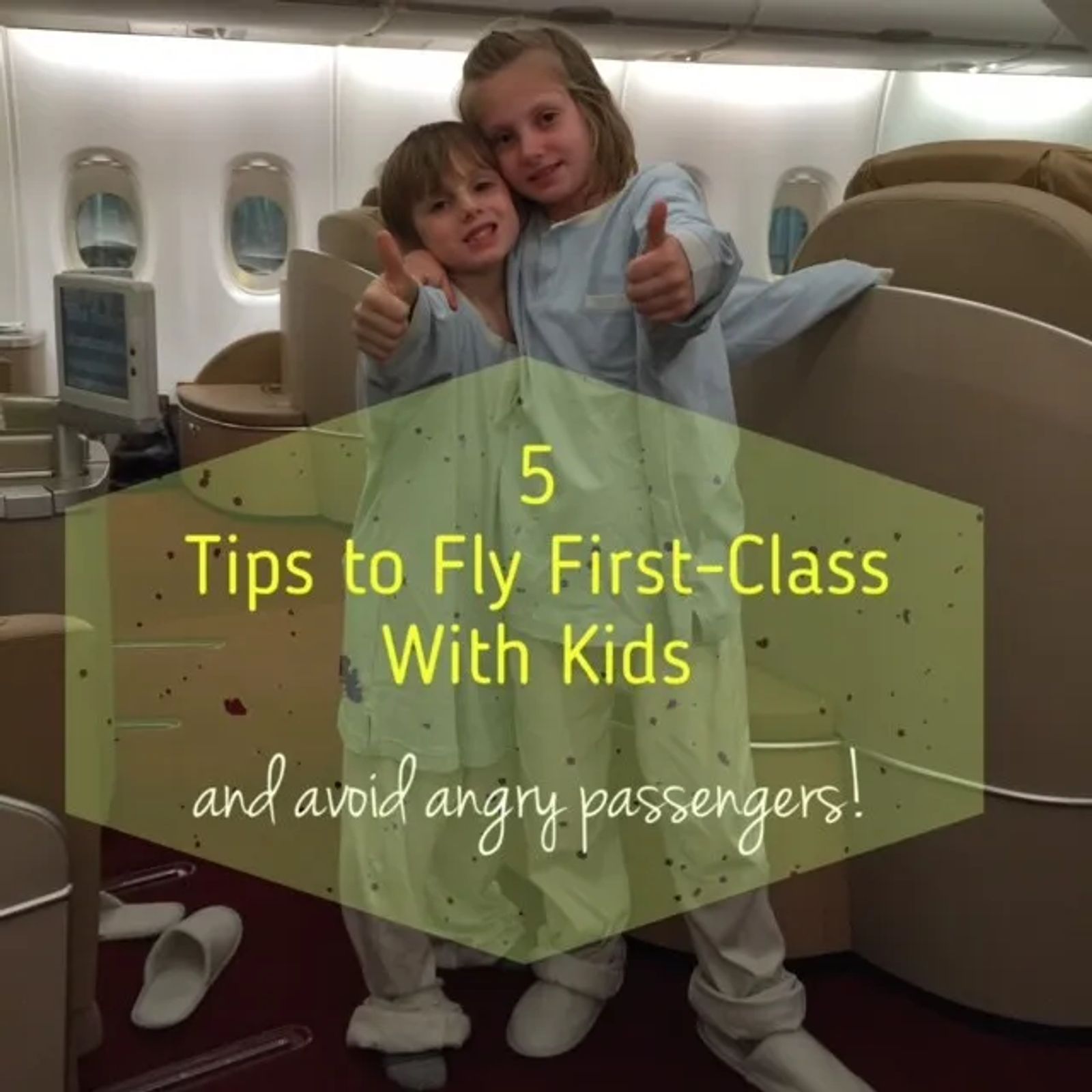 5 Tips to Fly First Class with Kids ~ and avoid angry passengers
It's a raging debate whether or not kids should be allowed to fly in premium cabins. Recently, there has been news coverage of families being asked to go to the back of the plane with their crying kids. How humiliating and degrading! Like coach passengers deserve crying kids more than first class passengers. Bottom line, flying is stressful. Add children to the mix and it's a double whammy. No one wants to have their children make a scene whether in a grocery store or in an unescapable culvert in the sky.
With airfare at record lows, it is more affordable than ever to fly, even in business and first class. In fact, more families are flying in premium cabins to escape the cramped coach seats which are shrinking faster than the polar caps. Plus when flying in premium cabins, families enjoy priority security lines, lounges to relax in, and more attentive in-flight service. Best of all, on long-haul flights seats generally make into beds. It simply makes for easier travel for all of us. When we are less stressed, the kids are less stressed.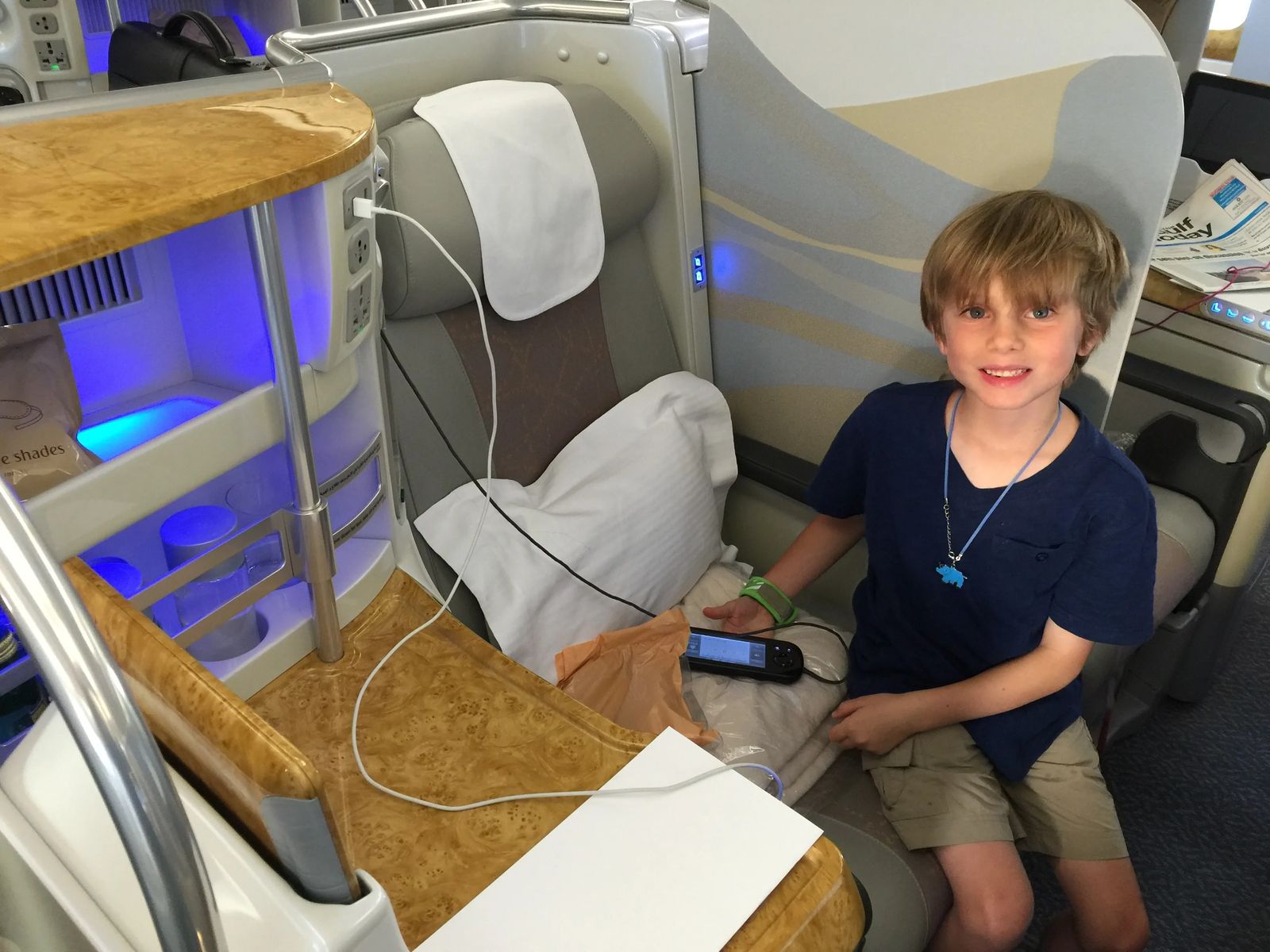 Emirates business class offers ample space for families to stretch out.
However, walking into the premium cabin of a plane with kids will inevitably get you eye-rolls and angry groans. Your child will automatically be branded a trouble-maker even before they can prove themselves otherwise. They are 'guilty as charged' for just being a child. I get that people paid a lot of money to be in the front of the cabin, and feel entitled to a 'relaxing' flight. But just because you have kids doesn't mean you have to travel in less comfort or style. Most airlines allow children to fly in business and first and even provide extra amenities to make the flight extra special.
As a family, we have traveled extensively since our elementary aged kids were babies and often in business or first class. My wife and I are very well aware of the debates regarding young kids flying in the front of the plane. So to avoid problems, we plan ahead of time to try and make the flight go as smooth as possible. Remember, even in the best of circumstances little situations crop up that are unavoidable but always stay patient and proactive. Your fellow passengers will appreciate that more than anything. Here are 5-tips to make your business or first class flight with kids easier (these tips can really be applied in any cabin!):
Book flights when your child typically naps or sleeps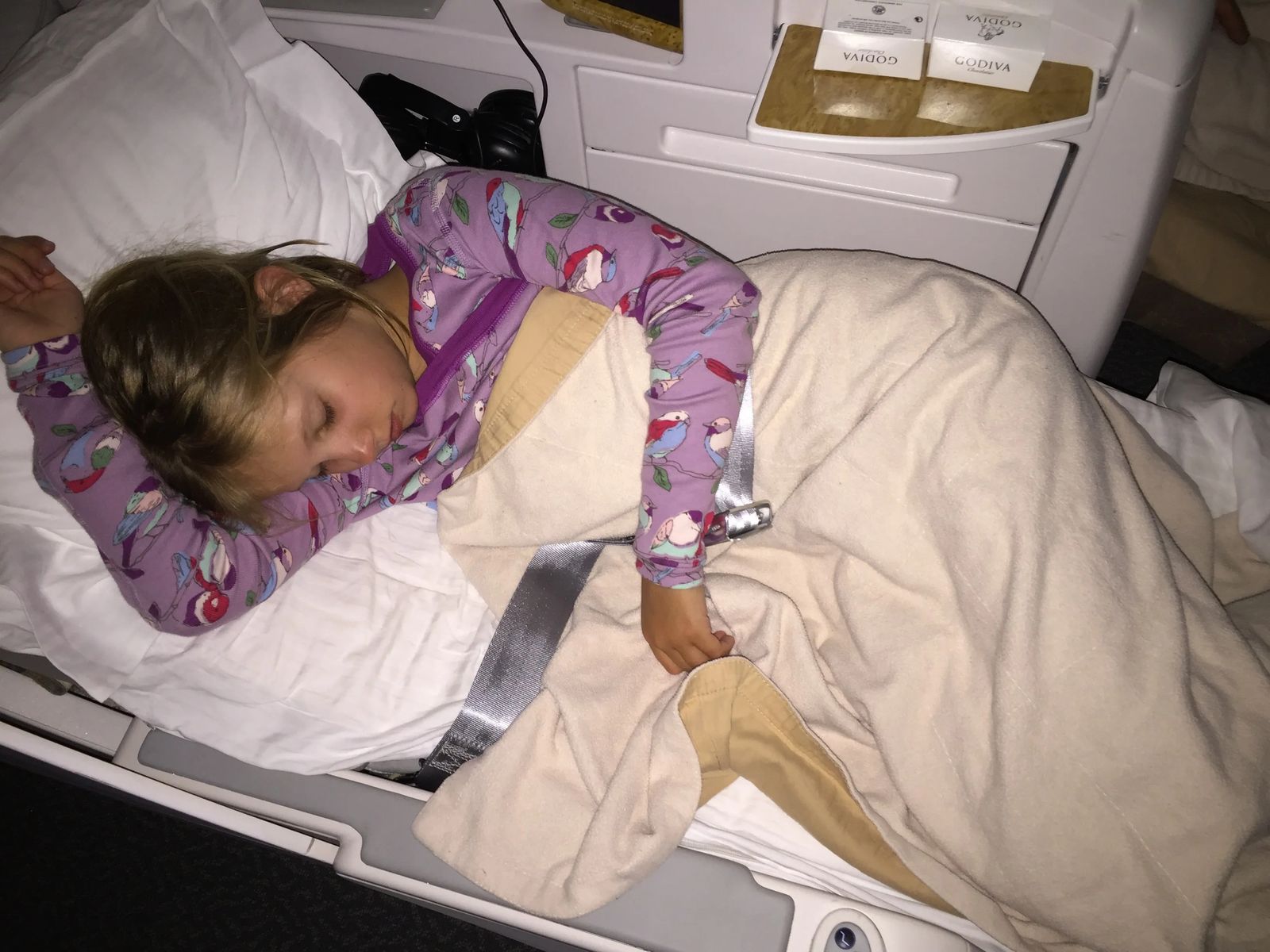 Try to book flights during your kids bedtime or naptime.
When the kids were younger I would try to schedule flights during their nap times. I really tried to avoid flying when they would want to be up walking around especially when they were young toddlers. They may be cranky right before they fall asleep, but usually the sound of the airplane lulls them into lala-land not long after take-off. When we fly internationally, I almost always try to find flights that coincide with their regular sleep schedule and are longer than 10-hours. It sounds crazy to prefer the longer flight, but actually they end up getting more sleep and are less cranky in the long run! Most long-haul business and first class seats will make into fully-flat beds with blankets and pillows. This is awesome so they can get comfortable sleep, as well as everyone else! Using this strategy, my kids will almost always sleep nearly the entire flight, get a good night's sleep and best of all don't disturb fellow passengers!
Tip: If flying with a newborn call ahead and request a bassinet. Most airlines have special seats in all cabins where a bassinet can be set-up for passengers flying with newborns.
Pack a few little surprises for the flight
This little tip holds true no matter which cabin you are flying in. Prior to every flight, I always hit the dollar bins at Target for little treats for the kids. They are always so excited to see what is in their backpacks when we get on a plane. And the new toys keep them occupied for quite a while. If the flight is really long, give them a new toy every few hours to keep things interesting. Also, as much as we try to avoid electronics at home, flying is fair-game. This is the time we let them splurge on movie-marathons. Our son watched nearly all of the Star Wars movies on a recent flight from Dubai to Los Angeles and he didn't disturb a soul the whole flight! We also let them play on the ipad and will download new apps. Of course, they don't have to be plugged in the entire flight but our family has found electronics definitely keep them occupied longer and is quite the treat for them.
Call or tweet the airline ahead of time and let them know you will be flying with young kids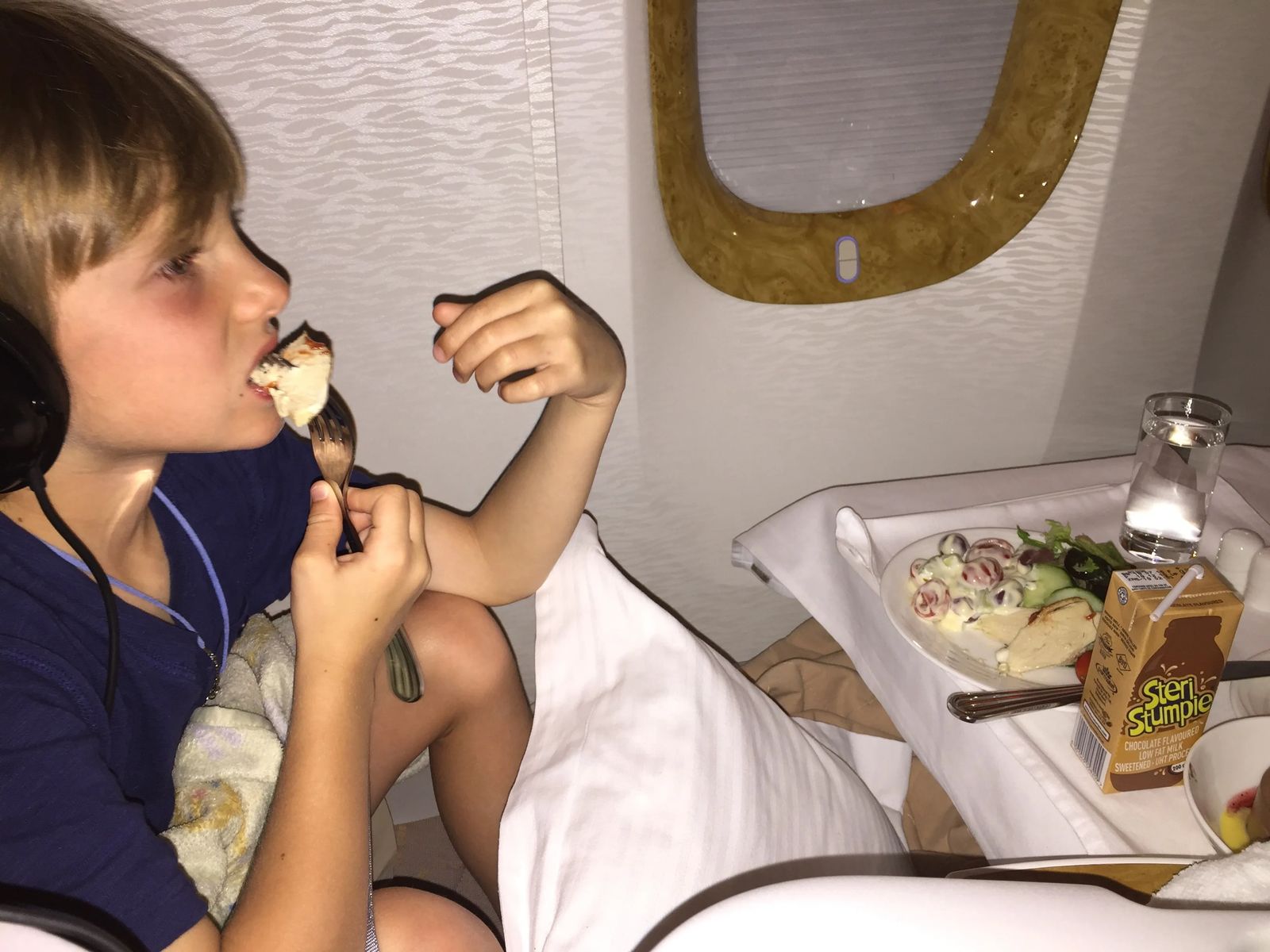 You will need to request ahead of time for a kids meal.
I always let the airline know ahead of time we will be traveling with young kids and pre-order any special meals my family will need. Meals in business and first class often require a sophisticated palate and are generally not kid-friendly. If you have a picky-eater, this can be a huge problem and I can guarantee fellow passengers won't find a 'hangry' tantrum the least bit amusing. But as much as you try to prepare ahead of time, airlines will still once in a while forget the kids meals. It is always better to be prepared so I strongly recommend bringing snacks and foods your child is familiar with and enjoys eating.
Be a proactive parent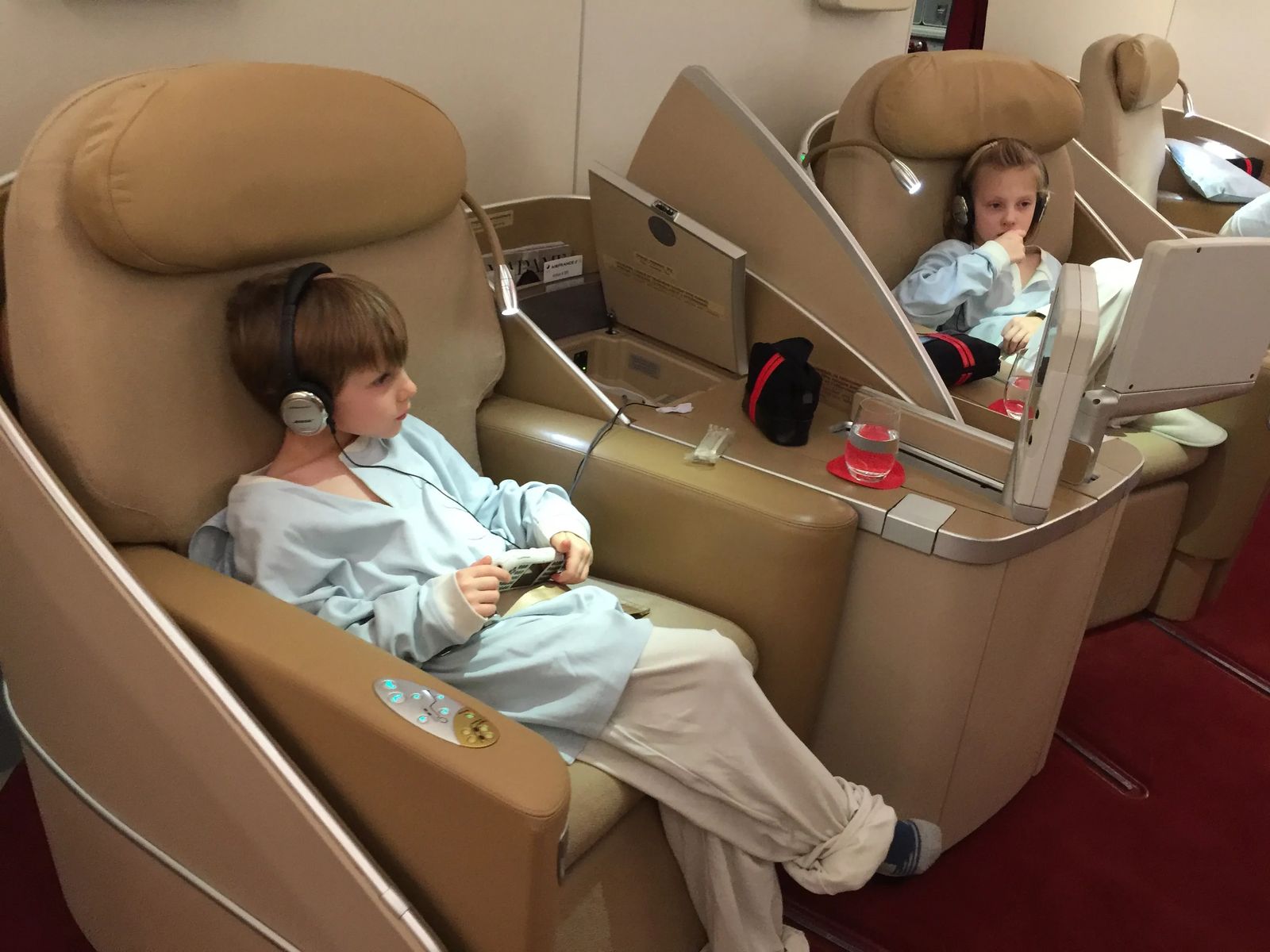 Let the kids know ahead of time what behavior is expected.
OK – admittedly I have never done this but I have heard success stories! Some parents are bringing little goody bags for fellow passengers with ear-plugs, home-made cookies and even thank-you notes in exchange for a little extra tolerance and patience. This gesture goes a long way in demonstrating the parent empathizes with fellow passengers and has proven to diffuse some uncomfortable situations!
Traveling in premium cabins with kids doesn't have to be stressful. Just a little preparation ahead of time can really make a difference. Here is a little video we put together of our family flying La Premiere on an Air France flight: Air France La Premiere with Kids.

2 Moms Travel
Thank you so much for coming to our site and interacting with us! We love sharing our travel experiences and hope we can inspire you to travel! When the blog first started, LGBT travel with kids wasn't as prevalent as today. We love that sharing our stories has encouraged others to travel not only within the United States, but all over the world! Because our itineraries have been popular with our readers, 2 Moms Travel now is also an official travel company!