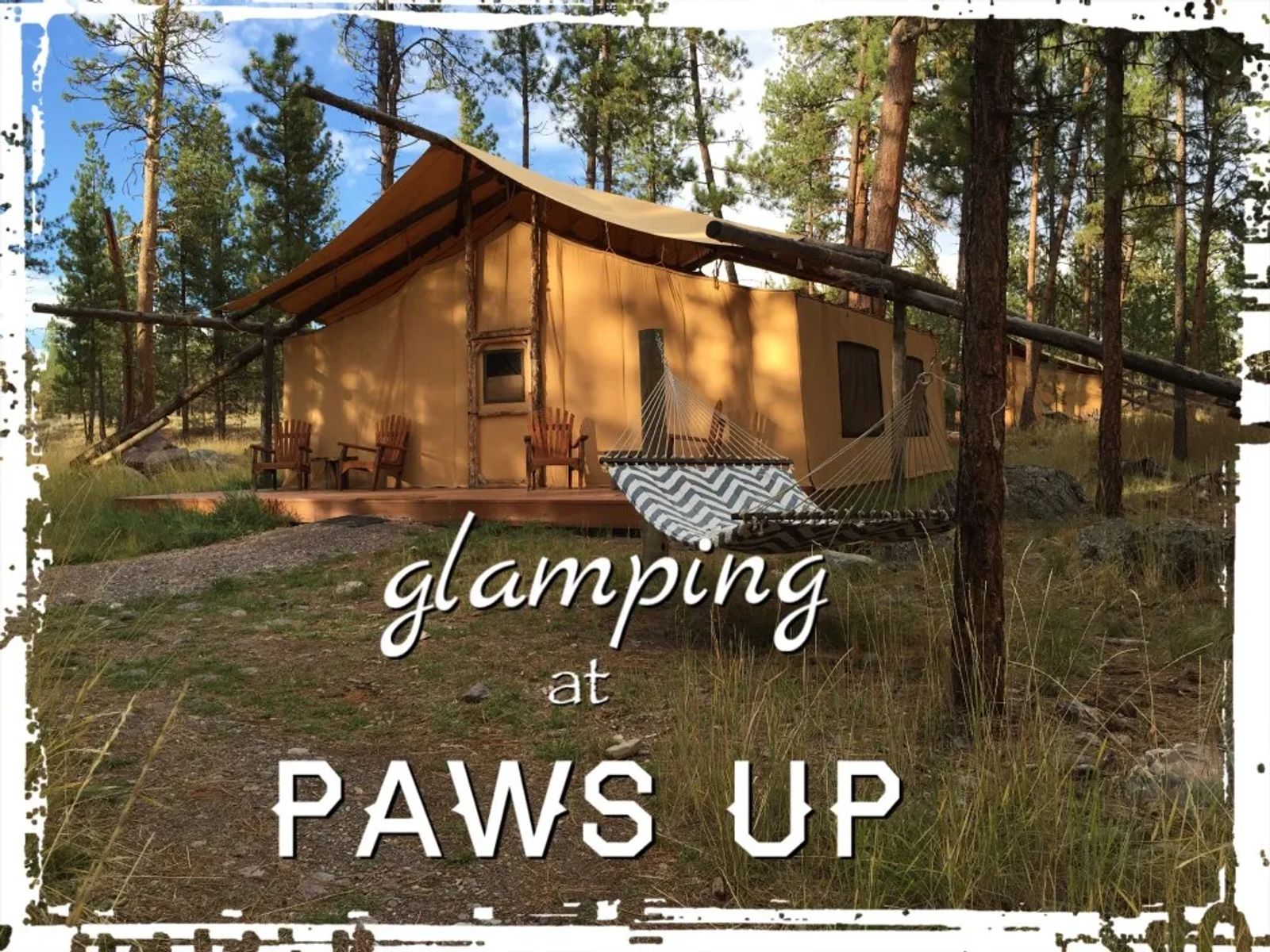 Glamping: Luxury Camping at Paws Up
I can't pretend to like camping. I hate dusty old tents that leak when it rains and sleeping on the cold hard ground. My hips simply can't take the abuse. Even worse, I hate trudging to an outhouse in the middle of the night, spooked by the darkness. I will just lie there for hours willing my bladder to settle down until sunrise.
Until Recently…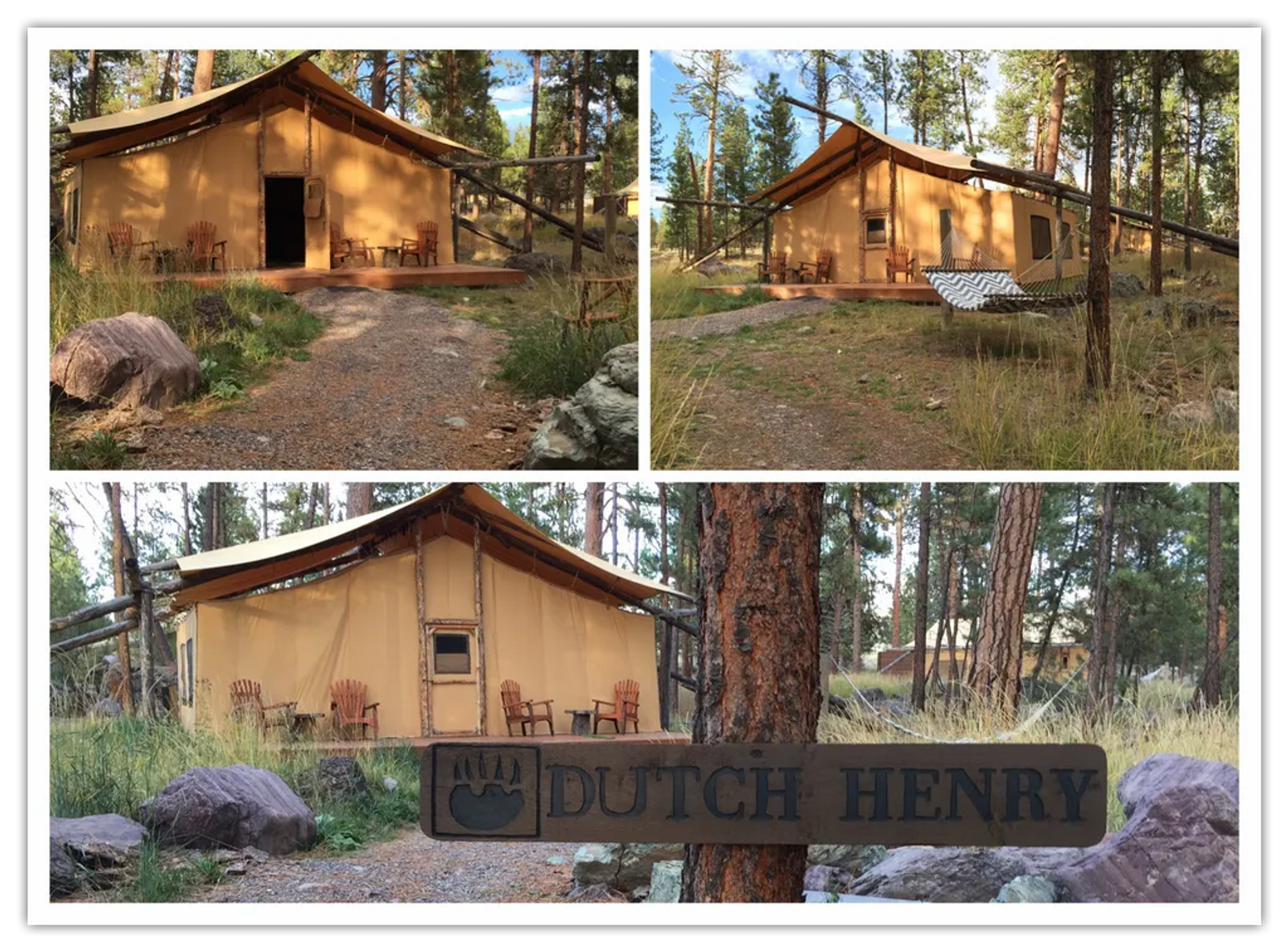 'Glamping', the best. compromise. ever. My family recently returned from our third-annual long weekend 'glamping' at The Resort at Paws Up. Talk about the ultimate compromise! I admit the first time I heard about glamping I was skeptical – after all, you still sleep in a tent. But allow me to let you in on a little secret: this is no ordinary camping experience. Glamping is where 'glamour' & 'camping' collide, fusing the ultimate camping experience with luxury. And Paws Up has nailed it. There is no floor to sleep on here, oh heck no. There are beds and the beds have been specially designed so you never want to get out of them. Ever. Don't worry about trying to start your own campfire…there is a butler for that. Say what? Yep, you will be assigned a butler who will discreetly take care of your every need to ensure all you have to do is have fun.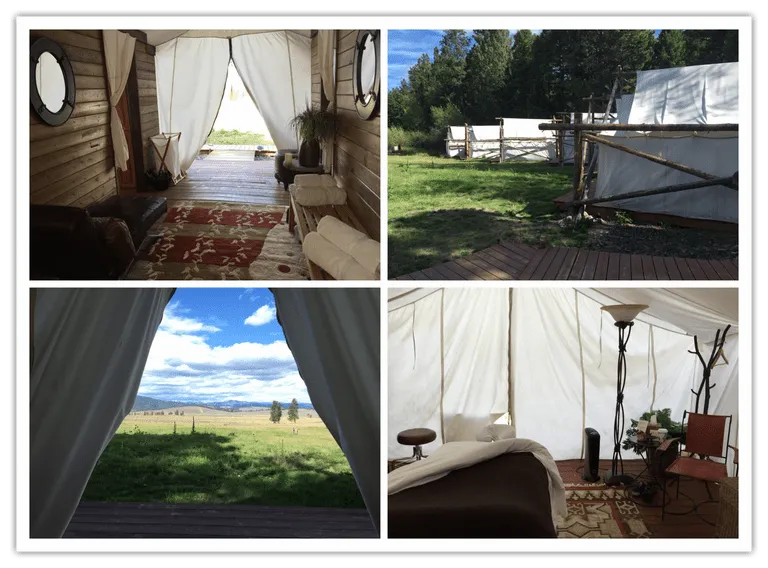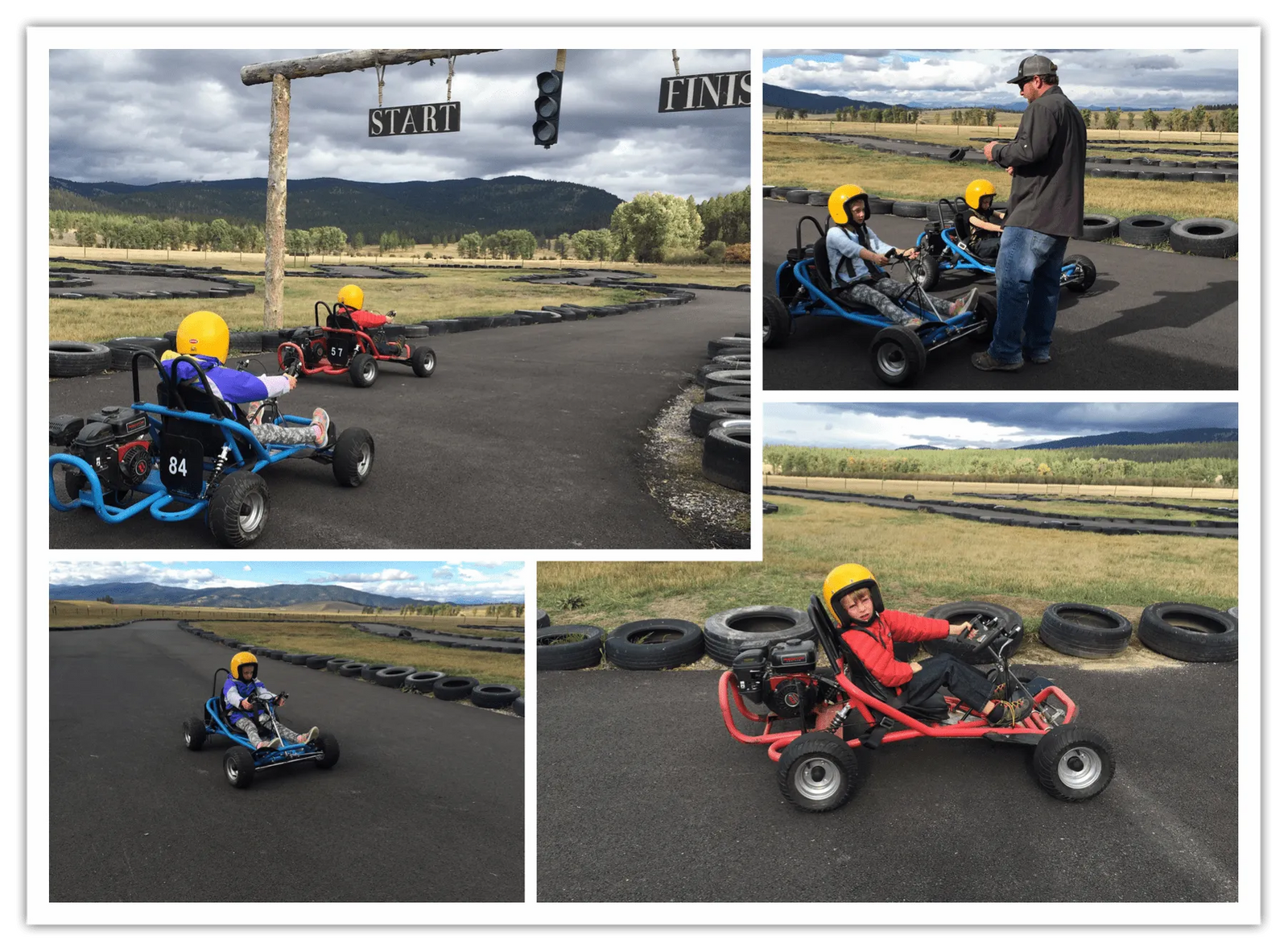 One of many activities: Kids will have a blast zooming around a 1/2 mile go-kart course at Paws Up.
Where is Paws Up Located?
A few weeks before you arrive, your personal concierge will be in touch to customize your itinerary, such as arranging activities, note any dietary restrictions or special events, and answer any questions. All you do is show up and have fun! If you fly into Missoula, they will arrange transportation to get you to and from the property in one of their Mercedes vans. In fact, don't worry about getting a rental car, all of your transportation on the resort is complimentary and anything off property can be easily arranged.
Located approximately 35 minutes from Missoula in a sleepy little town called Greenough, the drive features stunning scenery through the Blackfoot Valley. One can almost miss the turn onto the property as the unobtrusive signs welcoming guests blend into the surroundings. In fact, all the buildings and signs throughout the resort are architecturally designed to give a natural appearance of organically blending into the environment. The fresh scent of pine waifs through the air.
Check-in is conducted in a beautiful building aptly called the Reception Barn. From the outside the Reception Barn is wildly understated, but the inside is full-blown cowboy-glamour replete with luxurious western furnishings.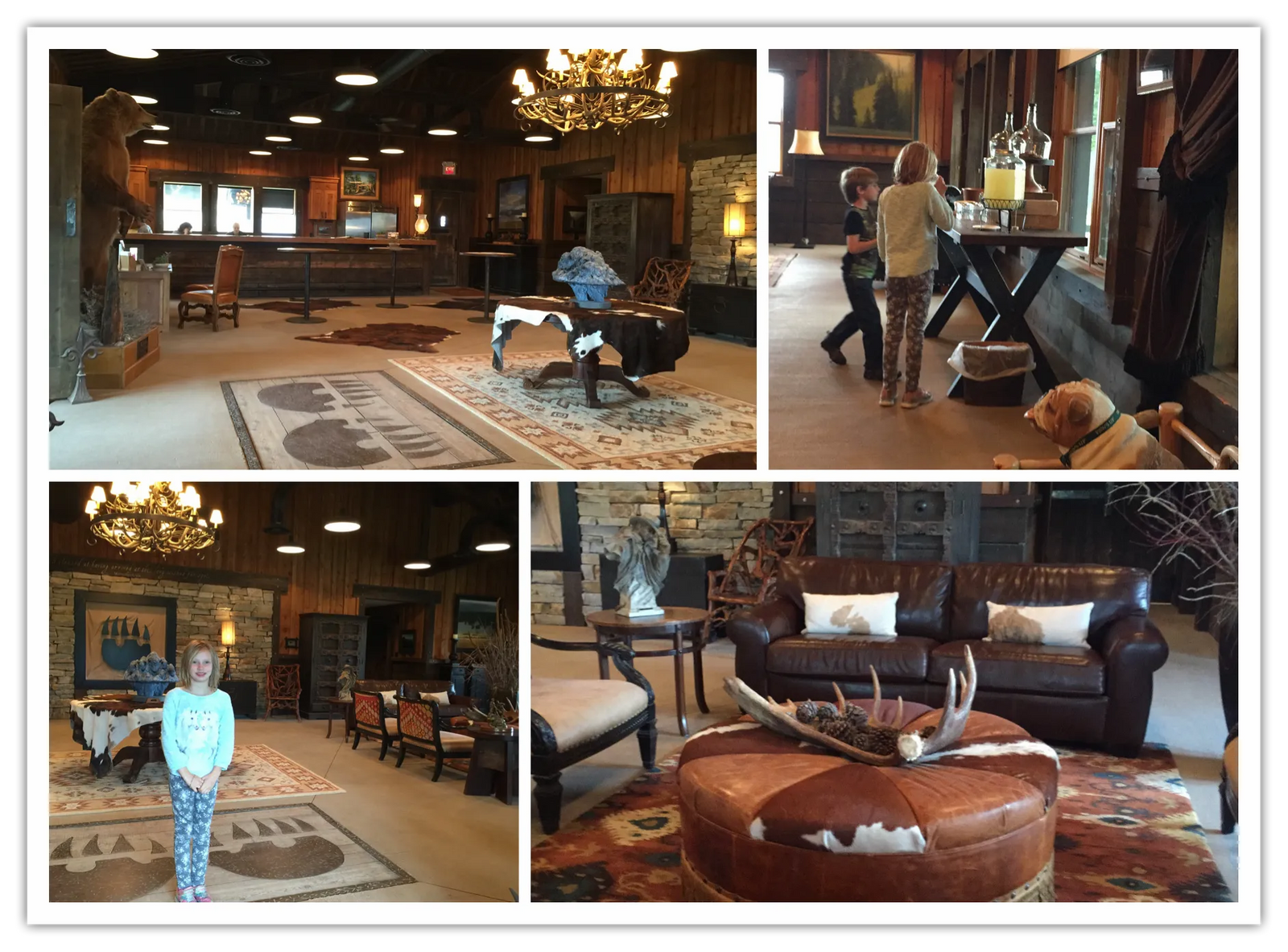 At check-in you will be greeted by welcoming staff and given a folder that contains the itinerary for everyone in your party, a resort map that includes hiking trails, wifi login information (yes, there is wifi), dining info, activities and more!
Tip: There is a Paws Up app you should download before arrival. It will be extremely useful during your stay.
So Tell Me About Glamping!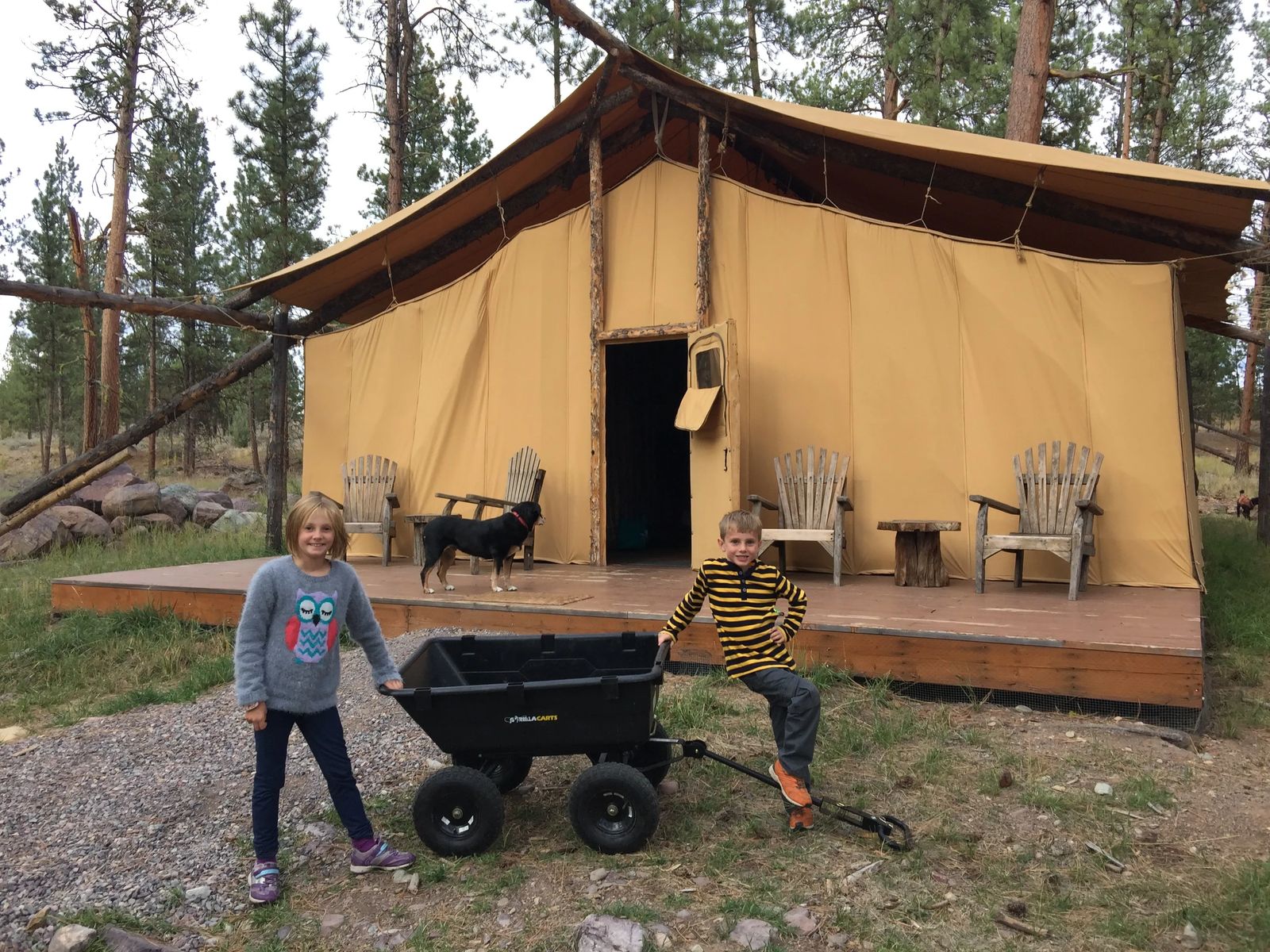 Paws Up has five luxury camps with six safari-like tents in each camp. Each camp gracefully combines the authenticity of nature with luxurious creature comforts. Each camp features a unique wilderness experience yet all provide the same caliber of personalized service to include a butler, camp chef, resort transportation and dining pavilions.
Pinnacle Camp – situated on a bluff overlooking the confluence of the Blackfoot River and Elk Creek. This camp features the exclusive Tango Point which is an exquisite honeymoon tent
Creekside Camp – situated on the banks of the beautiful Elk Creek.
River Camp – situated on the banks of the legendary Blackfoot River. This camp is breathtaking and we hope to try this one next year!
Cliffside Camp – located across Paw's Up famous covered bridge and atop a soaring cliff that overlooks the confluence of the Blackfoot River and Elk Creek.
Moonlight Camp – My family's favorite! This camp is very family friendly situated at the foot of Lewis & Clark's famous Lookout Rock and just 100 yards from the Blackfoot River.
Moonlight Camp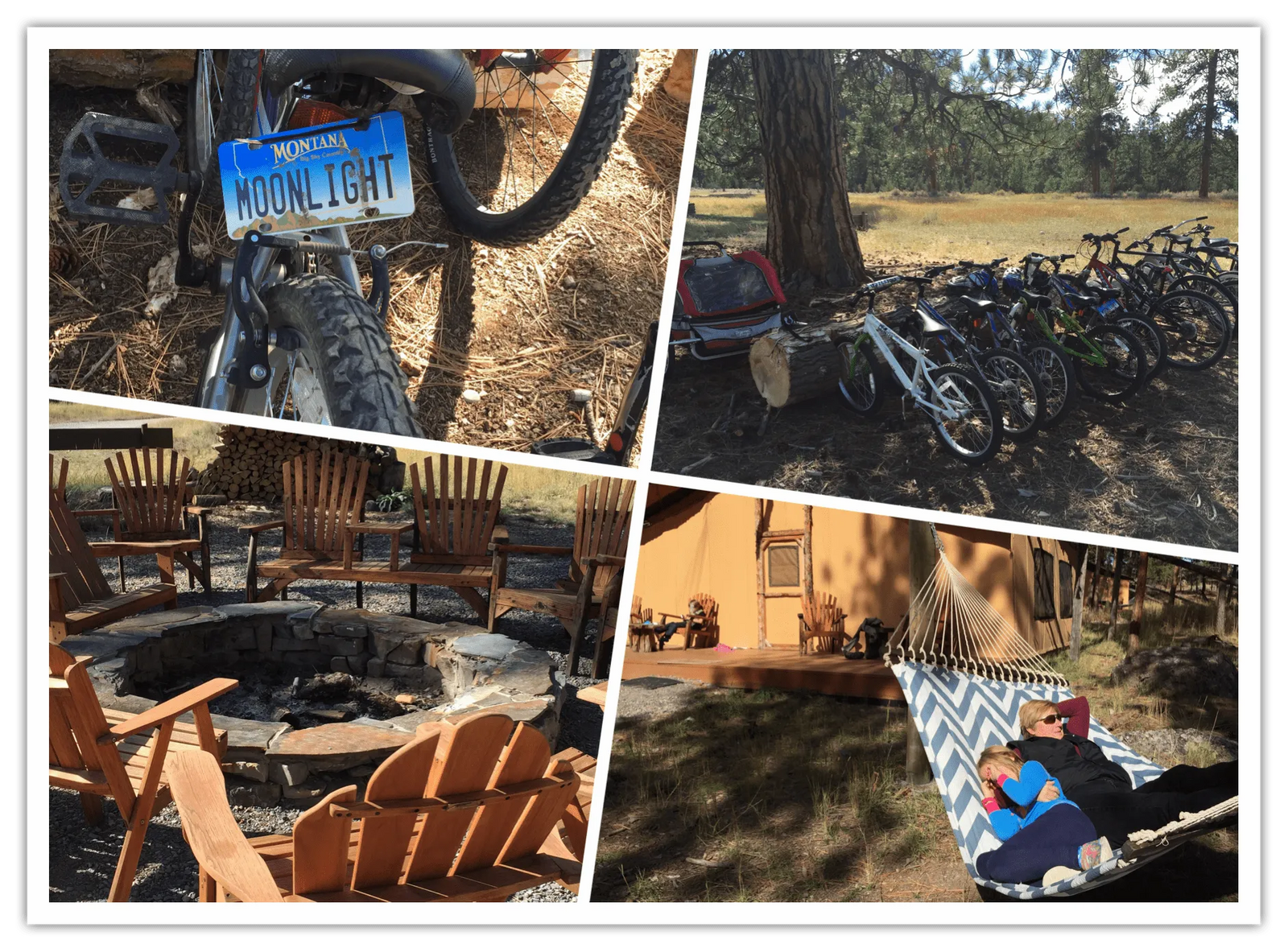 My family loves Moonlight Camp. It is situated approximately 100 yards from the Blackfoot River and there are huge boulders to climb and meadows to run through. As all of the camps, Moonlight has six safari-like tents aptly positioned to discreetly blend into the area and take advantage of the views. There are four 2-room family size tents and two tents designed for couples.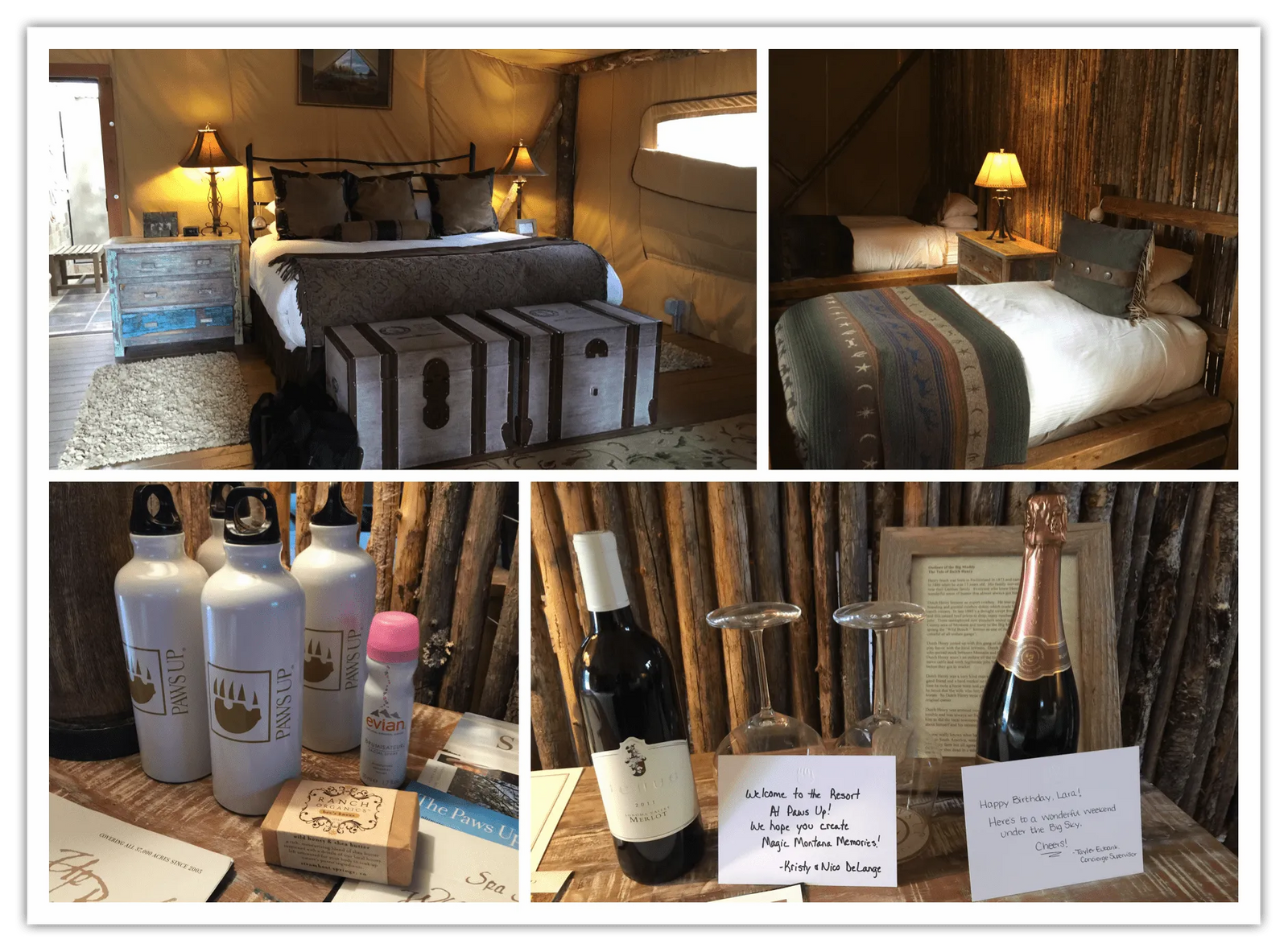 Ok – it doesn't sound too glamourous calling these tents 'tents'. True, they are in fact canvas tents framed with lodgepoles, each featuring its own deck and hammock to relax under the large ponderosas. But stepping inside you will find it to be anything but ordinary. Did I mention there is electricity and large heaters to keep the chill out? True to the rest of the resort, the inside is outfitted in a western-chic style with an inviting king bed as the focal point. By now your jaw will have hit the floor as you realize this is anything but ordinary.
The 2-room tents feature a smaller bedroom with 2 luxurious beds even the littles will appreciate. Also, if your family includes more than 4 members, the twin beds can be set-up with a bunk so everyone is comfortable!
Bathrooms with Heated Floors!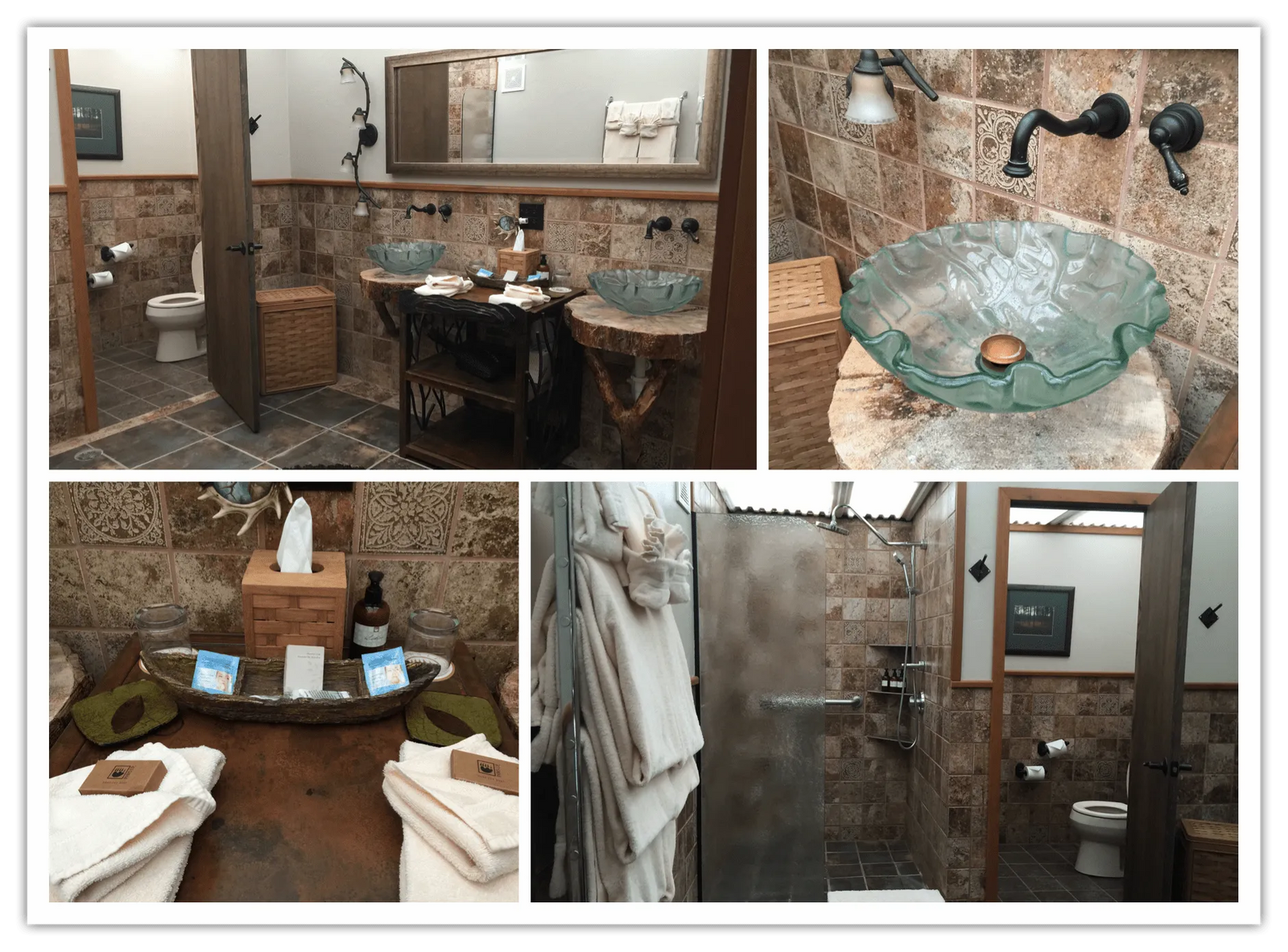 The bathroom in a Moonlight tent.
It just wouldn't be 'glamping' without a bathroom. Each tent features its own luxurious bathroom – complete with in-floor heating so your tootsies never get cold. The showers themselves are nearly as large as Big Sky Country and feature a divine rain-shower system. These 'tent' bathrooms are nicer than mine back home!
Family Style Dining Pavilion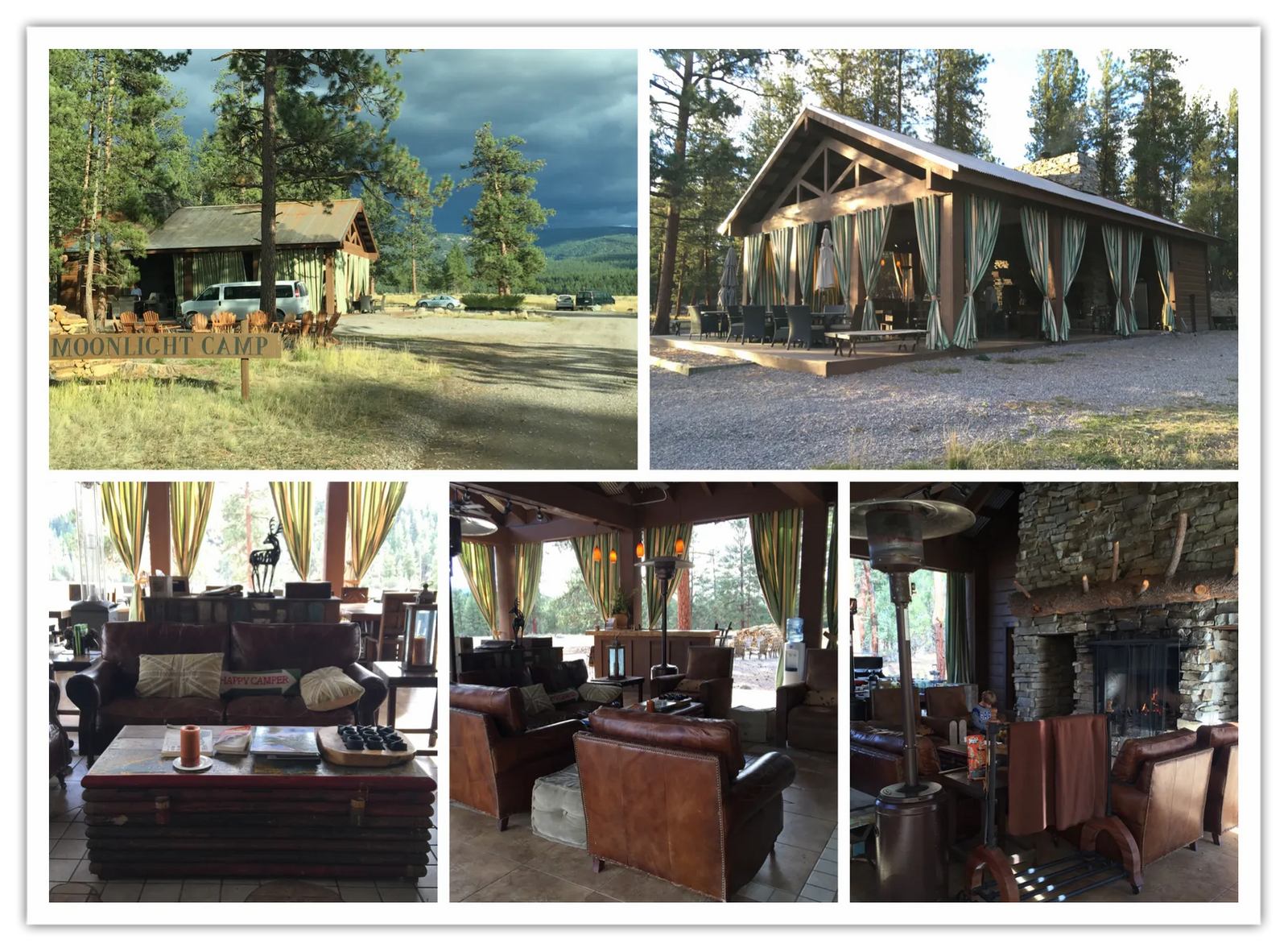 Each camp has a communal dining pavilion where breakfast and dinner are served family style. Forget about trying to cook up a minimalistic meal over a tiny camp-stove (have you ever forgotten the propane tank?). The dining pavilion is the heart of camp where gourmet meals such as chili-dusted Black Angus steaks, whole roasted rainbow trout and grilled asparagus are gracefully prepared over a series of grills. Guests are encouraged to mingle over a glass of complimentary wine, play games and even sing around the towering rock fireplace. There is also a refrigerator stocked with water, sodas and snacks which is available to guests throughout their stay. Over the past few years we have enjoyed all the chefs at Paws Up, but this year in particular our camp chef Troy was hands down amazing. His cooking was sheer artistry and every morning he whipped up the best omelet I have ever had!
Glamping With a Butler
One of the keenest features of glamping is the butler assigned to each camp. These are not your typical stuffy butlers with an accent, white towel thrown over one arm and a dark suit. Oh heaven's no. The camp butlers are quite busy behind the scenes making sure your stay is memorable as possible. They do everything from nightly turndown service, facilitating activities, keeping guests on track with their itineraries, serving meals, and even keep the fires going. Do you have a special request such as dining along the river? The camp butler will see to it that it happens! It's like they have a little baggie of pixie dust and no request is too outlandish. At night they don't rest until the last guest is snuggled in bed.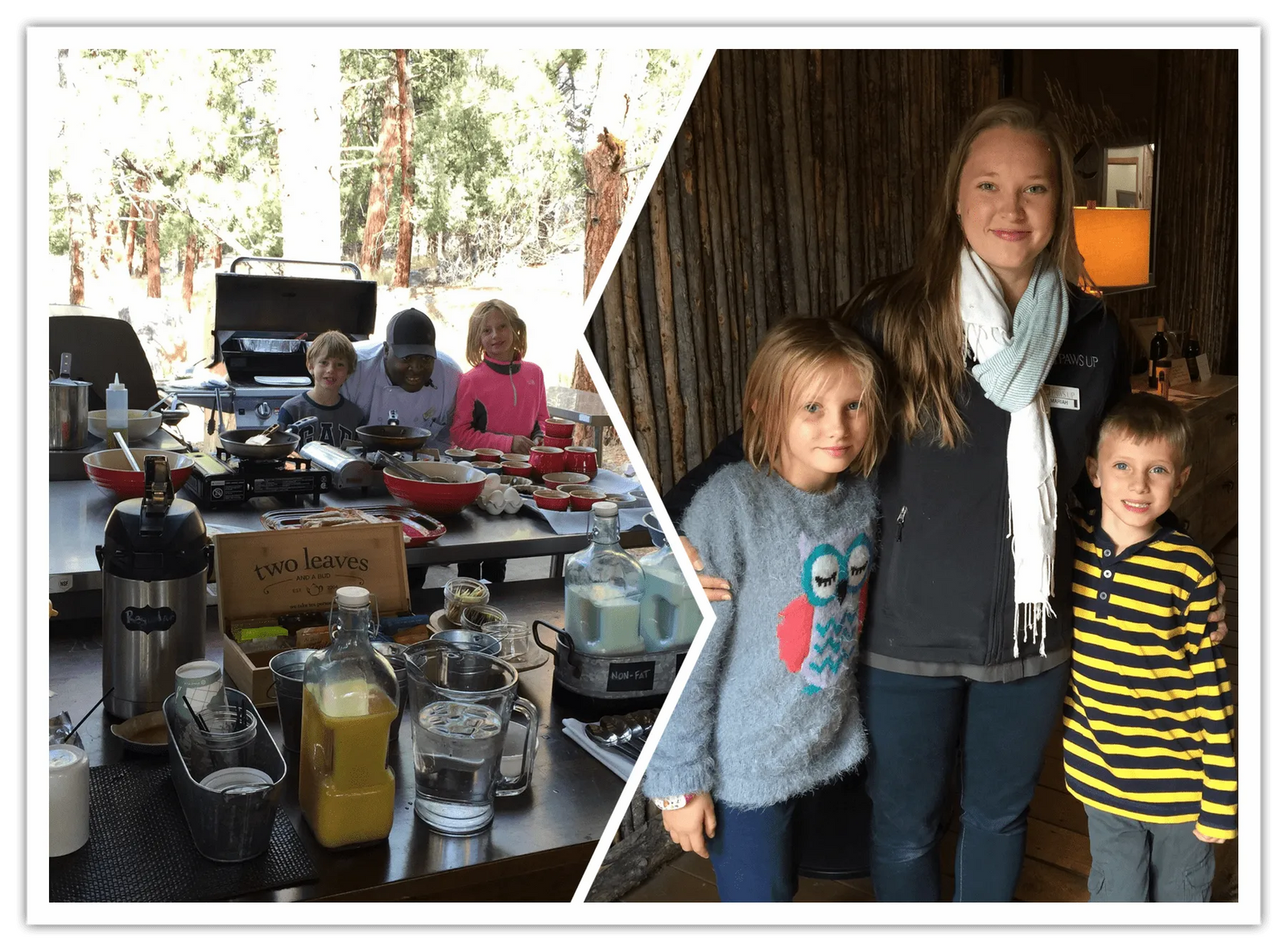 Troy, the greatest chef ever and Mariah, the most awesome butler. Both made our stay fantastic.
This year for us was exceptionally special. As I was arriving at camp, I was greeted by a familiar woman with a large smile. Mariah our butler from the previous year, was back and she remembered our family! We really enjoyed her the year before so we were thrilled that not only was she working in our camp but we shared great memories. I even had pictures still on my phone that provided some great laughs. It really all felt like a big family reunion. I can't wait for next year!
For more information on glamping and other lodging at Paws Up, check out their website at The Resort at Paws Up

2 Moms Travel
Thank you so much for coming to our site and interacting with us! We love sharing our travel experiences and hope we can inspire you to travel! When the blog first started, LGBT travel with kids wasn't as prevalent as today. We love that sharing our stories has encouraged others to travel not only within the United States, but all over the world! Because our itineraries have been popular with our readers, 2 Moms Travel now is also an official travel company!
© 2019 2 Moms Travel. All Rights Reserved.