Why I am switching my loyalty to Alaska Airlines
In this day and age when airlines are making it miserable to get from Point A to Point B, the travel part of traveling isn't as fun as it used to be. I used to get so excited about flying (remember when you actually dressed-up to fly??), but anymore it's just simply dreadful. Airline customer service has just gone down the toilet along with any thread of humanity from fellow passengers. People argue over seat space like little squabbling siblings. Having status with an airline used to actually mean something special and your loyalty was rewarded. But with so many credit cards and status matching programs making it easier to get elite status, elite benefits are a thing of the past. Silver status on Delta? That's a joke. It's worth nothing anymore. You are a mere mortal. So unless you want sympathetic looks from agents and other passengers (they know it's the placebo of elite status), it's best to keep that status a secret.
We live in Missoula, Montana, a vibrant community in the northwest where the airline competition is practically null. Delta and United like to flex their muscle in our neck of the woods and keep airfare so high that any "fare-special" still maxes out the average credit card. Flying on these two airlines just isn't fun anymore. My wife and I have platinum and gold status respectively on Delta but we took the plunge and status matched with Alaska Air this year. I have to say, I am hooked. Finally an airline that values and treats us like we matter!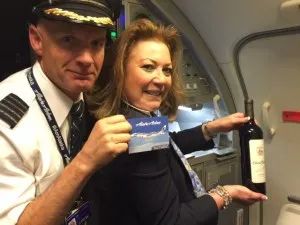 Alaska Air – the little sibling that delivers!
We recently returned from a trip to Alaska and flew Alaska where we used our MVP upgrade certificates to fly first class as a family. Dare I say? Our flights were enjoyable! Most importantly, the flight attendants treated our children like they were their own. This is in stark contrast to when we flew business class on Delta to/from Europe last summer and the flight attendants never even acknowledged our kids (for the record, our children are very well behaved on flights and never cause a scene or are disruptive).
On both legs of our recent Alaska flights I forgot to pre-order the kids' meals and vegetarian for myself since meals were served both ways in the first cabin. When I inquired if we could be accommodated, the flight attendants never blinked an eye and did a lovely job of meeting our dietary needs. Again, in contrast to Delta when I forgot to pre-order a vegetarian meal, they eventually offered a snack box from economy but wanted to charge me (for the record this was on a paid first class ticket).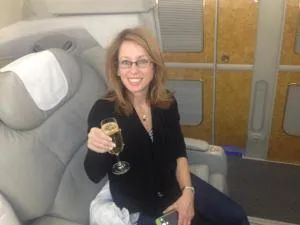 Alaska Award Redemption Program Rocks!
Another aspect of Alaska Airlines that I find appealing is their mileage award redemption program. It simply is amazing and blows both Delta and United out of the water in my opinion. Delta likes to play the lack-of-transparency game with their mileage redemption program and most of the time there is no rhyme or reason on how the program even works. Alaska is straightforward and their mileage partners offer incredible redemption options. For example, want to redeem 125,000 points to fly one way in business class to Paris? Go Delta. Want to redeem only half of that? Use the Alaska program. My family of four is flying to South Africa this winter on Emirates in business class using Alaska Air miles. Not only am I excited about the trip itself, but I am actually excited to FLY! Also, the Alaska representatives have always been over-the-top courteous when I call with questions or changes to an itinerary. I am never left feeling deflated or like I was troubling an agent with menial questions.
All in all, I am so impressed with Alaska that I know our family will benefit by giving them our loyalty. I love that when we fly with them, whether in economy or first, we matter. We have two of the Alaska Air branded credit cards with BofA and it comes with a yearly companion ticket that you can use wherever Alaska flies (Hawaii, anyone?). I love the care and attention that MVP Gold has given me on a consistent basis through-out this year. As often as we do fly as a family, it is important that loyalty does actually matter and Alaska Airlines fits that criteria!

2 Moms Travel
Thank you so much for coming to our site and interacting with us! We love sharing our travel experiences and hope we can inspire you to travel! When the blog first started, LGBT travel with kids wasn't as prevalent as today. We love that sharing our stories has encouraged others to travel not only within the United States, but all over the world! Because our itineraries have been popular with our readers, 2 Moms Travel now is also an official travel company!